Century Casino Cape Girardeau
Address: 777 Main St, Cape Girardeau, MO 63701
Phone number: +1 573-730-7624
Website: https://www.cnty.com/cape-girardeau/
Hours: The casino is open 9 am-4 pm Monday to Friday and 9 am-6 pm on Saturday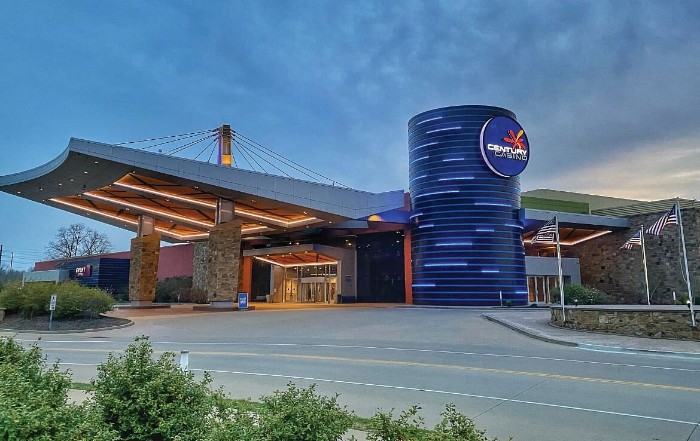 Century Casino has been a place of entertainment and gambling since opening in 2012. The casino is located in the heart of downtown Cape Girardeau and features three floors of gaming and dining options.
Visitors will find over 900 slots and video gaming machines, 21 table games such as blackjack, poker and roulette, and live entertainment in the form of comedians or music bands.
There are two restaurants available to guests, with the grill offering the option to watch the latest sports games and grab finger foods while you are playing on the casino floor. In addition, there is a full bar where guests can grab a drink or a signature cocktail to spice up the night.
The casino has partnered with some of the finest hotels in Cape Girardeau for those looking for a place to stay during their visit. They are located close to the casino, and each of them offers comfortable accommodations alongside plenty of amenities for the guests staying there.
It is a great place to go for an evening of entertainment and gambling. With its variety of slot machines, table games, live entertainment, and restaurants, visitors will find something to keep them entertained for hours.
Overall, guests rate Century Casino Cape Girardeau very highly. The casino is known for its friendly staff, clean and well-maintained facilities, and a wide variety of slots and table games. The casino also has a large buffet area with daily specials ranging from steaks to seafood.
(Related reading: Missouri casinos)
Gaming
This casino offers a wide variety of gaming options to suit everyone's needs. This casino has it all if you are in the mood for slots, table games, or something a little more adventurous like blackjack and poker.
Table Games
You can enjoy getting your game on at this casino with an array of exciting and thrilling table games. There is even a dedicated poker room with regular tournaments for those who want to really turn up the heat and try their hand at winning big.
Play classic blackjack, experience the exhilaration of craps with Craps No More, have a taste of luxurious baccarat action with Mini Baccarat and 5 Treasures Baccarat or feel the heat of Blazing 7's Blackjack.
Whether you're an experienced table gamer or a beginner, you're sure to find your favorite casino game at Century Casino in Cape Girardeau. So come on down for a visit and let the good times roll!
The minimums for the table games at Century Casino Cape Girardeau can vary, but generally speaking, they range from $5 to $25 per bet.
You will find that certain popular games, such as Blackjack, Roulette and Craps, have lower minimum bets than others. Be sure to check with each game prior to playing to ensure you are familiar with the minimums.
Slots
Century Casino Cape Girardeau has over 900 different slot machines available for guests. From the classic 3-reel slots to modern 5-reel video slots, you'll find something to suit your taste.
Some of the more popular machines include:
Wheel of Fortune
Cash Express
Mega Moolah
Lightning Link
Quick Hits
Buffalo Grand
Ultimate Fire Link
Wonder 4 Boost
Coin-O-Mania
Video Blackjack
The payback percentage for this casino is 89.4%. Considering the payback percentage for the state of Missouri is 80%, you can expect a pretty good payout when you visit this casino, and the odds are certainly in your favor.
Hotel/Resort
There is no hotel at this casino. However, the casino has partnered with several accommodations that are all located nearby. These locations are listed on the website and consist of:
Courtyard by Marriott
Auburn Place Hotel & Suites
Drury Plaza Hotel
Pear Tree Inn
Pear Tree Inn West
Restaurants & Buffets
If you're looking for a great place to eat while visiting this casino in Missouri, look no further than Beacon 53 or Red Star Grill. Beacon 53 offers diverse menu options with something sure to please any appetite.
From classic burgers and shakes to southwest wrap meals and made-from-scratch desserts- they've got it all! Red Star Grill is perfect for those who are looking for a more traditional dining experience with delicious food made from quality ingredients.
Whether you're in the mood for comfort food, seafood dishes or prime cuts of beef, Red Star Grill has something to celebrate with your taste buds. Visit either one during your next visit to the casino for an unforgettable culinary experience.
Pools
There is no pool at this location.
Century Casino Cape Girardeau, MO FAQ
Does Century Casino Cape Girardeau Have A Sportsbook?
While it is known for its entertainment and gaming options, this casino does not offer a sportsbook. This may be disappointing news to some of its customers who were hoping to wager on their favorite teams and sports events.
This is because sports betting is illegal in the state of Missouri. However, with its wide selection of casino games, dining options and other great amenities, the casino has plenty to offer for an enjoyable night out.
Is Poker Available At Century Casino?
If you're looking for a great game of Poker, this casino in Missouri is the place to be. Not only does the casino have Poker tables, but they also offer tournaments on a regular basis.
With helpful dealers and plenty of tables to choose from, you're sure to find something that's perfectly suited to your gaming needs. If you are a Poker newbie, don't worry. The knowledgeable staff at Century Casino are more than happy to assist and make sure everyone has a good time.
What Are The Age Requirements For Gambling At Century Casino?
Gambling at this casino is an exciting way to spend the evening in all of its modern splendor. However, visitors should be aware that Missouri's minimum legal gambling age is 21.
The casino strictly adheres to these age requirements, and anyone under the age of 21 will not be allowed to enter or participate in any gaming activities.
Does Century Have An Online Casino?
This location does not offer an online casino option for customers at this time. However, they do have a wonderful array of experiences available at their physical location, including slots, blackjack, Blazing 7's progressive jackpots and more.
The casino also offers special incentives like rewards programs and occasional promotions to reward loyal customers with points and other benefits.
Is There A Century Casino App?
There is no app available on mobile devices. However, you can visit their website to find out more about their casino's services and games.
If you want to play table games and slots or take part in poker tournaments, you can view the schedule, register for email specials, and enjoy other exclusive benefits just by visiting the website.
What Is The Dress Code At Century Casino Cape Girardeau?
The dress code for this casino is casual. When visiting, it's suggested that you wear comfortable clothing and shoes. However, keep in mind that a more formal dress code may be required if you plan to attend any special events or tournaments at the casino.
Is There An Airport Shuttle Available From Century Casino?
No, there is no airport shuttle available from this casino. The nearest major airport to the casino is Lambert-St. Louis International Airport, which is located approximately 100 miles away.
The best way to get to the casino from the airport would be to rent a car or hire a taxi or rideshare service. These services can be found on the airport premises and should be booked in advance of your arrival.
What Is The Smoking Policy At Century Casino?
The casino allows smoking in all gaming areas, but designated nonsmoking areas are located throughout the facility.
Smoking is not permitted in any of the restaurants or entertainment venues, and visitors who wish to smoke must do so outside in designated areas away from windows and doors. Electronic cigarettes are also prohibited inside the casino.
What Is The Pet Policy At Century Casino Cape Girardeau?
Unfortunately, pets are not allowed on the premises of this casino. Service animals that are necessary for assistance are allowed in all areas where visitors are normally permitted.
Is Wifi Available At Century Casino?
Yes, there is free wifi available throughout the casino and its restaurants. Visitors can connect to the Century Casino network for access to the internet.
The connection will require visitors to agree to the terms of the service agreement before gaining access. In addition, all electronic devices must be kept in silent mode while inside the casino premises.
What Is The Cancellation Policy For Century Casino Cape Girardeau?
This location has no cancellation policy due to the lack of a hotel.
Conclusion
Century Casino in Cape Girardeau provides an excellent gaming experience for guests of all ages. There are age restrictions to ensure younger players do not participate and a variety of games and specials to keep everyone entertained.
Additionally, the casino features free wifi, a casual dress code, and designated nonsmoking areas inside the facility. Pets are unfortunately not allowed on the premises, so visitors should plan accordingly.