Century Casino Caruthersville
Address: 777 E 3rd St, Caruthersville, MO 63830
Phone number: +1 573-333-6000
Website: https://www.cnty.com/caruthersville/
Hours: The casino is open 10 am-2 am Sunday to Thursday and 10 am-4 am Friday to Saturday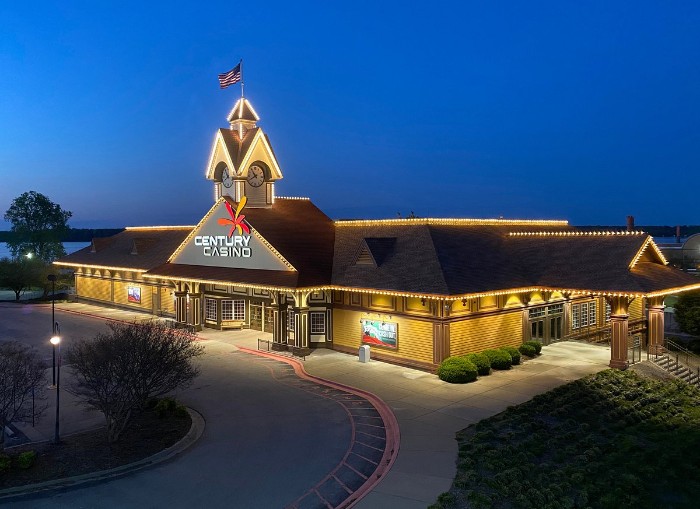 Century Casino Caruthersville has been a staple in Southeast Missouri for nearly three decades. Established in 1995, the casino was the first of its kind in the area and quickly became a popular spot for locals. It remains the last riverboat casino on open water in Missouri.
With an exciting 297 slot machines, 4 table games, and even video poker on offer, guests can spend hours playing their favorite games.
In addition to slots and tables, it also boasts a delicious restaurant where guests can grab a bite to eat or enjoy one of the many live entertainment acts that come through town.
The hotel opens on December 12, 2022, and it boasts a range of comfortable rooms in a separate building on the casino grounds. There is also an RV park for those who want to stay in their motorhomes while they take some time to relax and play at the casino.
At the end of 2024, the casino will also unveil a new development currently under construction. This will see an expansion of the casino and the accommodations. Century Casino has something for everyone, whether you're looking for a night out with friends or an exciting day of gambling.
Century Casino Caruthersville has been widely praised by its guests for its wide selection of games and amenities.
Guests praise the friendly staff, great variety of games and comfortable atmosphere. Overall, it's a fantastic place to visit if you're looking for a chilled-out weekend of gaming.
(Related reading: Missouri casinos)
Gaming
This casino offers a wide range of slots and table games. There is plenty to keep you entertained for hours, with different denominations available so that you can bet whatever you feel comfortable with.
Table Games
With an incredible variety of table games at this casino, you are sure to find something that suits your tastes. Craps and Mississippi Stud provide a classic gaming experience that is sure to get your adrenaline pumping.
Three-Card Poker introduces odds to the table with the ability to wager against other players or the house. Trilux is a three-way action in the form of baccarat, blackjack and bonus bet where players can win an amazing bonus payout.
Video Blackjack ties it together for fast and easy gameplay and a thrilling gaming experience. Whether you're after classic odds or swinging for the bonus round, this location has something for everyone.
Table games at Century Casino Caruthersville have a minimum bet of $5 for all Blackjack, Roulette and Three-Card Poker games. The Trilux table offers a $25 minimum, and the Video Blackjack has a $2 minimum.
Slots
At this casino, you will have your pick of 297 slots – each of which features thrilling games that are sure to keep you on the edge of your seat all night.
Popular slot machines include:
Wheel of Fortune
Quick Hits Platinum
Monopoly Mega Movers
Phoenix Fantasy
Ultimate Fire Links
Dragon Links
Lock-It and Lightning Links
These titles are some of the most played slots in the casino due to their exciting bonus rounds and large jackpots.
The payback percentage for this casino is 89.5%. When you consider that the payback percentage for the state of Missouri is 80%, you're getting a pretty good deal with this casino. It should give you a clearer idea of what to expect when you're gambling here.
Hotel/Resort
The casino will be opening its hotel on December 12 2022. The property will feature over 80 guest rooms and suites in a separate building that come with modern furnishings and amenities like free Wi-Fi and flat-screen TVs.
There is also an RV park on the casino grounds, offering plenty of space for those who wish to visit in their motorhomes and charging only $50 per night. The RV park is available throughout the year and is located on the Mississippi banks for breathtaking views.
Guests will find that there is a restaurant available at the casino, serving a variety of dishes throughout the day. While breakfast is currently unavailable, hotel guests can enjoy a complimentary Starbucks coffee in their rooms.
With the upcoming casino and hotel development, guests can look forward to an expanded casino and hotel – offering more rooms and amenities to enhance their stay. The development includes:
Hotel lobby
Restaurant
Bar
Business center
Event spaces
Land-based casino (in addition to the existing one)
The hotel is sure to be a great place to stay during your visit, offering comfort and convenience in one convenient package. Combined with a large and entertaining casino, this is sure to be a weekend away that you remember.
Some of the amenities that you can expect to find at the casino and hotel include:
Spacious rooms and suites
RV parking
Restaurant
Promotions
Reward program
The cost to stay at Century Casino Caruthersville will depend on the type of room and time of year you are visiting. Rates vary from $109-$159 per night for standard rooms, suites start at $179, and RV sites are $50 per night.
Check-in time at Century Casino is 3:00 pm
Check-out time at Century Casino is 11:00 am
Restaurants & Buffets
This casino has a variety of mouth-watering restaurants to choose from for an unforgettable dining experience. Whether you enjoy seafood, steaks, gourmet burgers, or all of the above, Waterside Express is sure to hit the spot.
With delicious dishes that are cooked with fresh local ingredients and served in a truly unique atmosphere right on the banks of the Mississippi River, it's no wonder that thousands come here to dine every year.
At Waterside Express, you can enjoy classic favorites or try something new, like their famed jumbo lump crab cakes or one of their signature mac & cheese dishes.
But it's not just about the food – with some of the best views in Caruthersville and live music throughout the summer months; there's truly something for everyone at this beloved riverfront restaurant.
Pools
This location does not offer a pool. Additionally, there is no spa and no hot tubs or saunas available.
Century Casino Caruthersville, MO FAQ
Does Century Casino Have A Sportsbook?
The casino is a popular destination for gaming enthusiasts who are looking to wager their luck. While there are plenty of opportunities to enjoy slot machines, table games, and other entertainment, the casino does not offer sports betting.
Sports betting is not legal in Missouri, so those seeking sports betting within the state will be disappointed. If you want to bet on the big game at a casino, you're going to need to head out of state.
Is Poker Available At Century Casino Caruthersville?
Unfortunately, the casino does not feature poker games. The casino focuses mainly on slots and table games, offering several blackjacks and roulette options.
With its various weekly events and promotions, this certainly remains an exciting destination for anyone looking for an evening of fun and games at the casino.
What Are The Age Requirements For Gambling At Century Casino?
The casino requires patrons to be 21 years of age or older to enter or partake in any gambling activities offered.
All guests must present valid IDs verifying that they are legally old enough to enjoy the casino's offerings, and all staff members are trained and authorized to ask for proof of age at any time within the premises.
Does Century Have An Online Casino?
Unfortunately, this location does not have an online casino. While many casinos have created a virtual platform for their customers, this location has remained traditional in its approach to gambling.
This means that players will need to be present if they wish to partake in their table games, slots, and keno offerings.
However, this also means that those looking for an exciting night out can take advantage of the lively atmosphere and friendly vendors located within the casino's walls.
Is There An Century Casino App?
You'll be delighted to know there is now an accompanying app. This comprehensive tool allows users to easily access all the best promotions, rewards and feature updates for the casino.
With instant notifications about exclusive offers and rewards, players will have up-to-the-minute information about what's happening in the casino. The app also features a map of the facility, quick links to loyalty bonuses, game and venue information, VIP benefits and lots more.
What Is The Dress Code At Century Casino?
The dress code is casual attire, so you can feel free to dress comfortably. Though the casino does not have an official dress code, guests are expected to wear appropriate clothing in good condition and refrain from wearing anything too revealing or offensive.
Jeans, t-shirts, shorts, and sneakers are all acceptable forms of clothing here.
Is There An Airport Shuttle Available From Century Casino Caruthersville?
No, while several airports are in the surrounding areas, this location does not offer an airport shuttle service. However, guests may be able to find public transportation or taxi services that can take them to and from the airport.
What Is The Smoking Policy At Century Casino?
The casino has an indoor smoking policy in place. While all areas of the casino are nonsmoking, there is a designated area for smoking patrons, allowing them to enjoy their cigarettes or cigars during their visit.
There are also outdoor seating areas where guests may smoke during their stay and designated e-cigarette zones for those who prefer to vape. In order to maintain a comfortable atmosphere, smoking and vaping are not permitted anywhere else on the premises.
What Is The Pet Policy At Century Casino?
Unfortunately, guests are not permitted to bring their pets into Century Casino Caruthersville. We kindly ask that all pets remain at home or in the care of a trusted family member or pet sitter while you enjoy your visit here.
Service animals are allowed in the facility, provided they are wearing their identifying vest.
Is Wifi Available At Century Casino Caruthersville?
Yes, complimentary wifi is available throughout the entire casino. You'll be able to connect quickly and easily for a seamless browsing experience during your visit.
For those who prefer not to use the free wifi service, several paid options are available within the premises that offer additional levels of security and privacy.
What Is The Cancellation Policy For Century Hotel?
If you need to cancel your reservation at Century Casino Caruthersville, MO, you must do so at least 24 hours before the check-in date to receive a full refund. Cancellations made within the 24-hour window will be subject to a fee of one night's room rate plus applicable taxes.
No-shows are subject to the same fees, and any early check-outs will be responsible for paying the full amount of their stay. We recommend that guests contact the hotel directly if they need to change or cancel their reservation.
Conclusion
Century Casino Caruthersville is a great destination for those looking for a quality entertainment and gaming experiences.
With an app to keep players up-to-date on all the latest promotions, rewards and feature updates, as well as free wifi throughout the facility and a designated smoking area, visitors will be able to make the most of their visit.
Additionally, the dress code is casual attire and pets are not allowed on site, but service animals with identifying vests are welcome. For those who need to change or cancel their reservation, there is a 24-hour cancellation policy in place.