Hollywood Casino St Louis
Address: 777 Casino Center Dr, Maryland Heights, MO 63043
Phone number: +1 855-785-4263
Website: https://www.hollywoodcasinostlouis.com/
Hours: The casino is open 7 am-8:30 pm, Sunday to Thursday and 7 am-9 pm, Friday and Saturday.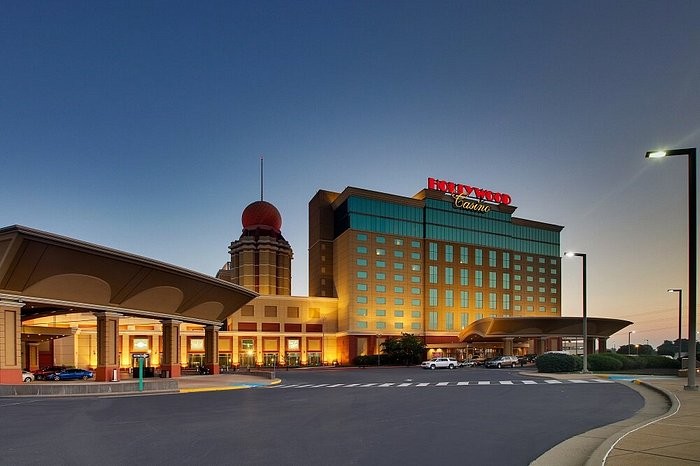 Hollywood Casino St Louis has been a fixture of the Missouri casino scene since 1991. The casino is owned by Penn National Gaming and features over 100,000 square feet of gaming space and more than 1,800 slot machines.
It also offers 50 table games, including blackjack, roulette, baccarat, and more. Hollywood Casino St Louis also offers an array of dining options with a selection of fast-food eateries, casual restaurants, and fine dining establishments.
The casino's bars and lounges offer live entertainment on select nights and beer, wine, cocktails, and other beverages.
The Amphitheatre at this casino is a popular outdoor music venue that hosts national acts and performers. It has seating for up to 20,000 people, making it one of the largest live-music venues in Missouri. While part of the casino, you will need to take a short shuttle to get there.
The property also includes a luxury hotel with over 200 well-appointed guest rooms and suites. Guests can enjoy the fitness center after a long day of play or sightseeing in St Louis. There is also a business center and plenty of meeting spaces.
Hollywood Casino St Louis offers an exciting gaming experience for visitors from all walks of life.
Whether you're looking to try your luck at the slots and tables, dine and unwind in one of their numerous restaurants, or simply relax in your hotel room, there's something for everyone here. You won't be disappointed.
Hollywood Casino St Louis has earned a great reputation among its guests for being a premier gaming destination in the Midwest. Guests praise the casino for its spacious gaming floors, top-notch hospitality, and great promotions.
(Related reading: Missouri casinos)
Gaming
This casino offers a wide array of gaming options to choose from. There are over 1,800 slot machines and 50 table games, meaning that everyone is guaranteed to find something they love. There is also a poker room for those who want to get involved.
Table Games
Looking for an exciting game to join in on at the casino? Look no further, as you can choose from plenty of classic table games and more.
Whether you're a fan of blackjack or craps, there's something for everyone here. You could try your hand at the thrilling high-stakes game of baccarat or experience something new like Head's Up Hold'em. Plus, be sure to illustrate your luck with Carnival Games and Pai Gow Poker.
Or take chances on Dragon Baccarat for even more fun. Whatever game you choose, this casino in St Louis is sure to provide an exhilarating experience that won't soon be forgotten.
The minimum bets for table games at the casino vary based on the game and time of day. Generally speaking, the daytime minimums are lower than at night and weekend nights tend to have higher minimums. Generally speaking, minimums start at $25.
Slots
This casino's most popular slot machines are a mix of classic and modern games. Some of the best slots include:
Ba Fang Jin Bao – Abundant Fortune
Ba Fang Jin Bao – Fortune Totems
Buffalo Chief
Buffalo Gold Revolution
Buffalo Link
Cash Burst Orb of Atlantis
Cash Express – Buffalo
Cash Express – Timberwolf
Coin Combo – Hurricane Horse
Double Jackpot Lions Share
Dragon Link – Genghis Kahn
The payback percentage for this casino is 90.7%. When you consider that the minimum payback percentage for the state of Missouri is 80%, you're getting some great odds when you use the slot machines at this location.
Hotel/Resort
This location offers a luxury hotel that is conveniently located right next to the casino floor. It provides guests with over 200 well-appointed guestrooms and suites, each featuring modern amenities such as Wi-Fi, flat-screen televisions, premium bedding and more.
Some of the room types included at this hotel are:
Sunset King: King bed, spacious room, great views, and amenities.
Sunset Queen: 2 Queen beds, spacious room, great views, and amenities.
Rodeo Director Suite: Living and sleeping spaces, jetted tubs, views, and amenities.
Guests can also take advantage of the fitness center after a long day of play or sightseeing in St Louis. There is also a business center and plenty of meeting spaces.
Diners will be spoiled for choice with an array of restaurants and bars to choose from. Whatever takes your fancy, you're sure to find it at the casino hotel.
If you're looking for a place to stay that offers luxury, convenience, and great amenities all in one place, then the Hollywood Casino St Louis is definitely worth considering.
Some of the amenities that you can expect to find at the hotel and casino are:
Spacious rooms and suites
Restaurants and bars
Fitness center
Business center
Meeting spaces
Event spaces
Live entertainment
Hollywood Amphitheatre
Music park
Promotions
The cost of staying at Hollywood Casino St Louis varies depending on your room type. Room rates start at $129 per night for standard rooms, with suites ranging up to $249 per night or more. Rates may also vary during peak seasons and holidays.
Check-in time at Hollywood Casino is 4:00 pm
Check-out time at Hollywood Casino is 11:00 am
Restaurants & Buffets
This casino has plenty of culinary options for any visitor looking for a delicious and unique dining experience.
From gourmet steaks at the Final Cut Steakhouse to mouthwatering burgers and brews at 99 Hops House, virtually anything can be found. Charlie Gitto's offers authentic Italian cuisine, while Celebrity Grill is perfect for those looking for classic American dishes.
For something a bit more casual, Phat Tai offers flavorful Thai and Chinese fare, while Hollywood & Grind is a one-stop shop for coffee, smoothie bowls and light bites. No matter which restaurant you choose, your appetite will certainly leave you satisfied.
Pools
There is no pool at this casino. There is also no spa and no hot tubs.
Hollywood Casino St Louis, MO FAQ
Does Hollywood Casino Have A Sportsbook?
Though this casino is a great place to grab a bite or play some slots, it does not presently have a sportsbook. Missouri does not yet allow casinos to offer sports betting services due to concerns from local lawmakers.
Is Poker Available At Hollywood Casino St Louis?
The casino is located in Maryland Heights and has plenty of great offers for those who love to play poker. This casino offers special tournaments, great cash rewards, and endless opportunities for players of all levels.
Additionally, non-smoking areas are available so that those who do not wish to inhale the smoke from cigars or cigarettes can still enjoy the poker game in comfort.
Those playing at the casino can choose from a variety of different options such as Texas hold 'em, Omaha Hi/Lo, Seven Card Stud, 5 Card Draw, Caribbean stud progressive, Bad beat Jackpot and more.
What Are The Age Requirements For Gambling At Hollywood Casino?
Visitors must be at least 21 years of age to play any of the casino's games or enter the gaming area, including all associated restaurants and retail outlets. Identification may also be required upon entry for everyone, regardless of age.
Does Hollywood St Louis Have An Online Casino?
This casino is one of the few casinos that offer both an in-person and online gaming experience. As part of its comprehensive offering, Hollywood Casino St Louis has launched an online casino for those who want to enjoy their favorite games from the convenience of home.
The site offers real-money slots, table games such as blackjack and roulette, and even a live dealer option for players who are looking for a more interactive experience.
Is There A Hollywood Casino App?
Although this casino does not have an app of its own, visitors can still access the casino's promotional offers directly from their mobile devices.
About any operating system is compatible with the browser-based Cashier and Rewards Center interfaces. Guests can still sign up for exclusive loyalty offers and track their gaming activity from their phones or tablets, making it easy to stay connected while they visit the property.
Signing up is a simple process so players can enjoy all the benefits without adding another app to their device's home screen.
What Is The Dress Code At Hollywood Casino St Louis?
When visiting the casino, guests should expect to dress in casual attire. Although there is no formal dress code for the casino floor, those dining in any of the on-site restaurants should adhere to a more upscale look.
This includes avoiding clothing such as tank tops and flip-flops that may not be conducive to a fine-dining atmosphere. However, the casino floor is generally more relaxed in terms of attire, so guests can still enjoy their night out without having to worry about what they are wearing.
Is There An Airport Shuttle Available From Hollywood Casino?
Yes, the casino offers an airport shuttle for those who are traveling to or from Lambert-St. Louis International Airport. The shuttle runs 24 hours a day and is free of charge for guests staying at the hotel.
The shuttle service is available upon request, so be sure to call ahead if you plan on taking advantage of this convenient feature. The shuttle can accommodate up to 14 passengers, so it's a great way for larger groups to travel together.
What Is The Smoking Policy At Hollywood Casino?
The casino is a smoke-free facility, and smoking is not permitted on any of the gaming floors. However, there are designated smoking areas throughout the property where guests can enjoy cigarettes or cigars without exposing other players to secondhand smoke.
There are also several outdoor seating options available so that those who do not wish to inhale the smoke can still enjoy a relaxing view.
Smoking is not allowed in any of the restaurants, bars, or other public areas within the casino. In order to ensure that everyone can have an enjoyable experience while they visit, all guests are asked to respect this policy.
What Is The Pet Policy At Hollywood Casino and Hotel?
Unfortunately, pets are not allowed in the casino. Leashed animals may be walked on the property grounds but must always remain outside. Service animals trained to assist those with disabilities are welcome inside the premises as long as they wear a vest or other identifying item.
Is Wifi Available At Hollywood Casino?
Yes, wifi is available throughout the casino and hotel areas. Guests simply need to connect to the "Hollywood Casino" network and enter their room number when prompted.
The wifi service is free of charge for all guests and can be accessed from any wireless device. This makes it easy for visitors to stay connected and conduct any necessary business while they are away from home.
What Is The Cancellation Policy For Hollywood Hotel?
The cancellation policy for the hotel depends on the reservation type. Generally, if a reservation is cancelled at least 48 hours prior to arrival, no penalty fee will be charged to the guest.
However, guests may incur a penalty fee if a booking is cancelled within 48 hours of check-in time or later. It is important to read through the individual reservation policy before making any changes or cancellations, as fees may vary depending on the specific terms and conditions.
Conclusion
Visiting Hollywood Casino is a great way to have a fun and exciting time. From the casino floor to the restaurants and bars, there's something for everyone to enjoy.
It is important to follow the dress code when dining in any of the on-site restaurants and respect the smoking policy throughout the property.
The hotel also offers complimentary wifi service and an airport shuttle for guests staying at the hotel.
Lastly, be sure to read through the individual cancellation policies before making any changes or cancellations in order to avoid any unnecessary fees. Hollywood Casino is a great place to visit with all these amenities and more.