Isle of Capri Boonville
Address: 100 Isle of Capri Blvd, Boonville, MO 65233
Phone number: +1 660-882-1200
Website: https://www.caesars.com/isle-of-capri-boonville
Hours: The casino is open 8 am-4:30 am, Monday to Thursday, and 24 hours, Friday to Saturday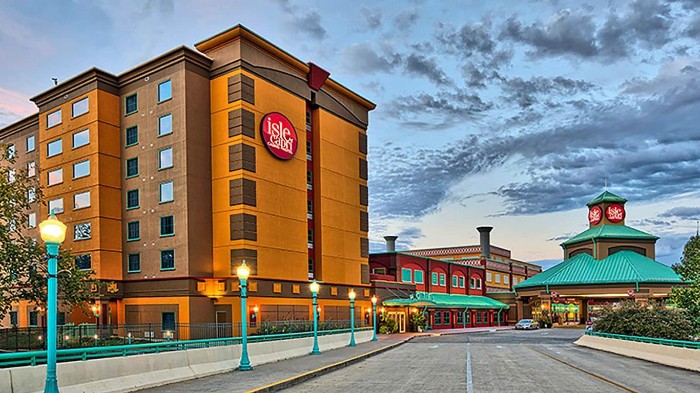 The Isle of Capri Boonville was established in 2001 and has since been a popular gaming destination for residents of Missouri and the surrounding area.
Located on the banks of the Missouri River, this casino offers an extensive selection of gaming options, including slots, table games, and video poker. The property also features several full-service restaurants and bars, a hotel, and event spaces.
The casino floor features over 800 gaming machines and 16 table games such as blackjack, roulette, craps and more. With so many poker variations to choose from, there is a style to suit every gamer, and you're sure to find one that you love.
The hotel features a fitness center, meeting spaces, and pet-friendly rooms for those who want to bring their furry friends along. There are 140 comfortable rooms and suites, all of which are designed to make your stay more comfortable.
If you're looking for something to do when you're not playing the slots or tables, then you can take a stroll along the banks of the Missouri River or enjoy live entertainment at one of the bars and restaurants.
Isle of Capri Boonville has been getting rave reviews from guests and visitors alike. Guests praise the excellent customer service, great gaming experience, and the hotel's spacious and comfortable rooms. Overall, it makes for a great place to stay.
(Related reading: Missouri casinos)
Gaming
This casino offers an extensive selection of gaming options, including slots, table games, and video poker. There is a game for everyone here, and you will surely find something piques your interest.
Table Games
The casino has something for everyone when it comes to table games: Blackjack, E-Roulette, Craps, Three-Card Poker, Texas Hold'Em, Mississippi Stud and Criss Cross Poker.
Whether your preference is to beat the dealer, roll the dice, try your luck in a poker game, or learn a new game like Criss Cross Poker, there is something for all levels of experience. The atmosphere is one where having fun takes precedence over all else.
The opportunity to play this great card and dice games await you at the Isle of Capri. Who knows, you might even end up winning big.
Table game minimums at Isle of Capri Casino vary depending on the game. Generally, Blackjack and E-Roulette have a $5 minimum bet for weekdays and $10 for weekends.
Craps minimums start at $3 during weekdays, while Three-Card Poker, Texas Hold'Em and Mississippi Stud are usually $10 minimum. Criss Cross Poker is a $15 minimum bet on weekdays and $25 on weekends.
Slots
Whether you are a fan of classic slots or prefer the newer video slots, there's something here for everyone. The casino is home to some of Missouri's most popular slot machines.
Some of its more popular games include:
Buffalo Diamond
Wheel of Fortune
Triple Double Diamond
Quick Hit Platinum
Zeus III
Dancing Drums
Explosion
Lightning Clash
The payback percentage for this casino is 90%. When you consider that the state of Missouri has a minimum payback percentage of 80%, you know you're going to have a good time when you visit this casino.
Hotel/Resort
The Isle of Capri Boonville offers a full-service hotel and resort for guests looking for an all-inclusive stay. The property features 140 comfortable rooms and suites, all designed to make your stay as comfortable as possible.
Some of the rooms types found at the hotel are:
Deluxe Room: King bed, spacious room, and plenty of amenities.
Deluxe Queen Room: 2 Queen beds, plenty of space, and amenities.
Junior Suite: King bed, oversized soaking tub, kitchen utilities, and amenities.
There is also a fitness center onsite and meeting spaces, making this the perfect place to host a corporate event or getaway. Plus, the property is pet-friendly so that you can bring your furry friends along for the journey.
The hotel also features two restaurants and bars for guests to enjoy. Whether you're looking for a quick bite or a full-course meal, there's something here that will satisfy everyone's taste buds. Plus, you can also enjoy live entertainment throughout the week.
The Isle of Capri is a great destination for those looking for an entertaining getaway. With its variety of gaming options, comfortable rooms and resort amenities, this hotel and casino will make your stay one to remember.
Some of the amenities you can expect to find at the casino and hotel include:
Spacious rooms and suites
Pet-friendly rooms
Restaurants and bars
Fitness center
Business center
Meeting spaces
Live entertainment
Event spaces
Weddings
Promotions
The cost of a room at the Isle of Capri Hotel depends on the type of room and season you are visiting. A standard room with two queen beds can range from $79 – $129 per night. Deluxe rooms start at around $109 per night. Suites typically range from $119 to $189 per night.
The hotel also offers discounts for members of certain organizations and those booking a stay in advance. Be sure to check out their website or contact the hotel directly for more information on current rates and special deals.
Check-in time at the Isle of Capri Hotel is 4:00 pm
Check-out time at the Isle of Capri Hotel is 11:00 am
Restaurants & Buffets
Those visiting the casino will find two restaurants onsite for their dining pleasure. The Brew Brothers offer casual pub fare with a selection of burgers, sandwiches, and appetizers paired with their own crafted ales and lagers.
Tradewinds serves up delicious family-style cuisine in a comfortable atmosphere. From succulent steaks to fresh seafood dishes, you are sure to delight your taste buds here. Whichever you choose, you are guaranteed quality food and enjoyable service at both of these restaurants.
Pools
There is no pool available at this location. Additionally, you will find that there is no spa and there are no hot tubs available.
Isle of Capri Boonville, MO FAQ
Does Isle of Capri Have A Sportsbook?
At this casino, guests can enjoy a variety of games, restaurants and entertainment. However, one amenity this casino does not offer is a sportsbook. Despite the lack of a sportsbook, the casino still offers plenty of other activities for its guests to engage in and enjoy.
Is Poker Available At Isle of Capri Casino?
Even though you will not find a traditional game of poker at the casino, there are still opportunities to enjoy card games with a poker flavor. This casino offers variations such as Ultimate Texas Hold 'em and multiplayer Hot Table Poker, which has many of the same elements as classic poker.
These games feature some of the betting dynamics and skill-based calculations found in regular poker, enabling players to experience the excitement associated with this beloved card game.
Furthermore, these variations provide more dynamic gaming options that build on popular poke gaming conventions.
What Are The Age Requirements For Gambling At Isle of Capri Casino?
The casino follows all regulations set by the Missouri Gaming Commission, which mandates that all patrons must be 21 years or older before they can take part in gambling activities.
It's important to keep valid identification at hand when visiting the casino for verification purposes. To ensure an enjoyable experience for all guests, please respect the age requirement and refrain from any prohibited activity.
Does Isle of Capri Have An Online Casino?
This location is a beautiful and entertaining casino located in Boonville, Missouri. Although the casino offers many exciting games and attractions, it does not offer an online casino option.
This means that while patrons can still visit the casino's physical location to enjoy their favorite games, those who want to play on their computers or mobile devices must do so elsewhere.
Is There An Isle of Capri Casino App?
Unfortunately, there is no app at this time. However, the casino offers a variety of amenities and activities for visitors to enjoy.
From the multiple gaming options such as slots and table games to the onsite entertainment opportunities like live music and comedy shows, there is something for everyone to enjoy at this popular destination.
The website for the casino is also easy to navigate and access, giving you the option to browse everything the location offers and even check your loyalty points account.
What Is The Dress Code At Isle of Capri Casino Boonville?
The dress code at the casino is generally considered "smart casual." Appropriate clothing includes collared shirts, slacks or jeans and closed-toed shoes for men. Women may choose sundresses, skirts, pants or jeans with a nice top.
Please be aware that flip-flops, tank tops and overly casual attire are not allowed. Additionally, the casino reserves the right to deny entry to those dressed inappropriately.
Is There An Airport Shuttle Available From Isle of Capri Casino and Hotel?
No, the casino does not offer an airport shuttle service at this time. Those who need transportation to and from the casino can make use of local taxis or ride-sharing services, depending on where they are coming from.
Alternatively, visitors can rent a car if they wish to have greater control over their travels. It's important to plan ahead to ensure that you have the most convenient way of getting to and from the casino.
What Is The Smoking Policy At Isle of Capri Boonville?
The smoking policy at the casino is strictly enforced. Generally speaking, all casino areas are non-smoking, except for designated outdoor smoking areas.
These areas are clearly marked, and those who wish to smoke must remain in these sections while on the premises. Additionally, please note that vaping and other forms of smokeless tobacco are also prohibited.
What Is The Pet Policy At Isle of Capri Hotel and Casino?
The casino does not allow pets on the premises. This includes all areas of the casino except service animals used to assist patrons with disabilities.
However, the hotel offers pet-friendly rooms where pets can be left while you are on the casino floor. Please note that these rooms may incur an additional charge.
Is Wifi Available At Isle of Capri Casino?
Yes, the casino offers complimentary wifi access. This allows those staying at the hotel and playing in the casino to stay connected during their visit.
Wifi can be accessed by entering your room number or loyalty card information into the prompts that appear when you attempt to connect. Please note this connection is only available within certain areas of the facility.
What Is The Cancellation Policy For Isle of Capri Hotel?
The cancellation policy for the casino varies depending on whether or not you have booked a room, ticket to an event or other service with the casino.
Generally speaking, patrons must cancel their reservation at least 24 hours in advance to receive a refund. Any cancellations within this time frame may result in fees or charges being assessed.
Conclusion
Isle of Capri Casino Boonville is a popular destination for visitors looking to experience the thrill of gaming and entertainment. With multiple gaming options, onsite entertainment and easy access to other services, it is a great choice for those seeking an exciting getaway.
The casino also has a strict dress code and smoking policy that must be followed, as well as a pet policy that must be taken into consideration when making travel plans.
There are also complimentary wifi and cancellation policies in place to make the visitor experience more pleasant.
With all this in mind, Isle of Capri Casino Boonville provides an enjoyable atmosphere for anyone looking to take part in some gaming fun.