The Horseshoe Casino, St Louis
Address: 999 N 2nd St, St. Louis, MO 63102
Phone number: +1 314-881-7777
Website: https://www.caesars.com/horseshoe-st-louis
Hours: This casino is open 24 hours a day 7 days a week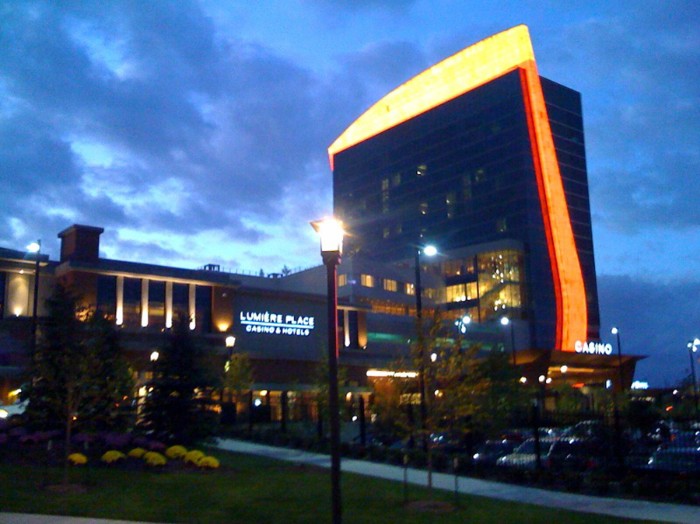 The Horseshoe Casino, located in downtown St. Louis, is a Caesars Entertainment property that first opened its doors in 2007. The casino was developed as a joint venture between Pinnacle Entertainment and Harrah's Entertainment.
The complex consists of a 24-hour casino with over 1,100 slot machines and 33 table games, 10 poker tables, four restaurants, a retail area, and a multi-level parking garage. The property also features a sports bar with 12 TVs for exciting nightlife.
The casino floor is open 24 hours a day, and the gaming options vary depending on the time of day. The main casino area houses slot machines, video poker, table games such as blackjack and craps, and a high-limit gaming area with private tables.
There's also an entertainment center within the casino that features live music performances and comedy acts from some of the most popular entertainers in St. Louis. The hotel was developed in partnership with Four Seasons and features 294 luxurious rooms as well as a Four Seasons spa.
Guests rate Horseshoe Casino 3.8 out of 5.0 stars on average. Most of the guests praised the friendly staff, freshly cooked food, and variety of entertainment. They also noted that the casino was always clean and well-managed.
(Related reading: Missouri casinos)
Gaming
This casino offers plenty of options for those looking to hit slots, tables, or poker. There is something for everyone, and you're sure to find the excitement you seek on the casino floor.
Table Games
This casino has a great selection of table games for everyone who enjoys fast-paced action and an adrenaline rush. Those looking for a classic experience will have plenty to choose from, with Baccarat, Craps, Roulette, Three-Card Poker, and Ultimate Texas Hold'Em all available.
Baccarat is one of the most popular table games around the world and provides lots of strategic decisions for gamblers looking to give their odds the best chance. Craps keeps the dice rolling and offers tons of betting options to test your luck.
Roulette is arguably one of the oldest casino games still being played today, as you spin a wheel that could make or break your evening. Three-Card Poker and Ultimate Texas Hold'Em offer lots of rewarding hands and intense bluffing duels that keep players on their toes.
With so many exciting table games and a vibrant atmosphere, it's no wonder why this Las Vegas-style casino has become a favorite stop in Missouri.
The minimums for each game vary depending on the time of day. During peak times, most table games require a minimum bet of $10. However, at off-peak times these limits can drop as low as $2. The casino also offers high-stakes tables with maximum bets of up to $500 or more.
Slots
This casino has a great selection of slot machines and video slots for players to enjoy. There is a fantastic variety with over 1,100 to choose from, meaning you're going to find something that gets your heart racing.
Popular games include:
Wheel Of Fortune
Quick Hits, Buffalo Grand
88 Fortunes
Players can also find many video poker machines with different variations, including Double Bonus Poker and Triple Play Poker.
The payback percentage at this casino is 89.6%. When you consider that the minimum payback percentage for the state of Missouri is 80%, you can expect some great results when you're playing the slots at this location.
Hotel/Resort
The Four Seasons hotel offers guests a luxurious experience with 294 rooms, each of which is outfitted with flat-screen TVs, ergonomic work desks, and complimentary Wi-Fi.
The onsite spa features a range of treatments and beauty services to help you relax after a long day at the casino. A few room types included at the hotel are:
South Tower Premium: King bed, living and sleeping spaces, presidential suite.
Superior Suite: King bed, living and sleeping spaces, conference table.
Premium Room: King bed, spacious room, plenty of amenities, superior views.
Guests can also enjoy access to the hotel bar, a live entertainment center, and an indoor pool with a hot tub. For those looking to stay active, there is plenty of equipment at the fitness center and fantastic nightlife.
The hotel is conveniently located just minutes from attractions like the Gateway Arch and Busch Stadium, making it easy for guests to explore all St. Louis has to offer when they want a break from the casino floor.
Horseshoe Casino is a great spot for gamblers looking for excitement and entertainment in St. Louis. With plenty of gaming options, high payback rates, delicious restaurants, and luxurious accommodations, it's no wonder why this casino is such a popular destination in Missouri.
Some of the amenities you can expect to find at the hotel and casino include:
Luxurious rooms and suites
Ample parking
Restaurants and bars
Nightlife
Indoor pool
Hot tub
Spa
Business center
Fitness center
Live entertainment
Event spaces
Shopping
Reward system
The cost of a room at the casino hotel will vary depending on the day and time of your stay. Rates start from as low as $116 per night for standard rooms, which can go up to approximately $400 for luxury suites.
Check-in time at The Horseshoe Hotel is 4:00 pm
Check-out time at The Horseshoe Hotel is 11:00 am
Restaurants & Buffets
This casino provides guests with an exciting gaming experience and multiple dining options. If you're looking to sample some of Missouri's award-winning flavors, check out Cinder House for a contemporary steakhouse menu.
Morton's The Steakhouse offers classic fare that is sure to please and is perfect for any special occasion. For something more casual yet tasty, Riverfront Grill serves up quintessential American cuisine.
If you need something quick, The Slice Pizzeria and Pasta has a variety of handcrafted pizzas that are cooked to perfection along with delicious pastas.
For those moments when only coffee will do, Starbucks offers premium espresso beverages and light snacks throughout the day. There's something for everyone.
Pools
You can escape the day-to-day at this casino resort and dive into their lavish pool area or even take a trip to the spa.
Featuring an impressive indoor pool and hot tub, surrounded by stately columns and modern decor, the atmosphere is cozy yet glamorous. A stay at this full-service hotel will allow you to completely unwind in the freshwater oasis.
Horseshoe Casino, St Louis, MO FAQ
Does Horseshoe Casino Have A Sportsbook?
Unfortunately, this casino in Missouri does not have a sportsbook. It is a hotel and casino that features live music, fine dining and luxury spa services, but does not offer sports betting or wagering of any kind.
For those looking for similar entertainment experiences elsewhere in the state of Missouri, you will not find any options for sports betting as it is currently illegal in the state of Missouri.
Is Poker Available At Horseshoe Casino, St Louis?
This casino is well-known for its excellent gaming and entertainment options. Poker lovers, in particular, are sure to be delighted with the selection of poker games available at this bustling venue.
From classic Texas Hold'Em to new variations like 3 Card Draw and Heads Up, there is something for everyone here. Even if you just want to play classic poker, there are ten tables dedicated to it.
What Are The Age Requirements For Gambling At Horseshoe Casino?
The casino has set the age requirement for various types of gambling to 21 years or older in accordance with the law. It is important that those under 21 adhere to this rule as it ensures your safety and is regulated by state law. Therefore, you must be prepared to show ID at all times.
Does Horseshoe Have An Online Casino?
This casino is an exciting spot for gambling and entertainment, with activities like live sports, table games, slot machines, and more. Unfortunately, it does not offer an online casino.
Though many online casinos offer a similar experience while providing the convenience of playing from home or on the go, this location chose to focus on its in-person amenities.
Player feedback suggests that they are committed to maintaining their high standard of customer service by providing an exceptional and unforgettable experience with each visit.
Even if you can't take advantage of playing via computer or smartphone, it is worth a visit to this one-of-a-kind casino.
Is There a Horseshoe Casino App?
Unfortunately, there is no app. However, all of the information needed for the casino is easily accessed through their user-friendly website.
There are two ways to look up the games and upcoming events, check your reward points, and view promotional discounts the casino has to offer. The main page has tabs at the top that organize everything by type.
Alternatively, you can use the search bar to quickly and efficiently find whatever you need. The site also provides contact information for all inquiries or concerns you may have about the casino and directions and parking information.
What Is The Dress Code At Horseshoe Casino, St Louis?
The dress code at this casino is casual but neat. Guests should be aware that they are representing this establishment and should strive to do so with appropriate attire.
Shirts must have a collar and sleeves, and guests should avoid clothing items with offensive language, graphics or slogans. Shoes must also be worn at all times in the casino, and ripped, or torn clothing is not acceptable.
Is There An Airport Shuttle Available From Horseshoe Casino and Hotel?
Yes, there is an airport shuttle available from the casino. This complimentary service runs seven days a week and is available to any guest staying at the hotel.
It operates between Lambert-St. Louis International Airport and the casino provide guests with a convenient and stress-free way to get back and forth.
What Is The Smoking Policy At Horseshoe Casino?
The smoking policy at the casino is no smoking. This includes any type of tobacco product, e-cigarette, or vaping device.
This is to promote the health and safety of all guests and staff members. There are designated outdoor areas if you need a break and want to step outside for a smoke.
What Is The Pet Policy At Horseshoe Casino and Hotel?
The casino does not allow pets on its premises. This includes any type of animal, except for service animals trained to assist guests with disabilities.
Is Wifi Available At Horseshoe Casino, St Louis?
Yes, wifi is available throughout this casino. Guests can access this complimentary service by entering their room number on the sign-in page.
What Is The Cancellation Policy For Horseshoe Hotel?
The cancellation policy for the hotel is as follows: You will be refunded in full if you cancel your reservation more than 48 hours before the check-in date.
If you cancel within 48 hours of the check-in date, you are still eligible for a refund but may incur a $50 processing fee. No refund is issued if you cancel within 24 hours of the check-in date.
Please refer to their website for more information about their cancellation policy or contact their customer service team.
Conclusion
Horseshoe Casino, St Louis, is one of the most popular casinos in the city. It offers a variety of gaming options, along with an array of restaurants and bars to enjoy.
The website provides all you need to know about upcoming events, promotions, and more. There is also an airport shuttle available for guests staying at the hotel, along with free wifi throughout the casino.
The dress code is casual but neat, and smoking is strictly prohibited inside the building. Pets are not allowed, either, so make sure to leave your furry friends at home.
Finally, be sure to read up on their cancellation policy before booking a room. That way, you'll be better prepared in the event that you have to make any changes or cancel your reservation.