Fort Belknap Casino Harlem
Address: 104 Assinibione Ave, Harlem, MT 59526
Phone Number: +1 406-353-2235
Website: N/A
Hours: Fort Belknap Casino is open Monday 10 AM – 2 AM, Tuesday 10 AM – 2 AM, Wednesday 10 AM – 2 AM, Thursday 10 AM – 2 AM, Friday 10 AM–2 AM, Saturday 10 AM – 2 AM, Sunday 10 AM – 2 AM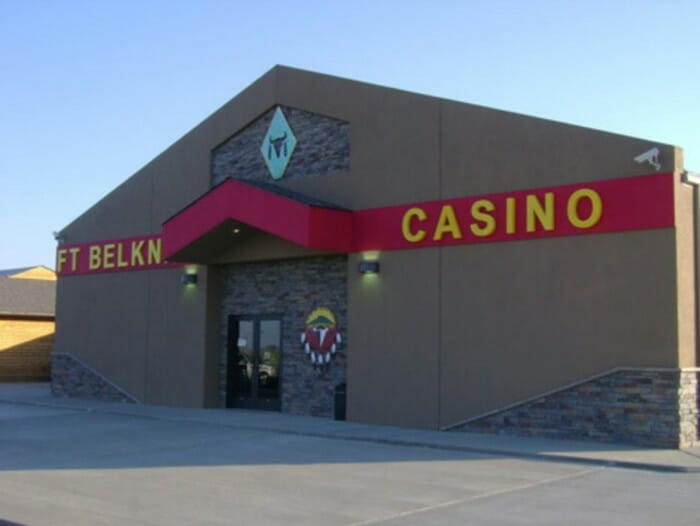 Fort Belknap Casino is a gaming and entertainment destination located in the heart of Harlem, Montana. Since its opening, the casino has become a popular spot for locals and tourists alike. It offers various gaming options, including slots and other electronic games.
In addition to gaming, the casino has a bar and restaurant where visitors can enjoy various food and drinks. The casino also hosts live music and events, as well as special promotions throughout the year.
Whether you're in the mood for a night out or just looking to relax, this casino will surely provide an enjoyable experience. With its welcoming atmosphere, friendly staff and great food, it's no wonder why this casino has become a favorite of many Montana residents.
This casino has an overall rating of 4 out of 5 stars on Google reviews. One guest said, "Fort Belknap Casino is a great place to come and gamble. The staff and atmosphere are always very welcoming. I will definitely be back."
Another described the casino as "The perfect spot for a night out with friends; lively, entertaining, and the food was delicious."
(Related reading: Montana casinos)
Gaming
Their gaming floor has a total of more than 150 slot machines, from classic to new and progressive games. Plus, with promotions and tournaments, you can easily win big at this casino.
Table Games
Unfortunately, this casino does not offer any table games for players. However, they do provide a wide variety of slot machines for all levels of players. The casino hosts several slot machines with multiple themes to choose from.
It's still worth visiting the casino as the atmosphere is exciting, and the staff is friendly. So if you're a fan of slot machines, this casino is the perfect destination for you.
Slots
This casino offers a variety of slot machines with varying themes. Some of the most popular slots here include:
Colossal Wizards
Wheel of Fortune
Li'l Red
Monopoly
Spartacus Gladiator of Rome
Forbidden Dragons
Queen of the Wild II
Buffalo Gold
Lazer Lock Ice Sapphire
Unfortunately, this casino does not publicly disclose its slot machine payback percentage. However, it adheres to Montana's gaming regulations, which sets a minimum slot machine payout of 80% for all casinos in the state.
Hotel/Resort
Looking to stay near this casino in Montana? While no hotel is attached to the property, there are plenty of great options just a short drive away.
The Chinook Motor Inn offers cozy rooms and unbeatable hospitality, while the Stage Road Inn provides modern amenities and a convenient location. Both hotels are perfect for those looking to explore the area or relax after a night of gaming at the casino.
So if you're planning a trip to this casino, don't hesitate to book a room at one of these nearby hotels. From there, you can easily access the casino and explore the town of Harlem.
Restaurants & Buffets
While visiting this casino in Montana, be sure to check out the delicious restaurants available on-site. The Casino Snack Bar offers a variety of quick bites and tasty treats, perfect for a mid-gaming snack. If you're looking for something heartier, the Smokehouse Grill is the perfect option.
The restaurant offers delicious smoked meats, flavorful sides, and a warm and welcoming atmosphere. No matter your craving, these restaurants will satisfy your hunger while adding even more fun to your time at this casino.
Pools
If you're planning a trip to this casino in Montana, it's important to know that there are currently no swimming pools on the premises. While the lack of onsite pools may disappoint some visitors, there are still plenty of exciting activities to enjoy during your stay.
From the adrenaline of slot machines to the delicious dining options offered at their restaurant, there's something for everyone. So don't let the lack of a pool put a damper on your trip – instead, use this as an opportunity to explore all this casino and the surrounding areas have to offer.
Fort Belknap Casino, Harlem, MT FAQ
Does Fort Belknap Casino Have A Sportsbook?
Unfortunately, there is no sportsbook available at this casino. However, they offer various slot machines and other gaming options for players. As such, visitors can still have plenty of fun while they're here.
Is Poker Available At Fort Belknap?
No, there are no poker tables at this casino. Instead, visitors can try the 150 slot machines available on the gaming floor. Additionally, they can enjoy a meal or two at the restaurant or take in the lively atmosphere of the casino.
What Are The Age Requirements For Gambling At Fort Belknap Casino?
The minimum age requirement for gambling at this casino is 21 years of age. Anyone under the age of 21 will not be allowed to enter the casino or participate in any gaming activities.
Identification may be requested when entering the casino, so it's important for visitors to bring their valid ID with them.
Does Fort Belknap Have An Online Casino?
No, there is no online casino associated with this casino. Currently, the only gaming option available is the live casino in Harlem, Montana. Visitors interested in playing at this casino must physically visit the premises to enjoy the gaming options offered there.
Is There An Fort Belknap Casino App?
They do not have an app at this time. However, they can be contacted directly through their website or through their Facebook page for more information about the casino's offerings so that visitors can stay up-to-date on the latest developments.
What Is The Dress Code At Fort Belknap?
The dress code at this casino is casual. Visitors should wear comfortable clothing while gaming, such as T-shirts and jeans. Additionally, visitors should refrain from wearing any offensive or graphic clothing.
Is There An Airport Shuttle Available From Fort Belknap Casino?
No, there is no airport shuttle available at this casino. However, visitors can arrange transportation to and from the casino via taxi or other rideshare services. Visitors should contact a local taxi service for additional information.
What Is The Smoking Policy At Fort Belknap?
The casino is a non-smoking facility. Visitors cannot smoke anywhere on the premises, including in outdoor areas. Those wishing to smoke can do so outside of the casino's boundaries.
Additionally, visitors should note that vaping and e-cigarettes are prohibited inside the casino. Violators may be asked to leave or face other consequences.
What Is The Pet Policy At Fort Belknap Casino?
Pets are not allowed on the casino's premises. Service animals are the only exception. Visitors should also note that they are responsible for any damage caused by their pets or service animals on the casino's grounds and may be liable for any damages.
Is Wifi Available At Fort Belknap?
Unfortunately, there is no wifi available at this casino. However, visitors should be able to access cellular data on their devices to stay connected while visiting the casino.
It's also a good idea for visitors to download maps or other information ahead of time to access it even without an internet connection. This will help them to get around more easily while they're here.
What Is The Cancellation Policy For Fort Belknap Casino?
They do not offer accommodations, so there is no cancellation policy for this casino. Visitors should plan accordingly and ensure they can attend before making a reservation or booking any tickets.
Conclusion
This casino, located in Harlem, Montana, is a great place for visitors to play slots and try their luck. While there are no poker tables or online casino games, they do offer 150 slot machines and plenty of other options to enjoy.
To ensure a safe and enjoyable experience, visitors should make sure they meet the age requirements for gambling and adhere to the dress code, smoking policy, and pet policy. With this in mind, visitors can look forward to a fun time at Fort Belknap Casino!