Glacier Peaks Casino, Browning
Address: 46 Museum Lp, Browning, MT 59417
Phone number: +1 406-338-2274
Website: https://www.glacierpeakscasino.com/
Hours: The casino is open 9 am-2 am seven days a week.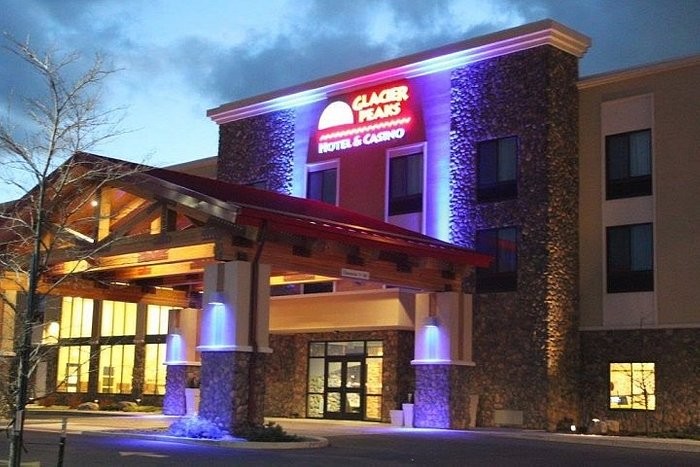 The Glacier Peaks Casino in Browning, Montana, is a popular destination for those looking to enjoy some gambling and entertainment. The casino has been in operation since 2006 and offers a choice between over 300 slot machines or an exciting bingo hall.
The casino is open 9 am-2 am seven days a week, and it has two restaurants on-site that serve breakfast, lunch, and dinner. There is also a kid's menu for the little ones. In addition, the casino hosts live entertainment and special events throughout the year.
It also offers a variety of amenities to its patrons. The rooms in the spacious hotel are well-equipped with everything you need to enjoy your stay, and a cafe for those who want a hot drink to start their morning.
There are also plenty of local attractions if you want to experience something a little different when you take a break from the casino floor. This cosy casino has something for everyone and is home to the highest-paying slots in Montana.
Guests rate Glacier Peaks Casino 3.5 out of 5 stars. Reviewers praise the casino for its friendly staff, clean environment, and great gaming options. Guests also appreciate the casino's amenities, including lodging nearby and free shuttle service.
(Related reading: Montana casinos)
Gaming
This casino offers a variety of gaming options, including slot machines and a bingo hall. There are also regular promotions, which is good if you want to win big.
Table Games
There are no table games offered at this casino.
Slots
With over 300 slots to choose from, you'll be spoiled for choice when you visit this casino. The intimate floor space makes for the ideal casual gambling atmosphere and one that feels like home.
The most popular slot machines at Glacier Peaks Casino include:
Cleopatra
Wheel of Fortune
Triple Diamond
Big Bang Theory
Buffalo Grand
Quick Hit Volcano
There are also progressive jackpots for those looking to try their luck for larger winnings and bingo for those who want to enjoy an intense game of chance.
The casino has not made its payback percentage available to the public, but it does claim to be the highest-paying casino in the state of Montana. Since the state's minimum payback percentage is 80%, you can expect it to be higher than that here.
Hotel/Resort
Located nearby the casino is a hotel with many amenities to make your stay pleasant. The rooms are clean and have everything you need for a comfortable stay, including a cafe for those who want an early jump-start to their day.
Some of the room types you can expect to find include:
Standard King: King bed, blackout curtains, plenty of amenities.
Double Queen: 2 Queen beds, blackout curtains, plenty of amenities.
King Suite: Living and sleeping space, kitchen utilities, amenities.
Double Queen Suite: Living and sleeping space, two beds, kitchen utilities, amenities.
There are two restaurants available at the casino and the coffee shop in the hotel. An indoor pool and hot tub are also available to those who are staying at the hotel. There is also a business center and a fitness center for those who wish to use them.
This is the perfect destination for those looking to enjoy a gaming experience in Browning, Montana. With its friendly staff and great gaming options, this casino is sure to be an enjoyable experience.
Popular amenities that you will find at this casino and hotel include:
Spacious rooms and suites
Restaurants and bars
Indoor pool
Hot tub
Fitness center
Business center
Event spaces
Live entertainment
Promotions
The rates vary depending on the type of room you choose and the time of year. The standard king-bed rooms start from $80, while the double queen-bed rooms start from $90. Prices for suites range from $105-$195 per night.
It is also possible to get discounts and special offers when booking your stay at Glacier Peaks Casino. It's worth checking out the promotions ahead of time to see what deals are available so you can save money on your stay!
Check-in time at Glacier Peaks Hotel is 3:00 pm
Check-out time at Glacier Peaks Hotel is 11:00 am
Restaurants & Buffets
The casino is home to three excellent restaurants that are sure to please any palate. The Jackpot Restaurant is ideal for those who want a casual dining experience with a variety of American comfort food favorites.
The menu features classics like burgers and fries and more substantial entrees like chicken fried steak and meatloaf. Lucky's Lounge is perfect for those looking for a lively atmosphere where they can enjoy a drink and some light fare.
The menu features a selection of appetizers, sandwiches, and salads. And for those who want to watch the game while they eat, there are plenty of TVs tuned to all the major sporting events.
Finally, Glacier Grind is the place to go for coffee, pastries, and other grab-and-go items. Whether you're looking for a quick breakfast or a mid-afternoon pick-me-up, the casino has you covered.
Pools
The casino and hotel feature both an indoor pool and a hot tub for guests to enjoy. The indoor pool is great for lap swimming or just cooling off, and the hot tub is perfect for relaxing after a long day.
Guests can also take advantage of the casino's fitness center, which offers a variety of cardio and weight-training equipment.
Glacier Peaks Casino, Browning, MT FAQ
Does Glacier Peaks Casino Have A Sportsbook?
This casino does not have a sportsbook. This may be due to the state's regulations on gambling.
Sports betting is currently only allowed in person at licensed casinos in Montana that follow very strict and specific rules. A few online sportsbooks are also available to residents of the state.
Is Poker Available At Glacier Peaks?
At this casino, there are a variety of gaming options available for visitors to enjoy. However, poker is not one of the games that are offered at this casino.
Many casinos choose to focus on games that are more accessible to a wider range of people, and the small floor space found at this location means it is more suited to being a slot machine casino.
What Are The Age Requirements For Gambling At Glacier Peaks Casino?
The age requirement for gambling at this casino is 21. This is because, in the state of Montana, it is illegal for anyone under the age of 21 to gamble. The casino enforces this age limit by requiring all patrons to present a valid ID before they enter the gaming area.
Does Glacier Peaks Have An Online Casino?
No, at this time, this location does not have an online casino. However, there have been rumours that they are in the process of investigating the feasibility of offering such a service in the future.
There are many factors to consider when setting up an online casino, including licensing, software, and payment processing. Online casinos are also subject to strict regulation, so any potential launch would have to comply with all applicable laws.
Regardless of whether or not Glacier Peaks Casino ultimately offers an online casino, they remain a great place to enjoy your favorite games. With over 300 slot machines to keep you entertained.
Is There An Glacier Peaks Casino App?
While there is no app available at this time, there are still plenty of ways to enjoy the casino experience from your mobile device.
The casino website can be accessed from most smartphones and tablets and offers a wide range of features, including game information, account management, and more.
In addition, the casino offers a responsive mobile website that will adjust to fit any screen size. This means you can access the same great casino content from your phone or tablet, no matter your device.
What Is The Dress Code At Glacier Peaks Casino?
At this casino, there is no dress code. The casino welcomes guests regardless of their clothing choices. However, it's important to remember that this is still a business establishment, and certain rules still apply.
Guests should avoid wearing clothing that may be deemed offensive or inappropriate for the atmosphere. This includes anything overly revealing or offensive in nature.
Is There An Airport Shuttle Available From Glacier Peaks Hotel and Casino?
Unfortunately, there is no airport shuttle to or from the casino. However, you can arrange for a private car service to pick you up and drop you off at the casino.
You can also use a rideshare app like Uber or Lyft to get around town. The casino is well-connected to the rest of the city via public transportation, so you can easily get to and from the casino with ease.
What Is The Smoking Policy At Glacier Peaks Casino?
At this casino, smoking is allowed in designated areas. Guests are asked to respect the designated nonsmoking areas and not smoke anywhere else on the property.
The casino also offers a separate gaming area for smokers, which includes its own air filtration system. Any guest found smoking in an unauthorized area will be asked to leave the premises.
What Is The Pet Policy At Glacier Peaks Casino and Hotel?
At this time, pets are not allowed inside the casino. The only exceptions to this rule are service animals with accompanying valid documentation.
If you plan to bring a pet on your visit, you should make arrangements for their care outside of the casino premises. This includes finding a suitable kennel or pet sitter in the area.
Is Wifi Available At Glacier Peaks Casino?
Yes, guests at the casino are able to access free wifi throughout the casino. You can connect to the network by entering your room number and selecting the "Glacier Peaks Casino" network from your device's list of available networks.
The connection is secure, so you can browse safely while you're enjoying all that this location has to offer.
What Is The Cancellation Policy For Glacier Peaks Hotel?
At Glacier Peaks Casino, the cancellation policy will vary depending on your reservation type. Generally speaking, reservations can be canceled up to 24 hours prior to arrival without incurring any fees.
A fee may apply if a reservation is canceled within 24 hours or less of scheduled arrival. You should always refer to your booking confirmation for specific details regarding your reservation.
Conclusion
Glacier Peaks Casino is an exciting place to visit for those looking for a fun-filled gaming and entertainment experience. From its wide selection of slot machines to its friendly staff, you can be sure that your time at this casino will be enjoyable.
The casino also offers plenty of amenities, including free wifi and a pool for guests to relax in. Additionally, the casino offers a convenient mobile website and a no-dress code policy so that you can feel comfortable while visiting the casino.
So if you're looking for an exciting night out in the town, Glacier Peaks Casino is the place to be.