Gray Wolf Peak Casino, Missoula
Address: 20750 US-93, Missoula, MT 59808
Phone number: +1 406-726-3778
Website: https://graywolfpeakcasino.com/
Hours: The casino is open from 10 am until 2 am every day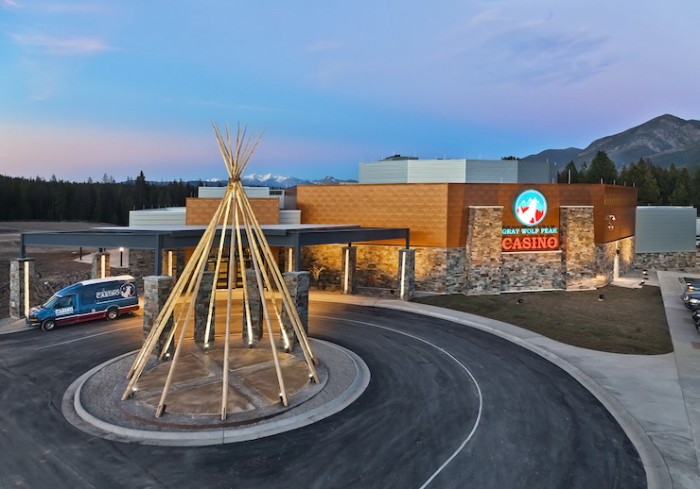 The Gray Wolf Peak Casino has been a staple in the Missoula, Montana community for years. It is owned and operated by the Confederated Salish and Kootenai Tribes of the Flathead Nation, who have had a long history in the area.
The casino first opened its doors in 1990 under a different name before becoming the Gray Wolf Peak Casino in 2016. It offers a 24-hour gaming floor with over 300 slot machines for guests to enjoy as well as some exciting progressive jackpots and promotions.
The casino also houses a fantastic restaurant and bar, giving guests a place to kick back and relax when they want a break from the excitement of the casino floor. The Gray Wolf Peak Casino also features a live entertainment venue for guests to enjoy throughout the year.
Besides gaming and entertainment, the casino offers a variety of other activities, including a fantastic golf sim that has become one of the highlights of the casino. They also have fantastic events and live entertainment that are sure to pique your interest when you visit.
The Gray Wolf Peak will surely provide visitors with an exciting night out. It combines gaming and entertainment with a friendly atmosphere to create the perfect environment for an unforgettable experience.
Guests rate the Gray Wolf Peak Casino highly, as evidenced by its long history in the Missoula community. Guests praise its friendly staff, variety of gaming and entertainment options, as well as its convenient location.
(Related reading: Montana casinos)
Gaming
This casino offers over 300 slot machines with a variety of themes to choose from. It also features some exciting progressive jackpots, weekly promotions and events that are sure to add to your gaming experience.
Table Games
The casino does not offer any table games to visitors.
Slots
With hundreds of slots to choose from, you will surely find something that captures the excitement of gambling at this casino.
Some of the more popular slot machines found at this location include:
Buffalo Gold
Wheel of Fortune
Cleopatra
Divine Fortune
This casino has not made its payback percentage publicly available. However, when you consider that the payback percentage for the state of Montana is 80%, you get a much clearer idea of what to expect from your time on the casino floor.
Hotel/Resort
This casino does not offer a hotel. However, some great places to stay are located close to the property. Some of the most popular lodgings are:
Best Western Plus
Super 8
Ninepipes Lodge
Days Inn by Wyndham
Restaurants & Buffets
This casino in Montana is a great place to experience delicious restaurants. The Lassaw Sports Bar offers a fantastic menu full of classic American entrees with a unique twist that you can only find at Gray Wolf.
With the flat screens all around, you will never miss a beat of the big game. It also plays host to live music and karaoke for some added entertainment as you dine. Try the Tex-Mex Quesadilla or the Lip Smackin' BBQ Buffalo Wings for something truly different from your typical restaurant fare.
There's always something exciting at Lassaw Sports Bar to keep your palate pleased and your energy up.
Pools
This casino does not have a pool. Additionally, no other facilities, such as a spa or hot tubs, are available.
Gray Wolf Peak Casino, Missoula, MT FAQ
Does Gray Wolf Peak Casino Have A Sportsbook?
Unfortunately, this casino in Montana does not currently have a sportsbook. Therefore, those looking for a place to bet on sporting events in the area will need to look elsewhere.
While many casinos around the US now offer sportsbooks and other ways to bet on games and matches, Gray Wolf Peak has not yet joined this trend. There are plenty of other options for those wanting to combine casino gaming and betting on sports.
Is Poker Available At Gray Wolf Peak Casino, Missoula?
Unfortunately, poker is not one of the games available at the casino. This casino prides itself on offering its customers a range of gaming experiences, but this does not include playing poker.
However, many other exciting and thrilling games are on offer at the casino that are sure to keep everyone entertained.
What Are The Age Requirements For Gambling At Gray Wolf Peak Casino?
The casino has an age requirement for patrons hoping to gamble. All players must be 21 years of age or older; no one younger than 21 is allowed in the casino for gambling purposes.
Does Gray Wolf Peak Have An Online Casino?
Unfortunately, this location does not have an online casino. While it might seem to be a disappointment to many of its customers who would have enjoyed the convenience of playing their favorite games from the comfort of home, it's not all bad.
It encourages you to get out there and make the most of the friendly atmosphere and the thrill of the casino floor. This is a location worth visiting, especially for those who want an intimate and warm ambience.
Is There An Gray Wolf Peak Casino App?
Unfortunately, no app exists for this location. The casino is a great place located in Evaro and has everything a gambler could need or want; from slots to table games, they have it all.
But rather than having an app to access the casino remotely, members have to physically go to the location to take advantage of their services. The website makes up for this by being easy to navigate and giving you access to everything you need on any device.
What Is The Dress Code At Gray Wolf Peak Casino?
The dress code at the casino is relaxed and comfortable. The attire should be neat and appropriate, but there is no strict policy here.
Guests can wear casual clothing such as jeans, T-shirts, shorts, or even sweatpants. Visitors are asked to avoid wearing items that may offend others or anything that could be deemed too provocative.
Is There An Airport Shuttle Available From Gray Wolf Peak?
No, unfortunately, there is no airport shuttle service at the casino. However, getting to and from the airport is still possible either by taxi or car rental.
This is an excellent option for those wishing to enjoy the convenience of a car while also avoiding having to drive themselves. Taxis are plentiful around the area and offer reasonable rates. Car rentals can also be arranged at the airport or online.
What Is The Smoking Policy At Gray Wolf Peak Casino?
The casino has a no-smoking policy that applies to all areas of the premises. This means that visitors are not allowed to smoke in any area, including the gaming floors and restaurant areas.
Smoking is allowed only in designated outdoor and underground chambers that have been specifically designed for this purpose. The casino is committed to providing guests with a safe, healthy, and enjoyable environment.
What Is The Pet Policy At Gray Wolf Peak Casino, Missoula?
The casino does not allow pets of any kind to enter the premises. This is in order to ensure the safety and comfort of all guests, as well as maintain proper hygiene standards.
Service animals that are specially trained to assist individuals with disabilities are allowed on the property. All other animal companions must remain at home or in a pet-friendly accommodation.
Is Wifi Available At Gray Wolf Peak?
Yes, the casino does offer free wifi to all of its guests. Guests will be able to access the internet from anywhere on the premises, including gaming floors and dining areas.
The connection is fast and reliable, allowing everyone to stay connected while enjoying their time at the casino. This is a convenient option for those who need to check their emails or access information online.
What Is The Cancellation Policy For Gray Wolf Peak Casino, Missoula?
There is no cancellation policy for this location.
Conclusion
Gray Wolf Peak Casino is a great location in Montana that offers all guests a wide range of casino games and activities. The atmosphere is welcoming, and the staff are always friendly, making it a place worth visiting.
Unfortunately, there is no app or airport shuttle service that can be used to access the casino remotely. However, taxis and car rentals are available to get visitors to and from the airport. The casino also has a no-smoking policy and does not allow pets onto the premises.
Free wifi is available throughout the property, making it easy to stay connected while enjoying everything Gray Wolf Peak Casino offers. There is no cancellation policy for this location either due to the lack of a hotel.