Kwataqnuk Resort & Casino, Polston
Address: 49708 US-93, Polson, MT 59860
Phone number: +1 406-883-3636
Website: https://kwataqnuk.com/
Hours: This casino is open 24 hours a day 7 days a week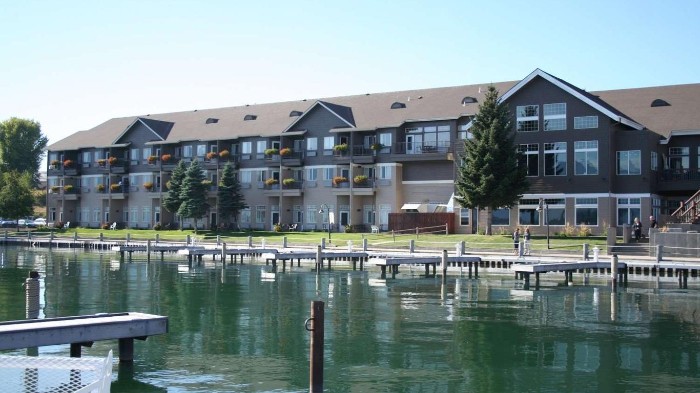 Kwataqnuk Resort & Casino, located in Polston, Montana, has been part of the local community for many decades.
It was originally established in 1992 as a small roadside casino with just a few gaming machines and tables. Over the years, it has grown and expanded to become one of Montana's premier resort destinations.
At Kwataqnuk, visitors can enjoy the full casino experience with 220 slot machines and some great promotions to get you in the winning spirit.
Guests can also visit the casino restaurant for a delicious meal and a moment to relax away from the casino floor. There is also some fantastic live entertainment available.
The resort also features an indoor pool, hot tub, and sauna. There is also a gorgeous patio with a fire pit leading to the marina for those who want to participate in water sports.
The patio bar is the perfect way to finish up your evening with a delicious speciality drink. Hotel accommodations are available in standard guest rooms and luxurious suites.
It is the perfect destination for an indulgent and memorable getaway. From gaming to dining to entertainment, there is something for everyone at this well-known Montana casino.
Kwataqnuk Resort & Casino in Polston has become well-known as a premier destination for luxury, entertainment, and relaxation. Guests who have this casino consistently rate the resort highly.
(Related reading: Montana casinos)
Gaming
This casino offers a wide selection of slot machines where visitors can place their bets and watch the symbols roll to see if they win big.
Table Games
There are no table games available at this casino.
Slots
There are well over 200 slots for guests to choose from, meaning that you are sure to find the perfect game to give you that rush on the casino floor.
Popular slot machines at the casino include:
Wheel of Fortune
Golden Fish Tank
Buffalo Gold
Rainbow Riches
This casino has not made its payback percentage available to the public. However, the state of Montana has a payback percentage that is a minimum of 80%. This should give you a good idea of what to expect when you hit the slot machines.
Hotel/Resort
Kwataqnuk Resort offers guests comfortable and elegant accommodations with a variety of options. Standard guest rooms feature amenities such as flat-screen TVs, complimentary Wi-Fi, mini-fridges, microwaves and more.
Additionally, an array of luxurious suites is available to accommodate larger groups or those looking for a more upscale experience. Pet-friendly rooms are also available on request.
A few of the room types available at this hotel are:
Queen Rooms: 2 Queen beds, spacious room with desk, and amenities.
Deluxe King Suite: Bedroom, parlour room, private balcony, lake views, and amenities.
Casino Suite: Bedroom, parlour room, private balcony, incredible views, and amenities.
The resort also features an indoor pool, hot tub, and sauna for those who want to unwind after a long day of gaming or exploring the area.
There is also a beautiful patio with a fire pit leading to the marina, where you can participate in water sports activities like fishing and boating. The patios also feature a bar, perfect for finishing up the night with a few drinks with friends.
Some of the amenities you can expect to find at this casino include:
Spacious rooms and suites
Pet-friendly rooms
Restaurant and bar
Fire pit and patio
Marina with water sports
Indoor pool
Hot tub
Sauna
Business center
Event space
Meeting space
Lounge
Live entertainment
Promotions
Room rates range from $109 to $399 per night, depending on your room type. Suites can be more expensive but offer additional amenities, such as private balconies with views of the lake and fire pits.
Check-in time at Kwataqnuk Resort is 3:00 pm
Check-out time at Kwataqnuk Resort is 11:00 am
Restaurants & Buffets
The casino is a great place to get away and experience luxurious dining within the Flathead Indian Reservation. For a delectable meal of locally-sourced ingredients, diners should try Falling Waters, the resort's signature restaurant.
It offers specialities such as bison ribeye and pan-seared salmon encrusted with black sesame seeds. Each dish is meticulously prepared and garnished before being served to guests in an elegant environment with beautiful views of the lake.
The waitstaff strives to provide excellent service that creates a pleasant dining experience for visitors from near and far.
Furthermore, Falling Waters has an extensive wine selection from popular local vineyards that perfectly pair with these delectable dishes. Visitors can expect nothing less than culinary excellence here.
Pools
This resort is an excellent choice for those looking for a restful and fun-filled stay. Not only does the resort provide spectacular views of Flathead Lake, but it also has several attractions to suit all tastes.
One such attraction is the fantastic collection of pools. The resort features an indoor pool, so you can enjoy swimming year-round no matter what the weather conditions are like outside.
To complete the experience, relax in their sauna and hot tub – perfect for unwinding after a long day exploring all that Montana has to offer!
Kwataqnuk Resort & Casino, Polston, MT FAQ
Does Kwataqnuk Resort & Casino Have A Sportsbook?
The casino offers a variety of exciting activities, from the casino filled with an array of games to the luxurious spa and onsite restaurants.
Unfortunately, the resort does not have a sportsbook on-site. Those looking to get in on the action with sports betting will need to look elsewhere.
However, there are many other features that Kwataqnuk Resort & Casino provides, which make it an attractive option for visitors seeking a perfect warm-weather getaway in Montana.
Is Poker Available At Kwataqnuk Casino, Polston?
This casino is a great destination for anyone looking for an exciting night out with friends. Unfortunately, however, poker will not be available at the casino as the game requires more staff than many of its other offerings.
Still, visitors will find plenty of exciting gaming options to choose from in the form of a variety of slot machines.
What Are The Age Requirements For Gambling At Kwataqnuk Casino?
The age requirement for gambling at this casino is 21 years old or older. All potential visitors must have a valid government-issued ID in order to gain entrance to the casino.
This requirement ensures that all visitors are of legal age and can safely participate in the various gaming activities available at the casino. Although this may be an inconvenience for some, it is crucial to ensure that only legal adults are allowed to gamble in the state of Montana.
Does Kwataqnuk Resort Have An Online Casino?
Unfortunately, this location does not have an online casino. The good news is that the resort has plenty of other entertainment options for visitors to enjoy, from casino games to spa treatments and even a marina.
There is something for everyone at Kwataqnuk, so it's still worth a visit, even if you won't find the same level of convenience experienced with an online casino. Of course, the infectious Montana hospitality doesn't hurt, either.
Is There An Kwataqnuk Resort & Casino App?
While there is not yet an app for this casino, visitors of the casino still have plenty of ways to get access to all the fantastic times to be had. The website offers guests a simple and user-friendly way to view upcoming promotions, events and more.
You can even become a member of their loyalty program right away through the website without needing any additional downloads or software – it's that easy.
What Is The Dress Code At Kwataqnuk Casino?
The dress code at the casino is casual. Guests should feel free to wear whatever outfit would make them feel comfortable, but the casino does ask that guests refrain from wearing any offensive or provocative clothing.
Is There An Airport Shuttle Available From Kwataqnuk Resort & Casino?
Yes, an airport shuttle is available from the resort to any local airport. Guests can simply contact the front desk and make a reservation for a convenient pickup or dropoff at their desired destination.
This is a great service that makes it easy to get around without having to worry about finding other transportation options. The staff at the casino are always available to help make the visitor's stay as comfortable and enjoyable as possible.
What Is The Smoking Policy At Kwataqnuk Casino?
The casino is a smoke-free facility. This means that no smoking of any kind, including vaping or e-cigarettes, is allowed on the premises.
This policy helps to ensure that everyone who visits can enjoy their time without the potential health risks posed by secondhand smoke. Additionally, this policy also helps the resort maintain a clean and safe environment for all its guests.
What Is The Pet Policy At Kwataqnuk Resort?
Unfortunately, the casino does not allow pets of any kind on its premises. This policy is in place to ensure the safety and comfort of all guests and protect their property. However, pet-friendly hotel rooms are available, so your furry friend stays safe during your visit.
Service animals are allowed on the premises if they are properly identified and compliant with local laws. Guests who arrive with a pet should make other arrangements for their pet's care during their stay.
Is Wifi Available At Kwataqnuk Resort & Casino, Polston?
Yes, complimentary wifi is available to all visitors of the resort and casino. Simply select the appropriate network from your device's list of available networks and enter the password provided for access.
The wifi connection is reliable and offers quick speeds that make it easy to stay connected during your stay with Kwataqnuk. There are no long-term contracts or commitments to use the wifi, so you can easily turn it off when you're done.
What Is The Cancellation Policy For Kwataqnuk Resort?
The cancellation policy for the resort and casino depends on the booking type. You can cancel hotel rooms up to 24 hours in advance without any fees or charges.
For more details about specific policies and restrictions, it is best to speak directly with a representative at Kwataqnuk Resort & Casino for information about any individual reservations.
The policy for events and other activities may also vary, so be sure to check with the resort before making any changes. Any cancellations should be made as soon as possible in order to avoid any potential fees or charges.
Conclusion
Kwataqnuk Resort & Casino is a great destination for guests looking for a fun and relaxing getaway. The casino offers a variety of entertainment options, dining choices, and other amenities that ensure an enjoyable stay.
It also has several policies in place to ensure the safety and comfort of all its guests, including dress codes and a no-smoking policy. Additionally, complimentary wifi and an airport shuttle are available to make it easy for visitors to get around.
Before booking, be sure to review all the resort's policies as well as any cancellation fees that may apply. With this information in mind, you can have a great time at Kwataqnuk Resort & Casino.