Northern Winz Casino Box Elder
Address: 11275 US-87, Box Elder, MT 59521
Phone number: +1 406-395-5420
Website: www.northernwinzcasino.com
Hours: Northern Winz Casino is open Monday 10 AM–2 AM, Tuesday 10 AM–2 AM, Wednesday 10 AM–2 AM, Thursday 10 AM–12 AM, Friday Open 24 hours, Saturday 12 PM–2 AM, Sunday 10 AM–12 AM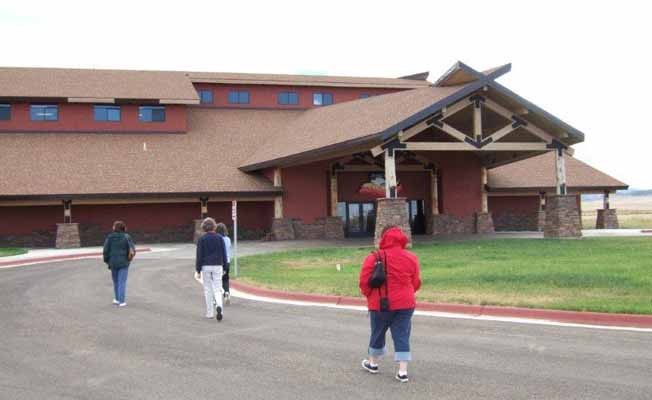 Northern Winz Casino is owned and operated by the Chippewa Cree Tribe of Rocky Boy's Indian Reservation. The casino opened in February 2007 and has been a major contributor to the economy of its reservation and surrounding communities.
Located on US-87 just south of Box Elder, this casino is a premier entertainment destination featuring slot machines and poker. The casino also offers award-winning food and beverage services.
With a modern and inviting atmosphere, this casino is the perfect place to experience gaming and entertainment.
People have given Northern Winz Casino a rating of 4.3 stars out of 5 on Google Reviews. Guests say, "The staff is friendly and helpful, and the buffet has a lot of variety and great food. The gaming area is nice and clean. I love coming here to play slots."
Another guest says, "I love Northern Winz Casino. The staff is friendly, and the atmosphere is great. I best part is the variety of slot machines they have."
(Related reading: Montana casinos)
Gaming
This casino offers a wide selection of video slots and poker, including popular favorites like Buffalo, Power Station and more. The casino also features progressive jackpots such as Mega Bucks and Wheel of Fortune that can reach into the millions.
Table Games
This casino offers a variety of exciting table games for all kinds of players. At Northern Winz, you can test your luck with classic games like live poker and Texas Hold'em. The enthusiastic staff makes every game interesting and fun.
And if you're feeling lucky, register for one of their weekly tournaments to see how you stack up against other players from across the country.
The table game minimums at this casino range from $2 to $50, depending on the game.
Slots
When you visit this casino, you'll find there's a wide variety of popular slot machines to play. From classic favorites like Buffalo and Power Station to the latest IGT and Cadillac Jack games, there's something for everyone.
Don't miss out on the exclusive AGS slots either – they're available exclusively at this casino. And if you're looking for a real thrill, try one of their progressive jackpots where the prize can reach into the millions.
The payback percentage of this casino's slots is unavailable at the moment. However, the Montana Gambling Control Division requires all casinos in the state to have minimum average slot machine payouts of 80%.
Hotel/Resort
Northern Winz Casino doesn't have a hotel on-site currently, but there are many convenient and affordable lodging options in the area.
The AmericInn by Wyndham Havre is just a 10-minute drive away and offers comfortable rooms, free breakfast, and a pool. The Best Western Plus Heritage Inn is also nearby, offering guests an excellent place to stay with modern amenities.
So if you're planning a trip to this casino, make sure to check out these nearby hotels for great accommodations if you plan on staying the night.
Restaurants & Buffets
Unfortunately, there is one thing visitors can't expect to find at this casino: a buffet. That's right – instead of a buffet, the casino offers premium dining experiences that let you sample the many delicacies on offer.
First, RattleSnake Bob's Sports Bar is a lively lunch spot with plenty of energy and entertainment. Whether you want to relax and watch the game or grab a quick bite before hitting the slot machines, you'll find something delicious on their menu.
For an evening of romance or just an opportunity to get away from it all, StarLight Grill is the perfect place to go. Their mouthwatering selection of entrees and meticulously crafted cocktails will provide an unforgettable dining experience.
Pools
Unfortunately, the casino does not currently offer any pools or spas on-site. Although this may be disappointing news to some, there are still plenty of great gambling opportunities at Northern Winz to enjoy.
Northern Winz Casino, Box Elder, MT FAQ
Does Northern Winz Have A Sportsbook?
This casino is a great destination for gamers looking for an erotic and thrilling experience. However, the only gaming option available is slots and video poker. Unfortunately, the casino does not offer sportsbooks or bookmaking services like other casinos.
Players can still enjoy all of the casino's other exciting gaming options – from penny slots to high-stakes video poker – without worrying about betting on sports matches.
Is Poker Available At Northern Winz Casino?
Yes, the casino offers many opportunities to enjoy this classic game, with both live poker and tournaments running regularly. All your favorite game variations are available, including Texas Hold'em.
What Are The Age Requirements For Gambling At Northern Winz?
The minimum age for gambling at this casino is 18 years old. All players must provide a valid ID in order to be allowed to play. Those who are under 18 are not permitted to gamble.
Does Northern Winz Have An Online Casino?
They do not have an online casino. Although the casino does offer a wide variety of slots and table games, it does not have a version that exists solely on the internet.
Is There An Northern Winz App?
No, this casino does not currently have an app for mobile devices.
However, their website is optimized for use on both iPhones and Android phones, so players can navigate the site easily while they're on the go. Plus, their website is also a great resource for finding out more about what the casino has to offer.
What Is The Dress Code At Northern Winz Casino?
The dress code at this casino is casual. There is no need to wear your best clothes, although it's recommended that you do not wear any clothing that may be considered offensive or inappropriate.
Is There An Airport Shuttle Available From Northern Winz Casino?
No, the casino does not provide any airport shuttles. However, many taxi and shuttle services in the area can take you to and from the airport. You should book one of these services in advance to ensure they will be available when needed.
What Is The Smoking Policy At Northern Winz?
Smoking is prohibited inside the casino. However, there are designated smoking areas outside the building, so those who wish to smoke can do so.
What Is The Pet Policy At Northern Winz?
Unfortunately, pets are not allowed inside the casino. If you need to bring your service animal, please contact the casino before your visit to make arrangements.
Is Wifi Available At Northern Winz Casino?
Yes, the casino does offer free wifi for guests. The connection is fast and reliable, so you can easily keep in touch with family and friends while you're enjoying your stay at the casino.
What Is The Cancellation Policy For Northern Winz?
No hotel is attached to the casino, so there are no cancellation policies.
Conclusion
Northern Winz Casino is a great destination for gamers looking for an exciting and thrilling experience. They offer plenty of gaming options, including slots, video poker, and live tournaments and events.
There's also delicious food, cocktails and snacks to enjoy while you play. The casino has a casual dress code, and free wifi is also available. However, no sportsbooks or online casino options exist, and pets are not allowed inside the building.
With its exciting gaming options and modern amenities, this casino is sure to provide you with a memorable visit.