Lucky 77 Casino Walthill
Address: 200 Main St, Walthill, NE 68067
Phone Number: +1 402-846-5545
Website: N/A
Hours: Lucky 77 Casino is open Monday 10:00 AM – 2:00 AM, Tuesday 10:00 AM – 2:00 AM, Wednesday 10:00 AM – 2:00 AM, Thursday 10:00 AM – 2:00 AM, Sunday 12:00 PM – 2:00 AM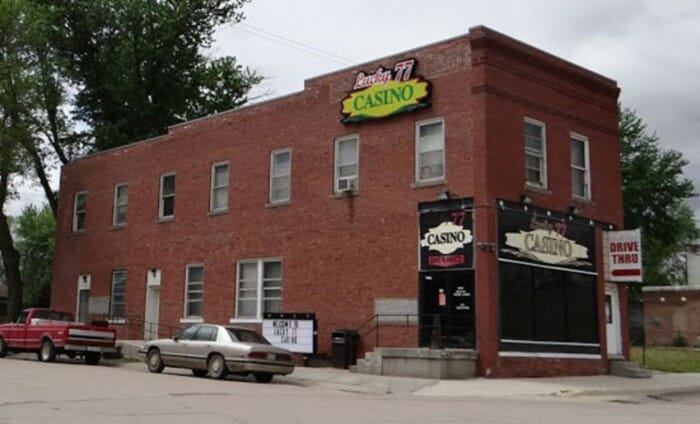 Lucky 77 Casino is a Native American casino located in Walthill, Nebraska and owned by the Omaha Tribe. It was opened in 2022 and has since been a popular destination for gambling enthusiasts in the area.
The casino offers over 60 slot machines, ranging from classic 3-reel slots to the newest video games. They don't have any live table games, but they offer promotions and special events regularly.
And if you want to take a break from all the gaming, they have an onsite cafe that serves various food and beverages. So you can take a break from the action and enjoy a great meal or refreshment at this casino.
If you're looking for an exciting night on the town, head to this casino in Walthill, Nebraska. With its convenient location and excellent gaming options, it's sure to be a great time.
The guests who have visited this casino generally give it a 4 out of 5 stars rating. One guest said, "Lucky 77 Casino is a great place for fun, especially if you're into video slots and modern gaming."
Another guest said, "This casino is great. Great selection of games, nice staff, good food options in the cafe, and quite reasonable prices. A great night out for sure."
(Related reading: Nebraska casinos)
Gaming
The casino offers a variety of gaming options, including video slots, progressive jackpots, and video poker. Plus, with promotions and special events, there is always something fun to do.
Table Games
Are you looking for various table games while visiting this casino in Nebraska? Unfortunately, the casino only offers slot machines at this time. If you're a fan of electronic gaming, however, you'll find plenty of options to stimulate your senses and up your chances of winning big.
From classic reel games to video slots with exciting themes and innovative features, its selection of slot machines will surely entertain.
Slots
This casino has been a favorite among locals, and the machines here are sure to please. Popular slots include:
Cleopatra
Jaguar Mist
Zeus
Li'l Red
Pharaoh's Fortune
Rapa Nui Riches
Wheel of Fortune
Snow Wizard
Sun and Moon
Big Bang Theory
Unfortunately, this casino's slot machine payback percentage is not public information. It is suggested to call the casino directly or visit their website to learn more about their gaming options and rules.
Hotel/Resort
Located in Walthill, this casino is a must-visit destination for gaming enthusiasts. While there's no hotel attached to the property, you need not worry as there are some amazing options nearby.
One such place is the WinnaVegas Casino Resort, where you can comfortably stay in their exquisite rooms and enjoy dining at their restaurants. Another great option is Cross Roads Lodge which offers a serene ambiance and exclusive services.
Both options are just a short drive away from this casino, making it an ideal choice for those looking to spend a fun-filled weekend getaway in Nebraska.
Restaurants & Buffets
If you're looking for a place to stay and play in Nebraska, this casino is a great option. While they don't have a full-service restaurant or buffet on-site, they do have a cozy cafe that offers a variety of eats to keep you fueled up and ready to hit the casino floor.
The cafe is open all day and serves breakfast, lunch, and dinner. Whether you're in the mood for a hot cup of coffee and a pastry for breakfast or a hearty sandwich for lunch, you'll find something to satisfy your taste buds.
Pools
While this casino boasts an array of amenities to satisfy any visitor's needs, it is important to note that it does not offer swimming pools onsite. However, don't let that deter you from exploring the rest of the resort/
It has various exciting options, such as mouth-watering dining options, top-of-the-line gaming experiences, and luxurious accommodations. So why not try your luck at one of the many games or indulge in a delicious meal before heading out to a local public pool in the area?
Lucky 77 Casino, Walthill, NE FAQ
Does Lucky 77 Casino Have A Sportsbook?
Unfortunately, it does not have a sportsbook. However, they do offer a wide of slot machines and other gaming to help you build your bank or have some fun. For those looking for more options, there are plenty of local establishments in the area that offer sports betting.
Is Poker Available At Lucky 77?
No, there are no poker tables available at this casino. However, there are a variety of electronic gaming and slot machines that offer exciting chances to win big. Plus, the casino often hosts promotions and special events for visitors.
What Are The Age Requirements For Gambling At Lucky 77 Casino?
You must be 21 years of age or older to gamble at this casino. Valid government-issued photo ID is required for all players, and minors are not permitted on the casino floor. The legal gambling age in Nebraska is 21, so anyone under that age will not be allowed to join in on the gaming fun. ​
Does Lucky 77 Have An Online Casino?
No, they do not offer an online casino. They are a brick-and-mortar located in Walthill, Nebraska. However, they have a website where visitors can learn more about the amenities, gaming options and promotions available at the facility.
Is There An Lucky 77 Casino App?
No, there is no Lucky 77 Casino app. However, their website is mobile-friendly and can be accessed from any device that has an internet connection. The site features information on promotions and events and a full listing of all the games offered at the casino.
What Is The Dress Code At Lucky 77?
The dress code at this casino is smart casual. Visitors should avoid wearing items such as sports apparel, tank tops and flip-flops. The casino reserves the right to deny access to anyone who does not adhere to its dress code policy.​
Is There An Airport Shuttle Available From Lucky 77 Casino?
No, unfortunately, there is no airport shuttle available from this casino. However, guests may arrange for private transportation services to and from the airport or anywhere else they may need to go.
What Is The Smoking Policy At Lucky 77?
This casino is a non-smoking facility. Smoking, including e-cigarettes and vaping, is prohibited anywhere on the property. There are designated outdoor smoking areas for guests who wish to smoke during their visit.
What Is The Pet Policy At Lucky 77 Casino?
Sadly, this casino does not allow pets on the premises. The only exception is certified service animals, which must be accompanied by their handlers at all times. All other forms of animal companionship are prohibited.​
Is Wifi Available At Lucky 77?
Unfortunately, this casino does not provide complimentary wifi. However, there are several cafes and restaurants in the area that offer free wifi for guests. Additionally, visitors can purchase prepaid wifi cards from local stores and use them to access the internet at various hotspots.
What Is The Cancellation Policy For Lucky 77 Casino?
The casino does not have any cancellation policies in place since they do not provide accommodations or other services.
However, they do offer a variety of promotions and discounts that are subject to change at any time without notice. For more information on promotional offers and discounts, don't hesitate to contact the casino directly.
Conclusion
This casino offers a wide variety of fun and exciting gaming options for visitors. With plenty of slots, electronic games, and promotions to take advantage of, this casino is the perfect spot for a night (or day) out.
Just make sure you follow the dress code and smoking policy to get the most out of your experience. Additionally, don't forget to check out their website for more information on the various amenities and promotions available at the casino.
With so much to offer, Lucky 77 Casino is a great place to visit whether you're looking for an evening of fun or just want to try your luck. So why not give it a go? Who knows, you might be the next big winner!