Native Star Casino Winnebago
Address: 214 Industrial Rd, Winnebago, NE 68071
Phone Number: +1 402-878-2901
Website: www.nativestarcasinowinnebago.com
Hours: Native Star Casino is open Monday 8:30 AM–11 PM, Tuesday 8:30 AM–11 PM, Wednesday 8:30 AM–11 PM, Thursday 8:30 AM–11 PM, Friday 8:30 AM–1 AM, Saturday 9 AM–1 AM, Sunday 9 AM–11 PM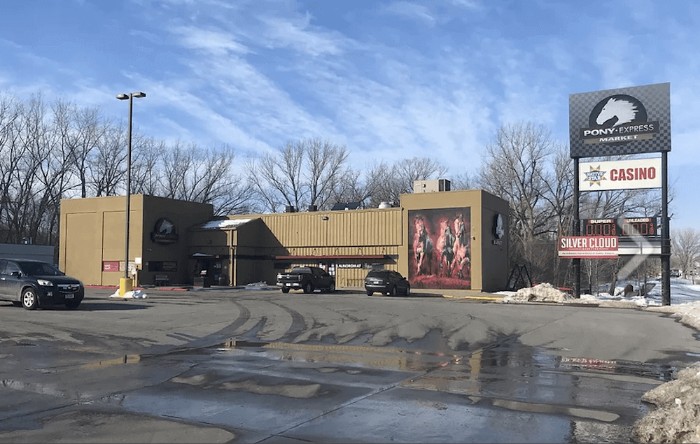 Native Star Casino is situated on the Winnebago Reservation in Northeast Nebraska and is owned and operated by the Winnebago Tribe of Nebraska. The casino features a 600 sq. ft. gaming area with over 80 different gaming machines, including slots, keno and more.
The casino is dedicated to providing a fun and entertaining gaming experience for all its guests. Additionally, they are committed to promoting responsible gaming practices, with staff available 24/7 to provide assistance and support to those in need.
The property is dedicated to the local community, offering employment opportunities and contributing money back to the tribal government. The casino also works with other local businesses, allowing them to reach new customers and benefit from the casino's presence.
From reviews on Yelp, TripAdvisor and Google, guests have rated Native Star Casino 4.2 out of 5 stars. One guest said, "Native Star Casino was great! The staff were friendly and helpful, the games were fun, and the atmosphere was inviting. Highly recommend!"
Another guest said, "My family and I have been to Native Star Casino several times and every time we've had a really good time. They have lots of different machines to choose from as well as promotions that are beneficial to players. Highly recommend!"
(Related reading: Nebraska casinos)
Gaming
This casino offers a wide variety of gaming machines, including video slots, keno, and more. The casino also features progressive jackpots with the top prize increasing each time someone plays one of the games.
Table Games
This casino offers a wide selection of gaming machines but unfortunately no table games.
While this may be disappointing for those hoping to try their luck at blackjack or poker, they still have plenty of opportunities to try out a variety of games and potentially win big.
So if you're feeling lucky and want to spin the wheel or pull the lever of a slot machine, this casino is the perfect spot.
Slots
If you're looking for some extra special fun at this casino, then why not try out one or more of their popular slot machines?
There's something to suit every taste and preference – from the classic Cleopatra experience to the great energy of Quick Hit, to the exciting Wild Fury game.
Or perhaps you'd rather take a chance on the Kitty Glitter slot machine – with its glittery layout, it's sure to add some sparkle to your gaming session. Plus there's plenty of luck to be had with Pixie Power too – perfectly suited for everyone.
Be sure not to leave without giving Tabasco a go as well; it has gained quite a reputation in the city and is a must-play when you visit this casino.
Native Star Casino offers a range of different slot machines including various classic slots, progressive jackpots and others. The casino's slot machine payback percentage is currently unavailable, but one can expect it to remain competitive.
Hotel/Resort
This casino is the perfect place for a night of gaming, fun, and excitement. However, if you are looking for a hotel to stay in during your visit, they do not have one located onsite.
Thankfully there are some excellent nearby hotels to check out including the Rodeway Inn in Sergeant Bluff and Sioux City Inn for those wanting a comfortable stay. For those who prefer an outdoorsy experience, Cross Roads Lodge is perfect and just a short drive away.
No matter which option you go with, rest assured that you'll be able to enjoy the thrills of this casino while having a nice place to relax afterwards.
Restaurants & Buffets
If you're looking for delicious eats and a chance to hit the jackpot, this casino has got you covered. Rock River Grill offers a mouth-watering selection of dishes to satisfy your cravings – from hearty barbeque options to fresh salads or seafood platters.
The restaurant also has daily and weekly specials available, so you're always ready for something new and exciting.
Plus, when you're done with your meal, be sure to check out their exciting gaming area—who knows, maybe Lady Luck will smile at you and reward you with one of their lucrative jackpots.
Unfortunately, at this time there are no buffet options available at this casino.
Pools
This casino has been a premier gaming destination for those looking for an exciting and thrilling night out. Offering the latest in games, entertainment, and hospitality, they have become a go-to for gamers of all levels.
However, one thing that is not available at this casino is pools. But do not worry, all popular hotels near the property will provide access to their top-notch pools and spas to complete your perfect evening away from home.
Native Star Casino, Winnebago, NE FAQ
Does Native Star Casino Have A Sportsbook?
Unfortunately, they do not currently have a sportsbook. This is unfortunate news for many eager gamblers in the area. However, you can still enjoy all of the other gaming delights that the casino has to offer.
With no sportsbook available, now might be an opportune time to try some different casino games and explore the fantastic spaces that they have to offer.
Is Poker Available At Native Star Casino Winnebago?
No, unfortunately, there is no poker available at this casino. However, you can still enjoy all of their other exciting games and slots. Be sure to check out the promotions page and tournaments that they may offer from time to time.
What Are The Age Requirements For Gambling At Native Star?
Gambling at this casino requires that all those wishing to play be 19 years of age or older to comply with local regulations.
Does Native Star Have An Online Casino?
Currently, this casino does not have an online presence for its customers. However, you can still enjoy the excitement and thrills of a night out at their physical location.
The casino offers the latest in games and entertainment, so you won't miss out on anything when you visit. Plus, the staff are always friendly and accommodating. So don't hesitate to come by for a night of fun.
Is There An Native Star Casino App?
At this time, the casino does not have a mobile app available. However, they do offer a website with all of their most up-to-date information.
The website can view their game selection, events, and promotions. It is also a great resource for staying informed on any deals or specials they may be running.
What Is The Dress Code At Native Star Winnebago?
The dress code at this casino is casual. You should feel free to wear whatever you are comfortable in as long as it is appropriate in a public setting.
However, if you plan on attending any special events or tournaments, it may be wise to check with the casino beforehand and see what they suggest for proper attire.
Is There An Airport Shuttle Available From Native Star?
Unfortunately, there is no shuttle service available from the casino to any airports in the area. You will need to arrange your own transportation to and from the property.
However, if you are staying at one of the many hotels nearby, they may offer a complimentary shuttle service to and from local airports and nearby attractions. Be sure to check with your hotel before booking.
What Is The Smoking Policy At Native Star Casino?
Smoking is not allowed in this casino. In order to ensure the safety and comfort of all guests and employees, this policy has been implemented to keep the air quality as clean as possible within the casino.
If you do wish to smoke, there are designated outdoor areas for smokers.
What Is The Pet Policy At Native Star?
Unfortunately, pets are not allowed on the property of Native Star Casino. This includes all animals, from cats and dogs to reptiles and rodents.
Is Wifi Available At Native Star Casino?
Yes, the casino offers complimentary wifi access to all of its guests. The Wi-Fi connection is secure and fast, so you won't have to worry about slow speeds or lag.
If you need assistance connecting to the wifi, there are staff members available to help. They can also provide you with any passwords or other information you may need.
What Is The Cancellation Policy For Native Star?
There is no onsite hotel, so the casino does not have a specific cancellation policy. However, if you have made reservations for any events at the casino, you should check to see if they allow for cancellations.
Conclusion
Native Star Casino is a great destination for anyone looking to have some fun and experience the thrill of gambling. The casino offers plenty of games, events, promotions, and more.
They also provide complimentary wifi, have a casual dress code, and prohibit smoking in the facility. Pets are not allowed at the casino, so be sure to leave your furry friends at home.
If you decide to visit this casino, check with them beforehand regarding any cancellations or special policies you may need to know about.