Ohiya Casino Niobrara
Address: 53142 NE-12, Niobrara, NE 68760
Phone Number: +1 402-857-3860
Website: www.ohiyacasino.com
Hours: Ohiya Casino is open Monday 9 AM–12 AM, Tuesday 9 AM–12 AM, Wednesday 9 AM–12 AM, Thursday 9 AM–12 AM, Friday 9 AM–2 AM, Saturday 9 AM–2 AM, Sunday 9 AM–12 AM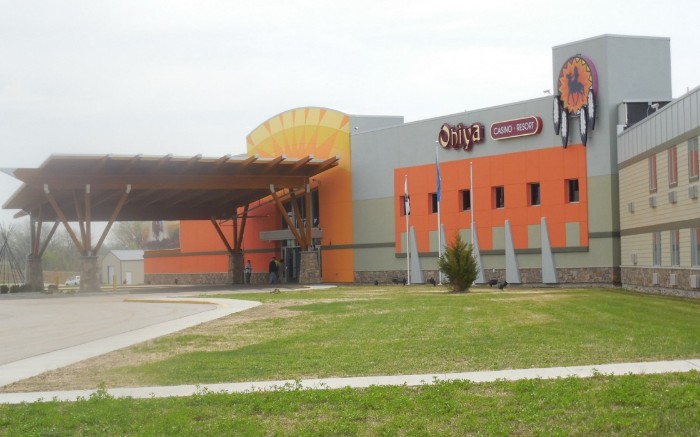 Ohiya Casino, located in Niobrara, Nebraska, opened its doors as the first gaming facility in the state of Nebraska. The casino was opened almost three decades ago and is owned and operated by the Santee Sioux Nation.
It offers a wide variety of gaming and entertainment options, including slot machines, video poker, bingo, and more. The casino also includes a restaurant, cafe and bar where guests can relax and enjoy drinks or food.
The property also offers lodging options for those wanting to stay the night. The casino provides guests with a number of amenities, such as complimentary breakfast and premium Wi-Fi access throughout the hotel.
Since its opening, the casino has become an important part of Niobrara's economy and community. The casino has remained an integral part of the local community and is proud to have created jobs for many local residents.
The casino is committed to providing the best in gaming and entertainment. Whether you are looking for an entertaining night out or just want to try your luck at the slot machines, this casino is sure to provide you with an unforgettable experience.
This casino has a 4.5-star rating out of 5 stars on Google Reviews, with many guests praising the casino's friendly staff and excellent gaming options. One guest said, "The staff is friendly and welcoming. The gaming options are great."
Another guest said, "The casino offers a variety of gaming options and the staff is friendly. We had a great time."
(Related reading: Nebraska casinos)
Gaming
This casino offers a variety of gaming options, including over 400 slot machines, video poker, bingo and more. Additionally, the casino features regular promotions and tournaments.
Table Games
This casino is the perfect destination for all your slot gaming needs. With a variety of slots to choose from, you're sure to find the perfect game for you.
Unfortunately, they don't offer any table games like blackjack or roulette at this time, but they do have bingo available to give you another type of casino experience.
Their hours of operation are great so you won't be cooped up indoors for too long and can enjoy yourself without sacrificing your day.
Slots
This casino offers a wide variety of popular slot machines that are sure to keep you entertained. Whether it is the classic, Yogi Bear or some more modern slots such as Money Link "Great Immortal and Egyptian Riches", the choices are virtually endless at Ohiya.
Have an out-of-this-world experience on Quick Hit Reel Burst, Quick Hit Jungle and Solar Disk. Or take part in Werewolf adventures with Wolf Bound, 3 Little Pigs and Mistresses of Egypt.
Play for cash with Cash Money or enjoy some sexy slot experiences with Playboy Sunset Sapphires and Playboy Midnight Diamonds. With so many exciting slot machines, your gaming experience at this casino is sure to be unforgettable.
The slot machine payback percentage for this casino is currently undisclosed and the Nebraska Gaming Commission does not publicize the payout percentages for casinos in the state.
However, this casino maintains a payback percentage higher than the state average. Their slots are regularly serviced and checked to ensure they perform to the highest standards.
Therefore, guests can rest assured knowing their gaming experience will be fair and enjoyable.
Hotel/Resort
The Ohiya Casino & Resort offers to lodge for those who wish to stay onsite. Guests can choose from various rooms, from luxury suites to standard guestrooms.
The Ohiya also features a full-service restaurant, lounge, and cafe for guests to enjoy. The hotel offers complimentary Wi-Fi throughout the property, making it easy for guests to stay connected during their stay.
Room service is available 24 hours a day so that you can relax in the comfort of your room and order from a selection of delicious meals. Expect each room to include a mini-fridge, flat-screen television, coffee maker, hairdryer and more.
Also, guests must know that their rooms have strict no-smoking and no-alcohol policies.
Their room types include:
Standard Room – features 1 king or 2 queens (offers ADA accommodation upon request)
King Deluxe Room – features a spacious room with 1 king bed and ADA accommodation
Junior Suite – features a spacious room with 1 king bed and a large bathroom with a roll-in shower (offers ADA accommodation upon request)
King's Suite – features two rooms, a sitting area, a whirlpool tub and more
This casino offers a variety of amenities to make your stay more enjoyable. These include:
24-hour reception desk
High-speed internet access
Workout facility
Various dining options
Swimming pool
Hot tub
On-site entertainment and live events
The cost to stay at this establishment can vary depending on the type of room you choose. You can book a room for as low as $85 per night plus taxes and fees.
Additionally, they may offer extra discounts and packages during the year, so it is always a good idea to check with them for any current promotions.
Check-in time at Ohiya Casino is 3:00 pm
Check-out time at Ohiya Casino is 11:00 am
Restaurants & Buffets
This casino resort has three fantastic restaurants to choose from when you're visiting the area. Legends are perfect for breakfast, lunch or dinner and offer a buffet and salad bar you won't want to miss.
For a quick bite, the Cafe Court, located just off the casino floor, has delicious sandwiches, soups, salads and more. Ready to relax after your gaming session? The Lounge serves your favorite beer, wine, or cocktail while you watch the big game.
Whether you're taking a break from playing games in the casino or just passing through town, their restaurants have something that will surely satisfy your taste buds.
The Legends Buffet offers unbeatable prices on lots of delicious items. For example, you can treat yourself to their Steak and Shrimp buffet days on December 3 and 31, all for just $24.99.
On Christmas day, the buffet will feature a special Christmas menu at the low price of only $17.99. Looking for something a little lighter? Join them on Saturday or Sunday morning when they offer their Breakfast Buffet, available for just $12.99.
Pools
This casino has magnificent opportunities for people looking to catch some quality sun and water fun. With its heated indoor swimming pool and hot tub, visitors can relax and enjoy the summer days in style.
The heated pool is perfect for those seeking a comfortable swim, while the hot tub allows visitors to take a dip after a long day exploring the casino.
Additionally, guests are supplied with refreshments, lounges, and towels so that all your aquatic needs will be taken care of. Get away from it all at this casino resort – you won't regret it.
Ohiya Casino, Niobrara, NE FAQ
Does Ohiya Casino Have A Sportsbook?
Unfortunately, this casino does not currently have a sportsbook. While the casino does offer many great gaming opportunities, including slots and video poker, there is no facility offering traditional sports betting services.
Is Poker Available At Ohiya Casino Niobrara?
If you want to try your luck in a game of poker at this casino, you won't be disappointed. Although no live poker tables are available on the gaming floor, players can still join in on the fun by playing video poker.
This popular game gives gamers the chance to test out their skills and strategies against machines instead of other players. So if you're looking for a thrilling card game at this casino, video poker is the way to go.
What Are The Age Requirements For Gambling At Ohiya?
If you're seeking to try your luck at the slots, then you'll need to be at least 21 years old. However, if you're looking for bingo action instead, then 19 years old is your cutoff.
So, no matter what you're in the mood for, make sure you meet these age requirements before coming out and enjoying all this fun and exciting casino offers.
Does Ohiya Have An Online Casino?
Unfortunately, this casino does not currently offer any online gaming options. While they do provide some great amenities and attractions on the gaming floor, their services are limited to their physical location only.
Is There An Ohiya Casino App?
No, there is not currently an app dedicated to this particular casino. However, you can still take advantage of the casino's promotions and specials through its website or social media accounts.
So if you're looking for all the latest news, offers, and events at this casino in Nebraska, be sure to check out their online presence.
What Is The Dress Code At Ohiya Casino Resort?
The dress code at Ohiya Casino is casual and comfortable. Keep in mind that proper attire must be worn, so tank tops, shorts, flip-flops, and other beachwear are not allowed.
With that said, you should be free to wear whatever clothing makes you feel the most confident while enjoying all the exciting gaming opportunities this casino offers.
Is There An Airport Shuttle Available From Ohiya?
Unfortunately, there is no airport shuttle available from this casino. However, the nearest airports are located in Sioux City, Iowa and Grand Island, Nebraska – both of which are about an hour away.
There are also several taxi companies that provide service to and from the casino, so you can make getting to your destination a breeze.
What Is The Smoking Policy At Ohiya Casino Resort?
The property has a strict no-smoking policy. This includes cigarettes, cigars, pipes, and e-cigarettes.
This policy is enforced in all areas, including the gaming floor and restaurants, so that guests can enjoy their experience without any secondhand smoke. Those who do not comply with this policy may be asked to leave the premises.
What Is The Pet Policy At Ohiya?
No pets are allowed on the premises of this casino. This includes service animals, emotional support animals, and all other pet types.
The only exception to this policy is for certified guide dogs that a visually impaired individual is using. Any other pets must be left at home or in a kennel before entering the property.
Is Wifi Available At Ohiya Casino?
Yes, all guests are welcome to use the free wifi available on the property. The network is secure and routinely monitored for any issues or vulnerabilities. So you can stay connected throughout your stay without having to worry about data breaches or other online threats.
What Is The Cancelation Policy For Ohiya Casino Resort?
All reservations must be cancelled at least 24 hours in advance. Any cancellations made after this time frame will be subject to a fee.
For more information on their cancellation policy, please get in touch with the customer service desk or check out their website for further details.
Conclusion
Ohiya Casino Resort is a great option for anyone looking to try their luck. With its wide range of gaming options, relaxing atmosphere, and thoughtfully designed amenities for guests, this casino offers something for everyone.
Before coming out to the property, be sure to check the age requirements, dress code policy, pet policy, and other guidelines so you can make the most of your visit.
And don't forget to take advantage of the casino's promotions and specials through its website or social media accounts.