Rosebud Casino Valentine
Address: 30421 US-83, Valentine, NE 69201
Phone Number: +1 800-786-7673
Website: www.rosebudcasino.com
Hours: Rosebud Casino is open Monday 8 AM–12 AM, Tuesday 8 AM–12 AM, Wednesday 8 AM–12 AM, Thursday 8 AM–12 AM, Friday Open 24 hours, Saturday 12 AM–4 PM, Sunday 4 PM–2 AM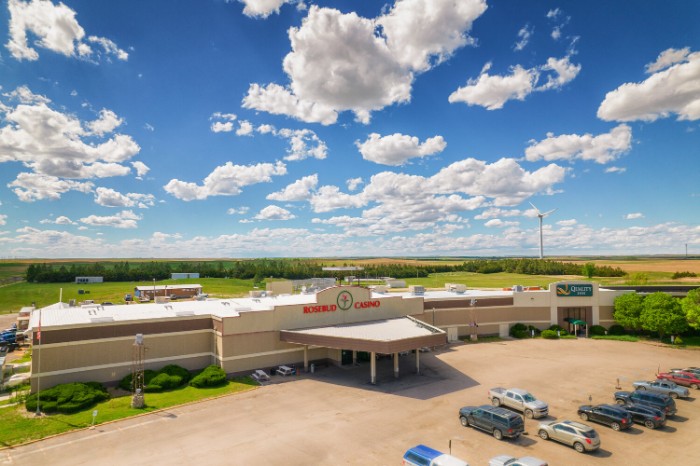 Rosebud Casino opened in Valentine in August 1994. The casino is owned and operated by the Rosebud Sioux Tribe of South Dakota, with proceeds going to fund tribal programs.
The casino offers a variety of slot machines and table games such as blackjack and Texas Hold'em. They also offer a variety of promotions, including a rewards program, special events and tournaments throughout the year.
The casino is located on Highway 83 in Valentine, Nebraska and has been an economic driver for the town since it opened its doors. It has provided jobs for hundreds of people over the years and has brought plenty of visitors to the area creating additional revenue for the town.
The property also houses a hotel, restaurant, fuel service and RV park. It's become an important part of Valentine's community and its success has helped revitalize the town over the years.
In addition to gaming opportunities, the casino is also involved in numerous charitable endeavours in the area, including providing donations to local food pantries, sponsoring sports teams and supporting local schools.
Whether you're looking for a night of fun or just a place to relax, this casino has something for everyone.
This casino has consistently received positive reviews from guests. It has an overall rating of 4 out of 5 stars on TripAdvisor and a 4.5-star rating on Google Reviews.
Guests say, "Great casino, friendly staff and nice atmosphere. Lots of slots to choose from," and "Good time at the Rosebud Casino! Had fun playing the machines, great promotions too!"
(Related reading: Nebraska casinos)
Gaming
This casino features over 250 slot machines and table games such as blackjack, Texas Hold'em, and three-card poker. They also offer a rewards program and special events throughout the year.
Table Games
If you're looking for a night of fun and excitement, this casino has some classic table games on offer.
Whether you're a fan of poker or prefer a classic game of Blackjack, this casino has something to suit everyone. Come and join Vegas-style 3 Card Poker where you can put your skills to the test against the dealer.
Ultimate Texas Hold'Em is another great option for those who like to mix up their gaming experience with an element of strategy. And don't worry if card games aren't your thing – you can also enjoy old-school Blackjack at this casino.
Table game minimums vary depending on the time of day and the game. Typically, the minimums start as low as $5 and can go up to $50, depending on the game.
Slots
This casino has some of the most popular slots around. Pixie Power is a whimsical game of luck and fortune, that appeals to both classic and modern slot gamers. Lock It Link captures the joyful spirit of Las Vegas games with its upbeat soundtrack and bonus round.
Jumpin' Jalapenos has its players spinning with fiery anticipation while they try to win as much as they can with wilds and multipliers. Genie's Riches boasts an Arabian charm with exotic symbols, bonus spins and progressive jackpots galore.
Monopoly brings the board-game classic to life on the reels for a nostalgic gaming experience for all. Finally, Rawhide takes its players on a thrilling ride out West for a country-casino adventure.
The slot machine payback percentage at this casino is currently undisclosed. Additionally, the Nebraska State Gaming Commission does not post or publicly disclose the payback percentages of slot machines, so it is not available to the public.
However, while the payback percentages at this casino may not be known, one can expect that they would generally be in line with industry averages.
Hotel/Resort
Rosebud Casino doesn't have an in-house hotel, but they have partnered with Quality Inn to provide their guests with a comfortable and affordable stay.
In addition to the free coffee provided, patrons can also make use of the restaurant, and lounge on-site. Guests can also enjoy amenities like free pre-packaged breakfast and Wi-Fi.
Each guest room offers a shower, refrigerator, coffee maker and iron so you stay neat while away from home. Your bed comes equipped with a comfortable premium mattress with soft sheets and plush blankets to ensure that you get plenty of restful sleep during your stay.
For further assistance, you may reach out to the dedicated customer service team of Quality Inn available 24/7 to help you with booking a room or any other questions you may have.
To further enhance your gaming experience, the casino also offers a variety of amenities to its guests. In addition to the gaming floor and table games, the casino also offers the following amenities:
Bingo hall
On-site restaurant
Fuel services
Convenience store
RV park
Restaurants & Buffets
This casino in rural Nebraska is the perfect destination for visitors looking to enjoy a fantastic dining experience.
Boasting a restaurant aptly named Rosebud Casino Dining, they serve up delicious entrees of seafood, steak and other fares sure to please even the most discerning of palates.
Those who want a varied selection can try out the buffet, although prices are not currently available online. No matter what your choice though, you'll be sure to leave satisfied with your meal.
Pools
This casino in Nebraska is a great spot for vacationers looking to kick back and relax on their travels. While there is no indoor pool on site, the nearby Quality Inn offers an indoor heated pool, giving visitors the chance to escape from their daily stresses with a refreshing dip.
Whether you're travelling with your family or sharing the adventure with friends, the pool area of the hotel offers hours of fun. And if you're travelling during winter months, have no fear – the hotel offers an indoor heated pool so you can keep enjoying all they have to offer.
Rosebud Casino, Valentine, NE FAQ
Does Rosebud Casino Have A Sportsbook?
Unfortunately, they do not have a sportsbook. However, there is still plenty to enjoy at the casino, from slots and video poker to table games such as blackjack, craps and roulette.
So take the trip out to this casino for a night of thrills and spills. Whether you're looking for high stakes or just some fun entertainment with friends, they have something for everyone.
Is Poker Available At Rosebud Casino?
Yes, they do offer poker tables with a variety of games available.
Whether you're an experienced player or a first-timer, the friendly and knowledgeable staff are there to help you get started and make sure you have plenty of fun. And if you need any assistance with the rules of the game, just ask – their team will be more than happy to help.
What Are The Age Requirements For Gambling At Rosebud?
You must be 21 or older to play slots and 19 or older to play bingo. Both of these age restrictions are kept strictly enforced by staff members, so be sure to bring your proof of age along when coming out to this casino.
Does Rosebud Have An Online Casino?
Currently, this casino does not have an online casino. However, they do offer an exciting gaming floor with plenty of slots and table games to keep you entertained.
And if you're looking to take a break from the chaos of the casino floor, there are other amenities at the establishment including an on-site restaurant, an RV park and a convenience store.
Is There An Rosebud Casino App?
No, there is no app available for this casino at present. However, you can always keep track of the latest news and promotions on their website or social media channels.
So if you're looking to stay up to date on everything happening at this casino, be sure to check their site often for the best information on what they have to offer.
What Is The Dress Code At Rosebud?
The dress code at this casino is casual. You can come in anything from a t-shirt and jeans to more formal attire such as party dresses or suits and ties – it's all up to you.
Just make sure you're dressed comfortably to enjoy your evening out without any worries. And, of course, don't forget to bring your ID as proof of age when gambling.
Is There An Airport Shuttle Available From Rosebud Casino?
Unfortunately, there is no airport shuttle available from this casino. However, other transportation options are available to get you to and from the casino.
You can take a taxi or ridesharing service such as Uber or Lyft, rent a car or even catch a bus from one of the nearby cities.
What Is The Smoking Policy At Rosebud?
The establishment is a smoke-free facility, meaning that no smoking of any kind is allowed inside the casino.
This policy also applies to electronic cigarettes and vaping devices. However, there are designated areas around the premises where guests can go to enjoy a cigarette or vape in peace.
What Is The Pet Policy At Rosebud Casino?
Unfortunately, pets are not allowed inside the casino. However, guests may bring their pets to the on-site RV park or one of the nearby campgrounds.
So if you're planning a trip with your furry friend in tow, make sure to check out all the available options before coming out to this casino.
Is Wifi Available At Rosebud?
Yes, wifi is available throughout the casino. So if you need to stay connected for business or to check in with friends and family, you can do so without a problem.
What Is The Cancelation Policy For Rosebud Casino?
As there is no on-site hotel, the cancellation policy for this casino is currently unavailable. However, if you have any specific questions regarding refunds or cancelations, it is always best to contact the customer service team directly for more information.
If you plan to stay at the Quality Inn nearby, you can review their cancellation policy on their website or contact the hotel directly.
Conclusion
Rosebud Casino is a great place to take a night out and enjoy some gaming and entertainment. With its convenient location, easy access to transportation and plenty of amenities on-site, it's no wonder why this casino is so popular.
Just remember to bring your ID for proof of age when gambling and dress comfortably for an enjoyable evening out. Also, if you plan on bringing a pet, make sure to check out the nearby campgrounds or RV parks for suitable accommodation.
Finally, make sure to keep an eye out for the latest news and promotions on their website or social media channels so you can always stay up-to-date.