Arizona Charlie's Boulder Casino
Address: 4575 Boulder Hwy, Las Vegas, NV 89121
Phone number: +1 702-951-5800
Website: https://www.arizonacharliesboulder.com/
Hours: The casino is open 24 hours a day 7 days a week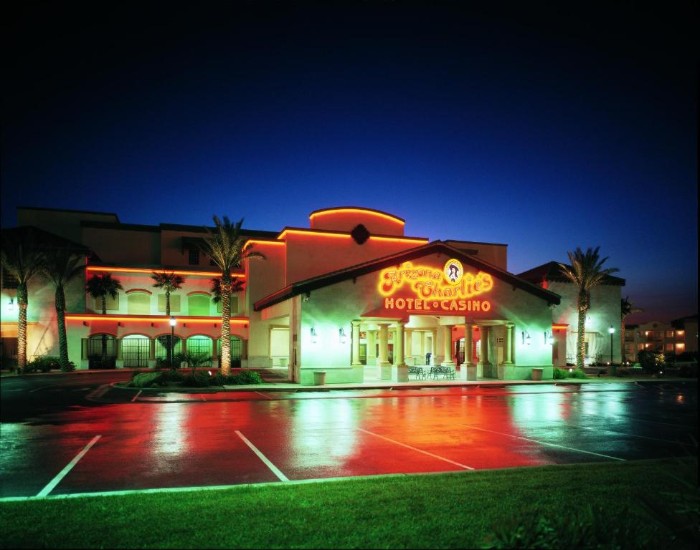 Arizona Charlie's Boulder is one of the most iconic casinos in Las Vegas, Nevada. The casino opened its doors for the first time in 2000 and has since then become one of the most popular gaming destinations for locals and tourists alike.
With over 600 slot machines, a bingo hall, and a full-service sports book, there is something for everyone at Arizona Charlie's Boulder. From slots to video poker, the casino has all the familiar games you expect from a Las Vegas location.
For the sports bettors in the group, the sports book at Arizona Charlie's Boulder has all your favorite bets covered. You can get in on the action from anywhere in the casino, from football and basketball to baseball and hockey.
The hotel is also surprisingly nice and offers comfortable accommodations with plenty of amenities. There is also an RV park for guests driving in. Whether you're looking for a quick weekend getaway or an extended stay, the hotel has everything you need.
No visit to Arizona Charlie's Boulder Casino would be complete without a trip down to their restaurant. There are plenty of delicious options to choose from, and some great bars and lounges are available for you to kick back and relax.
Arizona Charlie's Boulder Casino has a stellar reputation among Las Vegas gamers, with a star rating of 3 out of 5 from Tripadvisor. Many guests rave about the variety of gaming options available, from progressive jackpots to classic slot machines and live table games.
(Related reading: Nevada casinos)
Gaming
This casino offers a range of gaming activities, including slot machines and a bingo hall. They also offer a full-service sports book, where guests can wager on their favorite teams. You're sure to find something that piques your interest here.
Table Games
This location does not offer any table games. However, plenty of other gambling options are available at the casino for those seeking a few thrills.
Slots
With so many slots to choose from, you're sure to be eagerly waiting for the symbols to spin at your favorite machine in no time at all.
The most popular slot machines are:
Lock It Link
Dollar Mega Bucks
Dollar Wheel of Fortune
Buffalo Legends
Bally Quick Hits
Buffalo Golds
Buffalo Grands
Lightning Link
Konami Selexion 8 video themes in one box
Dollar Storm
Wicked Wheels
This casino has not made its payback percentage available to the public. Nevada's payback percentage is set at a minimum of 75%. Despite this, you will find that most Vegas casinos offer one close to 90% and above.
Hotel/Resort
The casino is connected to a hotel, making it possible for guests to stay in one place and enjoy all the casino offers. They have over 300 comfortable rooms and suites with plenty of amenities for your convenience.
A few of the room types you can expect to find at the hotel are:
Standard Double: 2 double beds, spacious room, and amenities.
Deluxe Suite: King bed, sleeps up to four people, living and sleeping space, and amenities.
Guests can also enjoy the outdoor pool, hot tub, and fitness center. There is also a range of other amenities, including laundry facilities and complimentary Wi-Fi.
The RV Park at Arizona Charlie's Boulder Casino is also available for guests who wish to drive in. There are plenty of hookups and amenities to make your stay as comfortable and enjoyable as it can be.
The hotel and casino are home to a fantastic restaurant and places to grab quick bites. There are also plenty of bars and lounges to relax in after a long day. With excellent live entertainment available throughout the week, you're sure to love your time here.
Some of the amenities you will find at the hotel and casino include:
Spacious rooms and suites
RV parking
Restaurants and bars
Outdoor pool
Hot tub
Fitness center
Meeting spaces
Lounges
Live entertainment
Promotions
Room rates vary depending on factors like the time of year, availability, and room type. A standard double room starts at around $70 per night. Deluxe suites start at around $150 per night. Of course, prices can vary according to the time of year and so could be higher.
Check-in time at Arizona Charlie's is 3:00 pm
Check-out time at Arizona Charlie's is 11:00 am
Restaurants & Buffets
This casino is the perfect place for anyone looking for delicious food and drinks. From their renowned Sourdough Café to the familiar Dunkin' Donuts, there is a variety of eating options to satisfy everyone's taste buds.
For something a little more upscale, there is The Palace Grand Lounge which offers specialty cocktails and gourmet dishes. If you're looking for something more casual, Elbow Creek Bar serves up exciting bar snacks and drinks for a great night out.
Lastly, Jake's Bar is stocked with all your favourite spirits, so you can enjoy a drink or two with friends. There's nothing quite like taking a moment away from the casino floor to relax.
Pools
If you're looking for a great escape in Las Vegas, the pools at this casino are definitely worth checking out.
Cool off and relax on the sun deck by the seasonal pool, complete with an enclosed outdoor area so you can enjoy a refreshing dip any time of year. A jacuzzi is also available if you prefer to bask in bubbling water while basking in the fresh air.
Arizona Charlie's Boulder Casino, NV FAQ
Does Arizona Charlie's Boulder Casino Have A Sportsbook?
This casino offers plenty of gaming and entertainment options for visitors to enjoy. One such option is a full-service sportsbook. This makes it possible for guests to place wagers on their favorite sports teams and engage in live betting on live sporting events.
With real-time odds, convenient betting kiosks and friendly staff members offering personalized assistance, the sportsbook is a must-visit destination for all avid sports fans.
Is Poker Available At Arizona Charlie's?
Unfortunately, the answer is no – poker is not available at this casino. That said, there are still plenty of other great gaming options to take advantage of here, including slots, video poker, bingo, and more.
What Are The Age Requirements For Gambling At Arizona Charlie's Boulder?
Gambling at the casino is restricted to individuals 21 years of age and older. To ensure a safe, enjoyable experience for all guests, security will check valid government-issued identification to prove that visitors meet the requirement.
Does Arizona Charlie's Have An Online Casino?
This location is a popular choice for those looking to have a few drinks, catch some of the exciting entertainment, or enjoy their favorite slot machines.
Unfortunately, they do not feature an online casino experience as they focus on classic Vegas-style gaming available only in their physical location.
But there's no need to worry; with so much to experience in person, you won't miss out on the interactive and immersive slot experiences available at other casinos.
Is There An Arizona Charlie's Boulder Casino App?
If you are looking for an app related to the casino, there is no one available now. The best way to stay up to date on all of the latest casino news and offers is through the official website of the hotel casino.
There you can find information on gaming, dining, promotions and entertainment, as well as make reservations, check your reward points, or view upcoming live events. All your favorite features are right at your fingertips.
What Is The Dress Code At Arizona Charlie's Casino?
The dress code at this casino is casual. Guests should wear comfortable clothing and footwear suitable for a day or night out in Las Vegas.
However, it is important to remember that the resort has a strict no-shirt, no-shoes policy, so visitors should come prepared with appropriate attire. Shoes are also required when playing at the tables and slots, so please make sure to bring yours.
Is There An Airport Shuttle Available From Arizona Charlie's Boulder Casino and Hotel?
No, there is no airport shuttle available from the casino. The best way to get to and from the location is by taxi, Uber, or Lyft.
For those planning on staying at Arizona Charlie's Boulder Casino & Hotel, a complimentary shuttle service is provided between the hotel and McCarran International Airport in Las Vegas.
What Is The Smoking Policy At Arizona Charlie's Boulder Casino Resort?
This casino and hotel is a smoke-free facility. No smoking, including electronic cigarettes, is allowed anywhere on the property.
Smoking is only permitted in designated outdoor areas away from gaming spaces. In addition, hotel rooms are also non-smoking for your comfort and convenience. Guests looking to indulge in a cigar or cigarette can do so in the designated smoking areas.
What Is The Pet Policy At Arizona Charlie's Casino?
Part of the resort is pet-friendly and welcomes furry friends up to 50 pounds at the RV park. Guests must register their pets in advance, either online or upon check-in.
Pets are not allowed in the hotel or on the casino floor. Service animals are the exception to this rule and are allowed in all areas.
Guests bringing a service animal should contact the hotel to request an exception to any charges. Please note that exotic animals are not allowed on the property.
Is Wifi Available At Arizona Charlie's Boulder Casino?
Yes, guests at the hotel and casino have access to complimentary wifi. All you need to do is connect to the "Arizona Charlie's Boulder" network and enter your room number for access.
The high-speed connection allows visitors to stay connected throughout their stay with no additional fees or charges. Enjoy seamless streaming, gaming, and smartphone browsing with the hotel's complimentary Wi-Fi.
What Is The Cancellation Policy For Arizona Charlie's Boulder Hotel?
The cancellation policy for the hotel is as follows: Guests may cancel their reservation up to 24 hours prior to the arrival date without being charged a fee.
It is important to note that any cancellations made after this time will be subject to a fee of one night's room rate and tax. Please refer to the hotel's website for more information and to confirm the most up-to-date policies.
Conclusion
Arizona Charlie's Boulder Casino & Hotel is a great place to stay and play in Las Vegas. With a wide range of gaming options, entertainment, and amenities, it offers something for everyone.
Guests can enjoy world-class dining, comfortable accommodations, and the latest slots and table games. For those looking for an unforgettable experience, Arizona Charlie's Boulder has everything you need for an enjoyable and memorable stay.
Whether you are looking to take a break from the hustle and bustle of Las Vegas or enjoy some time with friends and family, Arizona Charlie's is the perfect place to go.