Arizona Charlie's Decatur, Las Vegas
Address: 740 S Decatur Blvd, Las Vegas, NV 89107
Phone number: +1 702-258-5200
Website: https://www.arizonacharliesdecatur.com/
Hours: The casino is open 24 hours a day 7 days a week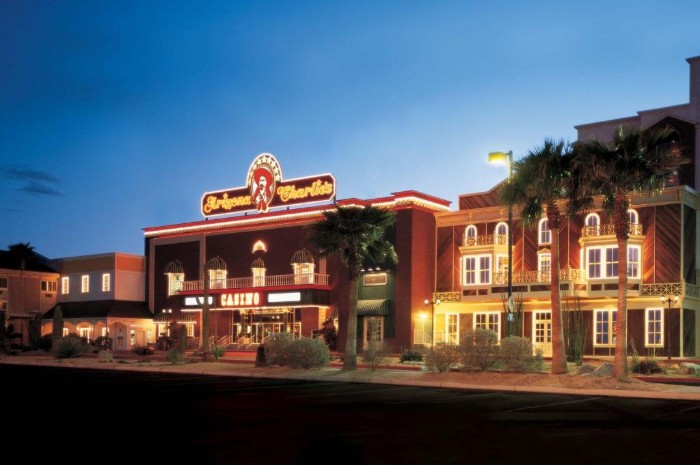 Arizona Charlie's Decatur is a popular casino located in the heart of Las Vegas. The casino first opened its doors in 1988, and since then, it has become one of the most iconic gambling establishments in the city.
The building is designed to give visitors a feel of old-fashioned Las Vegas with its classic style and decor. At Arizona Charlie's Decatur, you can choose a wide variety of games, including slots, video poker, blackjack, craps, roulette and more.
You can also take advantage of the sportsbook or even try your luck at the bingo hall. The casino also offers live music entertainment in its lounge and a bar with signature drinks. Guests can also enjoy food from the on-site restaurant or delicious pub fare.
When you're ready to take a break from gambling, Arizona Charlie's Decatur offers many other activities, such as live comedy shows. The hotel also has an enclosed outdoor pool and Jacuzzi for guests to enjoy.
Plus, the casino is just minutes away from some of Las Vegas's top attractions, like the Strip and Fremont Street Experience. With unbeatable gaming, entertainment and amenities, Arizona Charlie's Decatur is the perfect place for a night out in Vegas.
Arizona Charlie's Decatur has earned a reputation as one of the top gambling establishments in Las Vegas, with a 3/5 star rating on Tripadvisor. Guests have praised the casino for its classic Vegas atmosphere, great selection of games, and quality entertainment options.
The reviews are typically very positive; many guests come back again and again to enjoy the fun and excitement.
(Related reading: Nevada casinos)
Gaming
This casino offers a variety of games, including over 700 slots, video poker, and an array of table games. Whatever you fancy, there is something that will suit your gaming style at this location.
Table Games
This casino is the perfect place for those looking for a bit of fun and excitement. Whether you are an experienced card sharp or just starting out, there is something to keep everyone entertained.
The casino has all the traditional table games – like Blackjack, Craps, Roulette, Pai Gow Poker and Heads Up Hold 'Em – plus many more exciting new offerings. You can spend hours enjoying each game while making new friends with other players.
No matter what type of game you prefer, Arizona Charlie's Decatur has what you need to keep the thrill going.
The table games at Arizona Charlie's Decatur have a variety of minimum betting limits. Blackjack and Pai Gow Poker have a minimum bet of $5, while Roulette has a $3 minimum bet.
The minimums can change according to the time of day and the day of the week, so always check what they are before you sit at the table to start playing.
Slots
Arizona Charlie's Decatur is home to some of the most popular slot machines around. There are over 700 different titles in all, so there's sure to be something that piques your interest.
Popular slots at Arizona Charlie's Decatur include:
Starburst
Cleopatra
88 Fortune
Double Double Bonus
Bonus Poker
Deuces Wild
Buffalo Golds
Buffalo Legends
Buffalo Grands
Lightning Links
Dragon Link
Plenty of games feature progressive jackpots, allowing players to win big bucks.
The payback percentage for this casino has not been made publicly available. However, you will find that the state of Nevada has a minimum payback percentage of 75%. Despite this, most casinos in the state have a minimum of 90% or more – especially on the Vegas Strip.
Hotel/Resort
The casino has a hotel attached, making it the perfect place to stay while visiting Las Vegas. The rooms are comfortable and affordable, with all the amenities you need for an enjoyable stay.
A few of the room types you will find at this hotel include:
Klondike Standard King: King bed, comfortable space, and amenities.
Meadows Deluxe Queen: 2 Queen beds, comfortable space, and amenities.
The hotel offers guests access to an outdoor pool, hot tub, and fitness center. All rooms come equipped with a flat-screen TV, refrigerator, and microwave.
Plus, the hotel has an on-site restaurant and bar that serves up delicious meals and refreshing beverages. There is also a cozy cafe and lounge area for guests to enjoy, in addition to three bars that serve a range of delectable drinks.
The Arizona Charlie's Decatur hotel is a great option for those looking for a comfortable stay while in Vegas. With unbeatable amenities, great gaming options, and entertainment, this hotel is a great choice for your stay in Vegas.
Some of the amenities you can expect to find at the casino and hotel include:
Spacious rooms and suites
Restaurants and bars
Pool
Jacuzzi
Fitness center
Lounges
Meeting and event spaces
Live entertainment
Promotions
The cost of a stay at the casino hotel will depend on the type of room you are looking for. Rates usually start around $200 per night and can go up depending on your desired room's features.
Check-in time at Arizona Charlie's is 3:00 pm
Check-out time at Arizona Charlie's is 11:00 am
Restaurants & Buffets
The casino offers some great dining options to its visitors. For those looking for a classic American breakfast, you can visit the Sourdough Cafe and enjoy tasty omelettes, pancakes, breakfast sandwiches and more.
If it's a quick bite you're after, go to PT's Express, where they serve burgers, salads, wraps and other made-to-order snacks. Finally, if you want something sweet and delicious, definitely check out Dunkin' Donuts.
They have a mouth-watering selection of doughnuts, muffins, cookies and much more. Whichever restaurant you choose at this location, you won't be disappointed.
Pools
Spend your days soaking up the hot Nevada sun around the outdoor pool. With the pool being enclosed, you don't have to worry about unruly kids or people nearby disrupting your peace and quiet.
Whether you come alone for vitamin D and me-time, with friends for a fun day of swimming, or with someone special to share a romantic evening swim, Arizona Charlie's Decatur has something for everyone.
Arizona Charlie's Decatur, NV FAQ
Does Arizona Charlie's Casino Have A Sportsbook?
This casino is a great spot to watch sports and have fun. The casino is equipped with a great sportsbook, where you can take in all the games from the major professional leagues.
Whether it's football, baseball, hockey, basketball, or any other sport you're into, you'll be able to place your bets at Arizona Charlie's Decatur.
There are plenty of screens for viewing – as well as a wide selection of drinks – so you can ensure you don't miss out on any thrilling action.
Is Poker Available At Arizona Charlie's Decatur?
If you want to try your luck at a game of poker, this casino won't be the place for you. The casino offers numerous activities such as bingo, slots, table games and keno.
Unfortunately, they do not have any poker tables. However, they offer blackjack tables, promotions, and weekly tournaments, so you can still experience the thrill of Las Vegas gaming.
What Are The Age Requirements For Gambling At Arizona Charlie's Casino?
You must be 21 years or older to gamble at Arizona Charlie's Decatur. If you happen to be under 21, don't worry—you can still explore and check out the wonderful offerings of this great establishment without violating any rules.
Does Arizona Charlie's Have An Online Casino?
This location does not have an online casino, but it does have a great selection of gambling opportunities available on-site.
With video poker, slots, and video keno machines all located inside the gaming floor of their luxurious Las Vegas hotel, you can be sure to find something to your liking inside.
Plus, they have live Blackjack tables available for your enjoyment. Whether you're a seasoned veteran or just a beginner, you'll find just the perfect way to enjoy an evening of fun-filled gaming at this casino.
Is There An Arizona Charlie's Decatur Casino App?
Unfortunately, there is no app available for this casino. However, planning a stay at this Las Vegas hotel and casino is still easy with the wealth of information available on their mobile-friendly website.
From bookable accommodations to promotions, you can find all the details you need to make your visit an unforgettable experience. Whether you are looking for games, food, or entertainment options, you will be sure to find what you need here.
What Is The Dress Code At Arizona Charlie's Casino Decatur?
Although there is no official dress code for this casino, patrons are generally expected to maintain an appropriate level of attire.
The casino encourages all visitors to dress smartly, but casual jeans and t-shirts are allowed. You should be okay with the staff if you look neat and presentable.
Is There An Airport Shuttle Available From Arizona Charlie's Casino?
No, unfortunately, this casino does not provide an airport shuttle service. However, several other transportation options are available to get you to and from the casino.
You can take a taxi or Uber ride, rent a car, or even walk if it is within close proximity. Public buses are also operating in the area that will get you to your destination.
What Is The Smoking Policy At Arizona Charlie's Decatur?
This casino operates a strict no-smoking policy throughout the casino floor and other areas of the resort. This includes all electronic cigarettes and vaping devices.
Smoking is only allowed in designated outdoor areas, so be sure to check with a staff member before you light up. The casino also has an air filtration system that helps to maintain fresh and clean air inside.
What Is The Pet Policy At Arizona Charlie's Casino and Hotel?
Unfortunately, pets are not allowed inside this casino. This is due to the health and safety of all guests and personnel. Service animals are permitted.
Is Wifi Available At Arizona Charlie's Decatur?
Yes, free Wi-Fi is available throughout all hotel and casino areas. You need to connect to the "Arizona Charlie's" network and enter your room number.
This will give you access to all the amenities this luxurious resort provides, such as TV streaming services and much more. So be sure to take advantage of this great feature while you're visiting.
What Is The Cancellation Policy For Arizona Charlie's Hotel?
If you need to cancel your reservation, you must do so by 4 p.m. the day before arrival. Failure to do so will result in a one-night stay being charged to your credit card.
You may also be asked to provide a valid credit card upon check-in for any incidentals or damages that may occur during your stay. Please read the cancellation policy carefully before making your reservation.
Conclusion
Arizona Charlie's Casino & Hotel Decatur is a great place to visit for an evening of entertainment. Whether you are looking for gaming, food, or a night out with friends, you will find it all here.
The casino provides a wide variety of slots and table games, while the hotel offers comfortable rooms and amenities that will make your stay enjoyable. Be sure to check out their website for more information on promotions and accommodation options before you visit.