Atlantis Casino, Reno
Address: 3800 S Virginia St, Reno, NV 89502
Phone number: +1 775-825-4700
Website: https://atlantiscasino.com/
Hours: The casino is open 24 hours a day 7 days a week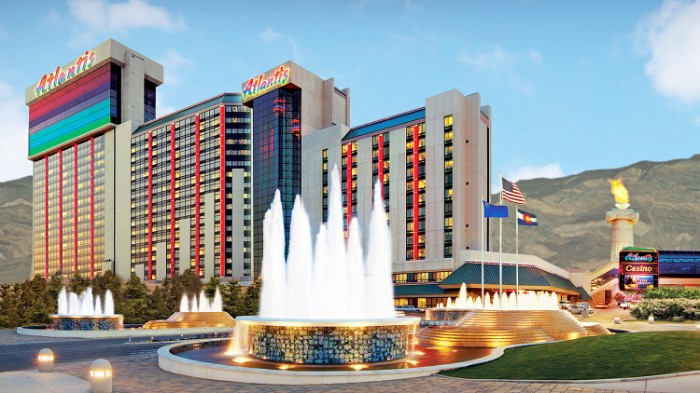 The Atlantis Casino is a luxurious casino located in the heart of Reno, Nevada. It has been a part of the city since it opened its doors in 1972. The building is also home to a hotel, spa, pool and many other amenities for visitors. It's one of the iconic buildings that add character to the city.
The casino is known for its huge selection of slots, table games, and other gambling options. It boasts over 1,400 slot machines, poker, and all the classic table games such as Blackjack, Roulette, Craps and Baccarat. There are also dozens of specialty games like Pai Gow available.
The Atlantis Casino is also host to many live entertainment events and shows. From the popular Atlantis Comedy Club to the top international acts, there's something for everyone at this unique venue in Reno.
In addition to all the gambling options, The Atlantis Casino offers various dining experiences. Several restaurants and bars are located within the building, including the popular Oyster Bar and Grill. No matter your tastes, there is something delicious to tantalize your tastebuds.
The Atlantis Casino, Reno, has an incredible hotel with luxurious rooms and suites. In addition, it has a full-service spa and salon as well as an arcade and loads of exciting local attractions that you are sure to enjoy.
Guests of Atlantis Casino consistently rate their experiences highly at a 4.5-star rating from Tripadvisor. They praise the friendly staff and the quality of their services.
The casino also receives positive reviews for its cleanliness, variety of amenities, and excellent customer service. It's no wonder this casino is one of the most popular places to visit in Reno.
(Related reading: Nevada casinos)
Gaming
This casino offers a wide range of gaming options, from slots to table games. In addition, players can also participate in special events such as tournaments or progressive jackpots with big payouts. There is also a sportsbook if you want to bet on the next big game.
Table Games
Are you looking for something to do at the casino? Look no further. With tons of fun table games to choose from, like blackjack, baccarat, craps, and roulette, there is something for everyone.
You can also enjoy exciting specialty games such as Long Rolls and Pai Gow Poker – you won't be stuck for choice. Whether you want a relaxed game of cards or some fast-paced card action, you'll find what you're looking for here.
The minimum bet varies by game, but generally speaking, it ranges from $5 to $15. However, please be aware that the limits may change depending on the day and time of your visit.
Slots
At Atlantis Casino, Reno, there are over 1,400 slot machines to choose from. No matter what you're looking for to get the adrenaline pumping, there is going to be a machine that leaves you feeling excited as you watch the symbols spin.
Popular slot games include:
Wheel of Fortune
Starburst
Quick Hits Platinum
Buffalo Gold
FireStorm Bull
FireStorm Lion
Treasure Gates Atlantis
Treasure Gates Pompeii
The payback percentage for this casino has not been made available to the public. However, in the state of Nevada, the minimum payback percentage is 75%. Despite this, you will find that the majority of casinos in the state tend to be set at around 90%.
Hotel/Resort
The Atlantis Casino also offers a beautiful hotel with luxurious rooms and suites. You can choose from standard or deluxe accommodations, with special amenities like plush bedding and free Wi-Fi. It is also one of the few AAA Four Diamond resorts worldwide.
A few of the room types available at this hotel resort include:
Atlantis Tower Room: King bed, spacious room, and amenities.
Luxury Tower Room: 2 Queen beds, spacious room, and amenities.
Bar Suite: Spacious room with a comfortable bed, a full wet bar, and amenities.
Penthouse Suite: Living, sleeping, and dining space, peak luxury, all the amenities.
In addition to the guestrooms, you will find plenty of other amenities such as a spa and salon, arcade, pool, and fitness center. There is also plenty of live entertainment available throughout the week, with musical and comedy acts from around the world coming to perform.
There is an incredible selection of bars and restaurants available to guests at the resort. From steak and seafood to classic burgers and pizzas, you won't be stuck for choice. There is also a wide selection of vegetarian options available, as well as an amazing grill.
No matter what you're looking for in a stay, you'll find it here at the Atlantis Casino. The resort is the very definition of luxury, and your visit to the casino and resort will leave you feeling more relaxed than ever.
Some of the amenities you can expect to find at the casino resort include:
Luxury rooms and suites
Restaurants and bars
Pool
Spa and salon
Fitness center
Live entertainment
Arcade
Fun center
Business center
Meeting spaces
Weddings
Promotions
Shopping
You can find great deals on hotel rooms at Atlantis Casino, Reno. Rates start from as little as $75 per night for a standard room and increase to well over $150 per night for luxury suites. Prices can vary depending on the time of year and when you book, so always check in advance.
Check-in time at Atlantis Casino is 3:00 pm
Check-out time at Atlantis Casino is 11:00 am
Restaurants & Buffets
If you're looking for an unforgettable dining experience, look no further than the casino resort. Their range of restaurants offers something for everyone.
Visit Miami Steakhouse for creative steak dishes and fresh seafood for a decadent feast. Bistro Napa combines past and present cuisine to create hearty American classics with Mediterranean flavors.
Sky Terrace Oyster Bar is the place to sample a variety of oysters, steamed seafood and chowders. Don't miss out on the sushi selection at Sky Terrace Sushi Bar or tuck into giant sandwiches at Manhattan Deli.
Enjoy exciting entrees infused with exotic island flavors at Purple Parrot or discover homestyle Italian dishes in Red Bloom. Chicago Dogs Eatery is the place to be for those craving something quick, while Java ETC provides freshly roasted aromas and seasonal pastries.
The Gourmet Grind offers specialty coffee drinks as well as a plentiful breakfast menu, while Cocktail Lounge serves after-dinner drinks and light meals like salads and burgers.
Buffet Prices
Eating at Toucan Charlie's Buffet & Grill at the casino is a perfect way to treat yourself. With prices starting from just $26.99 per person, this buffet is a great bargain for any budget, and you are sure to get your money's worth.
You will be amazed by the large selection of both local and international flavors including breakfast options, salads and appetizers, entrees like succulent steaks, seafood and classic dishes, and an array of select desserts that are sure to satisfy any sweet tooth.
There is also some lite fare for those looking for something more health-conscious. Enjoy all-you-can-eat deliciousness from around the world with every visit to Toucan Charlie's.
Pools
The resort offers an unparalleled pool experience no matter the season! Beat the heat during the summer months with a dip in the outdoor whirlpool spa or the seasonal outdoor pool and sundeck.
If you're looking for a year-round option, take a plunge into their indoor atrium pool. Also equipped with rainfall showers, luxurious lounge chairs and social seating areas, it won't take long to feel right at home.
As an added bonus, hotel guests receive complimentary use of all pools. Take your relaxation one step further and choose one of the available concierge services or dine al fresco poolside.
Atlantis Casino, Reno, NV FAQ
Does Atlantis Casino Have A Sportsbook?
The casino offers a state-of-the-art sportsbook facility, ideal for all your recreational gambling needs.
Enjoy the convenience of betting on all your favorite sporting events right from the comfort of their abundant seating lounge, equipped with comfortable chairs and plenty of space.
With up-to-date television monitors located throughout the area, you can keep an eye on what's happening no matter where you're seated or standing. Choose from a wide range of bets, including pre-game waging, in-game and props.
Is Poker Available At Atlantis Casino, Reno?
Poker fans rejoice – this casino is the place to be for excellent poker action. Whether you choose to try your luck at one of the tables in its well-appointed Poker Room or jump in on a tournament, the casino has plenty of great options for everyone.
The atmosphere is electric with excitement and anticipation as players attempt to hit it big. All sets are arranged according to skill level so all guests can find their ideal match.
With a range of house rules governing each game, you're sure to have an amazing experience every time you come out to play.
What Are The Age Requirements For Gambling At Atlantis Casino?
At this casino, the age requirement to gamble is 21 years old. All guests and visitors must provide valid governmental photo identification, such as a driver's license or passport when entering the casino.
Does Atlantis Have An Online Casino?
This casino doesn't have an online casino option available right now. But that doesn't mean there isn't still plenty of fun to be had.
Poker and slot tournaments are hosted regularly at the property with no shortage of entertainment, dining and spa options any day of the week. There's something for everyone, no matter where you choose to play.
Is There An Atlantis Casino App?
This casino does not currently have an app available. You can conveniently check in with their website and social media pages any time of day, where you can find all the latest updates about upcoming events and promotions.
You can also use the mobile-friendly website to check your rewards account, make bookings, and keep an eye on all the latest events you might want to check out.
What Is The Dress Code At Atlantis Casino?
The dress code at the casino is relaxed and comfortable. You can come in casual attire such as jeans, shorts, t-shirts and sneakers. Footwear should be closed-toe to ensure safety throughout the casino area.
There are no formal restrictions on clothing items so long as they abide by the general guidelines set out by the Nevada Gaming Commission. Hats, caps and other headgear are allowed in the casino but not on the gaming floor.
Is There An Airport Shuttle Available From Atlantis Casino?
Yes, there is an airport shuttle service available from the casino. Guests can take advantage of this complimentary service which runs approximately every hour daily to the nearby Reno International Airport.
The shuttles are a great way to get around town, especially if you're not familiar with the local area. It's also a convenient and affordable way to get to the airport when you're ready to leave.
What Is The Smoking Policy At Atlantis Casino, Reno?
The casino has a designated smoking area located outside the main gaming floor. The casino places a strict no-smoking policy throughout all of its gaming areas, including restaurants and bars.
Smoking is allowed in specially marked outdoor smoking areas only. Guests who wish to smoke must leave the building to do so and are not permitted to smoke in any public areas inside the casino. Electronic cigarettes are also not allowed in these designated smoking areas.
What Is The Pet Policy At Atlantis Casino Resort?
The casino does not allow pets inside the building. Unfortunately, guests are not permitted to bring their furry friends with them when visiting the casino.
Service animals are allowed on the premises under strict regulations; all service animals must be identified as such and registered with the casino. Any pet owners who require a service animal should contact the casino prior to their arrival for assistance.
Is Wifi Available At Atlantis Casino?
Yes, free wifi is available throughout the property. Guests can easily connect to the network for unlimited access for a smooth and convenient gaming experience.
If you are visiting the casino, you can enjoy a fast and reliable internet connection no matter where you go.
What Is The Cancellation Policy For Atlantis Hotel?
The cancellation policy for the casino varies depending on your booking. You should check with your hotel directly to confirm their specific policies before making any changes to your reservation.
Generally speaking, most bookings are refundable if cancelled no later than 24 hours prior to arrival. Any cancellations made after this time may be subject to a fee or may not be refundable.
Be sure to read your booking agreement carefully and contact the hotel if you have any questions.
Conclusion
From dress codes to pet policies, Atlantis Casino Resort in Reno offers a variety of amenities and services that make it an ideal destination for those looking to enjoy their time at the casino.
With complimentary airport shuttles, free wifi throughout the property, and a relaxed but respectful dress code, gamers can feel comfortable enjoying all these Nevada casino resort offers.
If you need to change or cancel your booking, be sure to double-check their cancellation policy before making any changes.
With all of these features and amenities, Atlantis Casino Resort is a great destination for gaming enthusiasts looking for an exciting and comfortable experience.