Avi Casino, Laughlin
Address: 10000 Aha Macav Pkwy, Laughlin, NV 89029
Phone number: +1 702-535-5555
Website: https://www.avicasino.com/
Hours: The casino is open 7 am-4 am, Monday to Sunday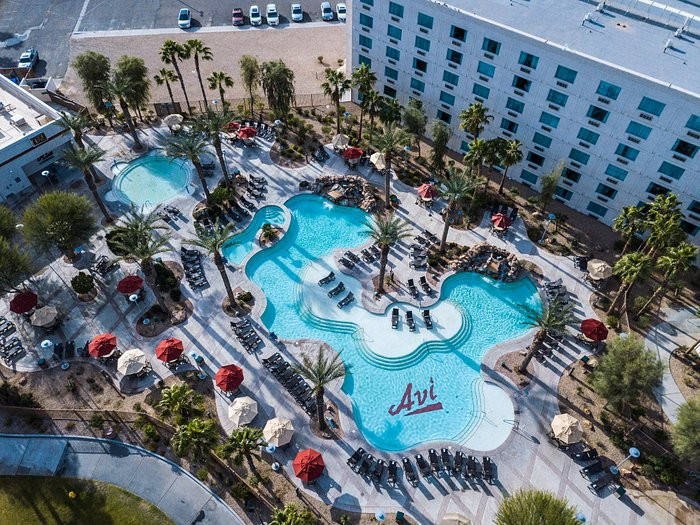 Avi Casino, Laughlin, has been providing a great gaming experience for locals and visitors since its opening in 1995. Located on the banks of the Colorado River, Avi Casino is an amazing resort that offers a variety of gaming options, from slots to table games.
With over 650 slot machines and several gaming tables featuring blackjack, roulette, baccarat and poker, Avi Casino has something for everyone. The casino also features a variety of restaurants and bars that offer live music and other entertainment.
There is an outdoor pool area that features a great view of the Colorado River, as well as an onsite fitness center. Guests can also enjoy a massage room, and those who want to host business meetings and events can take advantage of the excellent event spaces.
Avi Casino is also known for its excellent customer service and commitment to responsible gaming and player safety. In addition to the casino, Avi Casino also features a hotel and RV park on-site.
The hotel offers luxurious accommodations with stunning views of the Colorado River. At the same time, the RV park provides a more rustic camping experience for those looking to escape the casino's hustle and bustle.
Avi Casino, Laughlin, has an excellent reputation among guests who visit the casino. Guests have rated the resort 3.5-star rating on Tripadvisor. Most people speak of it highly, noting that they were impressed by the quality of their gaming experience and how well-managed and organized the casino is.
The overall atmosphere at Avi Casino is laid-back and welcoming, allowing guests to relax and enjoy their stay.
(Related reading: Nevada casinos)
Gaming
This casino offers an extensive selection of games ranging from slots to table games. There is something for everyone, regardless of your gaming preference or budget.
Table Games
The casino offers an array of table games to guarantee you a memorable experience. Some of those table games include blackjack, roulette, craps and Ultimate Texas Hold'em.
High Card Flush is also available, as well as various specialty games such as Super Fun 21 with Diamond Blackjack side wager, Lucky Ladies Blackjack and 21+3 Blackjack and Ultimate Texas Hold'Em with Trips Bonus or Bonus Craps.
With so many choices to choose from, you're sure to find a game that fits your needs and tastes. Whether you're a beginner or a seasoned pro, take advantage of the variety of options at this location.
The casino offers table games with minimums that range from $5 to $100. Players can enjoy a variety of blackjack variations with betting limits ranging from $5 to $50.
Roulette tables have minimum bets of either $5 or $10, while craps and three-card poker come in both $5 and $10 minimums.
Slots
There are so many slots to choose from at this casino, and you will be spoiled for choice. With over 650 slots, your blood will be pumping and adrenaline surging as you wait to see those symbols line up.
Some of the most popular slots include:
Triple Double Diamond
Hot Pink 7's
Quick Hits
Triple Diamond
Blazing 7's
Buffalo
Quick Hits
Wonder Woman
This casino has not made its payback percentage available to the public. While the payback percentage for the state of Nevada is set at a minimum of 75%. Despite this, most casinos in the state have a payback percentage that is at 90% or over.
Hotel/Resort
The hotel at this casino is one of the best in Laughlin, offering guests an unforgettable experience. The rooms and suites are spacious, modern and luxurious, with beautiful views of the Colorado River.
A few of the room types available at the hotel include:
Riverview King: King bed, spacious room, river view, and plenty of amenities.
Riverview Queen: 2 Queen beds, spacious room, river view, and plenty of amenities.
Luxury Suite: Living, sleeping, and dining space, great views, and amenities.
A variety of amenities are available to ensure your stay is as pleasant as possible. These include a fitness center, outdoor swimming pool, live music, delicious dining options, and much more. The restaurants and food court also provide a delightful dining experience for guests.
This location also offers a variety of packages designed to make your stay even better. No matter what you're looking for, the resort and casino have something for everyone.
Some of the amenities you can expect to find at the hotel and casino include:
Spacious rooms and suites
RV parking
Restaurants and bars
Beach
Outdoor pool
Golf
Arcade
Movie theatre
Boat launch
Kid's Ques
Fitness center
Business center
Event spaces
Weddings
Live entertainment
VIP lounge
Promotions
Retail shopping
The cost of staying at Avi Casino varies depending on the type of room and package you choose. Prices start from $50 per night for a standard room up to around $150 per night for a suite or luxury package.
The time of year and the day of the week you choose to stay can lead to an increase in price. Make sure you check out the packages offered by the casino resort.
Check-in time at Avi Casino is 4:00 pm
Check-out time at Avi Casino is 11:00 am
Restaurants & Buffets
You'll want to check out the casino resort for a great selection of delicious restaurants and drinks.
At Mojave Roast, enjoy award-winning campfire chilli, hand-crafted sandwiches, and more. Stop by Feathers Café to get your caffeine fix and satisfy your sweet tooth with some of their decadent pastries.
Looking for something light? Head over to MoonShadow Grille for a fresh salad or wrap. Or at Panda Express, enjoy authentic Chinese favorites like orange chicken and egg rolls to go.
If you're looking for a quick snack while playing slots, Subway, Sbarro, and Thrifty Ice Cream are the perfect choices. For dinner and drinks into the evening hours — the ArrowWeed Lounge is the place to be with an extensive wine list and unique dinner menu items.
Don't forget about the Roadrunner Bar & Sports Lounge, along with Whispers Lounge and Poolside Tiki Bar, for all your favorite beers on tap and incredible cocktails.
Pools
This casino has a stunning outdoor pool area so guests can take a break from the casino floor.
With lush cabanas and mood lighting, the atmosphere is perfect for relaxation during the day, while the tiki bar provides a dynamic and lively pool setting as the night descends.
Whether you're looking for some peaceful leisure time or an evening of dancing under the stars – the casino's pool offers something special for every visitor.
Avi Casino, Laughlin, NV FAQ
Does Avi Casino Have A Sportsbook?
The casino is proud to offer a sportsbook for all your wagering needs. Avi has become a popular destination for people looking to enjoy their favorite sporting events and place some bets simultaneously.
Here, you'll find traditional sports betting through fixed odds and over-under bets, as well as parlays and props that can add an extra layer of excitement while watching the game.
With no shortage of TVs tuned into the big game or the latest races, it's time to place your bets.
Is Poker Available At Avi Casino, Laughlin?
Unfortunately, this casino does not currently offer poker. However, there are still numerous other gaming opportunities for exploration and entertainment.
The casino offers a wide variety of slots and table games, plus an excellent golf course, beach, and plenty of other fun amenities.
What Are The Age Requirements For Gambling At Avi Casino?
At this casino, you must be 21 years of age or older to participate in any form of gambling. There are no exceptions to this rule.
Does Avi Have An Online Casino?
This location is the perfect spot for a fantastic vacation filled with casino fun, but sadly it does not have an online casino.
Guests who stay at this scenic Nevada hotspot are able to enjoy the amenities on land and all of the gaming options in the vibrant casino. Still, if you're looking for an online gaming experience, there are other casinos that have dedicated websites to fit your needs.
Is There An Avi Casino, Laughlin App?
Unfortunately, there is no app available. However, the casino offers a variety of other ways to keep updated from the comfort of your own home.
From their online site, you can keep an eye on the promotions page to find special, exclusive offers tailored directly to you and all the latest news.
Everything you need to know about the casino resort can be found on their website, and it is mobile-friendly so that you can make browsing and preparing easier.
What Is The Dress Code At Avi Casino?
The dress code is casual. Guests are encouraged to wear comfortable clothing and shoes, although a shirt with sleeves and closed-toe shoes must be worn at all times.
Beachwear, including swimsuits and flip-flops, is not allowed inside the casino or in any of the restaurants. As long as you're dressed comfortably and appropriately, you are welcome to enjoy all the casino offers.
Is There An Airport Shuttle Available From Avi Casino, Laughlin?
No, the casino does not offer an airport shuttle. However, the casino is only a 15-minute drive from the Laughlin Bullhead International Airport. Plenty of taxis and car rental companies offer easy access to the hotel and casino resort.
What Is The Smoking Policy At Avi Casino?
The casino has designated smoking areas throughout the property, including gaming areas. Smoking is not allowed in guest rooms or any of the restaurants and bars.
The hotel also offers a number of smoke-free rooms for those guests who wish to avoid secondhand smoke. This is a great option if you're looking for a convenient way to enjoy your stay without any smoking.
What Is The Pet Policy At Avi Casino Resort?
The casino does not permit any pets on the property. The only exception is service animals, which must be registered with the hotel in advance and are subject to approval by management.
Is Wifi Available At Avi Casino, Laughlin?
Yes, the hotel offers free wifi to all guests. You can access the network from anywhere in the resort, including your room and public areas such as the casino, restaurants, and bars.
The connection is fast and reliable, allowing you to stay connected throughout your stay. This is a great way to keep up with friends and family or catch up on work while you're away.
What Is The Cancellation Policy For Avi Hotel Resort?
The cancellation policy is as follows: Reservations must be canceled at least 24 hours prior to arrival date, or the full reservation amount will be charged.
Guests should also note that all cancellations are subject to a fee, which may vary depending on the rate booked. For any additional questions, please get in touch with the hotel directly or visit their website for more information.
Conclusion
Avi Casino, Laughlin, is the perfect destination for a memorable casino experience. Whether you're looking to play some slots, try your luck at the tables, or enjoy a night out on the town, there's something for everyone here.
Plus, with plenty of amenities and convenient access to local attractions, this Nevada hotspot has it all. So, don't miss out on all that Avi Casino has to offer.