Baldini's Sports Casino, Sparks
Address: 865 S Rock Blvd, Sparks, NV 89431
Phone number: +1 775-358-0116
Website: https://baldinis.com/
Hours: This casino is open 24 hours a day 7 days a week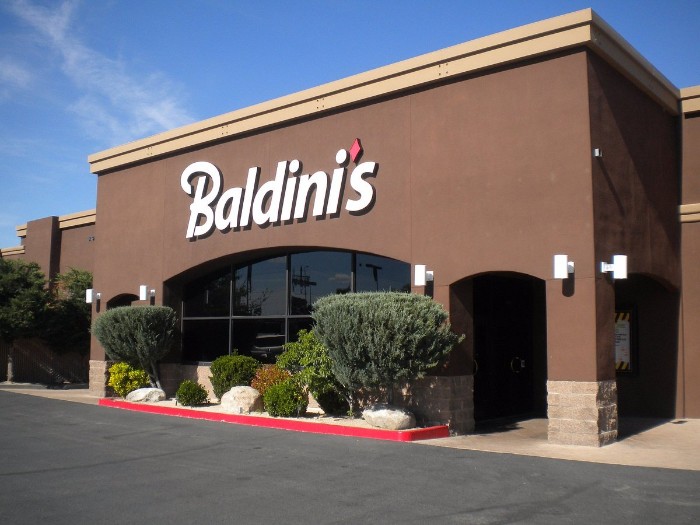 Baldini's Sports Casino, Sparks, is an establishment that has been in operation since 1988. It began as a small family-owned and operated establishment. Over the years, it has grown to become one of the most popular places in town for gaming and entertainment.
At Baldini's, you will find a huge selection of slots, video poker, and keno machines. There is also a sportsbook, allowing you to place a bet on the next big game. You can also enjoy a great dining experience with some of the best food in Sparks at the restaurants and two fantastic bars.
Live entertainment is always on the menu, with artists and comedians worldwide performing. If you're looking for a fun night out, Baldini's Sports Casino is the perfect spot. With plenty of gaming options and great food, it's a place where everyone can find something they like.
Baldini's Sports Casino, Sparks, is highly rated at 3.8 by its guests on Tripadvisor. Those who visit praise the friendly staff, the great selection of games, and the overall atmosphere. It's a great place to visit if you want an enjoyable gaming experience that is both entertaining and rewarding.
(Related reading: Nevada casinos)
Gaming
This casino offers a variety of gaming options through its 500 machines, from classic slot machines to state-of-the-art video poker and keno. There is also a sportsbook where you can place bets on your favorite teams or events.
Table Games
This location does not have any table games on offer. However, there are plenty of other gambling activities to pique your interest at this casino.
Slots
With 500 machines to enjoy, you will find a game that gets your blood pumping as you wait to see those symbols line up. You might even be lucky enough to win big.
Popular titles include:
Dragon Link
Buffalo Gold
5 Dragons Grand
Keno
Video Poker
The payback percentage for this casino has not been made available to the public. Nevada has one of the lowest percentages in the USA, with a minimum payback percentage of 75%. However, you will find that most casinos have one that is closer to 90%.
Hotel/Resort
There is no hotel at this casino. However, those who want to prolong their stay and make an adventure out of their time at the casino can find excellent accommodation nearby.
The best hotels close to the casino are:
Grand Sierra Resort
Nugget Resort
Holiday Inn Express
Peppermill Resort
Restaurants & Buffets
If you are in the mood for something classic with a modern twist, then this casino has the perfect spot for you.
Baldini's is home to several amazing restaurants that are sure to hit all of your cravings. The Empire Diner features classic diner food served with a contemporary flair.
This popular spot offers traditional favorites like Bacon and Eggs or Grilled Cheese sandwiches but also features delicious dishes like BBQ Brisket Nachos and Southwest Chicken Fajitas.
If you would prefer an evening that feels like a night out on the town, The Brickyard Grill is your spot for drinks and dinner accompanied by live music presented throughout the night.
The Casino Bar is perfect for a few drinks if you'd like something lighter in the evening. Finally, the Over Under Bar offers craft beers from all over the world to sample, along with delicious pub grub.
Pools
This casino does not offer a pool on the premises. However, you will find that many of the hotels close by provide a pool, hot tubs, and a spa for their guests.
Baldini's Sports Casino, Sparks, NV FAQ
Does Baldini's Sports Casino Have A Sportsbook?
Yes, the casino offers a sportsbook for customers to enjoy. Here you can place bets on all your favorite sports, from football and baseball to basketball and hockey.
With some of the best odds in Nevada, visitors have the chance to win big or have fun with friendly wagers. The live betting is particularly exciting and allows guests to get involved in the action while it's happening.
Plus, with plenty of TVs located throughout the casino, you won't miss out on any of your matches if you come down to the casino.
Is Poker Available At Baldini's Sports Casino?
Unfortunately, this casino does not offer live poker or tournaments. The casino provides 500 electronic machines, such as line games and video poker, but not classic poker.
There's also a race and sports book where you can keep abreast of all the latest sporting events while you play.
What Are The Age Requirements For Gambling At Baldini's Sports Casino?
The age requirement for gambling at this casino is 21. This should be taken into consideration whether you're playing on the casino floor, participating in an event, or entering a drawing.
Remember to bring a valid government-issued ID card as proof of your age if you plan to visit the casino.
Does Baldini Have An Online Casino?
Unfortunately, there isn't an online version of the casino. If you live in the area and want to experience all the casino offers, you'll have to head over to the physical location.
Luckily, they have plenty of games to choose from and offer sportsbook and casino gaming. They even have plenty of hotels nearby if your stay will be prolonged. It promises to be a great time whether you're interested in trying to win big or just having fun with friends.
Is There A Baldini's Sports Casino App?
Good news for casino fans – there is now an easy way to access all of the great services they offer. The casino app is available on both iOS and Android devices, so no matter what your preferred platform is, you can take full advantage.
This app allows you to easily check casino game schedules, view upcoming promotions, get directions to the property, use the sportsbook, and manage your rewards account.
What Is The Dress Code At Baldini's Sports Casino, Sparks?
The dress code for this casino is smart casual. This means that you should avoid overly revealing clothing and aim to look neat and tidy. The staff reserves the right to refuse entry if they deem guests to be dressed inappropriately.
Is There An Airport Shuttle Available From Baldini's Sports Casino?
No, unfortunately, there is no airport shuttle available from the casino. However, many of the hotel properties close by offer this service to their guests.
If you're looking for a convenient way to get to and from the Reno-Tahoe International Airport, it's worth checking out these options. Don't hesitate to contact their friendly customer service team if you have any other queries about getting to and from the casino.
What Is The Smoking Policy At Baldini's Sports Casino, Sparks?
Smoking is allowed within the casino, but you must abide by the Nevada Smoking Law. All guests must be 21 or older and adhere to designated smoking areas in public spaces.
Please note that Baldini's does not allow any vaping, e-cigarettes, hookahs, or marijuana products on the premises. Furthermore, all guests are asked to be respectful and clean up after themselves. Guests who do not comply with the smoking policy will be asked to leave.
What Is The Pet Policy At Baldini's Sports Casino?
Unfortunately, there is no pet policy at the casino. While the casino does not allow animals to be present in the building, service animals are welcome and must have approved identification on their person at all times.
Is Wifi Available At Baldini's Sports Casino, Sparks?
Yes, complimentary wifi is available within the casino for guests. The signal can be accessed from anywhere in the building, allowing you to stay connected while playing your favorite games or viewing sports events. All you need to do is connect to the network using your device and enjoy.
What Is The Cancellation Policy For Baldini's Sports Casino?
There is no cancellation policy in place at this casino. This is because it does not have a hotel or any other areas that might require a reservation.
Conclusion
Baldini's Sports Casino in Sparks is a great destination for casino fans. With a wide range of gaming options, a sportsbook, and other entertainment services, it's sure to be an enjoyable experience.
The app makes it even more convenient to stay up to date with promotions and manage your rewards account.
Plus, their smart casual dress code and complimentary wifi make it easy to have an enjoyable time at the casino. Just remember to abide by their smoking policy, as well as any applicable Nevada laws.