Bally's Lake Tahoe Stateline
Address: 55 US-50, Stateline, NV 89449
Phone Number: +1 800-235-8259
Website: www.casinos.ballys.com/lake-tahoe/
Hours: Bally's Lake Tahoe is open 24 hours a day, 7 days a week.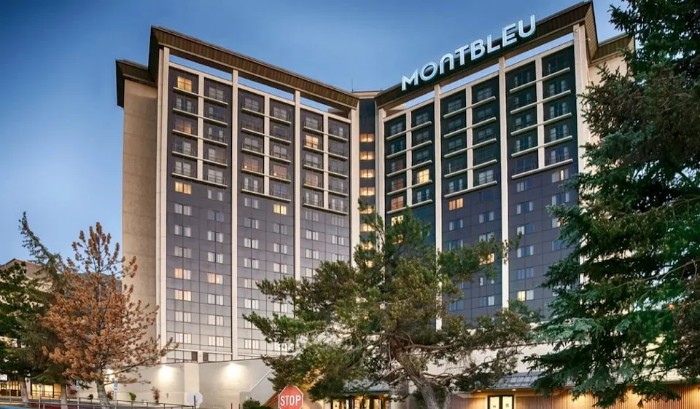 Bally's Lake Tahoe opened in 1975 and was originally named Park Tahoe. It was built by Del E. Webb Corporation and included a large casino, hotel, restaurant, and lounge. Several years later, Columbia Sussex purchased the property and rebranded it as MontBleu.
In 2020, the property was sold to Bally's Corporation for approximately $15 million dollars. They are now one of the oldest continuously operating casinos on the lake. Thanks to its long history and beautiful location, they have been a favourite among locals and visitors.
Their gaming space boasts numerous slot machines, table games and poker. Players can also take advantage of a wide range of daily tournaments. If you're feeling lucky, their progressive jackpots can be quite large.
Their hotel offers a variety of luxurious accommodation options, from standard double rooms to premium suites. All hotel guests have access to a swimming pool, hot tubs, and a fitness centre.
They also offer visitors a variety of entertainment options. From live music to stand-up comedy and special events, there's something for everyone at this casino. Plus, they have several great restaurants that serve delicious meals.
Whether you're looking for a fun night out or a relaxing getaway, this is the perfect place. Visit them today to find out why they have been one of the top casinos in South Lake Tahoe for over 45 years.
The casino hotel has consistently received excellent reviews from visitors and locals alike. On TripAdvisor, the casino currently holds a 4 out of 5-star rating with over 1,000 reviews. One guest said, "What a great casino! Friendly staff, lots of slots and tables. Nice hotel rooms too."
Another added, "Beautiful place to visit for a weekend getaway or just for fun. Great selection of games and amenities. Will definitely be back!"
(Related reading: Nevada casinos)
Gaming
Their casino offers a wide variety of games, including slots and table games. They also feature a high-limit gaming area with exclusive services and amenities. Poker players can take part in daily tournaments or join cash games.
Table Games
You can enjoy various exciting table games at this casino in Nevada with friends or fellow guests.
Try your hand at blackjack, the most popular casino game around. While the basics remain the same no matter where you play it, every casino also has its own unique variation to shake things up.
You can also enjoy the classic game of chance baccarat, where players bet on who will win a match between the house and one of two hands. Of course, no visit to a casino is complete without playing craps, Pai Gow and roulette – all fun and thrilling games that are sure to delight any gambler.
To improve your experience at this casino, why not try 3-Card Poker? It's easy to learn, but don't be fooled – it's still full of surprises.
To ensure that everyone can enjoy a night at the casino, this casino offers low minimums for all their table games. Players can find tables for blackjack, baccarat, and craps starting at just $5.
Slots
Slots at this casino offer a large selection of machines to choose from. The Buffalo Slots are a classic favorite due to their unique box shape that sets off multiple play lines, while Wheel of Fortune brings excitement with progressive bank pots and five different reel configurations.
If you're looking for a twist on the traditional slot gameplay, Ultimate Fire Link offers levels of fire-filled action with mini-bonus games, extra wilds and other exciting features.
If you love poker, Deuces Wild Poker takes this classic game with an added wild card for even more winning opportunities. Last but not least is Triple Diamond Deluxe – if you're feeling truly lucky, this game allows you to triple your winnings with classic symbols and innovative features.
According to Nevada gaming regulations, the casino must offer a minimum slot machine payback percentage of 75%. The casino also allows players to win progressive jackpots that can reach the millions.
Hotel/Resort
The hotel at this casino is a great place to stay if you're looking for luxury and comfort. With 438 rooms ranging from standard double rooms to premium suites, there's something for every type of traveller.
All hotel guests have access to a swimming pool, hot tubs, and a fitness centre with cardio machines and weights. You can also take advantage of the complimentary wifi or enjoy room service during your stay.
Their room types include:
Classic Rooms – features 1 king or 2 queens
Deluxe Rooms – features 1 king or 2 queens and a more spacious bathroom
Premier Rooms – features 1 king or 2 queens, large bathroom and view of the lake
Tahoe Suite – features 1 king, a separate living area, a wet bar, a jacuzzi and a view of the lake
Sierra Suites – features 1 king, a living room, a wet bar, a huge bathtub and a view of the mountain or lake
Executive Suite – features a studio room with 1 king and wet bar
At this hotel, guests can enjoy a variety of amenities and services. Some of the amenities include:
24-hour front desk
An array of restaurants and bars
Live entertainment
Concierge
Swimming pool
Fitness center
Spa and salon services
Free Wi-Fi
Meeting facilities
The cost of staying at this casino varies depending on the room type, location and dates. Generally, rooms range from $69 to $339 per night, but rates can vary significantly based on season and availability. Please check with the hotel for their current pricing information.
Check-in time at Bally's is 4:00 pm
Check-out time at Bally's is 11:00 am
Restaurants & Buffets
Even though they currently do not offer buffet service, several restaurants in the casino offer various culinary options. Whether you're looking for something light or more substantial, you'll find something to satisfy your appetite.
If you're looking to elevate your dining experience while visiting this casino, look no further than Ciera Steak + Chophouse – elegant and sophisticated, it blends a classic steakhouse feel with refined elegance.
With a focus on fresh ingredients and seasonal entrees, you'll be sure to enjoy the best of what the restaurant has to offer.
For those looking for more relaxed yet high-quality fare Café Del Soul is the perfect spot to land. Their creative menu features masterfully crafted American comfort food with regional Californian flare and options that will please every palate.
Lastly, Parlays Coffee & Quick Bites offers an inviting atmosphere for guests to enjoy a variety of house-baked pastries, craft coffee and espresso drinks, as well as lunch fares such as salads, wraps and sandwiches.
The casual atmosphere makes this a great spot for meeting friends or taking some time alone with a good book. No matter which dining option you choose here at this casino, there's something for every taste bud.
Pools
You can enjoy a refreshing dip at this casino any time of the year. The hotel offers an indoor pool that is both inviting and invigorating. Located in the casino-hotel complex, the heated pool is ideal for those who don't want to battle the elements outside.
Plus, you'll be surrounded by a comfortable atmosphere with amenities like locker rooms and complimentary towels. With its convenient location and comforting features, it's easy to take a break from exploring all that Lake Tahoe offers for a mid-day swim or soak.
Bally's Lake Tahoe, Stateline, NV FAQ
Does Bally's Lake Tahoe Have A Sportsbook?
Unfortunately, this casino does not currently have a sportsbook. However, many sports betting options are available in the State of Nevada.
Is Poker Available At Bally's?
Yes, this casino offers several poker options for players of all levels. There are daily tournaments as well as live cash games available in the casino.
Additionally, the casino hosts popular tournaments that draw in players worldwide. Check out their website for more information on upcoming poker events at this casino.
What Are The Age Requirements For Gambling At Bally's Lake Tahoe?
In Nevada, the minimum age for gambling is 21 years old. All guests must present valid identification to enter the casino and purchase alcohol. Any guest under the age of 21 found on the gaming floor will be asked to leave immediately.
Visitors are encouraged to check their local laws before visiting the casino.
Does Bally's Have An Online Casino?
No, this casino does not currently have an online casino. All gaming must take place in person at the physical location of their casino in Lake Tahoe.
Also, visitors should be aware that most states do not allow online gambling. Check your local laws before engaging in any type of online gambling activity.
Is There An Bally's Lake Tahoe App?
No, there is currently no app for this casino. However, the website does feature a mobile-friendly design that makes it easy for users to navigate on their phones or tablets.
Additionally, the hotel and casino offer a variety of promotions specifically targeted towards mobile users. Check out the website for more information.
What Is The Dress Code At Bally's?
There is no strict dress code at this casino. Most patrons opt for a casual look, such as khaki pants and collared shirts for men or dresses and blouses for women. However, visitors should note that flip-flops and athletic wear are generally discouraged.
Is There An Airport Shuttle Available From Bally's Lake Tahoe?
For travellers looking for transportation from this casino to Reno-Tahoe International Airport, an airport shuttle is available. For a fee of USD 33.00 per person, the hotel provides one-way transportation to the airport via their shuttle service.
All passengers need to do is contact the hotel directly for further details and booking arrangements.
What Is The Smoking Policy At Bally's?
The casino is non-smoking, meaning smoking of any kind is not allowed. This includes cigarettes, cigars, pipes, and e-cigarettes. However, there are designated outdoor smoking areas on the property for guests who wish to smoke during their stay.
What Is The Pet Policy At Bally's Lake Tahoe?
Only service animals are allowed at this casino. All other pets must remain outside the property or in a designated pet care facility nearby. Guests travelling with service animals should contact the hotel prior to their arrival to discuss any special arrangements that need to be made.
Is Wifi Available At Bally's Lake Tahoe?
Yes, there is free Wi-Fi available throughout the entire casino and hotel. Guests can enjoy secure and fast access to the internet for streaming, browsing and downloading. For more details on the Wi-Fi connection, please get in touch with the hotel reception desk upon arrival.
What Is The Cancellation Policy For Bally's?
The cancellation policy for this casino varies depending on the type of booking. For most reservations, guests have up to 48 hours before their check-in date to cancel without penalty. However, for some types of bookings, additional fees or restrictions may be applied.
Be sure to read the terms and conditions associated with your reservation prior to making a purchase. This will help ensure that you are aware of any cancellation policies or fees that may apply.
Conclusion
Bally's Lake Tahoe is an exciting casino and hotel with plenty to offer visitors.
With a variety of gaming options, restaurants, and entertainment venues, there's something for everyone. Whether you're looking to play the slots or relax at their luxurious spa, they are sure to make your stay enjoyable.
Before booking your visit, be sure to check out the dress code policy, smoking regulations and cancellation policies associated with this casino. If ever you are in the area, check out this casino, and you won't be disappointed.