Barley's Casino Henderson
Address: 4500 Sunset Rd, Henderson, NV 89014
Phone Number: +1 702-458-2739
Website: www.wildfiregaming.com/barleys/
Hours: Barley's Casino is open 24 hours a day, 7 days a week.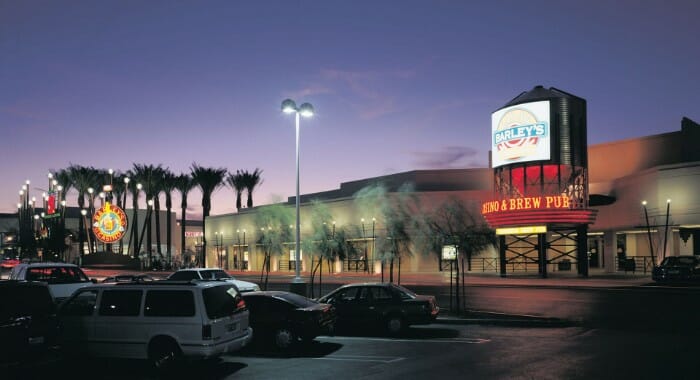 Barley's Casino is a Las Vegas-style casino located on Sunset Road. It has been providing locals and tourists with great gaming experiences ever since. The property is owned and operated by Wildfire Gaming, a division of Station Casinos.
It features over 197 slot and video machines, ranging from penny slots to multi-denomination games. They do not have live table games, but they feature a sportsbook where customers can bet on various sports.
Plus, they also have a cafe and bar, serving a variety of delicious foods and drinks. Whether you're looking for a quick bite or a full meal, this casino has something available to satisfy your cravings.
No matter what your game is, this casino has something for everyone. From slots to sports betting, you can always find a great way to have fun at this popular casino. Come and take a chance with luck today.
This casino has a 4.5-star rating on Google. One guest said, "Barley's Casino is a great place for locals and tourists alike. Good selection of slot machines and good food at the cafe. Sportsbook is really cool too."
Another said, "Great casino with a great atmosphere. Lots of modern slots and sports betting. Food was good, and drinks were fairly priced."
(Related reading: Nevada casinos)
Gaming
Their gaming space consists of 197 slot and video machines that range from penny slots to multi-denomination games. Plus, with a sportsbook lounge, you can bet on your favorite sports teams.
Table Games
If you're into table games, you may be wondering what options are available at this casino. Unfortunately, with their focus primarily on slot machines, there are no table games currently on offer.
However, if you're a fan of video poker, they have multiple machines to choose from. Plus, with a convenient location just off the highway and plenty of free parking, it could still be worth stopping by for a chance to hit it big on the slots.
Slots
This casino boasts various slot machines, from penny slots to multi-denomination games. Some popular slots include:
Big Money
Berry Berry Bonanza
Bear Money
Glory and Britannia
Lucky 7s
Medusa Megaways
Jumanji
Witchcraft Academy
Nevada's Gaming Control Board requires all slot machines to be set at a minimum payback percentage of 75%. That means that for every dollar you spend on the machines, you should get a minimum of 75 cents back.
Hotel/Resort
While this casino does not have a hotel attached to the property, there are plenty of nearby options for guests. Just a short distance away, the Courtyard by Marriott Las Vegas offers guests comfortable rooms at an affordable price.
Sunset Station Hotel and Casino is also a popular choice, known for its luxurious amenities and exciting gaming options. For those looking for something more low-key, the Hilton Garden Inn Las Vegas is a great option with a beautiful pool area and cozy rooms.
And for those needing a longer stay, the Residence Inn by Marriott Las Vegas provides plenty of space and all the comforts of home. No matter which hotel guests choose, they will have a great stay while enjoying all the excitement of this casino.
Restaurants & Buffets
When looking for tasty restaurants in Nevada casinos, be sure to check out Brewer's Café at this casino. This all-day dining spot offers a variety of menu items, including grilled sandwiches, salads, and breakfast fare.
But what sets Brewer's Café apart is its selection of craft beers and house-made microbrews. You can enjoy a cold brew while watching a game on one of the multiple TVs or relax on the outdoor patio.
The restaurant also offers happy hour specials and live music events. Plus, with its location inside this casino, you can easily make a night of it and try your luck at the slots or table games. Brewer's Café at this casino is the perfect spot for a casual meal or a night out with friends.
Pools
While there are no swimming pools directly on-site at this casino, there are still plenty of options for taking a dip in the refreshing waters of Nevada. Just a quick drive away, visitors can find a variety of public pools and aquatic parks with something to suit everyone's tastes.
From thrilling water slides to tranquil lap pools, there's no shortage of ways to beat the heat during the hot summer months. Additionally, many nearby hotels and resorts offer pool access to non-guests for a reasonable fee.
So whether you're looking for a family-friendly afternoon or a relaxing retreat, there are plenty of options to choose from near this casino.
Barley's Casino, Henderson, NV FAQ
Does Barley's Casino Have A Sportsbook?
Yes, they have the STN SportsBook at this casino in Henderson, NV. The sportsbook features comfortable seating and multiple large-screen TVs for viewing all your favorite sports teams.
They also offer various betting options, from point spreads to live betting, giving you the full experience when wagering on your favorite games. They also have a mobile app available for placing bets on the go.
Is Poker Available At Barley's Casino?
No, they do not have a poker room on-site. You may settle with video poker machines at the casino. However, there are plenty of nearby casinos and card rooms that offer poker games for those looking to play.
What Are The Age Requirements For Gambling At Barley's Casino?
All guests must be at least 21 years of age to enter and gamble in the casino. Identification will be required upon entry, so it is important that everyone carries a valid form of identification, such as a driver's license or passport.
Does Barley's Casino Have An Online Casino?
No, they do not have an online casino. For those looking to play online, there are plenty of reputable sites that offer a variety of games and bonuses. However, it is important to make sure you choose a secure site with proper licensing and regulation before playing for real money.
Is There An Barley's Casino App?
No, they do not have an app. However, they maintain a website with updated information on their events and promotions. Patrons can also access various features, such as an online rewards program and reservations via the website.
Plus, they have a sportsbook app for anyone looking to place bets on their favorite sports teams. The app is available for iOS and Android devices, allowing you to bet from the comfort of your home or while on the go.
What Is The Dress Code At Barley's Casino?
The dress code is casual. However, they ask that patrons refrain from wearing any clothing with offensive or vulgar language. Additionally, footwear is always required, and beachwear is not permitted on the casino floor.
Is There An Airport Shuttle Available From Barley's Casino?
No, they do not have an airport shuttle service available. However, there are several taxi and car services in the area that can provide transportation to and from the nearby McCarran International Airport.
What Is The Smoking Policy At Barley's Casino?
This casino is a smoke-free facility. However, there are designated smoking areas located outside the building for patrons who wish to smoke. The casino also features an air filtration system to help keep the air fresh and clean inside the main gaming area.
What Is The Pet Policy At Barley's Casino?
Sadly, pets are not allowed on the casino floor. Service animals are welcome, however. For those looking to bring their pet along, consider visiting one of the nearby dog parks or leisure trails that offer plenty of space for four-legged friends.
Is Wifi Available At Barley's Casino?
Unfortunately, no, they do not offer wifi. However, they have a few charging stations available for guests, and complimentary coffee is also offered at certain times of the day. In addition, there are plenty of nearby cafes and restaurants that offer free wifi access.
What Is The Cancellation Policy For Barley's Casino?
They do not have any accommodations, so there is no cancellation policy. However, guests can cancel their reservations at any time before arriving and will not be charged a fee. For more information on their policies, call the casino directly or contact them via email.
Conclusion
This popular casino is a great destination for those looking to enjoy an evening of gaming and entertainment.
With plenty of slots, table games, and sports betting options, it has something for everyone. While reminding yourself of the casino's age requirements, dress code, pet policy, and cancellation policies before arriving will help ensure an enjoyable visit.
Plus, with nearby attractions and casinos for those looking to explore further, Barley's Casino is a great way to spend a night out in Vegas!