Bellagio Casino, Las Vegas
Address: 3600 Las Vegas Blvd S, Las Vegas, NV 89109
Phone number: 702.693.7111
Website: https://bellagio.mgmresorts.com/en.html
Hours: This casino is open 24 hours a day 7 days a week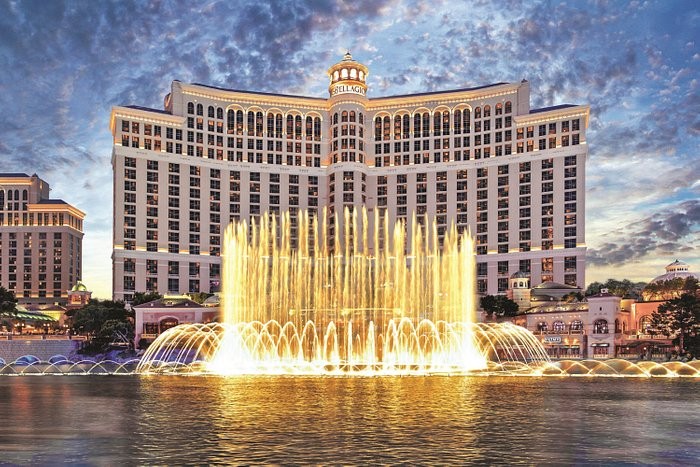 Bellagio Casino has a long and storied history. It was originally built in 1998 by Steve Wynn, the famous Las Vegas casino mogul. Located on the Las Vegas Strip, the Bellagio quickly became one of the most popular casinos in town.
The casino floor at the Bellagio is a plush and inviting space, with over 2,300 slot machines and more than 180 gaming tables spread out across 156,000 square feet of space. Players can experience classic favorites like Blackjack, Roulette, and Craps, as well as many electronic slots.
High-rollers will love the private gaming salons and exclusive betting areas, as well as the VIP lounge. There is also a fantastic poker room for those who want to experience a high-stakes game, and there are frequent tournaments.
The Bellagio also offers several restaurants, retail stores, a spa, and an incredible pool area. It is home to one of the most popular nightclubs in town, Hyde Lounge, which offers guests a place to dance the night away. There are also several bars and cafes located throughout the casino.
It is one of the most iconic and luxurious casinos in town, offering guests an unforgettable experience. Its magnificent architecture and popular fountain show make it a common sight on the Strip. It's easy to see why people flock here for a chance to win big.
Guests are captivated by its grandiose design and exceptional amenities, with a Tripadvisor star rating of 4/5. The casino floor is like no other, with endless gaming opportunities, exclusive salons, and world-class restaurants.
(Related reading: Nevada casinos)
Gaming
This casino offers guests a world-class gaming experience, with all the popular slots and table games available in addition to a sportsbook. The poker room is also an excellent place to play, as it offers some of the highest stakes in town.
Table Games
A trip to this Vegas casino promises a wealth of table game experiences. Featuring classics like blackjack and roulette, as well as more niche games like pai gow poker, there's something for everyone at the Bellagio.
For those new to the world of table games, craps and baccarat can provide a thrilling first experience in a sophisticated but welcoming atmosphere. Three-Card Poker is also available, offering players an exciting mixture of strategy and luck.
Whether you're an experienced veteran or just starting out with table games, this casino has something for everyone.
The casino offers a variety of table games that cater to all bankrolls. The minimum bet for most table games is $10, with high-stakes tables offering wagers up to hundreds or thousands of dollars.
Players can also find plenty of low-limit blackjack and roulette tables with minimum bets starting as low as $5.
Slots
For those looking for progressive jackpots, the Bellagio offers some of the biggest levels in Vegas. Players can also enjoy classic games like Double Diamonds, which are among the most popular machines in Las Vegas.
Popular slot machines at the Bellagio Casino include:
Wheel of Fortune
Cash Spin
Megabucks
Karate Kid
Buffalo Link
Prosperity Link
Bull Blitz
Cashnado
Double Top Dollar
The Bellagio also has a range of video poker machines, as well as multi-game slots like Quick Hits and Game King.
The payback percentage for this casino has not been made available to the public. While the minimum payback percentage for the state of Nevada is 75%, you will find that most Vegas casinos have a percentage of 90% or more.
Hotel/Resort
The Bellagio is a luxurious hotel and casino, offering guests 5-star amenities and world-class entertainment. Pet-friendly rooms are also available for those who want them.
A few of the room types you can choose from include:
Resort King: King bed, option for fountain views, and plenty of amenities.
Resort Queen: 2 Queen beds, option for fountain views, and plenty of amenities.
Tower King: King bed, most spacious standard room, and plenty of amenities.
The resort offers an unbelievable number of restaurants, including Lago by Julian Serrano and Le Cirque. There are also numerous bars and lounges for those who want to enjoy a few drinks or dance the night away.
The pool area is among the best in Vegas, with a 65-foot fountain and oversized cabanas. The hotel also offers a luxurious spa and salon, as well as an art gallery featuring some of the most valuable pieces in the world.
For those who want to experience more than just gaming, the Bellagio offers several shopping opportunities. The shops include luxury boutiques, designer stores, and souvenir shops.
The Bellagio is one of the most iconic casinos in Las Vegas, offering guests a glamorous experience right on the Strip. With its luxurious amenities, world-class entertainment, and top-notch gaming opportunities, it's easy to see why this is one of the most visited casinos.
Some of the amenities you can expect to find at this casino and hotel include:
Luxurious rooms and suites
Pet-friendly accommodation
Room service
Restaurants and bars
Outdoor pool
Spa and salon
Fitness center
Art gallery
Golf
Lounges
Nightlife
Fountains
Live entertainment
Business center
Event spaces
Weddings
Promotions
Retail shopping
The cost of a stay at the Bellagio can vary depending on the room type and time of year. The rate for a base-level room is usually around $132, while higher-end suites can run as high as $2,000 per night.
During peak season and special events, rates may be higher, but discounts and promotions are often available for those who book in advance.
Check-in time at Bellagio Casino is 3:00 pm
Check-out time at Bellagio Casino is 11:00 am
Restaurants & Buffets
If you're hankering for some delicious eats while at the casino, you can choose from a variety of restaurants. We'd recommend PRIME Steakhouse for a classic night out with juicy steaks cooked to perfection.
Get in touch with your artsy side and visit Picasso for some truly inspired cuisine. Or perhaps Italian is more your style? If so, don't miss Spago or The Mayfair Supper Club.
Traditional American dishes are available at Sadelle's Café and Michael Mina. Enjoy modern Italian flavors at LAGO by Julian Serrano, or head to Yellowtail Japanese Restaurant & Lounge if sushi and sashimi are more to your taste.
Le Cirque offers French cuisine, while Jasmine gives guests a delectable selection of Chinese specialties.
Looking for something light? Harvest, Noodles, Bellagio Patisserie, Quick Eats, and Starbucks offer fast bites, snacks, and drinks throughout the day.
After a dip in the pool to cool off, swing by Pool Café & Bar or Fountain View Dining to satisfy your cravings poolside. Finally, grab a fresh-pressed juice at Juice Press to complete your evening.
Pools
Nestled under the dramatic backdrop of the Las Vegas strip, the casino offers five distinctive pool courtyards to choose from.
Whether you're looking to soak up some sunshine in a poolside cabana, take a dip in refreshing azure waters, or enjoy a romantic getaway with honey-columned gardens and palm trees aglow with Tivoli lights.
It doesn't matter if you're an experienced swimmer or just starting out; their attentive staff look forward to helping you feel pampered and refreshed on your journey through this Mediterranean-inspired atmosphere.
Bellagio Casino, Las Vegas, NV FAQ
Does Bellagio Casino Have A Sportsbook?
The opulent casino does have a Sportsbook. Catering to all types of sporting enthusiasts and fans alike, the bookie area is extensive, with plenty of room to enjoy watching classic games while betting on your favorite teams.
All sorts of sports are featured here with competitive lines and point spreads that are up-to-date and fair. In addition, the Sportsbook offers generous promotions throughout the year, guaranteeing guests receive irresistible rewards for their loyalty.
Is Poker Available At Bellagio Casino?
The casino offers plenty of exciting gaming options for visitors. If you're looking to test your luck and some strategic prowess with a good game of poker, then you'll be pleased to know that Bellagio has you covered.
Providing both high-stakes poker action and more relaxed games, there is something for every type of poker enthusiast at this iconic casino. With professional dealers and top-notch facilities, this is one casino that can guarantee a thrilling experience.
What Are The Age Requirements For Gambling At Bellagio Casino?
The casino's age requirement for gambling is 21 or older. This creates a safe, adult-friendly gaming atmosphere for patrons.
All guests should be prepared to present valid ID if asked by casino staff in order to verify proper age requirements, but once you're in the door, it's ready to have some fun.
Does Bellagio Have An Online Casino?
If you're looking for the exciting thrills of a casino but don't want to travel all the way out to Las Vegas, this location does have an online casino.
This makes it easy and convenient to experience the same great gaming from wherever you are. From slots and blackjack to poker, now anyone with a device connected to the internet can take part in their favorite games from the comfort of their own home.
With bonuses and VIP club membership rewards, visitors are sure to enjoy their experience as if they were at Bellagio's physical casino location.
Is There A Bellagio Casino, Las Vegas Blvd App?
The good news is that there is a casino app. This free downloadable app gives you access to exclusive casino bonuses, promotions, and more.
There's even a feature that will allow you to track your wins and losses to evaluate your success easily. Whether you're an experienced gambler or just getting started in this exciting world, the casino Las Vegas app has something for everyone.
What Is The Dress Code At Bellagio Casino?
The dress code at Bellagio Casino is smart casual. This means no athletic wear, ripped jeans, or open sandals are allowed. Things should be kept classy and fairly dressy.
Collared shirts, slacks, closed-toe shoes for men, and dresses, skirts, blouses, and nice shoes for women are all acceptable attire. Keep in mind that the casino reserves the right to refuse service to anyone not dressed appropriately.
Is There An Airport Shuttle Available From Bellagio Casino, Las Vegas Blvd?
Yes, an airport shuttle runs from Bellagio Casino to the Las Vegas McCarran International Airport. This convenient service is available 24 hours a day and seven days a week, so you can be sure to get where you need to go quickly and easily.
The shuttle will pick up guests at any of the casino's designated shuttle stops, ensuring that the journey is as hassle-free as possible.
What Is The Smoking Policy At Bellagio Casino?
The casino has a strict no-smoking policy, with designated outdoor smoking areas available. This ensures that guests can enjoy their time at the casino without having to be exposed to secondhand smoke.
What Is The Pet Policy At Bellagio Casino and Hotel, Las Vegas?
Unfortunately, the casino does not allow pets. This policy is in place to ensure the safety and comfort of all guests and maintain sanitary conditions within the casino.
Service animals are still welcome since they provide a necessary function for their owners, but all other animals will have to stay home. This includes emotional support animals.
Is Wifi Available At Bellagio Casino?
Yes, the casino does have free wifi available for guests. Wifi is available in all public areas of the casino and hotel, ensuring that everyone has access to the internet should they need it.
This makes it easy to stay connected while you are enjoying your time at Bellagio Casino, Las Vegas Blvd. It also means you can easily check your bankroll and make transactions with ease.
What Is The Cancellation Policy For Bellagio Hotel?
The cancellation policy at the casino hotel is as follows: Guests may cancel their reservations up to 24 hours prior to the arrival date without penalty.
If a reservation is cancelled within 24 hours of the arrival date, guests will be subject to a one-night charge plus taxes and fees. Additionally, no-shows may be charged for the entire stay.
For more information, guests are encouraged to call the casino directly or check their website for the latest cancellation policy updates.
Conclusion
Bellagio Casino, Las Vegas Blvd, is a great place to enjoy a night of gambling. The casino has something for everyone with its array of slots and table games, its smart casual dress code, and its convenient airport shuttle service.
The casino also offers free wifi for guests and enforces a no-smoking policy in all areas. Additionally, pets are not allowed in the casino, but pet-friendly rooms are available at the hotel.
Finally, guests should be aware of the cancellation policy in case they need to make any changes to their reservations. With these guidelines in mind, you're sure to have an amazing time at Bellagio Casino.