Bonanza Casino Fallon
Address: 855 W Williams Ave, Fallon, NV 89406
Phone Number: +1 775-423-6031
Website: www.nuggetcasinos.com
Hours: Bonanza Casino Fallon is open 24 hours a day, 7 days a week.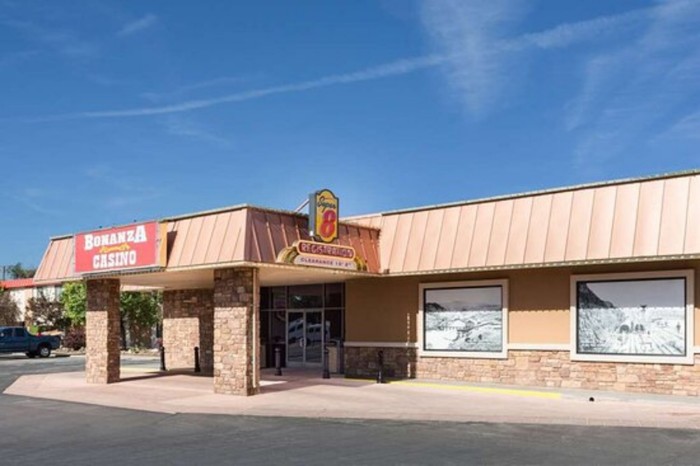 The Bonanza Casino Fallon is a part of the Nugget Casino Resort, a fixture in Northern Nevada's casino industry since time immemorial. Since its opening, this casino has been a favorite among the locals and visitors.
Their casino floor is filled with top-quality games, from slots and video poker to video keno and bingo. So whether you're a high roller or just looking for fun, this casino in Fallon has something for everyone.
They also have a bar and restaurant, serving delicious food and drinks to enjoy while you play. Plus, with live entertainment and various promotions, you can always count on this casino for an unforgettable night.
On average, guests rate this casino with 4.5 stars out of 5. One guest said, "I love visiting the Bonanza Casino Fallon! The staff is always friendly and helpful, and the variety of games is great!"
Another guest said, "The Bonanza Casino Fallon has been a fun spot for me to visit with friends. And the food was really good too.
(Related reading: Nevada casinos)
Gaming
Their casino floor boasts 200 hottest slots, including penny and nickels. Whether you're looking for progressive jackpots or bonus features, they have it all. In addition to slot machines, they also offer video poker, video keno, and bingo games.
Table Games
While this casino is a great spot for slot machine enthusiasts, it's important to note that they don't offer any table games. While this might be a bit of a bummer for those hoping to play some blackjack or roulette, the casino's selection of slot machines is still quite impressive.
And, if you're looking for something to mix up your gaming experience, they have a great selection of video poker games and keno as well. Plus, their staff is always happy to help and can offer suggestions on which games might be the best fit for you based on your gaming preferences.
Slots
If you're stopping by this casino and wondering which slot machines to try out, here are some of the popular ones that are worth a spin: The Addams Family, a classic favorite based on the spooky TV show and film franchise.
Dragon's Myth is for those who love a bit of fantasy and big wins. Dead or Alive II is a Western-themed game that will transport you to the Wild West with its fun bonus features.
Sex and the City, inspired by the iconic TV series, this slot machine is a hit with players who want a taste of high society and a glamorous lifestyle. Finally, Double Diamond is a timeless classic that has stood the test of time with its simple gameplay and big payouts.
As per Nevada law, casinos must pay at least 75% of their wagers back to players as winnings. While this casino does not offer any information about the specific payouts, it is likely to align with this minimum requirement.
Hotel/Resort
If you're planning a visit to this casino in Fallon, Nevada, you'll be glad to know that there are several nearby accommodation options.
Although the casino itself doesn't have a hotel of its own, you can find a Super 8 located right on the premises. Additionally, there are other great hotel options just a short drive away, including the Holiday Inn Express Fallon, Best Western Fallon Inn & Suites, and Quality Inn & Suites.
Whether you're looking for a budget-friendly option or a more upscale experience, there's something for every kind of traveler in the area.
Restaurants & Buffets
If you're looking for a fun night out in Fallon, look no further than this casino. In addition to the gaming options, the casino boasts its own bar and restaurant. The bar is stocked with various drinks, from classic cocktails to craft beers.
And for when hunger strikes, the restaurant offers a delicious menu featuring everything from burgers to seafood. No matter your taste, this casino has got you covered for a night of entertainment and dining.
Pools
Although this casino has no swimming pools onsite, there are some great options for aquatic recreation in the area. Fallon has several public pools and waterparks, so you can cool off in the summer sun even if you're not staying at the casino.
And for a more luxurious experience, there are several nearby resorts with swimming pools and spas for all-inclusive relaxation. So no matter what your vacation plans entail, you can still enjoy poolside fun.
Bonanza Casino Fallon, NV FAQ
Does Bonanza Casino Fallon Have A Sportsbook?
Yes, they do offer a sportsbook. The sportsbook is located near the casino entrance, and it features multiple TVs to watch live sporting events while you place your bets. They have odds on many popular sports and offer special promotions as well.
Is Poker Available At Bonanza Casino Fallon?
No, there are no live poker tables at this casino. However, they have a selection of video poker games you can play for real money. Additionally, several nearby casinos offer live poker rooms if you want a more traditional experience.
What Are The Age Requirements For Gambling At Bonanza Casino Fallon?
To enter this casino, you must be at least 21 and have a valid ID for verification. Access will be denied, and you will be asked to leave if you are found to be under the legal age. Make sure you bring a valid ID when visiting.
Does Bonanza Casino Fallon Have An Online Casino?
No, there is no online casino associated with this casino. The only way to access their gaming options is by visiting the physical location. However, several other online casinos offer a variety of games for players in Nevada.
Is There An Bonanza Casino Fallon App?
No, they do not have an app. However, they do have a website where players can view menus and promotions, as well as information about upcoming events at the casino. Additionally, they have social media accounts where they post updates and announcements about the casino.
What Is The Dress Code At Bonanza Casino Fallon?
The dress code at this casino is relatively relaxed. Smart casual attire is recommended, but they don't enforce any strict rules on dress. However, they do require that all patrons wear shoes and shirts at all times to ensure everyone's safety and comfort.
Is There An Airport Shuttle Available From Bonanza Casino Fallon?
No, there is no airport shuttle service available from this casino. However, there are multiple taxi and ride-sharing services in the area that can take you to and from the airport with ease. Plus, the casino is conveniently located near several major highways and airports.
What Is The Smoking Policy At Bonanza Casino Fallon?
This casino has a strict no-smoking policy. All casino areas, including the restaurant and bar, are strictly non-smoking. However, there is an outdoor patio where guests can smoke if they wish. Additionally, all patrons must adhere to Nevada's state laws regarding smoking in public places.
What Is The Pet Policy At Bonanza Casino Fallon?
Sadly, pets are not allowed in the casino. However, service animals for guests with disabilities are permitted. All other pets must stay at home or be taken care of by a pet sitter while you are away from the casino.
Is Wifi Available At Bonanza Casino Fallon?
Unfortunately, wifi is not available at this casino. However, the casino does offer free public internet access in the lobby area. Additionally, there are a few nearby cafes and restaurants with free wifi that you can use to stay connected.
What Is The Cancellation Policy For Bonanza Casino Fallon?
There is no need for a reservation at this casino, so there is no cancellation policy. All guests can access the casino's gaming options and amenities. If you have a room reservation at Super 8, contact them directly to discuss their cancellation policies.
Conclusion
This casino offers a variety of gaming options and amenities, from slots to sports betting. Whether you're looking for a traditional casino experience or something more modern, Bonanza Casino Fallon has something to offer.
Plus, they have a laid-back dress code, free public internet access, and several nearby attractions that make it the perfect destination for your next getaway.
Before you visit, check out their website and social media accounts to stay up-to-date on all the latest promotions, events, and more.