Bonanza Casino Reno
Address: 4720 N Virginia St, Reno, NV 89506
Phone Number: +1 775-323-2724
Website: www.bonanzacasino.com
Hours: Bonanza Casino Reno is open 24 hours a day, 7 days a week.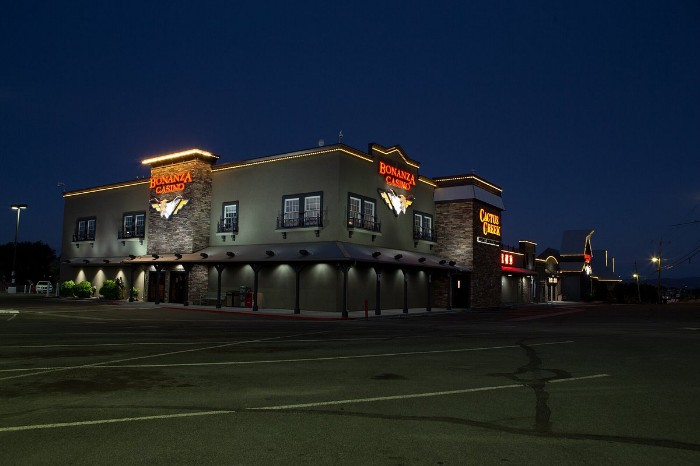 Bonanza Casino has been a staple of Reno gaming since it opened in 1973. Located on North Virginia Street, the casino is owned and operated by a private business owner focused on providing the best gaming experience possible since opening its doors four decades ago.
As a smaller casino, it specializes in slots and video poker, with games ranging from the classic and timeless to the innovative and exciting. They do not have any live table games, but they do have frequent tournaments and promotions that are sure to keep the fun going.
They also offer dining options onsite, from casual to fine dining. The casino has a full bar, and they host regular events such as comedy nights and karaoke. So whether you're looking to hit the slots or have a night out, this casino has plenty of options.
This casino is a great option for those looking to get away from the hustle and bustle of downtown Reno and spend some time in an intimate setting.
With their friendly staff and convenient location, they make it easy to escape the noise of everyday life while still enjoying all that gaming has to offer.
On average, guests rate this casino 4 stars out of 5 on review sites. One guest said, "I had a great time here! The staff was really friendly, and the atmosphere was relaxed. The slots were in great condition, and I won some money too."
Another guest said, "It wasn't too crowded, but the machines still paid out pretty well. It's a nice, small casino that won't break your budget."
(Related reading: Nevada casinos)
Gaming
Their gaming floor features a variety of slots and video poker machines, from classic favorites to the latest and most innovative games. They also host regular tournaments and promotions that will keep the fun going.
Table Games
While this casino is a popular destination for gaming enthusiasts, you may be surprised to learn that they do not offer any table games. Instead, the casino specializes in providing an extensive range of slot machines to its visitors.
While you may not be able to play your favorite table game, such as Blackjack or Roulette, at this location, the casino does offer a great selection of modern slot games that are sure to keep you entertained for hours.
From video slots to classic reels, this casino has something for everyone. So, if you're looking for a unique and exciting gaming experience, visit this casino and try your luck at one of their many slot machines.
Slots
Are you looking for some of the most popular slot machines to play at this casino? Look no further. Whether you're a seasoned player or new to the slots world, there's something for everyone.
You can try your luck with EggOmatic, which offers unique gameplay with its egg dispenser. Or, if you're feeling lucky, check out Sapphire, which boasts exciting bonus rounds.
Dragon fans won't want to miss Forbidden Dragons, while adventurers should give Gonzo's Quest a spin. For those seeking big wins, Thunderstruck II is known for its massive payouts.
The Nevada Gaming Control Board dictates that all slots must have a payback percentage of at least 75%. This casino is no exception, so rest assured that you will get a fair chance of winning while playing at this casino.
Hotel/Resort
While they do not have a hotel attached to their property, they still want to ensure their guests have a convenient and comfortable stay during their visit. Luckily, there are several nearby hotels that you may choose from.
Circus Circus Reno offers family-friendly entertainment and amenities. J Resort features luxurious accommodations and exceptional service. Silver Legacy Resort Casino boasts elegant rooms and a variety of dining options.
Lastly, the Western Village Inn & Casino offers a charming, rustic atmosphere and friendly staff. No matter which hotel you choose, you will surely enjoy a pleasant stay in the Reno area.
Restaurants & Buffets
If you're looking for some sumptuous steaks accompanied by wonderful service, Cactus Creek Prime Steakhouse is where you should be headed.
Located at this casino, this restaurant is where quality meats meet with fantastic service. The ambiance is luxurious and comfortable, with a cozy fireplace and warm lighting setting the mood. The attentive and friendly service staff will make sure you never want for anything.
Also at this casino is the Branding Iron Café, serving scrumptious food from American classics to international delights, making it an ideal spot for a tasty meal. So whether you're looking for a quick bite or a full meal, this café has it all.
Pools
If you're looking for a refreshing swim at this casino, unfortunately, there are no swimming pools onsite. Don't worry, though; there are plenty of other fun activities. From endless rows of slot machines to exciting shows, the casino is a great place to spend time.
And if you need a break from the gaming action, this casino has some fantastic restaurants to grab a bite. Overall, while you can't take a dip in the pool, there is still plenty of fun to have at this casino.
Bonanza Casino Reno, NV FAQ
Does Bonanza Casino Reno Have A Sportsbook?
Unfortunately, they do not have a sportsbook onsite. However, they offer other bet methods, such as slot machines and video poker. Additionally, several nearby casinos offer sports betting, so you can still place your bets on the latest sporting events.
Is Poker Available At Bonanza Casino Reno?
No, they do not have a poker room onsite. However, you can still find plenty of video poker machines in the casino. Additionally, several nearby casinos offer live dealer poker tables, so you can still get your fix of Texas Hold'em if that's what you're looking for.
What Are The Age Requirements For Gambling At Bonanza Casino Reno?
The age requirement for gambling at this casino is 21 years of age. All guests must present a valid form of identification to prove their age. Minors are not allowed on the gaming floor, even if accompanied by an adult.
Does Bonanza Casino Reno Have An Online Casino?
No, they do not have an online casino. They instead focus on providing a great in-person experience at their Reno location, with slot machines, table games, and more. If you're looking for an online betting experience, you'll have to look elsewhere.
Is There An Bonanza Casino Reno App?
No, they do not have an app. However, they have a website where you can check out the latest promotions and events at the casino. Additionally, their customer service team is always available to assist if needed.
What Is The Dress Code At Bonanza Casino Reno?
At this casino, the dress code is casual. Guests are encouraged to dress comfortably but neatly, with no clothing items such as athletic wear or tank tops allowed. Additionally, overly revealing clothing is not permitted.
Is There An Airport Shuttle Available From Bonanza Casino Reno?
No, there is no airport shuttle service available. However, the casino does provide complimentary transportation to and from nearby airports. Guests can contact their customer service team to arrange the service in advance.
What Is The Smoking Policy At Bonanza Casino Reno?
At this casino, smoking is not allowed in the gaming area. However, there are designated smoking areas for those who wish to smoke. Additionally, the use of e-cigarettes and vaping devices is also prohibited on the property.​
What Is The Pet Policy At Bonanza Casino Reno?
Currently, pets are not allowed on the property. However, service animals that meet disability standards and laws are welcome in the casino. All service animals must be registered with their owner's identification card and remain under the owner's control at all times.
Is Wifi Available At Bonanza Casino Reno?
Yes, free wifi is available throughout the property. The speed can be slow due to the casino's many guests, but it is reliable and adequate for most tasks. Register for an account when connecting to the wifi, as usage limits are in place.
What Is The Cancellation Policy For Bonanza Casino Reno?
They do not have a hotel onsite, so there is no formal cancellation policy. However, if you have booked a hotel room in the area, contact them and inquire about their cancellation policy. Most hotels in Reno will offer a full refund with no penalty if canceled within 24 hours of booking.​
Conclusion
This casino offers various activities, from slot machines to video poker. Guests can take advantage of the free wifi and complimentary transportation to nearby airports. Additionally, all guests must meet the age requirement of 21 and adhere to their dress code.
They also have other policies in place, including a smoking policy and a pet policy. With these policies, guests can make the most of their trip to Bonanza Casino Reno while staying safe and respectful.