Boomtown Reno Verdi
Address: 2100 Boomtown Garson Road, Verdi, NV 89439, USA
Phone Number: +1 775-345-6000
Website: https://boomtownreno.com/
Hours: Boomtown Reno is open 10 am – 7 pm Monday – Thursday. 10 am – 10 pm Friday – Saturday. 10 am – 9 pm Sunday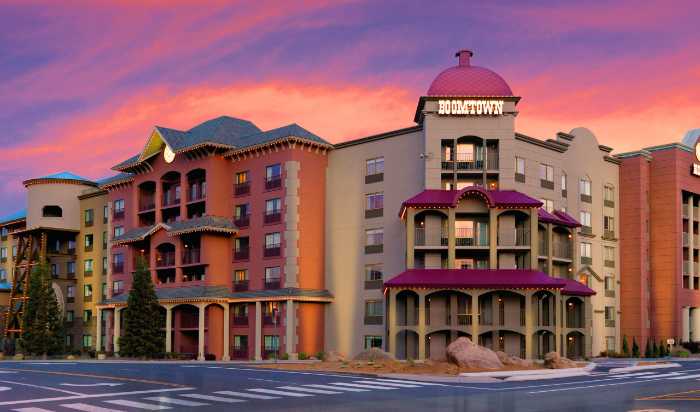 Boomtown Reno is a casino and hotel located in Verdi, Nevada, about 20 miles west of Reno. The casino has over 1,000 slot machines and 26 table games. It features four restaurants: The Log Cabin, The Pines, Silver Strike Steakhouse, and The Gold Rush Buffet.
The hotel has over 200 rooms and suites. Standard rooms include amenities such as a coffee maker, hair dryer, and ironing board. Suites feature separate living areas with sofa beds and wet bars.
It also offers a fitness center, swimming pool, and business center. Guests can take advantage of the complimentary shuttle service to and from the Reno-Tahoe International Airport.
According to TripAdvisor, guests rate Boomtown Reno an average of 4.5 out of 5 stars. Guests appreciate the casino, restaurants, and hotel rooms. Some guests complain about the smoke smell in the casino and the lack of non-smoking areas.
This casino should be at the top of your list when you're looking for a fun place to stay and play in Reno.
(Related reading: Nevada casinos)
Gaming
Looking for the latest and greatest in gaming? Look no further than this casino. They have something for everyone, with over 1,000 slots and 26 table games.
And with new games being added all the time, you're sure to find something you love. Whether you're a seasoned gambler or just starting out, this is the perfect place for you.
Table Games
This casino is great for trying your luck at various table games. If you're looking for something classic, the casino offers both blackjack and poker. If you're feeling lucky, you can also try your hand at roulette or craps.
There's something for everyone at Boomtown. So whether you're a seasoned gambler or just looking to have some fun, be sure to check out the casino's table games. You're sure to find a game that's perfect for you.
The minimums for table games vary depending on the game and time of day. For example, the minimum for blackjack is $5 during the week and $10 on weekends. The minimum for craps is $10 during the week and $25 on weekends.
To find the minimums for your favorite table game, check with the casino in advance. This way, you can plan your budget and ensure you have enough to cover the costs of your preferred game.
Slots
When it comes to gambling, there are all sorts of different options available. Whether you enjoy playing table games or slots, there's sure to be something that piques your interest.
If you're a slots fan, you might wonder what some of the most popular machines are at this casino. Here are just a few examples:
The Wheel of Fortune slot machine is always a hit with guests. This machine offers a progressive jackpot, which means that the prize money keeps increasing until someone hits the big win. The Wheel of Fortune machine is located in the High Limit area.
Another popular choice is the Willy Wonka slot machine. This machine is based on the classic book and movie series and features all of your favorite characters. The Willy Wonka machine is also located in the High Limit area.
The Buffalo slot machine is always a good choice for those who enjoy a more traditional slot experience. This machine features symbols like buffalo, eagles, and other Native American imagery. The Buffalo slot machine is located in the main casino floor area.
These are just a few examples of famous slot machines at Boomtown. There are many others to choose from, so you're sure to find one that's perfect for you.
The payback percentage for slot machines at this casino is not publicly available. However, the casino does have a wide variety of machines to choose from, so you're sure to find one that suits your budget and gambling style.
Hotel/Resort
Boomtown Casino Hotel offers plenty of amenities to make your stay both comfortable and memorable. Our newly renovated 316 guest rooms come complete with new pillow top beds, flat-screen televisions, free Wi-Fi, refrigerators, microwaves, and complimentary coffee and water.
In addition, we offer an indoor heated pool, two fitness centers, a business center, and the famous Family Fun Center. Our KOA RV Park provides all the comforts of home while you enjoy all the excitement of Boomtown.
It offers a variety of hotel rooms to choose from, so you can find one that fits your budget and needs. Standard rooms start at $69 per night. However, prices will vary depending on the time of year and availability.
The casino also offers a variety of suites, which are perfect for those who want a little extra space. Prices for suites start at $159 per night. To get the best deal on your hotel room, it's important to book in advance.
This way, you can take advantage of special rates and promotions. You can also sign up for the casino's loyalty program, which offers discounts and other benefits.
Check-in time at Boomtown Reno Hotel is 3:00 pm
Check-out time at Boomtown Reno Hotel is 11:00 am
Restaurants & Buffets
Boomtown Reno is home to various restaurants, ensuring that there is something to please everyone's taste. The steakhouse is popular for guests looking for a hearty meal, with its menu featuring a range of juicy steak options.
The Buffet is perfect for those who want to try a bit of everything, with its expansive buffet spread offering something for everyone (currently closed). Mels is an excellent option for those in the mood for comfort food, with its menu featuring a variety of classic dishes.
Finally, Peet's is the perfect choice for those looking for a light meal or snack, with its menu offering a selection of sandwiches and salads. No matter what your preference, Boomtown has a restaurant to suit your needs.
Pools
Boomtown is home to an indoor and outdoor pool. The indoor pool is perfect for those looking to take a dip no matter the weather, while the outdoor pool is ideal for soaking up the sun.
The pools are open daily from 6:00 am to 10:00 pm. Guests must be 21 years or older to use the pools. To ensure the safety of our guests, we have lifeguards on duty at all times. In addition, we offer a variety of poolside amenities, such as towels, lounge chairs, and umbrellas.
Whether you want to take a refreshing dip or just relax by the pool, this casino has you covered.
Boomtown Reno Verdi, NV FAQ
Does Boomtown Reno Casino Have A Sportsbook?
This casino is your one-stop shop for all your gaming needs. They have a state-of-the-art sports book where you can place your bets on all your favorite games. They also have a poker room where you can test your skills against some of the best players in the area.
And, if you're feeling lucky, they have a variety of exciting tournaments that you can participate in. So whether you're looking to place a bet, play some poker, or win some money, this casino is the place for you.
Is Poker Available At Boomtown Reno Casino?
Yes, poker is available at this casino. They have various games and tournaments to choose from, so there is something for everyone.
They also have a wide range of buy-ins, so you can find a game that fits your budget. If you are looking for a fun and exciting place to play poker, then Boomtown is the perfect place for you.
What Are The Age Requirements For Gambling At Boomtown Reno Casino?
You must be at least 21 years old to gamble at this casino. This is the legal gambling age in Nevada, and it follows all state laws and regulations. If you are under 21, you will not be allowed to enter the casino floor or participate in any gaming activities.
However, there are still plenty of ways to enjoy your time at Boomtown Casino. The property includes several restaurants, bars, and live entertainment venues that are open to guests of all ages.
You can also take advantage of the property's many amenities, including a fitness center, pool, and spa. Whether you're looking to gamble or just enjoy a night out, this casino has something for everyone.
Does Boomtown Reno Have An Online Casino?
The casino offers a variety of gaming options, including slots, table games, and a sports book. However, Boomtown does not have an online casino.
Boomtown may simply prefer to focus on its brick-and-mortar operation. Whatever the case, visitors to this casino will need to head to the physical casino if they want to try their luck at games of chance.
Is There An Boomtown Reno App?
While there is no official Boomtown Reno app, several apps can be downloaded that will provide visitors with information about the casino and hotel. Apps like Trip Advisor and Yelp can be used to read reviews and get recommendations about where to eat, drink, and sleep in Boomtown.
In addition, Google Maps can be used to get directions to the casino and find out about local attractions. While an official app would be a handy addition, many existing apps can be used to plan a visit to the casino.
What Is The Dress Code At Boomtown Reno?
There is no formal dress code at this casino. However, they recommend that guests dress in casual attire. This includes clothes such as jeans, shorts, t-shirts, and sneakers. Please note that clothing with offensive language or images is not allowed.
Is There An Airport Shuttle Available From Boomtown Reno?
Yes, there is an airport shuttle available from this casino. The shuttle operates on a first-come, first-served basis and can accommodate up to 10 people.
The shuttle runs every 30 minutes from 8:00 am to 10:00 pm and picks up guests at the following hotels: El Dorado, Silver Legacy, and Circus Circus.
What Is The Smoking Policy At Boomtown?
This casino is a non-smoking facility. However, they have a designated smoking area on the casino floor. This area is for guests who wish to smoke cigarettes, cigars, or electronic cigarettes.
What Is The Pet Policy At Boomtown Reno Casino?
Pets are not allowed inside the casino or hotel. However, they do have a kennel on-site that can be used for a fee.
Is Wifi Available At Boomtown?
Yes, WiFi is available at this casino. Guests can connect to the internet for free in public areas like the lobby and restaurant. In addition, each room has WiFi access that guests can use for a daily fee.
What Is The Cancellation Policy For Boomtown Reno Hotel?
Guests can cancel their reservation without penalty up to 24 hours before arrival. After that, guests will be charged for the first night of their stay.
Conclusion
Boomtown Reno is a casino and hotel that has something for everyone. This property has everything from gaming and live entertainment to dining and amenities. And with an airport shuttle and pet-friendly policies make it easy to visit from anywhere in the world.
Whether you're looking for a night out or a weekend getaway, it is the perfect destination.