Cannery Casino & Hotel North Las Vegas
Address: 2121 E Craig Rd, North Las Vegas, NV 89030
Phone Number: +1 702-507-5700
Website: www.cannerycasino.com
Hours: Cannery Casino & Hotel is open 24 hours a day, 7 days a week.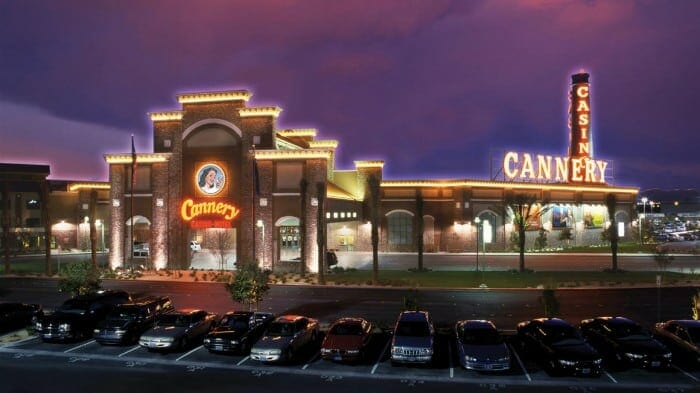 Cannery Casino & Hotel is located in North Las Vegas and has operated since 2003. Boyd Gaming now owns the hotel and casino and are a popular destination for visitors and locals alike.
Their 80,000 square foot gaming space offers over 1,500 slots and multiple table games ranging from blackjack to roulette. In addition, their race and sports book allows guests to bet on their favorite sporting events.
They also have a hotel with over 200 rooms for guests to take advantage of. Plus, with amenities such as a fitness center and outdoor pool, visitors can stay comfortable and enjoy their stay in the city.
And if you want to grab a bite, visit one of the many restaurants at this casino hotel. From casual dining options to a steakhouse and a full-service restaurant, there's something for everyone. Plus, with live entertainment and a club, you will surely have a great time.
This casino hotel is one of the premier destinations in Las Vegas for gaming, dining, and entertainment. With all these features and amenities, it's no wonder why people keep coming back.
On popular review sites, this casino hotel has consistently received 4 and 5-star ratings from its guests. According to one guest, "Cannery Casino & Hotel is a great place to stay. The rooms are clean, the staff is friendly and helpful, and the gaming experience was top-notch."
Another guest said, "I had an amazing time at Cannery Casino & Hotel. From the staff's hospitality to the gaming options available – this was truly a fantastic experience."
(Related reading: Nevada casinos)
Gaming
Their casino floor features over 1,500 slot and video poker machines and numerous table games such as blackjack, three-card poker, and roulette. They also feature a race and sports book with multiple televisions to watch your favorite sports teams.
Table Games
If you're looking for a great place to play classic table games, look no further than this casino in North Las Vegas. They offer an impressive selection of games that are sure to please everyone with different tastes.
Craps is an exciting dice game that involves betting and rolling for combinations for a big payout. Roulette is a simple game of color-matched spinning and betting against the wheel.
Blackjack is perhaps the most common casino game, where lucky hands are rewarded with money against the dealer. And if it's something different you seek, try out Pai Gow Poker: A fast-paced game where you'll pair up cards into two separate hands for a more strategic challenge.
Their minimums are subject to change, but they offer minimums as low as $3 per game at select tables. For a more accurate idea of the minimums, it's always best to call ahead or ask the dealer when you first arrive.
Slots
This casino hotel has over 1,500 slot machines from various game providers. Some of the most popular slots that you'll find at this casino include:
Starburst
Lil Red
Double Blessings
The King and the Sword
Book of Sheba
Great Eagle
Even though this casino is not publicly publishing its slot machine payback percentage, the legal machine minimum in North Las Vegas is set at 75%. So, you can expect to see a minimum of 75% returned back in winnings from the slot machines here.
Hotel/Resort
If you want to take a break from the gaming floor, this establishment offers over 200 guest rooms. Their rooms come with complimentary Wi-Fi, cable TV, and mini-refrigerators.
Room types include:
Deluxe King – features one king bed
Deluxe Two Queens – features two queen beds
This casino hotel offers plenty of amenities to make your stay more enjoyable. These include:
Wifi access
Free self-parking
24-hour front desk
Daily housekeeping
Onsite restaurants and bars
A fitness center
Live entertainment
A seasonal swimming pool
Gift shop
Onsite sportsbook
Banquet facilities
The prices for staying at this casino hotel vary depending on the time of year and room type. Prices start at $87 plus additional taxes and fees. For a more accurate quote, it's best to contact the hotel directly or search online for up-to-date prices.
Check-in time at Cannery is 4:00 pm
Check-out time at Cannery is 12:00 pm
Restaurants & Buffets
Although they currently do not have a buffet, they offer three different restaurants for guests to enjoy. Carve Prime Rib is a cozy diner serving the best prime rib around, while Casa Cantina takes you south of the border with its authentic Mexican cuisine.
Victory's Cafe and Bar & Grill bring a touch of home-cooked comfort to the mix with their array of sandwiches, salads, and entrees. If you want something quick and casual to grab on the go, Steak 'N Shake has signature burgers with all the trimmings.
And for coffee lovers, Java Vegas Coffee offers one-of-a-kind drinks made with care. No matter what you crave, this casino won't disappoint.
Pools
This casino hotel is a great destination for travelers looking for fun and relaxation. The hotel offers guests several amenities and services, including an outdoor pool.
Whether you're looking for a nice swim to cool off from the sun or simply want to appreciate the scenic views, the outdoor pool has something for everyone.
With plenty of seating options surrounding the pool and warm staff always available to answer any questions, you can be sure your stay at this casino will be filled with restful moments in its inviting atmosphere.
Cannery Casino & Hotel, North Las Vegas, NV FAQ
Does Cannery Casino & Hotel Have A Sportsbook?
Yes, this casino features a race and sports book where you can place bets on your favorite teams and sports. From football to baseball, basketball and more, the sportsbook has all the action you need.
Is Poker Available At Cannery?
Although they do not have a dedicated poker room, this casino does offer some table games with poker variations. They mainly offer Pai Gow Poker and several video poker machines, where you can enjoy a wide selection of poker games whenever the mood strikes.
What Are The Age Requirements For Gambling At Cannery Casino & Hotel?
The legal gambling age at this casino is 21. All guests must present a valid form of photo identification to enter the gaming area. Make sure to bring your government-issued ID to avoid any potential issues.
Does Cannery Have An Online Casino?
As a part of Boyd Gaming, this casino also offers Stardust Social Casino for online play. With over 100 slot games and more being added regularly, you can enjoy your favorite titles from the comfort of your own home using virtual coins.
Is There An Canery Casino & Hotel App?
No, there is no dedicated app for this casino, and if you want to enjoy their exclusive offers, you must visit the website. Their social media channels are also a great place to stay up-to-date with the latest news and promotions.
What Is The Dress Code At Cannery Casino & Hotel?
Although there is no rigid dress code adhered to at this hotel, visitors are kindly asked to show respect by dressing appropriately. Simply put, swimwear should be kept for the pool area and not worn in the casino.
Avoid wearing sweatpants, athletic shorts, tank tops and flip-flops. Also, overly revealing or suggestive clothing is not permitted, so be sure to dress modestly.
Is There An Airport Shuttle Available From Cannery?
Unfortunately, this casino does not provide an airport shuttle service. However, there are several transportation services available that can take you to and from the hotel. Taxi services are also available in the area if you need a ride.
What Is The Smoking Policy At Cannery Casino & Hotel?
This casino is a smoke-free facility. Smoking is only allowed in designated outdoor areas, and all guests must follow the casino's smoking policy. Electronic cigarettes are not allowed inside the hotel or in any gaming area.
What Is The Pet Policy At Cannery?
Sadly, this hotel does not allow pets in their guest rooms. However, service animals are always welcome and must be accompanied by the owner at all times. Please be aware that all pets must comply with state and local laws.
Is Wifi Available At Cannery Casino & Hotel?
Yes, complimentary wifi is available in all guest rooms and throughout the hotel. Additional charges may apply for certain services or upgrades. The wifi service can be accessed using your own device with the provided login credentials.
What Is The Cancellation Policy For Cannery Casino & Hotel?
Guests can cancel their reservation without any cancellation fees up to 24 hours before check-in. Cancellations made after this time will be subject to a one-night room rate plus applicable taxes and fees.
Conclusion
This casino hotel has plenty to offer for a fun and exciting stay. From great gaming and delicious food and drinks to comfortable rooms and friendly staff, this is the perfect place for all your gambling needs.
Whether you're looking to bet on your favorite sports team or enjoy exciting slots and poker games, this casino has something for everyone. So if you find yourself in the Nevada area, make sure to stop by Cannery Casino & Hotel for a great experience.