Carson Valley Inn Minden
Address: 1627 U.S. Hwy 395 N, Minden, NV 89423
Phone Number: +1 800-321-6983
Website: www.carsonvalleyinn.com
Hours: Carson Valley Inn is open 24 hours a day, 7 days a week.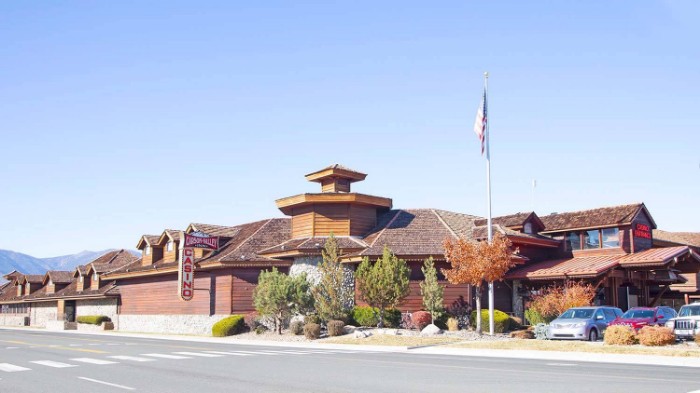 Carson Valley Inn has been a staple in the Minden, Nevada community since its founding in 1984 by Patrick and Jeane Mulreany. Through the years, the inn has been restored and remodelled while staying true to its original mission of providing an inviting atmosphere to its guests.
Today, the inn is a full-service property offering travellers upscale lodging options as well as gaming, dining and entertainment amenities on site. The hotel features over 160 rooms and suites, a motor lodge, an RV park, a business center and a lot more.
The 22,000 square-foot casino floor is home to more than 600 gaming machines, including video poker and slots, as well as a table game area with popular titles such as blackjack and craps.
In addition to the casino floor, the property also features different restaurants ranging from casual to fine dining. Guests can also enjoy live entertainment and events in the hotel's banquet hall.
Whether you are visiting Minden for business or pleasure, this casino hotel provides everything needed to make your stay enjoyable.
The inn is highly rated by guests. According to reviews on TripAdvisor, it has an overall rating of 4.5 out of 5 stars. One guest claimed, "We loved this hotel! The staff was friendly and helpful, the rooms were clean and comfortable, and the casino had plenty of games to choose from."
Another review stated, "This is a great place to stay in Minden. The staff was friendly and helpful, the rooms were clean and well-appointed, and the casino floor was great and had plenty of games to choose from. We would definitely stay here again."
(Related reading: Nevada casinos)
Gaming
The 22,000 square-foot casino floor is home to more than 600 gaming machines including video poker, slots, and a variety of table games such as blackjack and craps.
Table Games
If you're in the mood for some table gaming fun, then this casino inn is the place for you. With a wide variety of different activities, there's something for everyone.
From classic games like blackjack and craps to more modern ones like 3-Card Poker and 7-Card Poker, nobody will leave disappointed.
And if you're looking for something a little bit different, then why not try Criss Cross Poker? That alone promises an unforgettable experience. With all these great options, you won't want to miss out on this amazing opportunity.
Table game minimums at this casino vary depending on the type of game you're playing. Generally speaking, most table games have a minimum bet of $5. However, certain games may have higher or lower limits.
Slots
If you're looking for the best slot machines around, you'll love this casino in Nevada. With classic favourites like Fishin' Frenzy and Bear Money, as well as newer titles like Monkey Business Deluxe and Wolf Legend, there's something for everyone.
Experience British flare with Glory Britannia or spin to win with Grizzly Gold – no matter what your preference is, you can relax knowing that this establishment has it all.
They have a wide selection of popular slot machines to choose from so there's sure to be something fun for everyone.
The payback percentage for slot machines at this casino is, unfortunately, unknown. However, the Nevada State Gaming Commission requires all casinos in the state to have a minimum payback percentage of 75%.
Hotel/Resort
The inn offers comfortable, modern accommodations for all travellers. All of their rooms were completely remodelled during 2018-2019 to provide the best possible experience for visitors.
From standard rooms to deluxe options accommodating up to four people in one room, and handicapped-accessible rooms for those needing extra amenities, there is something for everyone.
Every room has either one king bed or two queen beds, and all come with a refrigerator, flatscreen HDTV, coffee maker and free high-speed wireless internet for your convenience.
Suites enjoy even more amenities, such as spa tubs and steam rooms in select suites, mini-bars with snacks available for purchase, living room areas and upgraded amenities like bathrobes.
The property also offers a variety of amenities to make your stay enjoyable, such as:
Business center
Indoor pool
Hot spas
Fitness facility
Outdoor sun deck
Motor lodge
RV park
The cost of a room at the Carson Valley Inn depends on a few factors, such as the type of room you choose and the time of year. Room prices start from as little as $89 per night for standard rooms and can go up to around $200 per night for deluxe suites with added amenities.
There will also be taxes and resort fees to factor in. Overall, it is an affordable place to stay compared to other hotels in the area.
Check-in time at Carson Valley Inn is 3:00 pm
Check-out time at Carson Valley Inn is 12:00 pm
Restaurants & Buffets
Those looking for the very best that this casino inn has to offer in terms of dining will be delighted to know there are three excellent eateries to choose from.
Renowned throughout Nevada, CV Steakhouse offers a delectable combination of traditional steak and fish dishes with a generous helping of western hospitality.
Katie's Country Kitchen is renowned for its excellent home cooking and hearty breakfast dishes, while Job's Perk is the perfect place to indulge in freshly-baked treats and specialty coffees.
No matter which restaurant you decide to visit, you can be sure that the quality of food and the friendly staff will have you coming back for more.
Unfortunately, though, there are no buffets available at this casino. You can, however, find several other buffet-style options nearby.
Pools
Their vibrant hotel is hard to miss and even more difficult to forget once you've experienced their incredible pool and sun deck. Their indoor pool has two 6-person hot spas for the ultimate relaxation after a long day sightseeing, as well as a fitness centre.
Guests can use their state-of-the-art multi-station weight machine and 4 aerobic devices, all free of charge.
Plus, there's an outdoor sun deck right onsite – you don't even need to leave the property. It's a great spot to relax outside and take in the fresh mountain air. With these amenities, guests can make the most of their stay.
Carson Valley Inn, Minden, NV FAQ
Does Carson Valley Inn Have A Sportsbook?
This casino inn is the place to be when it comes to sports betting. Their Sports and Race Book offers great odds and the chance to place wagers on your favorite teams and place bets on Pari-Mutuel horse racing.
Located right inside their casino entrance, you'll find dozens of HDTV screens for easy viewing. With all of the major sports available such as NBA, NHL Hockey, NASCAR and more, there are plenty of wagering opportunities.
Horse racing can be enjoyed 365 days a year, either solo or with their helpful staff, who are always ready to help you handicap the next race. Additionally, football fans will appreciate the full card of events during football season.
Is Poker Available At Carson Valley?
Yes, this casino offers a full poker room with several tables and games to choose from. Players can enjoy Texas Hold'em, Omaha Hi/Lo and more.
Tournaments are available on select days, and the casino also offers promotions and special events to keep players entertained. The poker room offers a professional, laid-back atmosphere with plenty of tableside beverage service to refresh you while playing.
What Are The Age Requirements For Gambling At Carson Valley Inn Casino?
All guests must be 21 years or older to enter the casino. Valid government-issued identification is required at all times, such as a driver's license or passport. Minors will not be allowed on the gaming floor, even if accompanied by an adult.
Does Carson Valley Inn Have An Online Casino?
No, they do not have an online casino. However, visitors can enjoy the full range of gaming available in their land-based casino, located in Minden, Nevada. The casino features slots, table games and a poker room with daily tournaments and promotions.
There is also a Sportsbook for placing wagers on sporting events. Guests can also enjoy a variety of delicious dining options and drinks served throughout the casino.
Is There An Carson Valley Inn Casino App?
No, there is no app available at this time. However, visitors can keep up to date with the casino's news and promotions on their website. Additionally, guests can sign up for promotional emails or follow the casino on social media for instant updates about events.
What Is The Dress Code At Carson Valley?
The dress code for the casino is casual. Guests are asked to refrain from wearing offensive clothing or attire that may be deemed inappropriate.
Casual shorts and sandals are allowed, but they do ask guests to dress appropriately. Tank tops, swimwear, cut-off shirts and hats are not permitted in the dining areas. We also suggest that guests check the dress code for any special events or promotions being held.
Is There An Airport Shuttle Available From Carson Valley Inn?
Yes, the casino offers a complimentary round-trip shuttle service to and from the Carson City Airport. Guests may also request a shuttle ride to other locations around town for a nominal fee. For more information, please call the hotel's front desk staff at any time.
What Is The Smoking Policy At Carson Valley Inn Casino?
The casino allows smoking in designated areas only. Non-smoking rooms are also available for guests who wish to stay in a smoke-free environment. All smokers must be respectful of other guests and refrain from smoking in public areas outside of the designated smoking areas.
What Is The Pet Policy At Carson Valley Inn?
The casino does not allow pets in the hotel or on the gaming floor. However, service animals are welcome and will be accommodated accordingly. All service animals must adhere to the same rules as all other guests and must remain under control at all times.
The RV park on the property does allow pets, as long as they are kept on a leash and supervised at all times. Guests should also be mindful of the other guests in the park and clean up after their pets. For more information, please get in touch with RV Park directly.
Is Wifi Available At Carson Valley?
Yes, complimentary wifi is available throughout the entire property. Guests can access the internet from their rooms or in public areas such as the lobby and casino.
The signal strength may vary depending on your location, but high-speed internet is generally available throughout the property.
What Is The Cancellation Policy For Carson Valley Inn?
The casino requires at least 48 hours' notice prior to the expected check-in date if guests wish to cancel their reservation. Guests may be charged a one-night fee for cancellations made within 48 hours of arrival.
Any additional fees or charges will vary depending on each booking and the individual policy for that particular room type. Guests should contact the hotel directly for full details before making a reservation.
Conclusion
Carson Valley Inn offers an exciting and convenient gaming experience for visitors in the Minden, Nevada area. The casino features a variety of slots, table games and poker tournaments as well as a Sportsbook for placing wagers on sporting events.
Complimentary wifi is available throughout the property, along with complimentary shuttle rides to nearby locations. Guests should check the dress code and pet policy before visiting the casino, and be aware of the cancellation policy if they need to make changes to an existing reservation.
With its comfortable and inviting atmosphere, this casino and hotel is the perfect destination for a night of entertainment and fun.