Casino Fandango Carson City
Address: 3800 S Carson St, Carson City, NV 89701
Phone number: +1 775-885-7000
Website: www.casinofandango.com
Hours: Casino Fandango is open 24 hours a day, 7 days a week.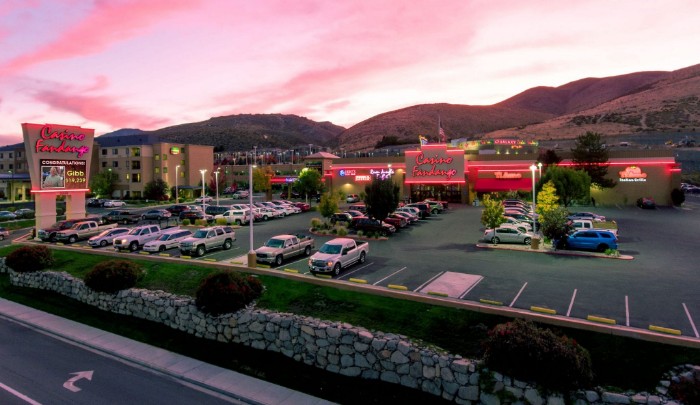 Casino Fandango, located in Carson City, Nevada, opened its doors to the public in July 2003. The property is considered the youngest casino in Carson City and is owned by Carson Gaming LLC.
The casino quickly earned a reputation as one of the premier gaming entertainment destinations in Northern Nevada and continues to offer an array of casino gaming opportunities and entertainment.
Their 40,000 square-foot gaming space located in the heart of the city features slots, video poker machines and table games. The casino also offers a variety of dining and entertainment options including five restaurants.
Aside from its casino, the property also features a movie theatre, bars and lounges, a performing stage and a banquet facility. In addition to the gaming and entertainment options, this casino also features a variety of special events such as live music and comedy shows.
The establishment is committed to providing a safe and enjoyable experience for its customers, emphasizing comfort and customer service.
The casino has been awarded the Nevada Appeal Readers' Choice's Premier Entertainment Destination in Carson City and consistently earns high ratings from customers for its gaming experiences.
With its commitment to providing the best in entertainment and gaming, this property is a must-see destination for visitors to Carson City.
This casino has consistently received high ratings from different online sources, such as reviews from guests of the casino. On average, guests rate this casino with 4.5 out of 5 stars. One guest said, "The casino is well-run, clean, and has a friendly staff."
Another guest said, "I have been to this casino several times and it continues to impress me with its large variety of gaming options, amenities and entertainment."
(Related reading: Nevada casinos)
Gaming
This casino offers an array of gaming options, including slots, video poker machines and table games. There are over 700 slot and video poker machines on the property. The most popular table games at this casino include Blackjack, Craps and Three Card Poker.
Table Games
If you're looking for some table game action, then look no further than this casino. Here you can choose from three classic and thrilling games – Blackjack, Pai Gow Poker, and Three Card Poker.
If you're in the mood for strategies and skill play then Blackjack is certainly the game of choice. Also known as Twenty-One, this is an all-time classic with a simple but captivating set of rules that easily lends itself to fast-paced excitement.
Pai Gow Poker offers a combination of both poker and traditional Chinese tiles, while Three Card Poker is perfect for those who prefer an interesting twist on the classic five-card draw at a more leisurely pace.
Table game minimums at this casino vary depending on the type of game you are playing. You can find minimums ranging from $5 to $25 per hand. Regardless of your preference, you're sure to find a great table game experience worth playing again and again at this casino.
Slots
If you're looking to find the hottest slots at this casino just take a look at their Volcano Slots, Storm Slots, Superstar Peak Video Poker, Buffalo Stampede, Lightning Link and Ocean Magic Ultra.
All of these classic slot machines guarantee an electrifying and entertaining experience for casino-goers. The virtual nature of the games makes them accessible to anyone looking for a bit of fun alongside their real-world entertainment.
With dozens of options ranging from player-favourite games to classic titles, this casino is sure to have a slot machine perfect for you and your gaming needs.
The casino's slot machine payback percentage is unfortunately unavailable to the public. However, Nevada state law requires that all slot machines must set a minimum return of 75% in order to be operated in a casino.
Hotel/Resort
Currently, Casino Fandango does not have a hotel or resort attached to the property. However, guests can take advantage of the hotel located adjacent to the casino, the Courtyard Hotel by Marriott.
Featuring 100 classic rooms and 12 exclusive suites, this signature experience provides luxurious amenities like a sparkling pool, fitness center, and an unbeatable location just steps away from all the excitement of the casino.
For more information and booking information, check out their website or call the hotel directly.
Restaurants & Buffets
Looking for a place to eat in the casino? Let us help you decide! Duke's Steakhouse is the perfect spot if you're in the mood for a juicy steak, accompanied by your favorite sides.
Prefer Italian food? Ti Amo Italian Grille ensures exquisite dishes with high-quality ingredients. If sushi is what you crave, Shinsen Sushi offers an All You Can Eat Buffet starting at only 26.95 per person.
To get your grub fix without breaking the bank, check out Palm Court Grill; not only do they offer wonderful dining options but also great value for your money. And lastly, Craft 55 specializes in craft beers and specialty cocktails as well as delicious entrees and pizzas.
Whichever restaurant you choose, we promise you a satisfying experience in this casino.
Pools
This casino offers guests the perfect combination of world-class gaming and entertainment. While the casino itself does not offer a pool, the nearby Courtyard Hotel by Marriot has a spectacular pool for its visitors to enjoy.
This makes it very convenient for guests of this casino to enjoy some refreshing relaxation at the end of a long day without having to worry about going too far away. So if you're looking for fun and excitement plus somewhere to cool off afterwards, head on over to this casino.
Casino Fandango, Carson City, NV FAQ
Does Casino Fandango Have A Sportsbook?
At this casino, you'll find all the sportsbook action that you could ever want. Powered by William Hill SportsBook, they offer gambling opportunities on major sports events from around the world.
Enjoy betting options like expanded props, futures, and more at their numerous betting stations! There's something for everyone here and more chances of winning.
Is Poker Available At Casino Fandango Carson City?
This casino is a great place to go for fun and entertainment. They offer plenty of slot machines and table games, but one thing they also offer is poker. If you're looking to play some poker while you're at Casino Fandango, then look no further than Pai Gow Poker.
It's an exciting game where you try to beat the house with your best hand – the player must decide how to divide the 7-card hand into two separate hands. Not only is it engaging and exciting, but you can also get comfortable with other people enjoying the same experience.
What Are The Age Requirements For Gambling At Casino Fandango?
The legal gambling age for the state of Nevada is 21 years old. This means that to enter the casino or participate in any gaming activities, you must be at least 21 years old.
However, non-gaming areas such as restaurants and bars are open to all ages; children just need to be accompanied by an adult at all times.
Does Casino Fandango Carson City Have An Online Casino?
At this time, this casino does not have an online casino. However, you can take advantage of the many promotions and bonus offers available at the physical casino when you visit.
From bonus points to cashback rewards and more, there is something for everyone here. So make sure to check out their website or give them a call to find out more.
Is There An Casino Fandango App?
Unfortunately, this casino does not have an app. However, you can still take advantage of the many promotions and bonus offers available at the casino when you visit by checking out their website or giving them a call directly.
What Is The Dress Code At Casino Fandango Nevada?
The dress code at this casino is casual attire, with the exception of certain nightlife and entertainment events that may require more formal clothing. However, no swimwear or revealing clothing is allowed in any area of the casino.
Is There An Airport Shuttle Available From Casino Fandango?
This casino does not offer an airport shuttle at this time. However, guests can take advantage of the many transportation options available in the area, including taxi services and rideshare companies.
Additionally, there are plenty of car rental agencies nearby for those who prefer to drive themselves.
What Is The Smoking Policy At Casino Fandango Carson City?
This casino is a non-smoking facility, meaning that smoking (including e-cigarettes and vaping) are not allowed inside the premises. There is an outdoor area for smokers to enjoy their cigarettes or other nicotine products, which makes it convenient for everyone.
What Is The Pet Policy At Casino Fandango?
Unfortunately, this casino does not allow pets inside the premises. However, service animals are always welcome and must be kept on a leash at all times.
They must also be supervised by their owner and not allowed to disturb any other guests. We recommend that you contact the casino directly for further information on pet policies before visiting.
Is Wifi Available At Casino Fandango Carson City?
Yes, this casino offers free wifi to all its guests. You can easily connect to their network and get online in no time. From streaming your favorite shows or playing games on your phone to checking emails and more, you'll never miss out on staying connected when you're here.
What Is The Cancellation Policy For Casino Fandango?
There is no on-site hotel at the property, so the cancellation policy will depend on where you booked your stay. We recommend that you contact the hotel directly for further information.
For reservations made to meeting and banquet spaces, you may contact the casino directly and they will be able to assist you in understanding their cancellation policy.
Conclusion
Casino Fandango offers a wide range of gaming and entertainment activities. With the legal gambling age being 21 years old, visitors can enjoy gaming activities while non-gaming areas such as restaurants and bars are open to all ages.
While there is not an online casino or app available yet, guests can still take advantage of the promotions and bonus offers at the physical casino. Lastly, wifi is available free of charge and the cancellation policy will depend on where you made your reservation.
With all these features in mind, this casino is the perfect destination for a night out with friends or family, so be sure to check it out next time you're in Carson City.