Club Cal Neva – Reno
Address: 38 E 2nd St, Reno, NV 89501
Phone Number: +1 775-323-1046
Website: www.clubcalneva.com
Hours: Club Cal Neva – Reno is open 24 hours a day, 7 days a week.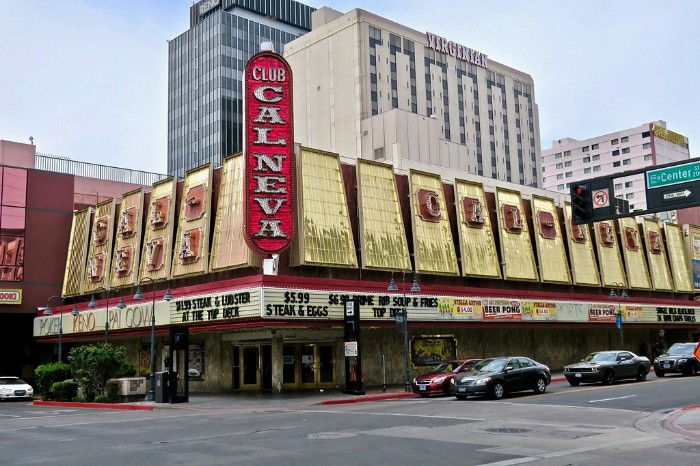 Club Cal Neva has been a part of the Reno gaming scene since 1962. It is one of the most historic casinos in town, and it remains a popular destination for visitors from all over the world. It was initially opened as a club and then turned to be a highly-profiting sportsbook.
After many years of changes and renovations, the establishment is now a full-service casino and entertainment complex. The casino boasts over 800 of the newest slot machines, as well as table games such as blackjack, craps, roulette, poker and more.
There are also multiple dining options for visitors to indulge in, which feature fresh and flavorful dishes. The casino also has a variety of entertainment offerings, ranging from live events to comedy shows.
To this day, they remain a popular destination for those looking for an exciting gaming experience and all-around great entertainment offerings. With its rich history and modern amenities, they offer something special that can't be found anywhere else.
Guests have highly rated this casino. It holds a 4-star rating on Google with over 2200 reviews. Most of the reviews say, "The staff is friendly, the machines are fun, and the atmosphere was great. Highly recommend for anyone looking for some classic gaming action."
Another reviewer said, "I had a fantastic experience at Club Cal Neva – Reno, NV. The staff were very helpful and welcoming. We all had a great time playing the games, and I would definitely recommend this place!"
(Related reading: Nevada casinos)
Gaming
This casino has a wide range of gaming options for you to choose from 800 slot machines, featuring classic as well as modern titles. For those looking for something more traditional, there are also a variety of table games such as blackjack, craps, roulette and poker.
Table Games
This casino offers an exciting array of table games that promise to keep you entertained. Take a seat at the blackjack table and let the friendly dealers guide you on your way to winning big.
If you're looking for something a bit different, try your luck at Pai Gow Poker or fight off Lady Luck with a game of Video or Live Poker. Roulette is always a classic and craps offer plenty of opportunities for high-reward bets.
The minimum bet at this casino varies depending on the table game. Table games such as blackjack and roulette have a $5 minimum, while higher stakes table games can be found with a minimum of $25.
Be sure to check with your dealer for more information regarding the minimum bet before playing. Whether you're playing for fun or as a serious gamble, there's no shortage of thrills when you play at this casino.
Slots
The slot machines at this casino offer plenty of choices for those looking to have some fun and exciting gaming action. There are hundreds of classic slots to enjoy, with titles such as:
The Big Bang Theory
Britney Spears
Walking Dead
Game of Thrones
Buffalo
Lightning Link
This casino currently does not publish the exact payback percentage of each slot machine. However, the Nevada Gaming Commission requires all gaming establishments in the state to maintain a minimum payback percentage of 75%.
With that said, this casino is sure to offer plenty of winning opportunities with its wide variety of slot machines. Be sure to check with your slot attendant for more details regarding the exact payback percentages before playing any slots.
Hotel/Resort
At this casino, guests will find an exciting resort and casino full of gaming, entertainment, and dining options.
Although the property does not have its own hotel on-site, there are plenty of nearby lodging opportunities, such as Reno Suites, Travelodge by Wyndham, and Legacy Vacation Resorts.
For a convenient and enjoyable stay close to all the attractions in Reno, along with a friendly atmosphere, these accommodations make a great choice when you visit this casino.
Restaurants & Buffets
As part of the fantastic offerings at this casino, they have three delicious restaurants to choose from.
Top Deck Restaurant brings classic American eats with a beautiful view of the city; over at the Casino Grill, enjoy a sumptuous meal with a great selection of your favorite cocktails; or make your way to Sports Grill for an unbeatable dining experience cooked up, especially for you.
However, they currently do not offer any buffet options. Be sure to check with the staff for more details regarding their current offerings.
Pools
This casino is the perfect destination for a socially distanced getaway. However, it does not have any pool or spa amenities available for guests to enjoy.
While you won't find swimming pools onsite, the hotel has plenty of other amenities to enjoy, including a bar, a full-service restaurant, and live entertainment throughout the week.
Even though there are no swimming pools nearby, you can still catch some fun while playing slots or table games in the gaming area.
But if you really want to have a dip in the pool, you should try to find a hotel or resort nearby. There are plenty of great options that offer pool access and other amenities that can make your stay more enjoyable.
Club Cal Neva, Reno, NV FAQ
Does Club Cal Neva Have A Sportsbook?
If you're looking for a sportsbook with a wide variety of offerings, then this casino may be the perfect place for your betting needs. From football to soccer and from auto racing to MMA, William Hill Sportsbook offers Nevada's most extensive selection of bets throughout the year.
On top of that, they are proud to offer Live InPlay wagering on select games and events like football, basketball, baseball, soccer, and hockey. So if you're ready to take your sports betting experience to the next level, this casino has you covered.
Is Poker Available At Club Cal Neva Reno?
If you're a fan of poker, this casino has you covered. They offer a variety of games, such as Texas Hold'em, Omaha, and 7 Card Stud. They also have video poker machines available for your gaming pleasure.
For those who prefer to play live against other players, the casino has a poker room where you can enjoy this classic game in an exciting and interactive environment.
What Are The Age Requirements For Gambling At Club Cal Neva?
In order to gamble at this casino, guests must be 21 years of age or older. Please be sure to bring proof of age when entering the casino to enjoy all the gaming and entertainment options available.
Does Club Cal Neva Reno Have An Online Casino?
Unfortunately, this casino does not offer an online version of its gaming and entertainment options. However, they do have a great selection of table games, slots, and other forms of gambling onsite that you can enjoy when visiting in person.
Is There An Club Cal Neva App?
Currently, there is no app available for this casino. However, if you're looking for a great way to stay up-to-date on all the latest promotions and offers, you can sign up for their e-newsletter or follow them on social media for the most up-to-date information.
What Is The Dress Code At Club Cal Neva Reno?
The dress code at this casino is casual. However, they do ask that guests refrain from wearing any clothing items that are overly revealing or offensive. They also suggest leaving any backpacks and large bags at home to avoid any inconvenience when entering the building.
Is There An Airport Shuttle Available From Club Cal Neva?
Unfortunately, this casino does not provide any airport shuttle services. However, there are several taxi and ride-sharing services available that can take you to and from the casino. Be sure to check with the staff for more details regarding their current offerings.
What Is The Smoking Policy At Club Cal Neva Reno?
This casino offers designated smoking areas throughout the building so that guests can enjoy their favorite cigarettes and cigars in a comfortable environment. Please note that they do not allow vaping or e-cigarettes anywhere inside the property, including the gaming area.
What Is The Pet Policy At Club Cal Neva?
Unfortunately, this casino does not allow pets on the premises. However, if you need to bring your service animal with you, please get in touch with the staff in advance so that they can make arrangements for you.
Is Wifi Available At Club Cal Neva Reno?
Yes, this casino offers free wifi throughout the building. Be sure to ask the staff for the password to enjoy a convenient and fast connection while you play.
If you need more assistance, the friendly staff at this casino are always available to help. They can provide all the information you need to enjoy a safe and fun visit.
What Is The Cancellation Policy For Club Cal Neva?
As there is no on-site hotel, the cancellation policy is based on the place of booking. Guests should contact their booking provider for more information regarding their cancellation policy and any applicable fees.
Conclusion
Club Cal Neva is a great place to enjoy all the fun and excitement of Nevada's gaming and entertainment options.
With their wide selection of table games, slots, video poker machines, tournaments, and cash games, you are sure to find something that will keep you entertained during your visit.
Be sure to check out this casino for a memorable experience that you won't soon forget.