Club Fortune Casino Henderson
Address: 725 S Racetrack Rd, Henderson, NV 89015
Phone Number: +1 702-566-5555
Website: www.clubfortunecasino.com
Hours: Club Fortune Casino is open 24 hours a day, 7 days a week.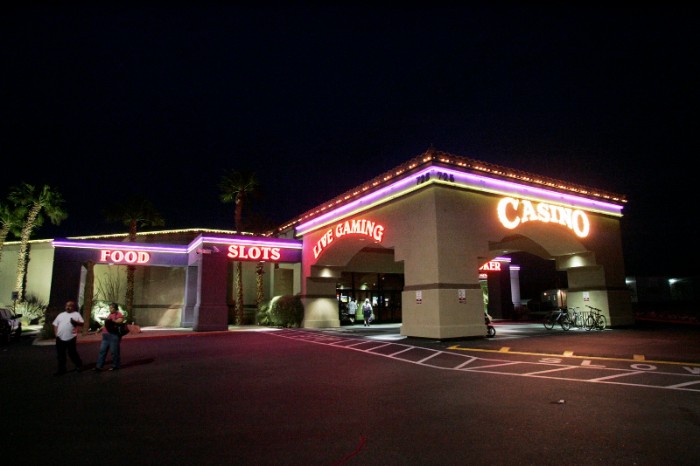 Club Fortune Casino was established in 1999 after the former Triple J Bingo Hall and Casino closed its doors. Since opening, the casino has undergone many renovations and improvements and today it is one of Henderson's best gaming destinations.
The casino is currently owned and operated by Truckee Gaming. It offers a variety of gaming options including slots, video poker, table games and a race and sports book. Players can also enjoy their favorite drinks and food in the casino's cafe and snack bar.
At this casino, players can also take advantage of several promotions throughout the year including a number of tournaments, giveaways and more. Additionally, there are loyalty programs available for frequent players.
This casino is the perfect destination for players looking to enjoy a great gaming experience. With its wide variety of games, promotions and loyalty programs, this is the ideal place to have some fun.
This casino has an overall rating of 4.2 out of 5 stars on Google Reviews, with many guests saying, "It's a great casino! The staff are friendly and helpful, the atmosphere is nice and it has plenty of slots".
Another reviewer also said, "The staff is great and always willing to help. The atmosphere is friendly and there are plenty of slots to choose from".
(Related reading: Nevada casinos)
Gaming
This casino features almost 400 slots, video poker and table games such as blackjack, craps and roulette. The casino also has a race and sports book where players can bet on their favorite teams or races.
Table Games
This casino is the place to be if you're looking for a great time filled with exciting table games. Whether you're a poker enthusiast, blackjack fan, roulette junkie or craps pro, the casino will have something that's perfect for you.
With games like Pai Gow Poker, Texas Hold'em and Double Deck Blackjack all the way to Double Zero Roulette and Craps, there's bound to be something that suits your taste.
Check out this casino and see why so many people choose this place for an unforgettable game night.
Additionally, this casino is known for having some of the lowest table game minimums in town. The minimum bet for most games starts at just $5 and can go up to $25, depending on the type of game you're playing.
With such low limits, it's easier than ever to get started and enjoy an exciting game night with friends or family.
Slots
This casino features an amazing selection of slots with some of the hottest titles in town. Whether you're looking for a classic 3-reel slot or a more modern 5-reel game, this casino has something that's perfect for you.
Popular slot machine titles include:
Mega Moolah
The Dark Knight
Wheel of Fortune
King Cashalot
Game of Thrones
Marvel Slots
The slot machine payback percentage at this casino is unavailable at the moment. However, as per the Nevada Gaming Commission, all slot machines must have a minimum payback percentage of 75%.
Hotel/Resort
This casino is a great place to hang out and try your luck. Enjoy playing slots, video poker, bingo, or any number of table games.
Whether you want to hit the jackpot on one of their exciting slot machines, skillfully challenge a dealer at blackjack, or test your luck at roulette – they have it all. Plus, with dining options available for all tastes, you can stay fueled up for all the non-stop action.
For those looking to crash in the area, there's no onsite hotel – but there are plenty of nearby options, such as Hawthorn Suites By Wyndham, Best Western Plus Henderson Hotel and Sunset Station Hotel & Casino, where you can rest up after a full day of fun.
Restaurants & Buffets
Visitors of this casino in Nevada will be delighted to find two tempting restaurants onsite for their enjoyment. Although the establishment does not offer a buffet, the two eateries provide a variety of deliciously prepared dishes for those looking for an alternative to the gaming floor.
Café 725 serves up hot breakfast, lunch and dinner favorites – from juicy tenderloin steak to a decadent banana bread French Toast. For a lighter snack, try Baskets Snack Bar, where you can select from tasty dishes like mozzarella sticks, fish tacos, and a wide variety of wings.
Both establishments offer quality food with friendly service at reasonable prices – perfect for when you want a break from gaming.
Pools
This casino is known for its expansive gaming opportunities, with over 400 slot machines and multiple table games. Although it doesn't have a pool, the casino is surrounded by various restaurants, bars and other attractions that help to make your experience even better.
So if you're looking for a place to get away from it all and try your luck at the casino, then this casino is the perfect spot. With so many great amenities, this casino will be sure to provide you with an unforgettable night of gaming and fun.
Club Fortune Casino, Henderson, NV FAQ
Does Club Fortune Have A Sportsbook?
This casino is the perfect destination for sports betting. You can get in the game and make your bets on various sports – baseball, golf, football, basketball, tennis and soccer.
Whether you're a big fan rooting for your favorite team or looking to place some intriguing wagers on upcoming matches, they have something special for everyone.
Is Poker Available At Club Fortune?
Yes, they offer a variety of popular poker games. You can join the action with Texas Hold 'Em, Pai Gow and more. Plus, tournaments are scheduled throughout the year for those looking to really up their game.
What Are The Age Requirements For Gambling At Club Fortune Casino Henderson?
Players must be at least 21 years of age to gamble in Nevada. All players must present valid identification before they are allowed to enter the gaming floor. If you appear to be under the legal gambling age, you may be asked for further proof of age prior to being allowed entrance.
Does Club Fortune Have An Online Casino?
No, this casino does not currently offer an online version of its services. However, the casino still provides plenty of gaming and entertainment options with its expansive casino floor. So if you're looking for a night of fun and excitement, be sure to stop by this casino in Henderson.
Is There An Club Fortune Casino App?
No, there is no official app for this casino. However, you can still keep up to date with the latest news, promotions and events by visiting their website or following them on social media.
What Is The Dress Code At Club Fortune?
The dress code at this casino is casual. You are welcome to wear jeans, shorts, t-shirts and other comfortable clothing – make sure it meets the minimum standards of decency. Of course, you may want to dress up a bit more for certain events or special occasions.
Is There An Airport Shuttle Available From Club Fortune Casino?
Unfortunately, this casino does not offer an airport shuttle service. However, there are several hotels and transportation services nearby that can help you get to the casino. You can also use ride-sharing apps like Uber or Lyft to get a convenient and affordable ride.
What Is The Smoking Policy At Club Fortune Henderson?
The casino offers both smoking and non-smoking areas. Smoking is only permitted in designated areas, so please be sure to follow the rules to keep everyone safe.
What Is The Pet Policy At Club Fortune?
Pets are not allowed on the casino floor. However, there are several pet-friendly hotels located near the casino that you can stay at if you wish to bring your furry friend along for the trip. Service animals are, of course, allowed in the casino.
Is Wifi Available At Club Fortune Casino Henderson?
Yes, free wifi is available throughout the casino. So you can stay connected to your devices while you're having a night of fun and games at the casino. If you need assistance, don't hesitate to ask one of the friendly staff members.
What Is The Cancellation Policy For Club Fortune?
Currently, the property does not offer an on-site hotel or meeting facilities. Therefore, the casino does not have a cancellation policy. For further information, please get in touch with the casino directly.
Conclusion
Club Fortune Casino in Henderson offers a wide range of gaming and entertainment options. From poker to sports betting, this casino has something special for everyone
Plus, they offer free wifi, so you can stay connected while having a night of fun and games. Before visiting the casino, please make sure to familiarize yourself with their age requirements and other policies.
With great gaming and plenty of entertainment, this casino is sure to be a hit with players of all ages. So head over for your chance to take home some big wins!