Commercial Casino Elko
Address: 345 4th St, Elko, NV 89801
Phone Number: +1 775-738-3181
Website: N/A
Hours: Commercial Casino Elko is open Monday 10 AM – 1:30 AM, Tuesday 10 AM – 1:30 AM, Wednesday 10 AM – 1:30 AM, Thursday 10 AM – 1:30 AM, Friday 10 AM – 1:30 AM, Saturday 10 AM – 1:30 AM, Sunday 10 AM – 1:30 AM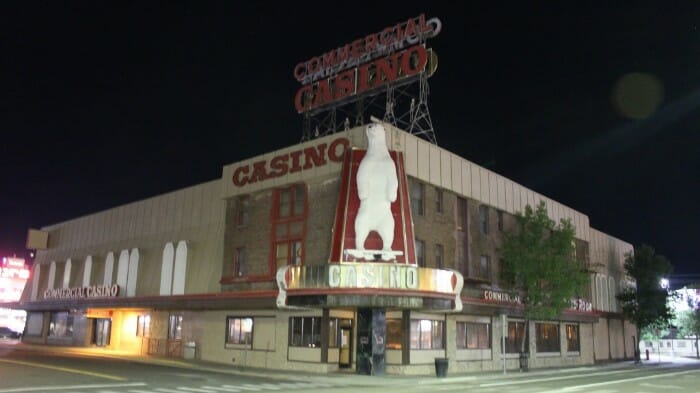 Commercial Casino Elko first opened its doors in 1941 with a focus on being an entertainment destination for the local community. Since then, it has become one of the oldest and most respected casinos in Northern Nevada.
This historic property features a full gaming floor with slot machines, video poker and more. In addition to the gaming offerings, this historic casino in Elko is also home to two restaurants that serve a variety of American and Mexican dishes and a full bar.
The casino also hosts different live music and entertainment events throughout the year, so be sure to check their website for updates. Whether you're looking for a fun night or want to try your luck at the slots, this is a great spot for locals and visitors.
The guests who have visited this casino generally rate it very highly, with most of them giving the casino an average rating of 4.5 out of 5. One guest commented, "It's a great spot for entertainment and good food."
Another guest said, "I've been coming here since I was a kid, and it still holds up as one of my favorite places in Elko. With great customer service, a wide selection of games and plenty of food and drinks to choose from, you can't go wrong."
(Related reading: Nevada casinos)
Gaming
Their gaming floor features 141 slot machines, video poker and more. There are also promotions and giveaways throughout the year for their patrons.
Table Games
If you're looking for table games to play at this casino in Elko, unfortunately, you won't find any. The Elko casinos' options are limited to slot machines only.
Nevertheless, you can still enjoy an exciting gaming experience with their wide variety of slot machines that offer different themes, jackpots, and pay lines. Make sure to check out their restaurants, clubs, and live shows to have a complete casino experience.
Slots
Some of the most popular slot machines at this casino are:
Mega Moolah
Red, White & Blue
The Dark Knight
Reel Em In
Wheel of Fortune
Cleopatra
King Cashalot
Double Diamonds
Game of Thrones
Triple Stars
Marvel Slots
As per Nevada's Gaming Control Board, the minimum slot machine payback percentage for this casino is 75%. This means that for every dollar wagered in machines at this casino, an average of 75 cents will be returned to the players.
Hotel/Resort
If you're planning a trip to this casino in Elko but need a place to stay, don't fret – there are plenty of nearby hotels to choose from. Although the casino doesn't have a hotel on its own property, you can rest easy knowing that there are several options within close proximity.
The Maverick Hotel and Casino, Ramada by Wyndham, and Hampton Inn are all wonderful choices that offer comfortable accommodations and convenient amenities. So go ahead, plan to visit this casino, and let one of these nearby hotels be your home away from home during your stay.
Restaurants & Buffets
Visiting this casino in Elko can be an exciting experience, but with so many restaurant options to choose from, it can also be overwhelming. Luckily, two standout options are definitely worth a visit.
First, The Coffee Shop is a classic American diner serving breakfast all day long alongside hearty lunch and dinner options. The diner is known for its fluffy pancakes, crispy bacon, and friendly service.
Another great restaurant to try at the casino is the Scoreboard Restaurant, which offers a classic steakhouse vibe with a modern twist. Enjoy handmade kinds of pasta, fresh seafood, and juicy steaks while taking in the rustic decor.
Pools
If you're heading over to this casino in Elko and are hoping to catch a refreshing dip in their pool, unfortunately, there are no swimming pools available. However, it offers plenty of other amenities to make your stay enjoyable.
With a wide variety of slot machines, table games, and entertainment options, you can surely find something to suit your preferences. Additionally, Elko offers stunning outdoor landscapes and a rich history waiting to be explored.
Commercial Casino Elko, NV FAQ
Does Commercial Casino Elko Have A Sportsbook?
Unfortunately, they do not have a sportsbook. However, they offer plenty of other amenities, such as slot machines and live entertainment. Additionally, Elko is home to some stunning outdoor landscapes that you can explore during your visit.
Is Poker Available At Commercial Casino Elko?
No, unfortunately, poker is not available at this casino. The casino only offers slot machines and other gaming options, such as video poker. If you're looking for a casino with table games and poker, you'll need to look elsewhere.
What Are The Age Requirements For Gambling At Commercial Casino Elko?
The minimum age requirement for gambling at this casino is 21. Anyone under the age of 21 will not be allowed on the gaming floor or to participate in any casino activities, including participating in any promotions or drawings.
Does Commercial Casino Elko Have An Online Casino?
No, they do not have an online casino. It only offers its services through the physical casino located in Elko, Nevada. That said, if you're looking for a reliable and entertaining online gambling experience, there are plenty of other reputable casinos available online.
Is There An Commercial Casino Elko App?
They do not have an app; however, they do have social media accounts where they regularly post updates about their promotions and events. They also have an email newsletter that can be subscribed to, which will keep you up-to-date on the latest news from the casino.
What Is The Dress Code At Commercial Casino Elko?
The dress code at this casino is casual; however, some areas of the establishment may have a stricter dress code in place. Additionally, they advise visitors to avoid wearing clothing items with offensive messages or images.
Is There An Airport Shuttle Available From Commercial Casino Elko?
No, they do not offer an airport shuttle. However, there are plenty of taxi and ride-sharing options available to get you to the casino from the Elko Regional Airport. Additionally, most hotels in the area offer complimentary shuttle services for their guests.
What Is The Smoking Policy At Commercial Casino Elko?
The smoking policy at this casino is restricted to designated areas only. Smoking and vaping are prohibited on the gaming floor, the restaurants, or other indoor areas. However, they do have designated outdoor areas where smoking is permitted.
What Is The Pet Policy At Commercial Casino Elko?
Sadly, pets are prohibited in the casino or any other indoor area. However, they allow service animals with proper documentation. If you're bringing your pet along for the trip, you'll need to find a pet-friendly hotel in Elko or look into boarding options nearby.
Is Wifi Available At Commercial Casino Elko?
Unfortunately, there is no free public WiFi available at this casino. However, most of the hotels nearby offer complimentary WiFi to their guests. Additionally, many restaurants and cafes in the area also provide access to free WiFi.
What Is The Cancellation Policy For Commercial Casino Elko?
As they do not have a hotel or any other lodging options on-site, they do not have a cancellation policy. However, if you booked your stay at one of the nearby hotels, you'll need to contact them directly for their cancellation policy.
Conclusion
This historical casino offers various gaming options, from slots to video poker. Visitors must be at least 21 years old and abide by the dress code and smoking policy while on site. Unfortunately, they do not offer an online casino or a pet-friendly policy.
Overall, Commercial Casino Elko offers a fun and exciting experience for visitors looking for an entertaining night out. With its rich history and modern amenities, this casino will surely be the perfect spot for a night of gambling, fun and relaxation.