Crystal Bay Club Casino, Crystal Bay
Address: 14 NV-28, Crystal Bay, NV 89402
Phone Number: +1 775-833-6333
Website: www.crystalbaycasino.com
Hours: Crystal Bay Club Casino is open 24 hours a day, 7 days a week.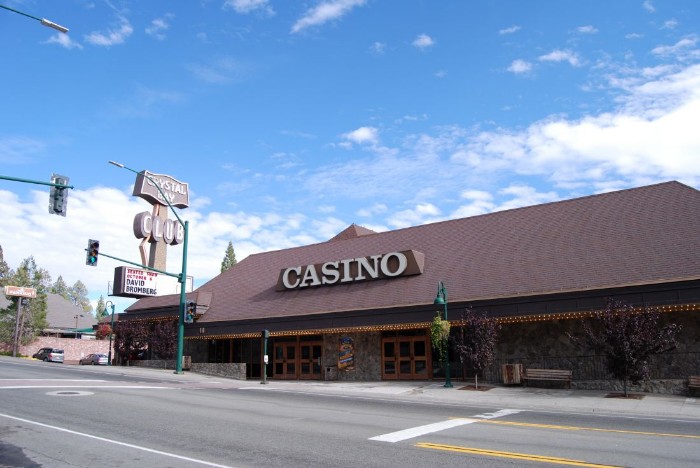 Crystal Bay Club Casino is located in North Lake Tahoe and has been a popular destination for locals and tourists since the 1960s. The land on which it stands was originally used for the Ta-Neva-Ho gaming area.
After numerous changes in ownership and management, the casino opened its doors to the public in 1956, mainly under John Rayburn's ownership. Since then, it has become one of the premiere gaming establishments in North Lake Tahoe.
Currently, the property is owned and operated by Roger and Elise Norman and is one of the few independent casinos in Nevada.
The casino offers more than 260 slot machines, table games such as blackjack, roulette and craps, a poker room and a sports book. Additionally, the casino has a bar, a restaurant, and live music and entertainment.
The property also offers lodging options for guests featuring numerous guestrooms and amenities that would make any stay comfortable. If you're looking for an exciting night out or a cozy weekend getaway, this casino is sure to please.
Guests have rated the property highly, with an average rating of 4.5 out of 5 stars on Google reviews. One guest said, "I've been coming to Crystal Bay Club Casino for years, and it never disappoints. The gaming is excellent, and the restaurant is delicious. Highly recommend!"
Another guest said, "I have never had a bad experience at Crystal Bay Club Casino. The staff is always friendly and helpful, the gaming selection is great, and it's an enjoyable atmosphere."
(Related reading: Nevada casinos)
Gaming
This casino offers more than 260 slot machines and table games, including blackjack, roulette and craps. In addition to this, there is also a poker room and a sportsbook on the premises.
Table Games
At this casino, guests have many exciting table games available to them. Fans of classic casino games can enjoy Double Zero Roulette, Six Shoe Blackjack and Craps.
Whether you're looking for a more traditional game or something with a unique twist, the selection at this casino has something for everyone.
Whether it's placing bets on individual numbers in Roulette or attempting to beat the dealer in Six Shoe Blackjack, you'll be sure to find hours of enjoyable entertainment. And don't forget to try your luck with Craps if you're feeling especially lucky.
The minimums for table games at this casino vary and can be found on the website or by asking a staff member upon arrival. However, most tables typically have a $5 minimum bet.
Slots
At this casino, you will find four popular slot machines: Bear Money, Grizzly Gold, Fishin' Frenzy and Monkey Business.
To start with, Bear Money is an exciting game that offers up to 20 pay lines. With a wide range of features and bonuses available, this game will certainly keep you entertained.
Next up is the thrilling Grizzly Gold. This 5-reel machine features a wild bear symbol and free spins for extra added fun.
If you're looking for more action, check out Fishin' Frenzy! Allowing players to win multiple times on one spin – this progressive game is sure to get your adrenaline pumping.
Finally, there's Monkey Business. This vibrant 3 reel-classic slot follows the traditional slot gameplay with a few added surprises along the way. Whatever your preference, these popular slots will surely give you an exciting and rewarding experience at this casino.
The slot machine payback percentage at this casino is currently not publicly available. However, Nevada requires all slot machines in the state to have a minimum return of 75%.
Hotel/Resort
This casino is the perfect combination of luxury and comfort. Located near the lake, this historical landmark offers guests a truly unique escape experience.
Each room exudes its own distinctive charm and provides luxurious amenities such as chromotherapy tubs, gas fireplaces and plasma televisions.
Guests can also take advantage of complimentary self-parking, business services, and wireless Internet access throughout the property.
Furthermore, to provide an extra layer of comfort and safety, no smoking or pet-friendly options are available – you can rest easy knowing your sojourn is smoke-free and pet-free.
When you stay here, you'll have a range of options to choose from when it comes to room types. Comfort Double Rooms come with two queen beds, while Classic Room Accessible has one queen bed and Deluxe Double Room also provides two queen beds for larger groups.
For those looking for something extra special, their Luxury Room offers a king bed fit for royalty. Whether you're coming by yourself or as part of a group, there's something to match your needs and make your stay as comfortable and enjoyable as possible.
At this casino, guests can enjoy a variety of amenities. These include:
Complimentary Wi-Fi access
Complimentary self-parking
Live Entertainment
On-site restaurant
Sports bar
The cost of staying at the hotel depends on which room type you choose. Prices start as low as $170, and they could go up to $250 or more, depending on the type of room.
Taxes and fees are also applicable. Please check their website for more detailed information about the prices for each room type.
Check-in time at Crystal Bay Club is 3:00 pm
Check-out time at Crystal Bay Club is 11:00 am
Restaurants & Buffets
With a warm, cozy atmosphere and lakeside views, the Steak & Lobster House Restaurant in this casino is the perfect spot for a romantic evening for two. They offer a range of options on their menu, including steaks, chops, seafood and Italian classics.
For your main course, indulge in a succulent ribeye steak cooked to perfection or try out their famous lobster tail. Their sides are fresh and flavorful to enhance each meal without fail.
Plus, be sure to pair your meal with one of their extensive selections of wines from around the world, perfectly crafted to complement your plate. And if you don't want to fill up too much before dessert, don't worry!
The restaurant offers an array of delightful desserts like homemade New York-style cheesecake that will leave you feeling satisfied. However, they do not offer a buffet in the restaurant.
Pools
This casino offers endless entertainment and gaming but no swimming pools. However, it is conveniently located near North Lake Tahoe, which makes it an ideal spot to enjoy a relaxing dip in the water.
Whether you're looking for a fun day in the sun or want to unwind after a bit of gambling, you can easily do so at this casino – just bring your swimsuit and jump into the lake's majestic waters.
Crystal Bay Club Casino, NV FAQ
Does Crystal Bay Club Casino Have A Sportsbook?
If you've been looking for the ultimate sportsbook experience in North Shore Lake Tahoe, then this casino is the place to be.
Located right in the heart of North Shore Lake Tahoe, their Sports Book offers an unbeatable selection of betting action, with HD Plasma monitors that bring every game to life.
Whether you like straight bets on your favorite teams or prefer more exciting wagers like parlays and teasers, they have something for everyone.
Is Poker Available At Crystal Bay Club?
This casino is sure to be a great place for gaming fun. Unfortunately, it doesn't have the option of playing poker at tables. The casino offers only poker machines. This gives you a chance to enjoy the thrill of video poker without having to compete directly against other players.
What Are The Age Requirements For Gambling At Crystal Bay Club Casino?
The legal gambling age in Nevada is 21, and this casino requires that all players be at least 21 years of age to participate in any gaming activities. All visitors are required to provide valid photo identification upon entry.
Does Crystal Bay Club Have An Online Casino?
Unfortunately, this casino does not offer an online casino at this time. However, you can still enjoy all the gaming fun that it has to offer by visiting its physical location in North Shore Lake Tahoe.
Is There An Crystal Bay Club Casino App?
No, this casino does not have a mobile app at this time. However, you can always access their website from any browser on your mobile device to stay up-to-date with their latest promotions and events.
What Is The Dress Code At Crystal Bay Club?
The dress code at this casino is casual and relaxed. You don't need to adhere to any strict regulations, although it is always a good idea to look neat and presentable.
Remember that you may be required to present valid identification upon entry, so make sure you have it with you.
Is There An Airport Shuttle Available From Crystal Bay Club Casino?
Unfortunately, this casino does not offer an airport shuttle service at this time. However, plenty of taxi and ridesharing services are available in the area.
You can also contact the hotel directly to inquire about transportation options. They may be able to provide assistance or give you recommendations on reliable companies in the area.
What Is The Smoking Policy At Crystal Bay Club?
The casino is a non-smoking facility. This includes all casino areas, including gaming floors, restaurants, and bars.
However, there is an outdoor smoking area located near the main entrance that guests can use if they need to smoke. It's important to note that vaping and e-cigarettes are also not allowed on the premises.
What Is The Pet Policy At Crystal Bay Club Casino?
Unfortunately, this casino does not allow pets on the premises. This includes all areas of the casino, gaming floors and restaurants. Guests can leave their pets at home or make other arrangements for them while they visit the casino.
Is Wifi Available At Crystal Bay Club?
Yes, this casino offers free wifi for all of its guests. Visitors can access the internet from any device and stay connected while they explore the casino's gaming floors and restaurants.
If you need help getting connected, you can always ask a staff member for assistance. They'll be happy to make sure you get set up quickly and easily.
What Is The Cancellation Policy For Crystal Bay Club Casino?
If you're making an individual reservation with this casino, please remember to cancel at least 48 hours before your arrival date or else you'll be obliged to pay a cancellation fee.
For groups or special events, there may be additional requirements that must be met in order to avoid a cancellation fee. Also, if you have booked a room through a third-party vendor, you may be subject to their terms and conditions.
Conclusion
Crystal Bay Club Casino in Nevada is a great destination for gamers looking to have some fun. The casino offers a range of gaming activities, as well as a casual atmosphere and plenty of amenities.
All visitors must be 21 years or older, and the dress code is casual and relaxed. The casino also has a non-smoking policy, but there is an outdoor smoking area near the entrance. There is also free wifi available for all visitors, as well as taxi and ridesharing services in the area.
Finally, be sure to check the cancellation policy before making a reservation, as this can vary depending on the type of booking. With so much to offer, this casino is definitely worth checking out.