Diamond Casino Reno
Address: 1010 E 6th St, Reno, NV 89512
Phone Number: +1 775-323-1908
Website: www.diamondscasinoreno.com
Hours: Diamond Casino Reno is open 24 hours a day, 7 days a week.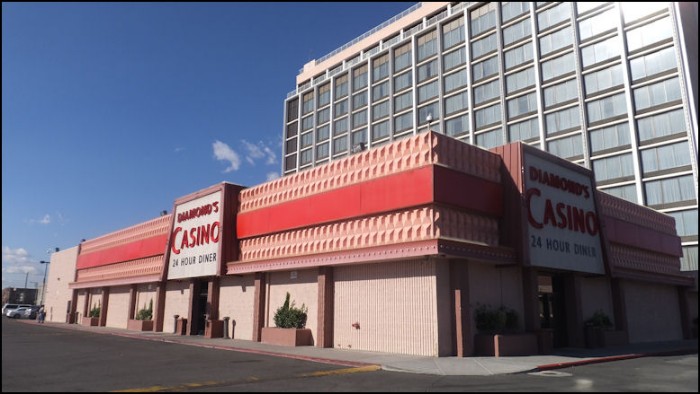 Diamond Casino has been a staple of the Reno gaming scene since its opening. Located in downtown Reno, the establishment offers 24-hour gaming action with slot machines, table games, keno and a sportsbook.
From its start as a destination for local gamblers, the casino has grown into one of the most respected casinos in Nevada. With its classic design, excellent services and an unbeatable selection of games, this casino is the ultimate destination for gaming in Reno.
Their gaming space offers guests a wide array of table games and slot machines, including Video poker, keno, roulette, blackjack and much more. Guests can also take advantage of their sportsbook, with live odds and betting opportunities available throughout the day.
They also offer an on-site diner that serves up classic American fare, as well as a full-service bar and lounge area. With its convenient location, this casino is the perfect place for an evening of entertainment and gaming.
This casino is highly rated by guests, who praise the selection of games, friendly staff and convenient location. According to reviews on TripAdvisor, most customers rate them 4.5 out of 5 stars.
Most guests have commented, "The staff were very helpful and accommodating, the casino was clean and the selection of games was fantastic." Another reviewer noted, "I have been to several casinos in Reno and this one was by far the best."
(Related reading: Nevada casinos)
Gaming
This casino offers a wide selection of popular gaming options, including slots, table games and keno. There are over 200 slot machines to choose from and table games such as blackjack.
Table Games
At this casino, guests can try their luck at one of the table games available. Adjacent to the exciting slots floor is Single Deck Blackjack — an action-packed classic where players can compete against the house for 21.
Likewise, Royal Match 21 offers endless fun in a betting game that requires both skill and luck. All the games are available with friendly dealers and hosts at the ready to make sure each play is as enjoyable as possible.
At this casino, table game minimums start as low as $5. However, these minimums can vary depending on the game and day of the week. As such, it's best to check with the casino directly prior to arrival in order to find out the exact minimum bet amounts for each game.
Slots
This casino features an extensive selection of slot machines, ranging from classic 3-reel slots to the latest video machines. Some of their most popular titles include:
The Goonies
Witchcraft Academy
Berryburst
Playboy Gold
Amazing Aztecs
Megabucks
The slot machine payback percentage at this casino is not publicly available. However, the Nevada Gaming Commission requires all casinos to meet a minimum of 75% payback on their slots.
This means that, on average, at least 75 cents of every dollar played in slot machines goes back to players in winnings.
Hotel/Resort
This casino offers guests an unforgettable experience filled with gaming and entertainment. Beyond the gaming, this casino is home to a variety of unique amenities that enhance their stay.
While it's a great spot for fun and entertainment, they currently do not have a hotel in its own right. However, if you're looking for a great place to stay on your next trip to this casino, then consider the Ramada by Wyndham Reno Hotel.
Fortunately, although this hotel is not on-site at the casino, it is located just behind the establishment, making it that much easier and more convenient to access.
Not only will you be able to enjoy all of the amenities offered by the resort itself, but by staying at the Ramada, you reduce your commute back and forth if you decide to explore some of Reno's fine attractions as well.
For more information about the Ramada by Wyndham Reno Hotel or to book a room for your stay, visit their website or call them directly.
Restaurants & Buffets
Although they do not have any buffet options available, this casino does offer a diner to keep all of their guests well-fed and entertained.
The Burger Bar at this casino is the perfect place to satisfy your craving for tasty burgers and great service. They serve delicious dishes that range from classic cheeseburgers to specialty gourmet options.
To ensure quality, each of their burgers is made with fresh, USDA-certified beef, and all of their bread is baked in-house daily. The Burger Bar doesn't just offer mouth-watering burgers; they also have other amazing menu items such as fish & chips and handcrafted chicken sandwiches.
Additionally, the Burger Bar offers an array of creative side dishes like their signature loaded sweet potato fries and homemade jalapeno macaroni salad.
Pools
Reno is home to the luxurious Diamond Casino and with so many amazing features, it's an experience you won't forget. Unfortunately, one feature lacking in the casino is a pool.
If a dip in the pool is something you had in mind while planning your trip to Reno, there are many other excellent casinos in the area that offer beautiful pools for your enjoyment.
Diamond Casino Reno, NV FAQ
Does Diamond Casino Reno Have A Sportsbook?
The casino is proud to offer the William Hill Sportsbook for all your sports betting needs. This convenient kiosk-betting system features bets on several major sports, such as football, basketball, baseball, hockey, soccer and even boxing and MMA.
Is Poker Available At Diamond Casino?
This casino is a great spot to check out for nightlife and entertainment. Although it doesn't offer traditional table poker, the casino does have video poker games available.
The wide variety of machines with denominations from pennies all the way up to five dollars provide plenty of opportunities for everyone to experience Vegas-style gaming.
What Are The Age Requirements For Gambling At Diamond Casino Reno?
In order to legally gamble at this casino, visitors must be 21 years of age or older. Please be prepared to show a valid ID when entering the casino. Additionally, the establishment is entitled to refuse service to anyone who could not provide proper identification.
Does Diamond Casino Have An Online Casino?
Unfortunately, this casino does not have an online gaming or sports betting option. However, visitors can enjoy the stunning atmosphere and exciting gaming of this casino in-person. Choose from a variety of slots, table games, and other entertainment options available.
Is There An Diamond Casino Reno App?
No, there is no mobile app for the casino at this time. However, you can conveniently access the casino's website via mobile device or desktop to check out events and the latest promotions.
You can also check out their social media pages to stay up-to-date on all the happenings at the casino.
What Is The Dress Code At Diamond Casino?
The dress code is casual, and guests are welcome to wear whatever they feel comfortable in. Of course, the casino does reserve the right to refuse service if a guest appears inappropriately dressed or excessively intoxicated.
Is There An Airport Shuttle Available From Diamond Casino Reno?
Unfortunately, the casino does not offer an airport shuttle. However, there are several transportation options available from the Reno Tahoe International Airport to get you to and from the casino in no time. These include taxi cabs, rideshares, and public transportation.
What Is The Smoking Policy At Diamond Casino?
The casino recently adopted a smoke-free policy on the main gaming floor, so all guests are asked to abstain from smoking while in the casino. There are designated smoking areas outside of the casino that provides comfortable seating and a view of the city.
What Is The Pet Policy At Diamond Casino Reno?
Unfortunately, pets are not allowed in the casino. It is best to leave your furry friends at home while you enjoy a night of gaming and entertainment. If you have to bring them, make sure to find a pet-sitting service or boarding facility beforehand.
Additionally, the property accepts service animals with proper documentation.
Is Wifi Available At Diamond Casino?
Yes, the casino offers complimentary wifi for guests. You can access the wifi network from any of the public areas in and around the casino. You can also connect to the internet through your personal device as long as it is compatible with the casino's wireless network.
What Is The Cancellation Policy For Diamond Casino Reno?
As there is no on-site hotel, there is no need for a cancellation policy. All guests who book tickets to events or purchase tickets for gaming are responsible for purchasing the correct ticket and abiding by the casino's terms and conditions.
If you have any further questions about the casino, please feel free to contact their customer service team at any time.
Conclusion
Diamond Casino Reno is an exciting casino where guests of all ages can enjoy a variety of gaming experiences.
From penny slots to five-dollar games, there is something for everyone to enjoy. The casino has a casual dress code and does not allow pets in the building. Additionally, wifi is available throughout the property and service animals are accepted with proper documentation.
If you need to cancel any tickets, you are responsible for abiding by the casino's terms and conditions. For further information on this casino, please get in touch with their customer service team.
With a fun atmosphere and an exciting selection of games, this casino is sure to be your next go-to destination for a night of fun and entertainment.