Dini's Lucky Club Yerington
Address: 45 N Main St, Yerington, NV 89447
Phone Number: +1 775-463-2868
Website: www.dinisluckyclub.com
Hours: Dini's Lucky Club is open Monday 6 AM–8 PM, Tuesday 6 AM–8 PM, Wednesday 6 AM–8 PM, Thursday 6 AM–8 PM, Friday 6 AM–8 PM, Saturday 6 AM–8 PM, Sunday 6 AM–8 PM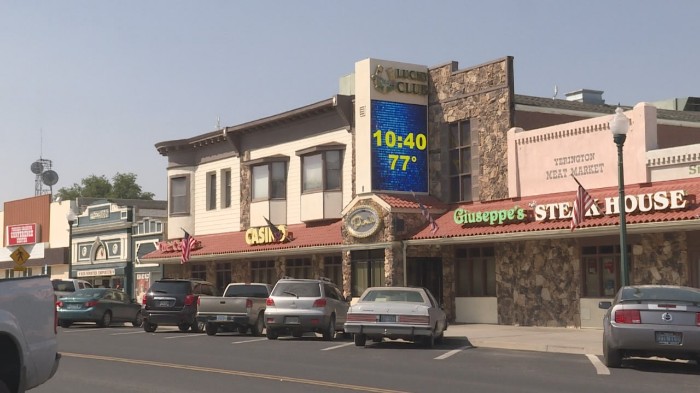 Dini's Lucky Club Yerington is a popular bar and casino that has been serving the community of Yerington for many years.
The business was founded in 1933 by Giuseppe Dini, Sr. as the Wooden Shoe Club and after some years of success and popularity, was renamed to the current Dini's Lucky Club. It is currently owned by Giuseppe's two grandsons, George and Jay.
Since then, the casino has grown to become one of the most successful gaming establishments in Nevada. The bar and casino offer a wide variety of gaming options, including slots, video poker, and keno.
In addition to its gaming options, the bar also serves delicious food and drinks from their on-site cafe. They also have a bar and lounge area where visitors can relax, grab a cold beer and socialize.
With its top-notch service and excellent gaming options, it's no wonder why this casino is one of the most popular places to visit in Yerington.
Guests who have visited Dini's Lucky Club give it an overall rating of 4.5 stars on Yelp. One reviewer said, "The staff was very friendly and helpful, the food and drinks were excellent, and the gaming options were fun. Highly recommend!"
Another reviewer said, "The atmosphere is great and the gaming options are awesome! We had a blast and can't wait to come back."
(Related reading: Nevada casinos)
Gaming
This casino has a wide range of gaming options to choose from, including slots, video poker and keno. All the games are run by friendly and knowledgeable staff who are more than happy to answer any questions you may have.
Table Games
At this casino, you can get hours of entertainment with a variety of multi-pay line slot machines and other exciting electronic games. Whether you feel lucky with the one-arm bandits or want to try something new, you're sure to find an exciting game that suits your style.
Of course, if you are a traditionalist but still looking for some fun, then unfortunately they have no table games on offer. However, there is still plenty of opportunity to test your luck and skill with the wide selection of machines they have.
All in all, whatever you choose to play at this casino, is sure to be a night to remember.
Slots
If you're looking for an exciting casino experience, this casino in Nevada is the place to come. It's full of dynamic and beautifully designed slot machines that are sure to make your visit an exciting one.
Some of the most popular are Colossal Reels, Buffalo Cash, Bonus Blitz II, Li'l Red, Colossal Wizards, and Queen of the Wild II. Each one offers a unique experience with its awesome combination of features like attractive graphics, fun soundtracks and thrilling bonus rounds.
At this casino, the slot machine payback percentage is the same as other establishments in Nevada. The minimum payout ratio for all machines (including video poker) must be 75%.
Whether you're a beginner or an experienced player, the games at this casino provide something to suit everyone. So come down and try your luck at one (or all!) of these great slot machines today.
Hotel/Resort
If you're looking for a fantastic gaming experience, then you won't want to miss out on this casino. While they don't have an on-site hotel, they do offer a list of nearby choices that are sure to meet your needs.
Take the Yerington Inn, for example; its convenient location allows guests to take full advantage of being close to the action, as well as enjoy stunning views of the surrounding area.
Or if you'd prefer something more contemporary, Main Street Inn offers chic accommodations with modern amenities and services. And lastly, Copper Inn's barn-style setting is ideal for those who want an authentic yet relaxed atmosphere.
Restaurants & Buffets
Even if they do not currently offer buffet options, this casino still offers visitors a wide range of delicious culinary options.
Drop by the Coffee Shop at this casino and feel like a local. Whether you're looking for classic snacks and breakfast favorites, lunches to power up your day or delicious dinners, the selection at the Coffee Shop will surely leave you satisfied.
Enjoy daily specials for something new every day or treat yourself to one of their classic dishes. They have been catering to locals for years and know just how to make sure everyone is served nice and tasty meals.
Pools
This casino is the perfect destination for adults seeking a casino experience with an exciting variety of gaming options. Located conveniently in Las Vegas, they feature hundreds of slot machines, offering something for everyone to enjoy.
But if you're looking for a break from the hustle and bustle of casino life, they also have plenty of other amenities available. Take advantage of their full-service restaurant and bar and lounger area.
Unfortunately, this club does not host any pools or hot tubs; however, it still provides visitors with a luxurious escape from real-life responsibilities.
Dini's Lucky Club, Yerington, NV Pools FAQ
Does Dini's Lucky Club Have A Sportsbook?
No, they do not currently have a sportsbook. However, they do offer a wide variety of other gaming options to keep you entertained all night long.
There are plenty of slots, video poker and keno games to try your luck and skill with the wide selection of machines they have.
Is Poker Available At Dini's Lucky Club Yerington?
This casino is a great spot for those looking for some gaming entertainment. While the club does not offer table poker, it does have video poker machines, so you can still enjoy playing and potentially winning big prizes.
What Are The Age Requirements For Gambling At Dini's Lucky Club?
The minimum age requirement for all players is 21 years old. All guests will be asked to present a valid form of ID before being allowed to gamble at this club. If you do not meet the age requirement, you will not be allowed to enter or participate in any gaming activities.
Does Dini's Lucky Club Have An Online Casino?
No, this casino does not offer an online casino. All gaming activities and services are available to visitors on-site only. You cannot access any of the casino's games from your home. However, you can use the power of the internet to stay up-to-date on their promotions and offers.
Is There An Dini's Lucky Club Yerington App?
Unfortunately, no. They do not currently offer an app for any of their gaming services or activities. You will need to visit the casino in person or online to take advantage of all of its offers and promotions.
You can also check their social media accounts for updates and information on upcoming events, promotions, and specials. Additionally, if you have any further questions or need additional information about this casino, you can contact their customer service team via email or phone.
What Is The Dress Code At Dini's Lucky Club?
The dress code is casual and relaxed at this casino. You are welcome to wear anything from a T-shirt and jeans to a nice dress or suit—the choice is entirely yours. Just make sure that you're comfortable and look presentable when visiting the club.
Is There An Airport Shuttle Available From Dini's Lucky Club Nevada?
No, there is not an airport shuttle available from this casino. You will need to arrange your own transportation or take a taxi or ride-sharing service to get to and from the club.
Additionally, you can also take the local bus for a short ride to get there. Be sure to check in advance for any changes in the schedule that could affect your plans.
What Is The Smoking Policy At Dini's Lucky Club?
Smoking is not allowed inside the casino. There are designated outdoor smoking areas provided for guests who want to light up. Additionally, all cigarettes and cigars must be disposed of properly in the ashtrays provided.
What Is The Pet Policy At Dini's Lucky Club Yerington?
Pets are not allowed inside the casino. They may be kept in the parking lot, but they must be on a leash and accompanied by someone at all times. Additionally, make sure that you clean up any messes your pet may have made in the parking lot before leaving.
Is Wifi Available At Dini's Lucky Club?
Yes, the casino does offer wifi for guests, it's free to use and easy to access. All you need to do is connect your device and log in with your provided login information at the casino's reception desk.
What Is The Cancellation Policy For Dini's Lucky Club?
As there is no hotel attached to the casino, there is no cancellation policy. All reservations for gaming activities and services must be paid in full prior to arrival. If you need to cancel or modify your reservation, you can contact the casino's customer service team via email or phone.
Conclusion
Dini's Lucky Club is a great place to go for some fun and excitement. Whether you're looking to play the slot machines, try your luck at the craps table or just enjoy some drinks and entertainment, this casino has it all.
Be sure to check out their website or social media accounts for the latest information on promotions and offers, and make sure to read up on their policies beforehand so that you can enjoy your experience.
With an exciting atmosphere, plenty of gaming options and great customer service, this casino will be a great place for your next night out.