Edgewater Hotel & Casino Laughlin
Address: 2020 S Casino Dr, Laughlin, NV 89029
Phone Number: +1 702-298-4000
Website: www.edgewater-casino.com
Hours: Edgewater Hotel & Casino is open 24 hours a day, 7 days a week.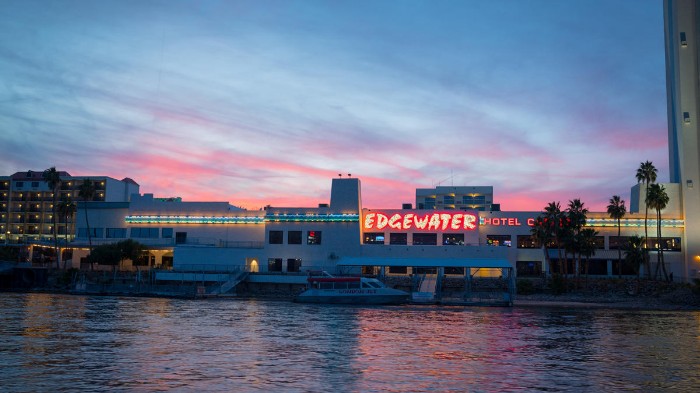 The Edgewater Hotel & Casino has been known for delivering top-notch entertainment and hospitality since its opening in 1981. Located on the banks of the Colorado River, this iconic resort offers guests a unique experience that blended classic Las Vegas glamour with modern amenities.
After several expansions and upgrades over the years, they have become one of the most popular gaming and entertainment destinations in the region. Throughout its 40+ year history, guests have enjoyed access to top-notch restaurants, bars, lounges and gaming options.
Their 57,000 square feet of gaming space features over 750 slots and various table games. They also offer guests a variety of entertainment options, including live music, comedy shows and more.
They also offer lodging that ranges from rooms to suites, each designed with the guest's comfort and convenience in mind. Other amenities include a salon and spa, pool and hot tub, fitness center, business center and more.
Aside from its great gaming and entertainment options, this casino also has a strong commitment to community involvement. The resort regularly hosts charity events and fundraisers that benefit various causes in the Laughlin area.
What's more, the casino hotel is just a short drive away from several popular attractions such as the Laughlin River Walk, Big Bend of the Colorado State Recreation Area and more.
And with its convenient location in Nevada, you can easily enjoy all that Vegas has to offer in one convenient spot. Whether you're looking for an exciting night out or a relaxing getaway, they definitely have something for everyone.
On websites like TripAdvisor, this casino hotel is rated 4.5 out of 5 stars with hundreds of positive reviews. One guest said, "I absolutely love it here! The staff is so friendly and helpful; the rooms are very clean and comfortable. I had a great time gambling."
Another guest commented, "The hotel and casino were top-notch. We stayed in one of the suites and had an amazing experience with exceptional service from everyone we encountered. Highly recommended."
(Related reading: Nevada casinos)
Gaming
This casino hotel offers guests over 750 slots and various table games. There are plenty of gaming options to choose from, including video poker, blackjack, craps, roulette and more.
Table Games
This casino offers a great selection of classic table games for visitors to enjoy. With favorites like blackjack, craps, roulette, and so much more – there's something for everyone.
For example, three-card poker is an exciting game where players both compete against the dealer and try to make their best poker hand.
Let it Ride Poker allows you to test your luck as well as your strategy when you place three separate bets on your chance to win up to 1000 times the original wager. Or give Pai Gow Poker a try and see if you can beat the house while forming two winning hands out of seven cards.
The minimum bet at this casino is usually $5. However, depending on the table game and time of day, you may find higher or lower limits. No matter which game you decide to play, this casino has plenty of fun opportunities awaiting you.
Slots
This casino has everything you need, no matter what your gaming preferences are. With popular slot games ranging from reel and video slot machines to video poker, keno, and multi-game machines, your options for entertainment are both varied and engaging.
Featuring IGT, Konami, Aristocrat, Aruze and Scientific Games titles on a completely coinless slot floor, you no longer have to worry about lugging around coins in order to play; they have you covered on that.
They are currently not disclosing the payback percentages of their slot machines. However, as a general rule in Nevada casinos, you can expect to find minimum returns of at least 75% as per state regulations.
Hotel/Resort
For those looking for lodging, their hotel offers rooms to suites that range from standard ones to spacious two-room suites with views of the Colorado River.
Their rooms are divided into two towers – the Sedona and Santa Fe. Each room is designed with guests' comfort and convenience in mind, featuring amenities such as flat-screen TVs, complimentary Wi-Fi, air conditioning and more.
Their room types include:
Santa Fe Tower King – features 1 king and closer proximity to the casino (offers pool or river view)
Santa Fe Tower Queens – features 2 queens and closer proximity to the casino (offers pool or river view)
Sedona Tower King – features 1 king and closer proximity to the outdoor pool with a view of the Laughlin City
Sedona Tower Queens – features 2 queens and closer proximity to the outdoor pool with a view of the Laughlin City
In addition to the rooms, they also offer a wide range of amenities for their guests. Some of the amenities include:
24-hour room service
Fitness center
Restaurants and bars
Swimming pools
Spa and salon services
Shuttle services to the airport
Nearby local attractions
Live entertainment
Concerts
On-site arcade
The average cost of a room at this hotel is $39 per night. This could go higher depending on the type of room you choose, as well as your dates and availability. Fees and taxes may also be applicable.
For discounted packages, you can check out their website or contact their customer service staff for additional information.
Check-in time at Edgewater Hotel is 3:00 pm
Check-out time at Edgewater Hotel is 11:00 am
Restaurants & Buffets
This casino hotel offers a variety of dining options to choose from, with something for everyone. Even though they do not have a buffet, they have several restaurants for you to try.
For those seeking an upscale dining experience, Stockman's Steakhouse is the perfect spot. Featuring access to prime steaks and great wines, this restaurant will surely leave you satisfied.
PT's Express provides quick and easy meal choices such as pasta, salads, and pizzas; it's great for a light lunch or family dinner. Those looking for a hearty sandwich should check out Capriotti's Sandwich Shop; their gourmet subs are truly delicious.
And, of course, no visit is complete without stopping by Denny's – the all-American 24-hour eatery. Whether you're in the mood for breakfast anytime or a late-night snack, Denny's has something for everyone.
Pools
At this casino hotel, you can experience a bit of paradise with the outdoor pools. Relax and take in the Nevada sunlight on one of the comfortable lounge chairs or enjoy a cooling dip in the oversized swimming pool.
For added fun, race family and friends to the opposite side of the pool on an inflatable water accessory. Food and drinks are just stepped away at 32 Below Ice Cream & Cocktail Bar if you get hungry during your pool time adventure.
Whether you want to unwind or take part in some friendly competition, spend your day soaking up the sun at this casino hotel's pools.
Edgewater Hotel & Casino, NV FAQ
Does Edgewater Casino Have A Sportsbook?
At this casino, you can place a bet on your favorite teams from anywhere in the world. Enjoy all the thrilling game day action at their William Hill Race & Sports Book.
This Vegas-style sports book boasts some of the highest resolution screens and is the largest sports book in Laughlin. When you visit, you'll find exciting props and pari-mutuels, plus live InPlay wagering with point spreads, money lines, and totals.
Whether it's football or baseball season, make your wagers with confidence knowing a world-class team of experienced professionals at this casino backs you.
Is Poker Available At Edgewater Hotel & Casino?
Yes, the casino offers a variety of poker games and tournaments. Enjoy Texas Hold'em and Let It Ride poker games, or take part in the daily tournament. With so many options, you're sure to find something that suits your style of play.
What Are The Age Requirements For Gambling At Edgewater Casino?
The gambling age to participate in any game at the casino is 21. All guests must present valid photo identification upon check-in, so be sure to bring your driver's license or passport.
Does Edgewater Have An Online Casino?
No, this casino only offers its gambling services in person at the establishment. You have to be physically present to take part in any of their gaming options.
However, they do offer a great selection of promotions and packages on their website – so be sure to check them out before you make your plan.
Is There An Edgewater Hotel & Casino App?
No, at this time, they do not have an app. However, they are always looking for new ways to enhance the customer experience and may release an app in the future.
In the meantime, you can stay up to date with all their promotions and events by checking out their website or following them on social media.
What Is The Dress Code At Edgewater?
At the casino, there is no strict dress code. However, they do recommend that guests keep it casual and comfortable while they enjoy their visit. They also encourage all guests to be respectful of other patrons by dressing appropriately.
Keep in mind that you may need to present valid photo identification upon check-in, so be sure to bring one along.
Is There An Airport Shuttle Available From Edgewater Hotel?
Yes, the casino offers a complimentary shuttle service to and from Laughlin Bullhead International Airport. If you're staying at the hotel, contact the front desk for more information about the complimentary shuttle service.
What Is The Smoking Policy At Edgewater Hotel & Casino?
The casino is dedicated to providing a comfortable and safe environment for all guests.
As such, they have implemented a strict smoking policy that prohibits the use of any tobacco or vaping products on their property. This includes their gaming areas, restaurants, bars, and pool area.
If you are looking for an area to smoke, the casino does offer designated outdoor smoking areas located near the main entrance.
What Is The Pet Policy At Edgewater?
Unfortunately, pets are not allowed at the hotel or casino. However, service animals are permitted, and there is no additional fee for them to stay with you.
If you plan on bringing a service animal with you during your visit, please be sure to inform the staff upon check-in so that they can accommodate your request accordingly.
Is Wifi Available At Edgewater Hotel & Casino?
Yes, the casino offers complimentary WiFi for all its guests. For further assistance, you can contact the front desk at any time during your stay.
This is just a glimpse into what this casino has to offer – so be sure to check out their website for more information and to find out about upcoming events and promotions.
What Is The Cancellation Policy For Edgewater?
The cancellation policy for this casino hotel is 24 hours prior to the arrival date. Any cancellations after this time period will be subject to a fee equal to one night's stay plus applicable taxes.
Conclusion
Edgewater Hotel & Casino is a great place to stay, offering plenty of amenities and entertainment options. Whether you're looking for an exciting night out or want to relax, they have something for everyone.
Be sure to check out all the promotions and packages available on their website before making your plan – and don't forget to brush up on their policies like pet, smoking and cancellation rules.
With all this in mind, you'll be sure to have a great stay at this casino hotel.