El Cortez Casino Las Vegas
Address: 600 E Fremont St, Las Vegas, NV 89101
Phone Number: +1 702-385-5200
Website: www.elcortezhotelcasino.com
Hours: El Cortez Casino is open 24 hours a day, 7 days a week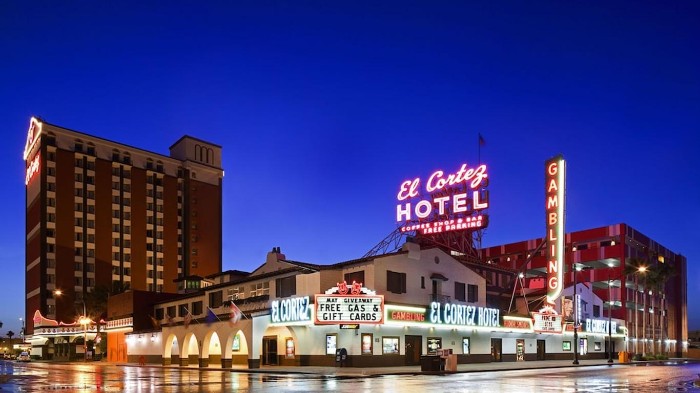 Since 1941, El Cortez Casino has been a landmark in downtown Las Vegas. Built by Marion Hicks and J.C. Grayson, the casino has seen many changes over the years.
From its start as a modest hotel-casino to its current status of being one of the most popular casinos on the Las Vegas Strip, this establishment has been a mainstay in the Vegas entertainment scene.
Currently, this casino is owned by Kenny Epstein, who purchased the property in 2008. Under his ownership, the casino has been renovated to keep up with modern trends and technology, yet still retains its classic charm.
Their 40,000 gaming space features over 200 state-of-the-art slot and video poker machines, as well as a variety of table games. With such an extensive selection, guests are sure to find something they enjoy.
In addition to gaming, they also have several restaurants and bars available for guests. From the classic Siegel's 1941 restaurant to the chic Parlour Bar, there is something for everyone.
The property also offers lodging, with more than 360 suites and rooms to choose from. From deluxe suites to classic hotel rooms, guests can find the perfect place to rest after a long day of gaming.
They are a timeless Vegas landmark that has adapted over the years to keep up with modern trends and technology, while still maintaining its classic charm. This casino offers something for everyone and will continue to please visitors for years to come.
The property has earned an average score of 4.3 out of 5 stars on TripAdvisor and a 4-star rating on Google with over 3,000 reviews. Most guests say, "it's a great place to stay and gamble".
Another reviewer claimed, "the staff are friendly, the rooms are clean and comfortable, and the casino itself is very efficient and well maintained".
(Related reading: Nevada casinos)
Gaming
This casino is home to over 200 state-of-the-art slot and video poker machines, as well as a variety of table games like blackjack, craps, roulette, baccarat and more.
Table Games
This casino boasts an impressive variety of table games, sure to enthral any gambler. Excitement abounds while playing classic card favorites like blackjack and 3-card Poker.
If you're looking for a more intricate game, try testing your luck against the house with roulette or double roulette. Baccarat also offers a unique twist on casino gaming that is sure to bring some extra fun to your trip.
Of course, no visit would be complete without attempting a roll of the dice at the craps table or playing Ultimate Texas Hold'em – two favorite Las Vegas classics.
Table game minimums at this casino vary depending on the type of game. However, generally speaking, table game minimums are usually $5 or less.
Slots
This casino is home to some of the most popular slot machines in the city. Whether you're looking for big jackpots or just a comp or two, there's something for everyone.
From their seven denominations of coin slots to their $100 ticket machines, they provide truly thrilling and unique gaming experiences.
They also have a fantastic selection of video machines, such as video poker and video reels, as well as multi-game machines that provide even more ways to have fun and win big.
The casino's overall payback rate is an impressive 88-95%, making it a great option for those looking to maximize their return on investment.
Hotel/Resort
For those looking for luxury and relaxation, this casino also provides a hotel and resort experience like no other.
Their 364 suites and rooms provide the perfect respite after a day of gaming or sightseeing at one of the nearby attractions. All rooms are comfortable, and stylishly appointed, and come with all the amenities you'd expect from a 4-star hotel.
Each room is equipped with a flat-screen television, a minibar stocked with snacks and drinks, complimentary Wi-Fi, luxurious bedding and a spacious bathroom.
When you stay at this hotel, you have the option of five different types of rooms to choose from. Tower Premium offers luxurious elegance with state-of-the-art amenities, while their Tower Premium Suite has even more decadent furnishings for an ultimate hotel experience.
The Original 47 Rooms offer first come, first served access to those who want a more classic vibe, and Pavilion Rooms are great for those looking for beautifully appointed accommodations.
If the atmosphere is your thing, Cabana Suites gracefully graces the property's outdoor area with its flowered balconies and cabanas perfect for sipping cocktails in.
Additionally, this hotel offers a variety of amenities to make your stay more memorable. Some of the amenities include:
Live entertainment
Beauty salon
Spa services
Barbershop
Multiple dining options
Fitness center
Free parking
The cost of staying at this casino varies depending on the room type and time of year. You can snatch a room for around $39 per night plus taxes and fees. Prices may also vary during special events or holidays.
Check-in time at El Cortez is 2:00 pm
Check-out time at El Cortez is 12:00 pm
Restaurants & Buffets
When visiting this casino, you'll be sure to find something that satisfies every taste bud in your group.
From Siegel's 1941 and its classic American menu with Mexican influences to The Parlour Bar, where small bites will make for the perfect late-night snack, you'll never run out of delicious places to dine.
Ike's offers an unforgettable ambience accompanied by an enchanting selection of entrées you won't want to miss. Eureka! Welcomes guests with modern gastropub dishes and a full bar.
For those feeling extra adventurous, stop by Sushi Ichiban for a truly unique culinary experience – from traditional sushi plates to playful fusion dishes that keep seasonal ingredients in mind. Top it all off with All You Can Eat for only $29.95 per person.
Pools
This casino is a hot spot for locals and visitors alike. This exciting casino offers a variety of games and entertainment to enjoy without the need to venture outside.
But what it may lack in pools, it more than makes up for in other amenities. Guests take advantage of complimentary WiFi, 24-hour room service, exceptional restaurants and bars, and various activities.
The casino also offers a variety of packages that include luxury accommodations, dining, gaming and entertainment. Whether you're looking for a romantic getaway or an unforgettable family vacation, this casino still has something to offer everyone.
El Cortez Casino Las Vegas, NV FAQ
Does El Cortez CasinO Have A Sportsbook?
Looking for a great place to get in on the action? Look no further than this casino. They have cooperated with Station Casinos to bring you the best in sportsbook betting.
Their Race and Sports Book is an exciting hub of activity with electronic boards and LCD TVs – where you can play the ponies and watch your favorite teams take home the win.
Plus, with their fantastic mobile app, STN Sports Mobile, you can even access their sports betting services right from your phone – so no matter where you are or what you're doing, you never miss a beat.
Is Poker Available At El Cortez Casino Las Vegas?
Although there is no dedicated poker room, this casino offers a variety of poker games and tournaments. The casino floor has a selection of table games, including Texas Hold 'Em poker and other popular variations.
What Are The Age Requirements For Gambling At El Cortez?
The legal gambling age in the state of Nevada is 21. As such, the casino requires guests to be 21 or older before they can play any casino games or enter their poker rooms. All patrons must present valid ID upon entry.
Does El Cortez Casino Las Vegas Have An Online Casino?
No, the casino does not have an online casino. This casino is only available in person, on-site at the physical location. Guests must be present to take part in any gaming activities or sports betting services.
Is There An El Cortez Casino App?
It may come as a surprise, but unfortunately, there is no app currently available for the casino itself. However, the great news is that they have recently expanded their offerings to include a mobile app dedicated solely to their sportsbook.
This means that you won't need to be onsite to place your bets – you can do it from the comfort of your own home or wherever is convenient for you.
What Is The Dress Code At El Cortez Casino Las Vegas?
The dress code at this casino is casual and relaxed. Guests are encouraged to dress in a manner that is appropriate for the occasion, with no excessively revealing clothing allowed.
However, suits and sports coats are not required; guests may feel free to wear whatever comfortable attire they choose.
Is There An Airport Shuttle Available From El Cortez?
If you're looking for affordable and convenient transportation to or from this casino in Las Vegas, then look no further. They offer airport drop-off shuttle service between 7 am-2 pm daily. So no matter what time your flight arrives or departs, you can be sure you'll have a ride.
What Is The Smoking Policy At El Cortez Casino Las Vegas?
The casino allows smoking in designated areas, which are located throughout the property. However, they also have a smoke-free environment available for guests who prefer to remain in that setting throughout their stay.
Additionally, the Tower and Cabana Suites buildings are completely non-smoking and the rest of the hotel follows strict standards regarding smoking. The only part of the property that allows smoking is the Pavilion rooms.
What Is The Pet Policy At El Cortez?
Unfortunately, due to safety and health concerns, pets are not allowed on the premises. They do not allow pets in any of their hotel rooms or other public areas. Service animals are welcome with proper documentation.
Is Wifi Available At El Cortez Casino?
The hotel offers complimentary WiFi in all of its guest rooms and public areas. Guests can stay connected during their visit, so they don't miss out on any important updates or notifications.
If you need further assistance with internet access, the hotel's 24-hour front desk can assist you with any additional needs.
What Is The Cancellation Policy For El Cortez?
Guests must cancel their reservation 48 hours prior to check-in in order to avoid any cancellation fees. If you cancel within the required time period, you will be refunded the full amount of your deposit minus any applicable taxes and service charges.
Conclusion
El Cortez Casino Las Vegas is a great place to go for gaming, entertainment, and relaxation. Whether you're looking for a Vegas-style experience or want to play some slots and table games, this casino has something for everyone.
With its 24-hour front desk and complimentary WiFi, as well as its pet-free policy, this is a great place for travellers and families alike. Make sure to check out their sportsbook app if you're looking for an easy way to bet from anywhere.
The casino also has a relaxed dress code and smoking policy, allowing guests to feel comfortable and enjoy their visit however they choose.
With its convenient shuttle service to and from the airport, this casino is sure to provide you with an unforgettable experience that will keep you coming back for more.