Eldorado Casino Reno
Address: 345 N Virginia St, Reno, NV 89501
Phone Number: +1 800-879-8879
Website: www.caesars.com/eldorado-reno
Hours: Eldorado Casino is open 24 hours a day, 7 days a week.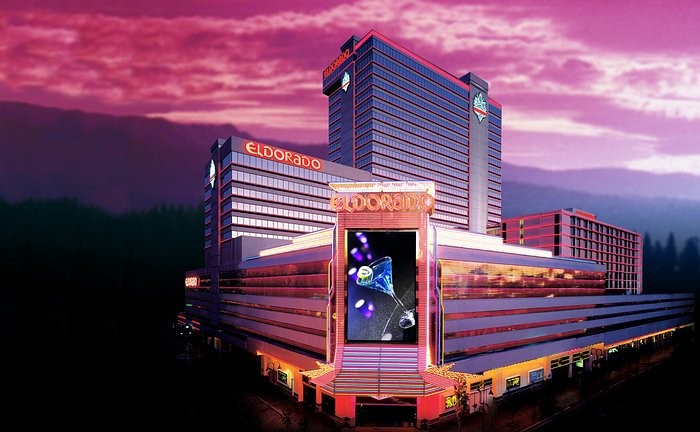 The Eldorado Casino has been part of Reno's gaming scene since the late 1970s. It was acquired by Caesars Entertainment and is now one of the largest casinos in the area.
After several expansions and renovations, the casino now offers more than 78,000 square feet of gaming space and over 1,000 slot machines. Table games such as blackjack, craps, roulette and baccarat are also available for customers to enjoy.
In addition to its gaming floor, the establishment is home to various bars, multiple restaurants and a race & sports book. The casino also hosts regular live entertainment and special events, making it one of the premier gaming destinations in Reno.
For those looking for an extended stay, the hotel offers over 800 spacious rooms and suites. Guests can relax in the spa or fitness centre, or enjoy a meal at one of the many restaurants. The property also features an indoor pool and hot tub for guests to soak in.
From its stunning architecture to its vibrant atmosphere, the casino has become an iconic landmark in Reno. Whether you're looking for a top-notch gaming experience or just a great place to relax and have fun, the casino is sure to satisfy you.
On TripAdvisor, they have 4 out of 5 stars as well as an average rating of 8/9 on Google Reviews. One guest claimed, "My stay here was great. The rooms were very nice and clean, the staff friendly and helpful, and the location perfect. Highly recommend staying here!"
Another customer said, "From the staff to the gaming options, this place is one of the best in Reno. I've gone here for years and it keeps getting better every time."
(Related reading: Nevada casinos)
Gaming
This casino offers over 1,000 state-of-the-art slot machines and multiple table games. Popular casino games such as blackjack, craps, roulette and baccarat are also available.
Table Games
If you're looking for a fun night out and want to give gambling a try, look no further than this casino.
The casino covers everything from all the classic table games, like blackjack, craps, roulette and baccarat, to some of the more popular poker variations like Pai Gow Poker.
If you're feeling adventurous, why not join one of their progressive games like the Let It Ride or Ultimate Texas Hold'Em? And if you're feeling a little bit luckier still, join the Progressive 3 Card Poker game – you'll be playing with players all around the room.
The minimum bets at the casino are generally low, which makes it a great place for those just getting into gambling. The minimums for most table games range from $5 to $100 and vary depending on the day of the week and time of day.
Whether you're a beginner or an experienced gambler, this casino has something for everyone.
Slots
The casino offers over 1,000 slot machines in all shapes and sizes. Whether you prefer classic 3-reel slots or the latest video slots, you'll be sure to find something that catches your eye.
Popular games include popular titles such as:
Starbar
Triple Diamond
Triple Cash
Extreme Car Giveaway
River Dragon
Double Gold
Double Diamond
Five times Pay
Wild double strike
Wicked Wheel
Currently, the slot machine payback percentage in this casino is not disclosed, as it varies from machine to machine. However, the Nevada Gaming Control Board requires the casino to have a minimum payback rate of 75%.
Hotel/Resort
This property is home to an 800-room hotel, offering guests a luxurious stay in the heart of downtown Reno. The spacious rooms and suites include modern amenities such as flat-screen TVs, comfortable beds and high-speed internet access.
The hotel also offers a spa and fitness centre, as well as an indoor pool and retail stores. Guests can enjoy a meal at one of the on-site restaurants or grab a snack from the café.
Their luxurious guest rooms with either one or two king beds offer the perfect blend of sophistication and comfort.
For those looking for extra pampering, their Player Spa Small Suite provides all the luxury amenities of their classic guest rooms plus more — marble sinks, heated flooring and whirlpool tubs to help you totally relax.
The amenities offered at this hotel are numerous. Guests have access to some of them including:
A spa and fitness centre
Outdoor pool
24/7 Front Desk
Laundry services
Retail stores
Free Wi-Fi in all areas
Business center
Meeting rooms
Live entertainment
The cost of a hotel stay depends on the season and type of room. Prices start from as low as $47 per night for a standard room. If you book in advance or take advantage of any special offers, you can often get a good deal on your stay.
Check-in time at Eldorado Casino is 3:00 pm
Check-out time at Eldorado Casino is 12:00 pm
Restaurants & Buffets
Even though the casino does not currently have a buffet, there are plenty of dining options on-site you can enjoy. For those looking for a true slice of heaven, Hidden Pizza provides traditional pies made with hand-crafted sauces and fresh ingredients.
Ichiban Japanese Steak House is known for its authentic Japanese menu, including tempura and teriyaki items, as well as its hibachi dinner served with soup or salad.
If Italian fare is more to your taste, La Strada serves up amazing pasta and entrées from a menu featuring traditional family recipes. From sweet, creamy milkshakes to classic burgers and fries, Millies provides a variety of classic American dishes with the highest quality ingredients possible.
Fans of Mexican food, don't miss out, as Roxy has delicious offerings that can satisfy even the pickiest Mexican cuisine enthusiast.
Starbucks' coffee drinks will give you the perfect mid-day pick-me-up while Sushi Sake treats dinner guests to an incredible selection of sushi rolls created by experienced chefs.
Finally, if cold beverages are more your style, The Eldorado Coffee Company presents a wide assortment of refreshing smoothies and drinks to choose from.
Pools
Have a splashing good time at this casino's pools in Reno. Their special rooftop pool is perfect for preserving those special memories of your stay with them.
Whether you're looking to cool down or work on that perfect tan, the pool is a great place to be. Got young ones with you? There are plenty of fun activities for them to enjoy while you soak up some sun.
Best of all, why not soak in that delicious atmosphere with some tasty snacks and drinks from their Cabana Bar? Make sure to join them at their pools – it's an adventure you won't want to miss.
Eldorado Casino Reno, NV FAQ
Does Eldorado Casino Reno Have A Sportsbook?
Whether you're an avid sports fan or simply looking to have a more exciting experience with some friendly competition, this casino has something for everyone.
With their Caesars Sportsbook, they offer all the important games and events shown on flat-screen TVs so you can keep up with all the current scores and stats.
And, if that's not enough, they offer the convenience of the Caesars Sportsbook App for those who want to do their betting on the go.
Is Poker Available At Eldorado?
This casino offers a wide variety of exciting poker games that are sure to satisfy players of all skill levels.
From Pai Gow Poker and Progressive Let It Ride for the seasoned pro to the more novice-friendly Progressive 3 Card and Progressive Ultimate Texas Hold'Em, there is something for everyone at this casino.
Whether you prefer the authenticity and privacy of classic table games or the added fun of playing on slot machines, there is no shortage of games to enjoy at this premier casino in Reno.
What Are The Age Requirements For Gambling At Eldorado Casino?
Anyone under the age of 21 is not allowed to gamble in Nevada – no exceptions. The casino takes these rules seriously, so be sure to bring valid identification with you when entering the casino.
Does Eldorado Have An Online Casino?
No – at this time, they do not offer an online casino. However, they do have a mobile app that you can use to access the sportsbook and other promotions from your phone or tablet.
Is There An Eldorado Casino Reno App?
While it may seem like they have an app, they actually only offer a sportsbook app. For those looking to find information and deals on the property's gaming offerings, the best thing you can do is check out their website.
You can also stay up to date on all their latest news and events through their social media accounts. Be sure to follow them for the latest updates and announcements.
What Is The Dress Code At Eldorado?
The dress code at this casino is casual. When you're ready to take a break from the gaming floor, make sure that your outfit is appropriate for whatever event or restaurant you plan on attending.
Of course, if you intend to go swimming in the pool, feel free to wear more relaxed clothing like swimwear. However, all other areas of the property should follow a smart casual dress code.
Is There An Airport Shuttle Available From Eldorado Casino?
Yes – there is an airport shuttle available from this casino. Guests can arrange for pick up and drop off from the Reno Airport, which is located just a few miles away.
The shuttle runs on a regular schedule, so be sure to check the website or call ahead to get updated times and fares. Don't forget to show your Eldorado Rewards card when booking the shuttle, as this may entitle you to a discount.
What Is The Smoking Policy At Eldorado?
Smoking is not allowed in the casino or any of its restaurants. There are designated smoking areas outside that guests may use.
In addition, electronic cigarettes and vaping devices are prohibited inside the casino as well. Those wishing to smoke must do so in the outdoor smoking area provided.
What Is The Pet Policy At Eldorado Casino Reno?
Unfortunately, pets are not allowed at this casino. Those who travel with their furry friends should make other arrangements for them while visiting.
Service animals, however, are exempt from this rule and may accompany you in any of the public areas on the property. Just be sure to have the necessary paperwork with you when bringing your pet into the casino.
Is Wifi Available At Eldorado Casino?
Yes – wifi is available at the property. You can stay connected to the internet wherever you go, whether it's in your hotel room or on the gaming floor.
Be sure to check with reception for more information on how to access their wifi network. There may be certain restrictions and charges that apply, so make sure you are aware of these before connecting.
What Is The Cancellation Policy For Eldorado?
If you booked directly through the casino's website or phone number, you can cancel your reservation without penalty up to 24 hours before your check-in date.
If you booked through a third-party site like Expedia or Booking.com, then their cancellation policy will apply. Be sure to read their terms and conditions carefully before booking so there won't be any surprises.
For more information, contact their customer service team or visit their website. They should be able to provide you with all the necessary details.
Conclusion
Eldorado Casino is the perfect destination for a fun and memorable Vegas-style experience. With its excellent gaming offerings, stylish restaurants, and comfortable accommodations, you'll be sure to have an enjoyable stay.
Be sure to check out their dress code, airport shuttle availability, smoking policy, pet policy, wifi access and cancellation policy before planning your trip. With all of this information, you'll be sure to have a winning experience at this casino in Reno.