Ellis Island Casino & Brewery Las Vegas
Address: 4250 Koval Ln, Las Vegas, NV 89109
Phone Number: +1 702-794-0888
Website: www.ellisislandcasino.com
Hours: Ellis Island Casino & Brewery is open 24 hours a day, 7 days a week.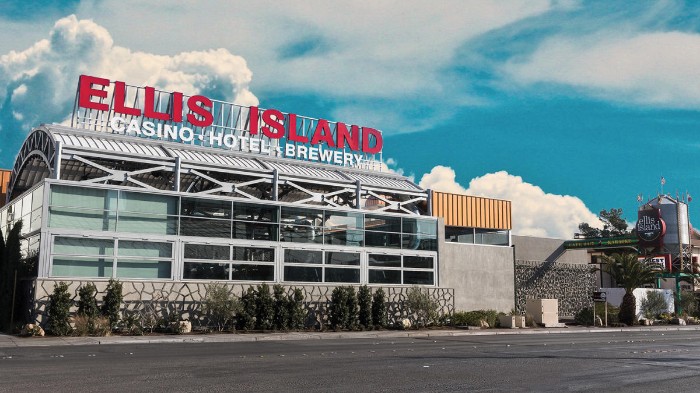 The Ellis Island Casino & Brewery has been in Las Vegas since 1967, long before the Strip was what it is today. A family started the casino and brewery with a passion for gaming, beer-making, and hospitality.
It was initially known as the Village Pub and was popular among locals. Today, the property is now owned by the son of the original owner, Gary Ellis, and he has kept the same hospitality that made it such a popular destination.
From humble beginnings as a small casino and brewpub, the Ellis Island family has grown its business to include an award-winning hotel, an onsite brewery, and several restaurants and bars.
They have been serving up delicious food and cold beer in Las Vegas for over 50 years, making it one of the oldest family-owned businesses in town.
The casino features all your favorite gaming options, including slots, blackjack, craps and roulette. Video poker and keno can also be found in the main casino. The brewery is home to a variety of beers, from classic lagers and ales to seasonal specials.
Additionally, the property offers accommodations with more than 280 hotel rooms and suites, as well as amenities such as a swimming pool, karaoke place and more. Whether you're looking for a fun night out or just want to enjoy some craft beer with friends, the casino has you covered.
On several review websites, they received an average of 4.5 of 5 stars for their gaming, accommodations, food, and overall experience. One guest said, "The staff was very friendly and helpful. The casino had a nice selection of games, and the rooms were clean and comfortable."
Another guest said "Ellis Island Casino & Brewery is a great place to get some good food, have some drinks, listen to great music, and enjoy some excellent gaming. Highly recommend it!"
(Related reading: Nevada casinos)
Gaming
This casino has all the casino games you would expect from a Las Vegas establishment. There is a variety of slot machines, video poker, blackjack and craps tables, as well as several other table games.
Table Games
If you're looking for an exciting night of table games in Nevada, look no further than here. At this casino, you can enjoy all the classic casino games such as blackjack, roulette and craps.
With Vegas-style gaming and friendly staff available to help with any questions, you're guaranteed a great time. Plus, when you need a break from the action, step into the brewery for one of their award-winning brews.
The table game minimums vary depending on the time of day and week. Generally, the minimum bet is $5 but it can go as high as $50 during busy times.
Slots
This casino in Nevada is a great place to experience the thrill of playing some exciting slot machines. There, visitors will find all the classic games such as reel slots, video poker, and keno.
Reel slots are usually the most popular game at any casino. They may have a single pay line or multiple pay lines with various ways to win.
Video poker is also a great option for those seeking a growing jackpot and larger payouts, while keno involves selecting up to 10 numbers between 1 – 80 with the goal of matching them to randomly drawn numbers.
The slot machine payback percentage at this casino is not disclosed to the public. However, according to the Nevada Gaming Commission, the minimum payback percentage for slot machines in Las Vegas should be 75%.
Hotel/Resort
This casino is home to one of the best hotels in Las Vegas. With 289 rooms and suites, guests have plenty of options when it comes to accommodations.
The rooms come equipped with comfortable amenities such as flat-screen TVs, Wi-Fi access, room service and more. Plus, if you're looking for a little more luxury, the hotel also has suites with a separate living area and kitchenette.
Guests can also take advantage of a number of resort amenities such as an outdoor pool, fitness center and business center. The hotel is also connected to the casino so that visitors can easily jump in and start playing all their
Their room types include:
King Room – features 1 king bed
Queen Room – features 2 queen beds
King Suite – features 1 king bed, Tempur-Pedic sofa bed, a walk-in shower and an outdoor patio
Double Queen Suite – features 2 queen beds, a Tempur-Pedic sofa bed, a walk-in shower and an outdoor patio
Handicapped King Room – features 1 king bed and ADA amenities
Elvis Suite – features 1 king bed, a minibar, a Tempur-Pedic sofa bed, a walk-in shower and an outdoor patio
Additionally, this hotel offers a variety of amenities to make your stay comfortable. The resort offers some of the following:
High-speed WiFi
Multiple dining options
Live events
Karaoke
Swimming pool
Room service
Free parking
Concierge service
Room rates at this hotel vary depending on the time of year and the room type. Rates start as low as $39 per night and can go up to $199 per night for the Elvis Suite. All prices will include taxes, resort fees and gratuities.
Check-in time at Ellis Island is 3:00 pm
Check-out time at Ellis Island is 11:00 am
Restaurants & Buffets
It's unfortunate that this casino does not currently offer a buffet. However, there are several restaurants available for guests to enjoy. Steeped in the nostalgia of an old-worldly Vegas, this casino hosts a collection of eateries that caters to all.
Start with The Front Yard for an outdoor beer garden experience and a time-honoured selection of starters, sliders and other bar fares. Or head to the Village Pub & Cafe for Italian favorites and hearty Italian sandwiches.
If it's pizza your heart desires, Via Focaccia serves up authentic Neapolitan-style pies made with carefully sourced ingredients from Italy and New York.
But don't forget about the specialties that make this place so unique – if you're looking for something more substantial, Ellis Island BBQ serves up classic smoked entrees like pork spare ribs and brisket.
And don't miss out on Metro Pizza; while they may be famous for their brick oven creations, they also offer traditional gourmet pies and salads, wings and pasta dishes. No matter what flavor you're craving, they have something special just waiting to be enjoyed.
Pools
This casino welcomes all visitors looking for a great time in the sun and sand. To add to the fun, they feature an amazing kidney-shaped pool exclusively available to hotel guests.
Surrounded by a pool deck with loungers, it's the perfect spot to laze around on hot summer days. And if you need extra towels during your pool experience, don't fret; head over to the lobby or housekeeping and they'll be happy to provide what you need.
Ellis Island Casino & Brewery, Las Vegas, NV FAQ
Does Ellis Island Casino & Brewery Have A Sportsbook?
This casino offers a sportsbook for all its guests and patrons. This exciting feature combines the fun of playing on your favorite sports team with the atmosphere and energy of an actual casino.
With an extensive range of wager options available, including straights, parlays, and totals, you're sure to find something to place your bet on. Guests can enjoy comfortable seating while they watch their picks come to life, with plenty of refreshments at the bar.
Is Poker Available At Ellis Island?
If you are looking to try your luck with a poker game at this casino, you might be disappointed to know that there is currently no live poker table available.
That said, the casino does offer a wide variety of video poker machines for players who want to test their skills in an entertaining environment.
What Are The Age Requirements For Gambling At Ellis Island Casino?
The legal age for gambling in Nevada is 21 years old. All guests must present valid ID upon entry and at any time while on the property. Guests who are found to be underage will not be allowed to gamble and will be asked to leave the premises immediately.
Does Ellis Island Have An Online Casino?
Currently, this casino does not offer an online casino. However, they do offer a wide range of gaming experiences and activities on their property. Guests can enjoy table games such as blackjack, roulette and craps as well as hundreds of video poker and slot machines.
There are also special events held throughout the year featuring tournaments, giveaways and more, making this casino a great spot for all types of gamblers.
Is There An Ellis Island Casino & Brewery App?
Currently, this casino does not offer an application for mobile or tablet devices. However, guests can still access the casino and its promotions on their desktop computers and laptops. All information about current promotions and events is available on the website.
What Is The Dress Code At Ellis Island?
The dress code at this casino is casual. Guests are required to wear clothing that is not considered offensive or vulgar. Shirts and shoes must be worn at all times, and hats must be removed when entering the property for safety reasons.
Is There An Airport Shuttle Available From Ellis Island Casino & Brewery?
Unfortunately, this casino does not offer an airport shuttle service. However, there are many taxi and rideshare services available in the area that can take guests to and from the property. These services must be booked independently by the guest.
What Is The Smoking Policy At Ellis Island Casino?
This casino offers a non-smoking policy throughout the property. However, there are designated smoking areas outside of the building where guests can smoke if they wish.
Additionally, all guests must abide by the Nevada Clean Indoor Air Act and refrain from smoking any products indoors.
What Is The Pet Policy At Ellis Island Casino & Brewery?
Unfortunately, this casino does not allow pets on the property. All guests must leave their companion animals at home while visiting the casino and its grounds. Service animals are allowed as long as they remain well-behaved and with their owner at all times.
Is Wifi Available At Ellis Island?
Yes, this casino offers free high-speed wifi access to all of its guests. Guests need to connect to the casino's wifi network and follow the instructions for connection. For further support, guests can speak with a member of the casino's staff.
What Is The Cancellation Policy For Ellis Island Casino & Brewery?
If you need to cancel your reservation, make sure to do so at least 24 hours prior to check-in time. Otherwise, the first night's room and tax will be forfeited.
If you have any additional questions or concerns, don't hesitate to contact their friendly staff, who would be more than happy to assist you.
Conclusion
Ellis Island Casino & Brewery is the perfect destination for experienced gamblers and those new to casino gaming alike. With a wide variety of slots, table games, special events, and more, there's something for everyone at this Las Vegas hotspot.
Be sure to abide by the age requirement and dress code when visiting, as well as the no-pet and smoking policy. And don't forget to take advantage of the free wifi before you go.
With these tips, your trip to this casino and brewery is sure to be a winning one.