Emerald Island Casino Henderson
Address: 120 Market St, Henderson, NV 89015
Phone Number: +1 702-567-9160
Website: www.emeraldislandcasino.com
Hours: Emerald Island Casino is open 24 hours a day, 7 days a week.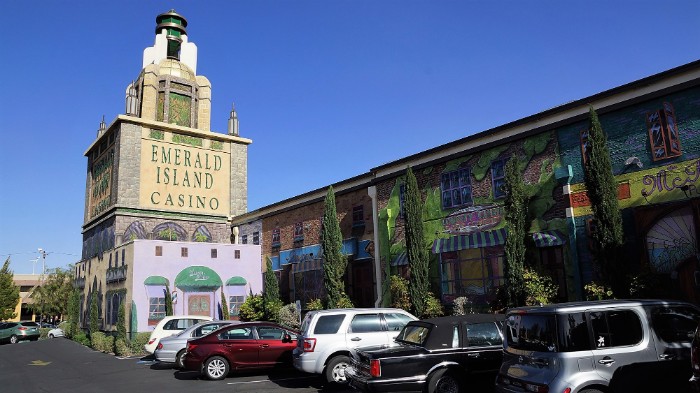 Emerald Island Casino opened its doors in 2003 and quickly became a popular destination for locals looking for a good time. Located in Henderson, Nevada, the casino is known for its friendly atmosphere and a wide variety of gaming options.
Today, this casino is owned and operated by the Brooks Brothers, and it has become one of the favorite gaming destinations in Henderson. After a huge renovation, the establishment reopened its doors in 2015, offering visitors a luxurious experience.
The casino now features more than 9,000 square feet of gaming space, including over 450 slot machines plus an array of electronic games. Guests can also enjoy sports wagering, as well as nightly entertainment.
The casino also features several dining options, including the Emerald Island Grille, which offers a delicious selection of signature dishes and drinks. Whether you're looking for a night out or just want to try your luck at the tables, this casino is the perfect destination for any gambler.
On average, guests give the casino a rating of 4 out of 5 stars. One reviewer said, "The staff here is great, the atmosphere is friendly, and there's a lot of fun to be had. I would definitely recommend it!"
Another guest claimed, "The casino is clean, bright and inviting. The gaming selection is great and the staff are friendly and helpful."
(Related reading: Nevada casinos)
Gaming
This casino offers a variety of gaming options, including slots, electronic games, sports wagering and more. All the machines are kept in great condition and offer an assortment of different denominations.
Table Games
If you're looking for exciting table games, this casino in Nevada might not be for you as this casino only offers slot machines.
However, if you are a slot player, you won't be disappointed – the choice of video slots and progressive jackpots is vast. Whether your gaming preference is classic 3-reel or modern video slots, there are more than enough machines to keep everyone entertained.
Slots
If you are interested in trying your luck on the slots at this casino, you have come to the right place. The casino is home to a wide range of exciting slot machines that are sure to provide endless entertainment with their unique characters and themes.
Popular favorites include Wonder 4, Lucky Pig, Lightning Link, Glorious Fortunes and Olympus Link – all of which feature fun bonus rounds and special symbols that could net you some major wins.
There is also Panda Power, Dragon's Law Twin Fever, Miss Kitty Wild Ride and Guardians Of The Aztec for those who like their gaming bold and adventurous.
If a classic experience is more your thing, then why not try the Dragon Treasure Pearls or China Shores Quadspin for those old-school vibes? Or perhaps African Spin Quadspin or The Great Pyramids will answer your spinning cravings.
Even though this casino does not publicly disclose its slot machine payback percentage, it is believed to be in line with the Nevada state minimum of 75%. This means that players can expect to win back around 75 cents for every dollar they wager on slot machines.
Hotel/Resort
This casino offers a great casino experience with plenty of games and entertainment to keep you entertained. You won't find as many hotel options on the premises as you would at some resorts, but there are plenty of nearby properties where you could rest for the night.
Ellis Island Hotel, Hawthorn Suites By Wyndham, Best Western Plus Henderson Hotel and Sunset Station Hotel and Casino are all within minutes of the resort. They can offer comfortable accommodation if needed after a night out at the casino.
With all that this area has to offer, you'll definitely want to extend your stay at this casino.
Restaurants & Buffets
Even if this casino does not offer any buffet options, the Emerald Island Grille is an excellent place to dine and drink. The menu offers a variety of classic American dishes such as burgers, sandwiches, salads and more.
This restaurant features regional favorites like seared ahi tuna, chicken marsala and slow-braised pork shank, in addition to a full bar offering classic cocktails and local beer on tap.
The atmosphere of this restaurant exudes luxury and sophistication with its rich wood accents and opulent decor. Your taste buds will thank you for dining here – it truly has something for everyone.
Whether you're coming to enjoy a great meal or just taking advantage of their complimentary food and beverage options, such as coffee, tea and light snacks, the Emerald Island Grille is an ideal choice for your dining pleasure.
Pools
If you're looking for a great place to go on vacation and get away from it all, this casino is the perfect place for you. Located in the heart of Las Vegas, this exciting and vibrant resort offers an array of amenities sure to keep you busy.
Unfortunately, one thing this casino is missing is a pool – however, that doesn't mean you can't enjoy the hot Nevada sun. You can always check with your hotel to see what they offer in terms of pool access, or you can take a dip at any of the nearby pools.
Emerald Island Casino, Henderson, NV FAQ
Does Emerald Island Casino Have A Sportsbook?
This casino in Nevada is home to one of the best sportsbooks in town – William Hill Sportsbook. Here, you can bet on pretty much any sport you love, from basketball and football to baseball and NASCAR.
The facility features sleek modern amenities and a knowledgeable staff to help guide your betting strategy. You'll also find plenty of televisions so that guests can catch every game or match airing – all while enjoying cold drinks from the bar.
Is Poker Available At Emerald Island?
If you're looking for an exciting night at this casino, you might be wondering if there's poker available. Unfortunately, the answer is no. They do not offer traditional table-style poker games. However, they do have a wide selection of video poker machines available for everyone to enjoy.
What Are The Age Requirements For Gambling At Emerald Island Casino?
The legal gambling age in Nevada is 21, so anyone wishing to enter this casino must be of legal age. There are no exceptions to this rule, and all guests will be asked to show proof of their identity before they're allowed entry.
Does Emerald Island Have An Online Casino?
No, this casino does not offer an online casino platform. However, you can still have all the same fun and excitement of traditional casino gaming in their land-based casino.
You will not be disappointed with all the games, food and drinks, entertainment, and atmosphere that this casino has to offer.
Is There An Emerald Island Casino App?
At this time, there is no app for this casino. You can always visit their website for all the latest news and events happening at the casino or call their customer service line to learn more.
You can also check out their social media channels for more information and to stay up to date on their upcoming promotions.
What Is The Dress Code At Emerald Island?
The dress code at Emerald Island Casino is casual. Shirts and shoes are required, but they do not enforce a strict dress code. They do, however, ask that visitors refrain from wearing any clothing featuring offensive language or graphics.
Is There An Airport Shuttle Available From Emerald Island Casino?
No, at this time, there is no airport shuttle available from this hotel. However, if you need a ride to or from the casino, you can always call a taxi or use one of the various rideshare apps available in the area.
You can also check with your hotel to see if they offer any transportation services as well.
What Is The Smoking Policy At Emerald Island?
The smoking policy at Emerald Island Casino is compliant with all Nevada laws. Smoking is only allowed in designated areas, and guests are not permitted to smoke indoors.
Guests must also be 21 or older to purchase cigarettes from the casino. If you want to enjoy a cigarette while gaming, you can head outside for a quick break.
What Is The Pet Policy At Emerald Island Casino?
Unfortunately, due to the nature of a casino environment, pets are not allowed inside this casino. This is for the safety and comfort of all guests, as well as to keep in line with Nevada laws regarding animals in public establishments.
If you have a service animal, please let them know when you arrive at the casino, and their staff will be happy to assist you.
Is Wifi Available At Emerald Island?
Yes, free wifi is available throughout the casino. Guests can connect to the network using their mobile devices or computers and quickly access all their favorite websites and services without worrying about data charges.
What Is The Cancellation Policy For Emerald Island Casino?
The cancellation policy for this casino depends on the type of reservation you have made. They do not offer accommodations at the moment, so all reservations are for gaming and entertainment.
If you need to cancel your reservation for any reason, please call their customer service line, and they will be happy to assist you. Please note that any fees or deposits associated with the cancellation may apply.
Conclusion
Emerald Island Casino offers a fun and exciting gaming atmosphere for all its visitors. They have strict rules in place to ensure the safety of their guests and the security of their facility.
They also offer great entertainment, food, and drinks, as well as free wifi to stay connected while you game. So whether you're looking for a night out or a weekend getaway, this casino has something for everyone.