Eureka Casino Mesquite
Address: 275 Mesa Blvd, Mesquite, NV 89027
Phone Number: +1 702-346-4600
Website: www.eurekamesquite.com
Hours: Eureka Casino is open 24 hours a day, 7 days a week.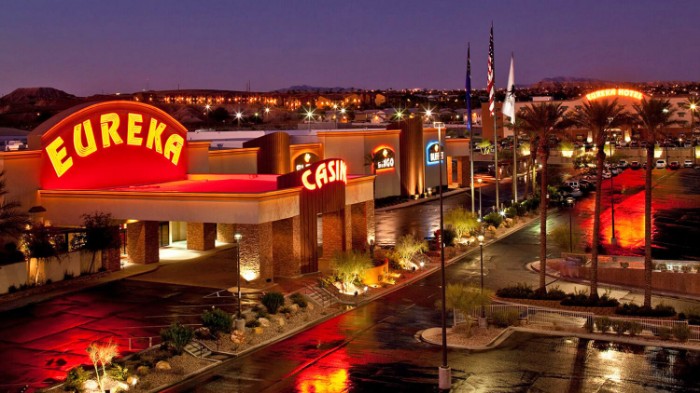 Eureka Casino has been a staple of Mesquite since it opened in 1997. This Las Vegas-style casino offers all the gaming action you could ask for, including slots, table games, live poker and a Race & Sports Book.
Initially opened as the Rancho Mesquite, the property was founded by Ted Lee, a former real estate developer. After several years of successful operation, the ownership of the property was sold to Employee Stock Ownership Plan (ESOP) in 2015.
The establishment houses 40,000 square feet of gaming space with more than 1,000 slot and video poker machines, several table games, and regular poker tournaments. The property also features a race & sports book, a keno lounge, and a full-service bar with live entertainment.
The casino also offers accommodation through its 2214-room hotel, which features amenities such as an outdoor pool, a fitness center and a spa.
This casino strives to provide the best gaming experience possible with 24/7 support from its team of dedicated professionals. From slot machines and table games to race & sports book betting, this casino has something for everyone.
On Tripadvisor, the casino has a rating of 4 out of 5 stars and on Google Reviews, it receives an average rating of 4.3 out of 5 stars. Guests say, "We had a great time at Eureka Casino. The staff was very friendly and the atmosphere was upbeat. Highly recommend it!"
Other guests rave about the hotel accommodations saying, "The hotel is very clean and well-maintained. The rooms are spacious and the beds are very comfortable."
(Related reading: Nevada casinos)
Gaming
This casino offers a variety of gaming options, including slots and video poker machines, table games and live poker tournaments. It also features sports betting which offers wagering on sporting events in addition to horse racing.
Table Games
This casino offers players a great variety of table games to enjoy. Whether you like the classic options or something a little more exotic, there is something for everyone.
Blackjack and Roulette are beloved timeless classics; if those are your favorites, then this is the perfect place to play. If you're looking for something with a bit more of an adrenaline rush, then Craps is just the ticket.
And lastly, Pai Gow Poker – a Chinese-inspired game that blends strategy and luck – can provide an exciting experience. Whatever your preference, this casino offers an advanced platform for table gameplay that will keep you coming back for more.
Table game minimums at this casino vary depending on the day and time. Generally speaking, minimum bets range from $5-$10 on all table games during peak times.
The casino also offers several promotions in which players can earn free chips or cash rewards when they play certain games.
Slots
If you're looking for a great casino experience in Mesquite, Nevada, then look no further than this casino. Not only do they have table games like blackjack and poker, but their slot selection is also top-notch.
Popular slot machines at this casino include a wide range of video reel and video poker games, as well as an exciting selection of progressive slot machines – including Lightning Link Lounge.
The slot machine payback percentage at this casino is regulated by the Nevada Gaming Commission. The current minimum return for slot machines at this establishment is 75%.
Hotel/Resort
This casino resort is the perfect place to stay for a weekend getaway or a business trip. The hotel offers 2,214 guest rooms that are all equipped with modern amenities and services.
Each room has air-conditioning, an HD flat-screen television, free WiFi and much more. Guests will also enjoy access to two outdoor pools, a modern fitness center and a full-service spa.
Their room types include:
Deluxe King Or Queen Room – features a king or 2 queen beds
Resort King Or Queen Room – features a king or 2 queen beds with a view of the pool
Opulence King Or Queen Room – features a king or 2 queen beds with a marble shower
Resort Opulence King Or Queen Room – features a king or 2 queen beds with a marble shower with a view of the pool
Garden Queen – features a queen bed with an outdoor patio in the garden
Enclave King Room – features a king bed with modern designs in the room
Enclave King Spa Suite – features a king bed with modern designs in the room and a massage tub
Double Eagle Suite – features two rooms and a sofa
Paramount Suite – features sofas and loveseats, wet bar, work area, jetted tub and walk-in shower
Additionally, the hotel offers a wide range of amenities and services for guests, some of which include:
Free Wi-Fi throughout the property
24-hour front desk
A golf course
Multiple dining options
Meeting facilities
Doorman and bell staff service
Heated outdoor swimming pool
Retail stores
The cost of staying at this hotel varies depending on which room type you choose. Typically, you can book a room with a queen bed starting at $105 per night.
For the resort and opulence options, you will likely pay more than that. However, there are often discounts and other offers available to make your stay even more affordable.
Check-in time at Eureka is 4:00 pm
Check-out time at Eureka is 11:00 am
Restaurants & Buffets
This casino has a great selection of restaurants that are sure to please every palate. For a hearty dinner option, guests can try Gregory's Mesquite Grill to enjoy fresh and flavorful steak, chicken, salads, and more.
The Mason Street Courtyard offers American cuisine for breakfast, lunch, and dinner, with live entertainment in the evenings. Comfort food fans will love Auntie Anne's for pretzels and other delicious treats.
There's no need to miss out on dessert at this place either – Cinnabon has made-to-order cinnamon rolls topped with cream cheese frosting that is sure to satisfy any sweet tooth.
For a varied dining experience, all on one plate, check out Town Square Buffet, which features all-you-can-eat offerings that rotate daily. However, the prices of the buffet are currently unavailable.
You can call the casino directly for more information on the buffet.
Pools
This casino resort offers a relaxing, luxurious pool experience for all to enjoy. Whether you're looking for a quick afternoon dip or an entire day's worth of sun and fun, their outdoor pool is the perfect place.
Guests can lounge on luxury chaise lounges while they sip on a cool drink, relax in one of the private cabanas under the swaying palm trees, or take a refreshing plunge in either the pool or hot tub.
With its picturesque beauty and opulent amenities, its heated outdoor pool is sure to be your new favorite oasis in the desert.
Eureka Casino Mesquite, NV FAQ
Does Eureka Casino Mesquite Have A Sportsbook?
This casino is home to the William Hill Sportsbook, giving their guests the opportunity to enjoy a wide variety of sports, such as football and basketball.
With comfortable seating and the latest technological advances, like TVs over each cubicle keeping you up-to-date on all the latest scores and plays, their William Hill Sportsbook provides an exciting atmosphere for any sports enthusiast.
In addition to sports events, they also host other special sports events, including pari-mutuel betting on live horse racing from tracks across the country and daily fantasy sports contests.
Is Poker Available At Eureka Casino?
Yes, there is a poker room at this casino. The poker room has several tables and offers a variety of different games such as Texas Hold'em, Pai Gow and more. The casino also hosts regular tournaments with various buy-ins to provide ample activities for all types of players.
What Are The Age Requirements For Gambling At Eureka?
Guests must be 21 years or older to gamble at this casino. Guests under the age of 21 are not allowed in any gaming areas or on casino property. Additionally, all guests must present a valid ID and adhere to the dress code standards established by the casino before they can enter.
Does Eureka Casino Mesquite Have An Online Casino?
No, this casino does not have an online casino at the current time. However, they do offer a variety of slots and table games in their land-based facility that guests can enjoy. Additionally, they often host special promotions and tournaments that can be joined in person.
Is There An Eureka Casino App?
No, there is no Eureka Casino app at the current time. You can keep up to date on their promotions and events by visiting their website or following them on social media.
What Is The Dress Code At Eureka Mesquite?
The dress code at this casino is casual. Shorts, jeans, and other casual wear are allowed but guests must refrain from wearing clothing with offensive language or images.
Additionally, footwear such as sandals and flip-flops are permitted in the gaming areas but not in restaurants or bars.
Is There An Airport Shuttle Available From Eureka Casino?
Unfortunately, this casino does not offer an airport shuttle from the nearby airport. However, you can easily take a taxi or ride-share service to get to and from the property.
There are also several car rental companies located nearby for those who would like more freedom and flexibility during their stay.
What Is The Smoking Policy At Eureka Casino Mesquite?
This casino is a smoke-free facility with designated outdoor smoking areas where guests can enjoy a cigarette or cigar. All gaming areas, restaurants and bars are strictly non-smoking to provide a more enjoyable experience for all guests.
What Is The Pet Policy At Eureka Casino?
This casino does not allow pets on the property, with the exception of service animals that are required for guests with disabilities. All other pets must remain at home and cannot be brought onto the premises or into any of their restaurants and bars.
Is Wifi Available At Eureka Casino Mesquite?
Guests at this casino can enjoy the benefits of complimentary WiFi during their stay. No matter what time of day it is, they always have access to a reliable internet connection – perfect for catching up on emails or keeping up with current events.
What Is The Cancellation Policy For Eureka?
Guests at this casino can cancel their reservations free of charge up to 24 hours prior to their check-in date. If a reservation is cancelled within the 24-hour period, a cancellation fee will be applied.
For more information, please refer to the casino's website or contact their customer service team directly.
Conclusion
Eureka Casino Mesquite is the perfect destination for casino lovers and anyone looking to have a great time.
This casino offers all the traditional gaming options, plus poker, daily fantasy sports contests and more. There is no online casino at this time and no app, but guests can keep up to date on their promotions and events by visiting their website or following them on social media.
With these details in mind, you're all set to visit this casino and have a great time.