Excalibur Casino Las Vegas
Address: 3850 S Las Vegas Blvd, Las Vegas, NV 89109
Phone Number: +1 877-750-5464
Website: www.excalibur.mgmresorts.com/en.html
Hours: Excalibur Casino is open 24 hours a day, 7 days a week.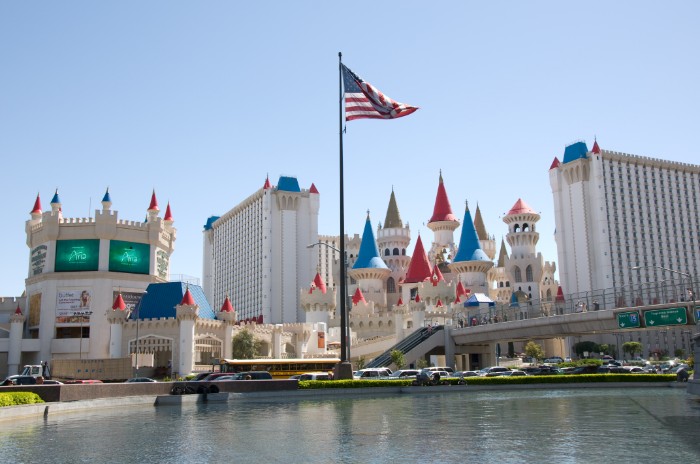 Excalibur Casino first opened its doors in June 1990. Located on the Las Vegas Strip, it was the largest hotel and casino complex in the world at that time.
Featuring an extravagant castle-themed design, its architecture has become iconic in Las Vegas; its four towers are adorned with colorful banners and illuminated by a massive electric sign.
The casino floor of the property has spread across 100,000 square feet and houses a variety of gaming areas ranging from classic table games to the latest slot machines.
As well as offering guests high-end entertainment facilities and exciting shows, it prides itself on its commitment to responsible gaming, with helpful staff available around-the-clock to assist guests with gambling responsibly.
Since opening in 1990, the casino has become one of the most popular casinos on the Las Vegas Strip and continues to be a top destination for visitors from all over the world.
The casino continues to provide its guests with an exciting gaming experience and a variety of dining, shopping and entertainment options.
Additionally, the casino has earned an overall rating of 4 out of 5 stars according to customer reviews on the popular travel website TripAdvisor. Guests have said, "Great location on the Strip, friendly staff and fun atmosphere."
Another commented, "I had a great time at the Excalibur. Great staff, games, and food all make for a pleasant experience. Highly recommended!"
With its iconic architecture, legendary hospitality, and commitment to responsible gaming, the casino has become one of the most recognizable landmarks in Las Vegas.
(Related reading: Nevada casinos)
Gaming
This casino offers a wide selection of games for all kinds of players. They feature over 1,200 slot machines, including classic reel-type slots and the most up-to-date video slots. Table game offerings include blackjack, roulette, craps, three-card poker, baccarat and more.
Table Games
This casino offers a variety of exciting table games for its guests to play. Like most casinos, you can find traditional favorites like Craps, Roulette, Blackjack, and Three-Card Poker.
Those who are looking for more adventure can try their luck at Texas Hold'em or the new Lucky-Lucky game tables. Nonetheless, there's something fun for everyone at this casino.
Additionally, those who enjoy blackjack can opt to try Buster Blackjack which is one of the many offshoot versions of this classic game.
With such an amazing selection of table games on offer, anyone who visits this casino will have no problem finding something that piques their interest.
Minimum bets for table games vary from one game to the next. Guests can start wagering from as low as $5 for many of the classic games. The minimum bets at the high-limit tables can range from $25 to $100 depending on the game and table.
Slots
If you're looking for the best experience while visiting this casino, look no further than the popular slot machines they have available.
For example, Cash Express Luxury Line – Buffalo is sure to keep you entertained with touchscreen lighting, exciting bonus rounds and a chance to win big.
Additionally, Dragon Link – Happy & Prosperous gives players the chance to find their own riches as they anticipate impressive rewards like progressive jackpots. There's also Fu Lu Shou Land Of Wealth and Rakin' Bacon Deluxe, full of interesting visuals that lead to amazing wins.
Last but not least lucky O'Reilly and Wolf Run Eclipse bring an extra sparkle of excitement with their colorful aromas and outstanding payouts that are sure to impress.
This casino offers a slightly above-average payback percentage for its slot machines. The overall payout rate is 91.84% for all the machine games. This is higher than most other casinos in Las Vegas, making it one of the better places to play slots.
Hotel/Resort
Their hotel offers a unique combination of Las Vegas glamour and old-world charm. The hotel features 4,302 guest rooms, including suites that have been recently renovated with modern amenities and upgraded décor.
In addition to the comfortable accommodations, the hotel also offers a range of luxurious amenities such as an on-site spa, health club and pool. Guests can also enjoy a wide selection of fine dining options, world-class entertainment venues, and shopping outlets.
Guests can select from a variety of room types, all offering either a king or two queen-sized beds. Every room also offers stunning views of the Strip so you can see why everyone loves this place.
For those desiring even more amenities, their Stay Well suites provide luxurious comforts such as aromatherapy, advanced air purification and circadian lighting. Even better? Guests have access to the pool and spa any time they wish.
Plus, if you require more space, the resort has several amazing suites available. So whatever your needs might be, this casino resort has you covered.
The casino resort also offers a variety of amenities for its guests. These include:
24-hour front desk service
Complimentary WiFi throughout the hotel
On-site restaurants and bars
Fitness center
Pools and cabanas
Nightlife venues
Spa and salon services
Retail stores
A golf course
Business center
The cost of staying at this hotel depends on the type of room you choose and the time of year. During peak seasons, prices can be higher than average, whereas during off-peak times, they may be discounted.
Generally speaking, the cost of a standard room starts from around 29 per night. Prices also vary depending on the view you choose, with higher-priced rooms offering views of the Strip or nearby attractions.
Check-in time at Excalibur is 3:00 pm
Check-out time at Excalibur is 11:00 am
Restaurants & Buffets
This casino offers a variety of restaurants to choose from for any cuisine. From the lively atmosphere at TAP Sports Bar to a unique dining experience at Dick's Last Resort, there is something sure to please everyone.
Buca di Beppo provides authentic Italian eats, and The Roasted Bean is perfect to grab your favorite cup of joe. Baja Fresh lets you build your own burrito, and Johnny Rockets serves up all-American favorites if you are looking for some comfort food.
Drenched Bar & Grill provides an eclectic combination of flavorful dishes, and the Food Court satisfies whatever craving you have with quick bites and snacks. Don't forget about Orange Julius/Dairy Queen for all those sweet tooth cravings.
On top of that, they also offer buffet-style dining with The Buffet at Excalibur. This expansive buffet offers something for everyone, from classic American dishes to a wide array of international cuisines.
Prices are reasonable too—adults cost $35.99, while children cost only $18.99. All in all, their buffet is a great option when looking to get your fill of delicious dishes while taking in the sights and feels of Las Vegas's legendary casino scene.
Pools
Take a break and relax with family and friends in their pool area.
This oasis offers everything needed for some fun in the sun, with four stunning pools, a water slide, 19 cabanas stocked with chilled towels and other amenities to keep you cool, and 30,000 square feet of deck space that provides plenty of comfortable seating.
If you ever get too hot or thirsty, Drenched Bar & Grill is just stepping away, offering convenience snacks and a full-service bar.
Excalibur Casino Las Vegas, NV FAQ
Does Excalibur Casino Las Vegas Have A Sportsbook?
This casino is home to BetMGM Sportsbook, offering a variety of betting opportunities. You can place your bets at the casino on any number of sports, with live odds and lines on everything from football to baseball.
If you prefer to stay home or travel while placing bets, there's no need to worry – you can easily download the BetMGM app and wager through your mobile device. From NFL spreads to golf majors and everything in between, their BetMGM Sportsbook has something for everyone.
Is Poker Available At Excalibur Casino?
Yes, they offer live poker action and tournaments. This casino has a dedicated poker room that is home to daily cash games, tournaments and even special events like the WSOP Circuit.
You'll find all kinds of tables ranging from Texas Hold'em to Omaha Hi-Lo and many other variants. New players are welcomed with a free lesson on poker basics, so even if you've never played before, there's something for everyone.
What Are The Age Requirements For Gambling At Excalibur?
The legal gambling age at this casino in Las Vegas is 21. Any person under this age is not allowed to gamble or even be on the casino floor. It is important to have a valid ID in order to prove that you are legally allowed to gamble and drink alcoholic beverages.
Does Excalibur Have An Online Casino?
While the brick-and-mortar location offers a wide variety of options, not all gamers can make it out there to enjoy the atmosphere. Luckily, they won't have to miss out as they can download and play myVEGAS Slots on their mobile device or computer.
The app includes exclusive free gameplay, loyalty points, and other amazing rewards that can be redeemed for experiences at the Casino or for online purchases.
In addition, fans of the casino now have a chance to take part in its online version with myVEGAS Slots on the web. Both newbies and seasoned professionals alike will be able to access the casino directly from their desktops with this exciting spinoff.
Is There An Excalibur Casino Las Vegas App?
For Las Vegas visitors, there's the myVEGAS app for fun games and exclusive discounts, and for serious gamers, there's BetMGM. Through BetMGM, gamblers can access tables and slot machines online for a variety of classic casino games.
Both apps are user-friendly and make the casino experience more accessible than ever before. So download one of these apps on your next visit to Las Vegas and get ready for some real casino thrills.
What Is The Dress Code At Excalibur Casino?
The dress code at the casino is business casual. This means no tank tops, shorts or sandals for gentlemen and no flip-flops, torn jeans or revealing clothing for ladies.
However, you can wear comfortable clothes like jeans and sneakers as long as they look neat and presentable. As with all casinos in Las Vegas, it is important to remember that the dress code can change at any time.
Is There An Airport Shuttle Available From Excalibur?
Unfortunately, they do not offer an airport shuttle service. The best way to get from McCarran International Airport to this casino is by taxi or rideshare. For those looking for a more cost-effective option, you can take the public bus.
What Is The Smoking Policy At Excalibur Casino Las Vegas?
The smoking policy at this casino is strictly enforced. Smoking is only allowed in designated areas throughout the casino.
Smoking and vaping are not permitted inside any restaurant, bar or public area. Guests wishing to smoke must do so outdoors in the designated smoking patio or cigarette stations located near hotel entrances.
What Is The Pet Policy At Excalibur Casino?
This casino is pet friendly. However, there are rules that you must be aware of to ensure an enjoyable stay for everyone. Up to two dogs, less than 100 pounds total in weight, may accompany you, but a second dog fee will apply at check-in if bringing two dogs.
Please note that due to health code regulations, dogs (except service dogs) are not allowed in public areas except as passing through. For more information on the pet policy, please get in touch with the hotel directly.
Is Wifi Available At Excalibur?
Visitors of this casino can access Wifi as part of the daily resort fee. This is a great benefit for those who need to stay connected during their visit.
From checking emails to looking up directions to streaming your favourite music or TV shows, having constant Wi-Fi access allows you the freedom to do what you need. At the same time, you play away at the casino and enjoy everything else Las Vegas has to offer.
What Is The Cancellation Policy For Excalibur Casino Las Vegas?
Cancellations for their hotel must be made at least 48 hours prior to check-in. If you cancel within the allotted time, you will receive a full refund minus any applicable taxes and service fees. Any cancellations outside of this window may incur additional costs or cancellation penalties.
Conclusion
Excalibur Casino Las Vegas is a great place to enjoy the classic casino experience.
With its user-friendly apps, easy access to Wifi, and pet-friendly policy, it makes for an enjoyable stay no matter what kind of traveller you are. Be sure to check out their dress code and cancellation policies before your arrival so you can have a hassle-free time during your stay.
Take note of the smoking policy, too; so you can follow it properly to enjoy a pleasant stay for everyone. With that all said, we hope you have an amazing time during your visit to this casino.