Four Jacks Hotel & Casino Jackpot
Address: 1702 US-93, Jackpot, NV 89825
Phone Number: +1 775-755-2491
Website: www.fourjackshotel.com
Hours: Four Jacks Hotel & Casino is open Monday 7:00 am-11:00 pm, Tuesday 7:00 am-11:00 pm, Wednesday 7:00 am-11:00 pm, Thursday 7:00 am-11:00 pm, Friday 7:00 am-11:00 pm, Saturday 7:00 am-11:00 pm, Sunday 7:00 am-11:00 pm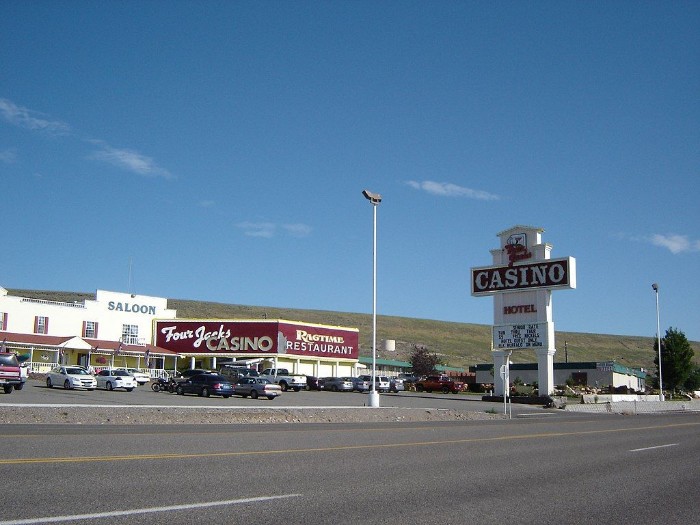 Four Jacks Hotel & Casino is a hotel and casino in Jackpot, Nevada that has been around since the 1950s. Throughout its long history, the casino has seen many changes and improvements over the years.
Today, the casino hotel is no longer the small roadside casino it once was. The hotel boasts various beautiful rooms and suites, with a variety of amenities to make your stay comfortable.
It features a spacious gaming floor with several slot machines, featuring both classic and new games. The casino also has a variety of table games such as Blackjack, Roulette, Craps, and more for those who want to try their luck. The property also includes an on-site restaurant, making it the perfect destination for a night out.
The hotel boasts over 60 guest rooms and suites, complete with modern amenities like flat-screen televisions and free Wi-Fi. Plus, the property is conveniently located near many local attractions, making it easy to explore the area while having a great time.
This casino provides an enjoyable experience for all of its guests, offering both classic and modern entertainment. With plenty of gaming options, delicious dining experiences, and comfortable accommodations, this casino hotel is the perfect destination for a weekend of fun.
Based on reviews from guests who have stayed at Four Jacks Hotel & Casino in Jackpot, NV, the overall rating is 4.5 out of 5 stars. One guest claimed, "The staff were very friendly and accommodating, and the rooms were clean and comfortable. Highly recommend!"
Another guest who stayed at the hotel said, "The casino itself was fantastic! Lots of fun games, great food, and incredible service. I highly recommend Four Jacks!"
(Related reading: Nevada casinos)
Gaming
This casino features a variety of slot machines, featuring both classic and new games. This includes video poker, slots, and video keno.
Table Games
This casino has a great selection of slots that you can play. No matter what your preferences are, there's sure to be something that you'll love at this location.
If you're looking for table games, unfortunately, they don't offer any. However, there are plenty of other casinos in the area with tables available should this be something you would like to experience.
Slots
At this casino, you will find a great selection of slot machines for everyone's gaming needs. It features 92 machines with some of the latest and greatest in multi-game video slots.
Aside from those, they also have Dollar Slots, Multi-denomination Slots, Nickel Slots, Penny Slots and Quarter Slots – ensuring that you can find something to fit your versatile playing style no matter what it may be.
Their friendly and knowledgeable support staff are always on hand should you need help. With so many slots to choose from, you're sure to find something that suits your needs.
The casino does not provide information related to its slot machine payback percentage. However, according to the Nevada Gaming Commission, all gaming machines in Jackpot must have a minimum return-to-player rate of 75%.
Hotel/Resort
This casino is the perfect destination for a vacation getaway. Their rooms are spacious and comfortable, offering queen-size beds with either smoking or non-smoking options, hair dryers, TVs with cable, telephones and WI-FI.
For those looking for an even more luxurious experience, they offer suites which include marble floors and walls in the bathroom area, a Jacuzzi, a stand-up shower, one king-sized bed and a fridge.
At this casino, you'll find a variety of amenities to make your stay comfortable. Some of these include:
Free Wifi
On-site restaurant
Free parking
ADA amenities
Nearby local attractions
The cost of staying at this hotel varies depending on the room type. Standard rooms start at $70 per night, while suites can cost more. Additional fees may also apply for certain amenities.
Check-in time at Four Jacks Hotel is 3:00 pm
Check-out time at Four Jacks Hotel is 12:00 pm
Restaurants & Buffets
Located in this casino, the Rag Time Café is a prime destination for diners looking for something different.
Whether you're stopping in for breakfast, lunch, or dinner you're guaranteed to find something to tempt your taste buds. The restaurant offers a wide selection of options featuring both classic dishes and dishes with modern twists.
From health-conscious meals to hearty comfort food, there's something for everyone here. And while they don't offer a traditional buffet, their daily specials are sure to impress with hearty fare that will satisfy even the pickiest eater.
Pools
This casino has so much to offer whether you are looking for the excitement of the gaming floor or the relaxation of a luxurious hotel room.
But if you're searching for the perfect swimming pool oasis, you may be disappointed – unfortunately, they do not have pools.
Fortunately, there are plenty of other hotels and resorts nearby that have inviting pools and even water attractions, like waterslides and splash pads.
Four Jacks Hotel & Casino, Jackpot, NV FAQ
Does Four Jacks Hotel & Casino Have A Sportsbook?
No, unfortunately, this casino does not have a sportsbook. However, guests can still enjoy all the excitement of the gaming floor or the relaxation of a luxurious hotel room.
And if you really want to explore the world of sports betting, you can always visit one of the other casinos in the area for a great experience.
Is Poker Available At Four Jacks Casino?
Although this casino doesn't offer traditional table poker, they have an impressive selection of video poker machines; all set up with the latest games and boasting comfortable seating.
So while you won't be playing against other players, you can still indulge in your favorite form of poker from the comfort of your own seat at this casino. Plus their great service and atmosphere always lend to a pleasant gaming experience.
What Are The Age Requirements For Gambling At Four Jacks?
The legal gambling age in Nevada is 21. To enter the casino you must be at least 21 years of age and show proof of identification. Guests under the age of 18 are not allowed to play slot machines, gamble, or visit areas where gaming takes place- this includes restaurants and lounges.
Does Four Jacks Hotel & Casino Have An Online Casino?
No, unfortunately, this hotel & casino does not have an online platform. However, you can still look forward to a great time when you visit in person.
With their vast selection of slot machines along with a range of amenities including free wifi and an on-site restaurant, you're sure to find lots of fun at this casino.
Is There An Four Jacks App?
No, this hotel & casino does not have an app. However, their website is full of great information about the property and its amenities. You can even book your room online through the website for a convenient experience.
What Is The Dress Code At Four Jacks Hotel & Casino?
This casino is a family-friendly establishment, so casual attire and jeans are allowed. However, guests must wear shirts with sleeves and pants or shorts that reach knee length or below. Hats are not allowed in the dining areas of the casino.
Is There An Airport Shuttle Available From Four Jacks?
Unfortunately, they do not offer airport shuttle services. However, the hotel can provide guests with details on local transportation options that are available for an additional fee.
Guests can also rent a car or take a taxi to and from the airport. For those looking for more luxury, the hotel can arrange limousine transfers- just contact them in advance to make arrangements.
What Is The Smoking Policy At Four Jacks Hotel & Casino?
The casino is a non-smoking facility and smoking of any kind is not permitted. This includes the gaming floor, restaurants, lounges, and all public areas. However, there are designated outdoor smoking areas available for guests who wish to smoke.
What Is The Pet Policy At Four Jacks?
Unfortunately, they do not allow pets on the premises. However, there is a selection of pet-friendly hotels in the area that can accommodate your furry friends during your stay. Additionally, service animals are welcome at the hotel and casino.
If you do bring a service animal, please be aware that they must remain on a leash or in a pet carrier while inside the property. Please also make sure to provide proof of your pet's vaccinations if requested by the staff.
Is Wifi Available At Four Jacks Hotel & Casino?
Yes, complimentary wifi is available throughout the property. Once you arrive and check in at the front desk, simply ask for the wifi network and password so that you can connect your device to their internet service.
What Is The Cancellation Policy For Four Jacks Hotel?
Guests may cancel their reservations up to 24 hours before their check-in date. If the reservation is cancelled after that time, the guest will be charged for one night's stay. Please note that all cancellations must be made through the hotel directly.
Conclusion
Four Jacks Hotel & Casino is a great place to enjoy some gaming and entertainment. With their wide variety of amenities, guests can look forward to an enjoyable stay whether they are visiting for business or pleasure.
Be sure to follow the age requirement, dress code, smoking policy and pet policy to ensure you have a pleasant experience at this Las Vegas hotel & casino. And don't forget to take advantage of the free wifi and other fantastic amenities available here.
With all that in mind, why not book your stay at this casino hotel today and start planning your Las Vegas getaway?