Four Queens Casino Las Vegas
Address: 202 E Fremont St, Las Vegas, NV 89101
Phone Number: +1 702-385-4011
Website: www.fourqueens.com
Hours: Four Queens Casino is open 24 hours a day, 7 days a week.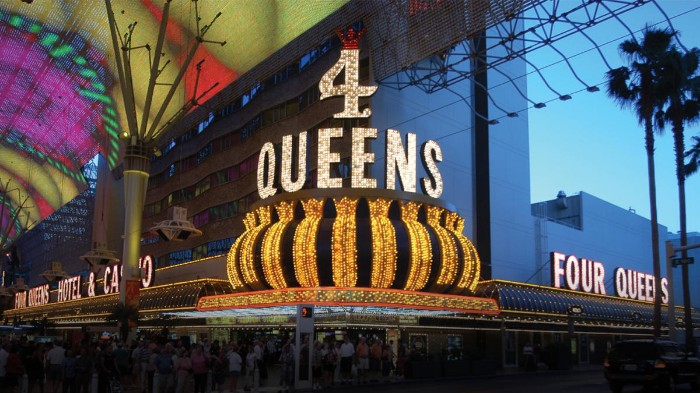 The Four Queens Casino Las Vegas first opened its doors in 1966. The original owner was the Elsinore Corporation, a company that is now known as the Hyatt Corporation. The name of the casino was chosen to honour the four daughters of its builder.
After several expansions and renovations, the casino has become a major player in the Vegas scene. It is now currently owned by TLC Casino Enterprises, after purchasing the property in 2003 from Elsinore Corporation.
The casino is home to hundreds of slot and video poker machines, as well as table games such as blackjack, craps, roulette, baccarat and more. The casino also features a sportsbook and poker tables.
The property houses a hotel with 690 luxury rooms and suites that are designed with a contemporary style and feature modern amenities such as high-speed Wi-Fi, flat-screen TVs and comfortable furniture.
Additionally, the establishment has various restaurants, lounges and bars on site. These include the world-famous Hugo's Cellar restaurant, which serves gourmet cuisine in an elegant atmosphere.
The casino also offers entertainment in its showroom and a variety of live acts. All in all, this is a great establishment for Vegas enthusiasts who want to experience the city's gambling and nightlife scene.
The casino has generally positive reviews from guests. Overall, most visitors give it an average rating of 4 out of 5 stars. One guest said, "This is a great place to stay. The amenities are modern and the staff is friendly. Plus, the casino offers plenty of games for all."
Another guest wrote, "I had an amazing time at Four Queens Casino Las Vegas. The hotel was luxurious, the food was great, and the staff was friendly. Plus, I had plenty of luck at the casino tables!"
(Related reading: Nevada casinos)
Gaming
This casino offers over 1,000 slot machines and video poker machines, with denominations ranging from one cent to $500. The table games available include blackjack, craps, roulette, baccarat and more.
Table Games
At this casino, you'll be spoilt for choice. Whether you're new to table games or an old pro, there's something here that'll get your heart racing.
For fans of the classic Las Vegas game of Craps, you can enjoy a traditional single-dice shoot-out in the middle of the casino. If you love Blackjack and are looking for something with a twist, try out their brand-new Blackjack Switch game.
They haven't forgotten about Roulette either – whether it's American or European Roulette, they have versions for both that are sure to keep adrenaline junkies on the edge of their seats.
And finally, if card games are more your style – take a spin on 3 Card Poker or Let-It-Ride to see if luck is on your side today.
The minimum bet for all table games at this casino is usually $5. However, some tables may have higher minimums on weekends and during peak times.
Slots
If you're looking to play a classic slot game with an innovative twist, the All That Glitters slot game at this casino is for you. With dazzling graphics, it has all of your favorite gems and jewels rotating on the reels, giving out some big wins.
Similarly, The Goonies gives you a nostalgic experience as you spin through the old-school movie characters alongside modern visuals and bonuses.
For something a little more whimsical, head to Lock it Link – Cats Hats & More Bats and take off into a fantasyland as cats juggle hats while bats hum tunes from atop symbols of skates and gold.
If that still doesn't satisfy your palate for gaming, try Silver Strikes' first progressive machine where colourful coins symbolize rewards as high as $999.
Lastly, for fans of board games everywhere looking to amp up their experience at this casino, there's Monopoly Jackpot Station – here you will find all your beloved familiar monopoly pieces alongside bonuses galore.
This casino does not provide an exact slot machine payback percentage as this information is not required to be reported by the Nevada Gaming Commission. However, it is estimated that slot machines in Las Vegas The Strip area have a minimum payback of 75%.
Hotel/Resort
Their hotel offers first-class accommodation with luxurious amenities. It features over 690 rooms, a heated outdoor pool and whirlpool spa, a fitness center, Jacuzzi suites, and a variety of dining options.
The rooms are offered in their two hotel towers – the North Tower and the South Tower. Both offer spacious rooms equipped with modern-day amenities, including complimentary Wi-Fi, flat-screen TVs, and luxurious bedding.
Their room types include:
South Tower Premium Room – features 1 king or 2 queens and a walk-in shower
South Tower Accessible Room – features 1 king or 2 queens, a walk-in shower and ADA amenities
North Tower Standard Room – features 1 king or 2 queens and a view of the city
Royal Suite – features a spacious room with 1 king, living area and heating and cooling system
Regal Suite – features a spacious room with 1 king, leather sofa bed, sitting area, a bar and a heating and cooling system
Additionally, the casino offers a wide range of amenities and services to ensure their guests have a comfortable stay. These include:
24/7 guest service desk
Onsite dining options
Swimming pool
Valet parking
Banquets and catering options
Gift shop
Live entertainment
The prices for hotel rooms at this hotel vary depending on the room type and time of year. Prices start from around $49 a night for standard rooms in the low season and can go up to $180 in the high season.
Check-in time at Four Queens is 4:00 pm
Check-out time at Four Queens is 12:00 pm
Restaurants & Buffets
Even though the casino does not currently offer a buffet, there are several restaurants to choose from. This property is a hot spot for locals and tourists alike.
Hugo's Cellar offers classic fare crafted with a modern twist for those looking for something traditional. Magnolia's Veranda offers a more romantic setting with made-to-order seafood dishes prepared by their renowned chef.
Guests wanting to relax and quench their thirst can try their hand at award-winning beers from Chicago Brewing Co., while Patio Bar serves up all your favorite cocktails al fresco, so you can see the iconic Vegas Strip right from your bar stool.
Pools
If you're looking for a swimming pool during your visit to this casino, you'll be pleased to know that although they don't have one on-site, they do offer pool access from their sister property, Binion's.
The luxurious pool at Binion's is easily accessible and provides all the amenities and services necessary for guests to relax and enjoy the sun.
Whether it's taking a dip or just finding a spot to lounge away from the casino floor, guests of the casino can refresh themselves at Binion's pool any time of day. With attentive staff and cozy cabanas, visitors will have everything they need to make the most of their stay.
Four Queens Casino, Las Vegas, NV FAQ
Does Four Queens Casino Have A Sportsbook?
If you're looking to place bets on all the hottest sports games and events while visiting this casino, you'll be happy to hear that the casino offers William Hill Sports Book services.
You can wager on any sport of your choice, from football and soccer to horse races and basketball, so there's something for everyone. Plus, you'll get unbeatable customer service when it comes to banking or placing a bet – highly trained staff are available to answer any question.
Is Poker Available At Four Queens?
This establishment has casino gaming available for its guests to enjoy. They don't have a dedicated poker room, but they do have plenty of poker tables dotted around the casino floor with various games on offer, such as Texas Hold'em and 3-Card Poker.
The atmosphere is always buzzing with excitement, and you can get involved with the action any day of the week – plus, experienced dealers manage all tables.
What Are The Age Requirements For Gambling At Four Queens Casino?
The age requirement to gamble at this casino is 21 years old. All guests will be asked to provide a valid form of identification upon entering the casino, such as a driver's license or passport. Anyone under the age of 21 will not be allowed access and must leave the premises immediately.
Does Four Queens Have An Online Casino?
This casino in Las Vegas is known for its luxury hotel and casino experience. But now, the fun doesn't have to end when you leave the casino. Their mobile app brings the same great slots from their floor directly to your device.
Plus, they offer exclusive promotions only available through their online version of the casino. So no matter where you are with an internet connection, you can still revel in the stimulating gaming atmosphere only found at this casino.
Is There An Four Queens Casino App?
Yes, there is a special app available for guests and players at this casino. The app is completely free to download and use on your phone or tablet device.
The app allows you to keep track of all the games you are playing in real-time, view upcoming promotions and tournaments, redeem rewards points, and stay up-to-date with the latest news and events.
What Is The Dress Code At Four Queens?
The dress code for this casino is casual. However, guests should avoid wearing any clothing that may offend others, such as offensive shirts or overly revealing attire. Flip flops and sandals are also not allowed on the casino floor.
Is There An Airport Shuttle Available From Four Queens Casino?
This casino does not offer an airport shuttle, however, there are a number of other transportation services available in the area.
Guests can book a ride with Uber or Lyft, rent a car from one of the nearby rental companies, or take a taxi to and from the Las Vegas Airport. Additionally, The Deuce bus service runs along the Las Vegas Strip and stops at this casino, making it easy to get around the city.
What Is The Smoking Policy At Four Queens?
This establishment does not allow smoking inside the casino. Guests can smoke outside in designated areas, but smoking is prohibited on the gaming floor. Electronic cigarettes are also not allowed.
What Is The Pet Policy At Four Queens Casino?
The property does not allow pets inside the casino, with the exception of service animals. All service animals must be duly certified and have proper identification. Additionally, all service animals must be kept on a leash and under the owner's control at all times.
Is Wifi Available At Four Queens Casino?
Yes, this establishment offers free wifi to all its guests. The service is fast and reliable, making it easy to stay connected while on the property. The network is available in all public areas of the casino, including restaurants and bars.
What Is The Cancellation Policy For Four Queens?
At their hotel, you can make changes or cancel up to 12 noon on your arrival date. If you have booked through a 3rd party then you will have to look into the rules and regulations of that company for more information on cancellations.
Conclusion
Four Queens Casino in Las Vegas is a great place to visit for an exciting and luxurious gaming experience.
The casino offers slots, table games, tournaments and more for guests of all ages. There is also an online casino available through the property's mobile app, providing exclusive promotions and rewards.
For those looking to stay at the hotel, there is a cancellation policy in place allowing for changes and cancellations up to 12 noon on the date of arrival. With all this in mind, this casino is a great choice for anyone looking to have a wonderful time in Vegas.