Gold Country Inn & Casino Elko
Address: 2050 Idaho St, Elko, NV 89801
Phone Number: +1 800-621-1332
Website: www.maverickgaming.com/gold-country-inn
Hours: Gold Country Inn & Casino is open 24 hours a day, 7 days a week.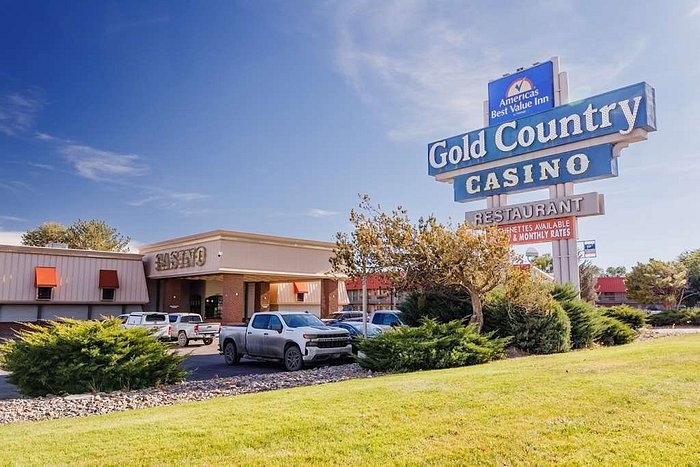 Gold Country Inn & Casino began as a small hotel and casino located off the beaten path in Elko, Nevada. As the years passed, it has become one of the most renowned entertainment destinations in all of Northern Nevada.
Currently, the property is owned and operated by Maverick Gaming, a leading gaming enterprise with properties in North Las Vegas and other parts of the state. The casino features slot machines, video poker, and more.
The property offers accommodations for guests who would like to stay overnight or for extended periods of time. The hotel offers a variety of rooms, from standard guest rooms to larger suites with amenities like complimentary breakfast and free Wi-Fi.
The casino also has an on-site restaurant that serves several delicious cuisines in a family-friendly atmosphere. There are also several bars and lounges located throughout the property for a more relaxed atmosphere.
Additionally, the establishment offers various amenities and activities, such as a fitness center, live entertainment and an RV park. This casino is proud to offer top-notch customer service that makes sure each guest leaves feeling satisfied.
With its convenient location close to downtown Elko, this casino is the perfect place to stay whether you are in town for business or pleasure. From the moment you enter, you can count on a comfortable and relaxing stay with all the amenities you need for a wonderful visit.
According to customer reviews, this casino has an overall rating of 4.5 out of 5 stars. Guests have said, "The hotel was clean, the staff was friendly, and the casino had plenty of options to choose from."
And another reviewer noted, "The accommodations were great and the location is perfect for exploring Elko."
(Related reading: Nevada casinos)
Gaming
This casino features a 24-hour gaming floor with over 400 slot machines, as well as video poker and table games.
Table Games
If you're looking for traditional table games at this casino in Nevada, you might come up a bit short. Unfortunately, this establishment only offers slots.
If you're still hoping to have an exciting night of gaming, the slot selection is wide and varied – there's sure to be something that will draw your attention.
Slots
At this casino, you will find a great selection of popular slot machines. Many people love to play Buffalo Xtreme Mystery for its eye-catching graphics and exciting bonus rounds. Others enjoy spinning their luck on the classic Wolf Run game.
Those with a taste for adventure can try Cash 'M If You Can, with its unique board game feel. Of course, there are Lightning Jackpots to keep things energized and Wheel of Fortune to test your ability to win big.
Prefer fantasy? Try Lord of the Rings or Avatar-themed slots. And if that wasn't enough, there's also Keno and Video Poker to test your skills.
Currently, this casino does not report its slot machine payback percentage. However, they follow the Nevada state regulations for gaming, which require all slot machine payouts to be set at a minimum return-to-player rate of 75%.
Hotel/Resort
This casino is also a great place to stay when you're in Elko. The hotel offers comfortable guest rooms and suites, each with its own unique amenities.
All rooms are equipped with free Wi-Fi, cable television, air conditioning, and coffee makers. Guests can also enjoy complimentary breakfast at the on-site restaurant.
Guests can choose from Deluxe King Beds and Deluxe Two Queen Beds for comfort and convenience. Premium King Beds with all the trimmings offer a more exclusive experience.
Single Queen Bedrooms are sleek and modern, while Handicap Two Queen Suites provide extra accessibility features. To accommodate larger families or groups, there are Two Queen Suites and Handicap King/Queen Suites.
For something truly unique, the Family Suite and Two Queen Kitchenettes have you covered. With a fully-equipped kitchenette, they are the ideal choice for longer stays.
The casino offers a wide range of amenities that make it the perfect destination. Some of them include:
24-hour gaming floor
24-Hour bar/lounge
Full-service bar and restaurant
Laundry facilities
Fitness center
Nearby local attractions
RV park
When it comes to the cost of staying at this hotel, prices vary depending on room type. Standard rooms start from as low as $60 per night and can go up to $100 for deluxe accommodations.
Check-in time at Gold Country is 4:00 pm
Check-out time at Gold Country is 12:00 pm
Restaurants & Buffets
Although they do not offer a buffet, the casino does have an on-site restaurant that serves delicious American cuisine. The menu features everything from classic dishes to specialty items like handcrafted wood-fired pizzas and freshly caught seafood.
JR's is the perfect spot for an unforgettable experience. Enjoy a romantic dinner for two or get together with family or friends for an unforgettable celebration; the accommodating staff will make sure your visit is top-notch.
This restaurant offers an extensive menu with something for everyone, and we highly recommend trying the Carrot Cake, Chocolate Cake, and Cinnamon Rolls.
Pools
Although it does not offer a pool, there are plenty of activities available to you and your travel party. Enjoy the casino games and machines, or take part in one of the interactive tournaments.
With so much to keep you and your family entertained, there's no need for a traditional pool. Relax in air conditioning or venture out into Virginia City for some incredible history and breathtaking landscapes.
Gold Country Inn & Casino, Elko, NV FAQ
Does Gold Country Inn & Casino Have A Sportsbook?
No, this casino does not have a sportsbook. However, guests can still enjoy an extensive selection of casino games, slots and tournaments.
Is Poker Available At Gold Country Casino?
If you're looking to play some poker at this casino, you may be disappointed. Unfortunately, the casino does not feature any traditional table games, only video poker.
However, they do have plenty of other fun gaming options available, like slots and video keno that can provide a fun evening of entertainment.
Even if you don't feel like gambling away your evening, it is still a great place to check out for its modern amenities and excellent restaurant located inside.
What Are The Age Requirements For Gambling At Gold Country?
The legal age for gambling at this casino is 21. All guests must have valid identification to enter the casino and must be of legal age in order to participate in any gaming activities.
Guests under the age of 21 are not allowed on the casino floor or any other areas with gaming activities.
Does Gold Country Have An Online Casino?
No, they do not have an online casino. All of their gaming activities are available on-site at the casino.
If you are interested in playing online casino games, you will have to look elsewhere. You can find many online casinos that offer a variety of games, including slots, poker, blackjack, and roulette.
Is There An Gold Country Inn & Casino App?
No, there is not a Gold Country Inn & Casino App currently available. All of their gaming activities are available on-site at the casino.
If you want to keep up with the latest news and promotions from Gold Country Inn & Casino, you can visit their website or follow them on social media. They typically post updates about upcoming events and promotions on their website and social media accounts.
What Is The Dress Code At Gold Country?
The dress code for the casino area is casual. Guests should make sure to wear comfortable clothing and closed-toed shoes and avoid items with offensive messages or logos.
In the restaurant, guests are encouraged to dress up a bit more in semi-casual attire. Jackets and ties are not required but may be worn for special occasions.
Is There An Airport Shuttle Available From Gold Country Inn & Casino?
The establishment provides an airport shuttle for those flying in and out of the area. If you are looking for convenient transportation from and to the airport, this is the perfect solution.
The hotel staff can provide more information about pick-up times and availability when you contact them by phone or email.
What Is The Smoking Policy At Gold Country?
The casino is a non-smoking establishment. All areas of the property are smoke-free, including bars and restaurants. If you do wish to smoke while on the premises, there is an outdoor smoking area located away from public areas that can be used for this purpose.
What Is The Pet Policy At Gold Country Inn?
They do offer an accommodating pet policy for their valued guests. If you're travelling with your beloved pet, you can rest assured knowing that your furry friend is welcome.
For more information about the specific policies and procedures for bringing a pet to the resort, please get in touch with the property directly. By speaking directly to one of their friendly staff members, you can ensure that your stay is as seamless and stress-free as possible.
Is Wifi Available At Gold Country?
Yes, wifi is available to all guests at no extra charge. Guests will be able to connect quickly and easily on their own devices while they stay in their hotel.
For more information about the WiFi connection or any other questions, you may have, please feel free to contact their hotel staff directly.
What Is The Cancellation Policy For Gold Country Inn & Casino?
You may need to contact the property directly for information about their exact cancellation policy, as they are not publicly listed.
The hotel staff can provide more information about their cancellation policy when you call or email them directly. They will be able to help answer any questions or concerns you may have about your stay.
Conclusion
Gold Country Inn & Casino is a great place to stay for those visiting the area. With an accommodating pet policy, free WiFi, and an on-site casino, you'll be sure to have an enjoyable experience during your stay.
For more information about the resort, its amenities and services, or to book a room, contact the property directly. They will be happy to answer any questions you may have and help you plan your perfect getaway.
Take note of their cancellation policy and dress code so that you can plan accordingly for your stay. Once you've booked, you'll be able to relax and enjoy all that this casino hotel has to offer.