Gold Dust West Casino Carson City
Address: 2171 E William St, Carson City, NV 89701
Phone Number: +1 775-885-9000
Website: www.gdwcasino.com/Carson/
Hours: Gold Dust West Casino Carson City is open 24 hours a day, 7 days a week.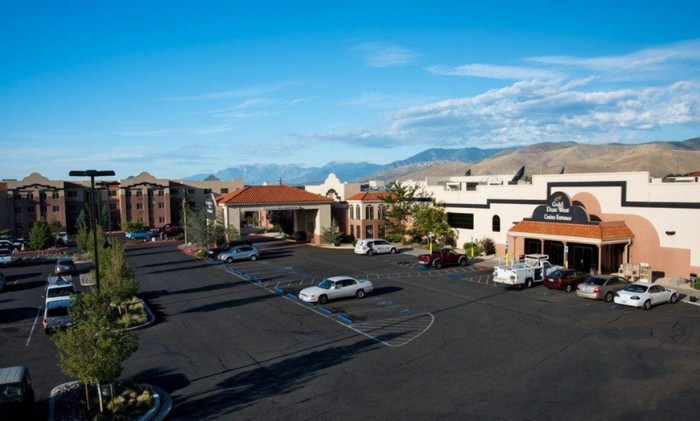 Gold Dust West Carson City is one of Nevada's most iconic casinos. The casino was first established in 1995 and has been providing a fun, exciting atmosphere ever since.
Initially known as Pinon Plaza Hotel Casino, the casino has gone through several changes throughout its history. Eventually, the casino underwent a renovation and was rebranded as what we now know today as Gold Dust West Casino.
The casino is currently owned by Jacobs Entertainment, and it offers a wide variety of games including video poker, slot machines, table games, keno and more. They also offer bowling lanes, a cafe and an RV park.
They also offer lodging options for those who wish to stay and enjoy the casino atmosphere even longer. The rooms are decorated in a western style with warm colors that evoke feelings of comfort and hospitality.
Guests can also enjoy multiple dining options that will surely satisfy their taste buds. From the steakhouse to the cafe, you can find something for everyone.
This property is proud to be one of Nevada's best casinos and looks forward to continuing its tradition of excellence. Whether you are looking to play some games or just enjoy a great meal, they are sure to provide an enjoyable experience.
On TripAdvisor, the casino currently holds a 4 out of 5-star rating. One guest mentioned, "The casino is awesome! Lots of games and friendly staff. The food was great too!"
Another guest commented, "The Gold Dust West Casino is a great place to go for an evening of fun. The staff was friendly, the games were entertaining and the food selection was excellent."
(Related reading: Nevada casinos)
Gaming
This casino offers a wide variety of gaming options, from classic slot machines and video poker to table games like blackjack and roulette. They also offer a keno lounge that allows you to try your luck at something new.
Table Games
At this casino, you can enjoy playing a variety of fun table games. For starters, there's the classic game of Black Jack with your choice between single or double decks.
If you're feeling particularly lucky and daring, give Craps a try. There's an exciting worldwide following for this dice game and they offer plenty of seating for those wanting to join.
And if card games are more your style, then 3-card Poker is a sure bet – featuring three cards in each hand and offering great payouts as well.
The table game minimums at this casino vary depending on the game, but generally range between $5 and $25.
Slots
This casino offers a wide selection of slot machines, from classic to the latest and most popular games. Some of their top choices include:
Megabucks
Egyptian Gold
American Pride
Easy Street
Addams Family
Wheel of Fortune
Although the casino does not release information regarding the exact slot machine payback percentages, they certainly follow the Nevada Gaming Commission's regulations which require all casinos to have a minimum payout return of 75%.
Hotel/Resort
This casino hotel offers guests a wide range of rooming options. From deluxe suites with views to standard rooms, there's something for everyone.
The hotel staff are friendly and accommodating, with many amenities such as a pool and hot tub located on the premises. They also offer great discounts for extended stays, so if you're looking to stay a while, this is definitely the place.
All rooms have been recently renovated and feature flat-screen TVs with satellite programming, an alarm clock and complimentary Wi-Fi access. Plus, the distinctive western decor will make you feel right at home.
Whether you're looking for a basic room or one with all the extra amenities, they have something that will fit your needs. Their Standard King or Queen rooms are cozy and comfortable, while their Superior King or Queen rooms offer some extra space and luxury.
For even more luxurious suites while you stay, enjoy their Queen Suite, King Suite, and 2 Room Suite. If you want a truly special experience during your vacation, book one of the many spa rooms available, such as their Queen Spa Suite, King Spa Suite, and 2 Room Spa Suite.
At this hotel, you can find plenty of amenities to keep you entertained. Some of the amenities provided include:
Free Wi-Fi access
A pool and hot tub
In-room spa features
24-hour fitness center
Onsite restaurant
RV park
Bowling alley and tournaments
The rates vary depending on the type of room you choose. Rooms start as low as $100 per night, and that would go higher depending on the type of room you choose. Taxes and fees are also applicable.
Check-in time at Gold Dust West is 3:00 pm
Check-out time at Gold Dust West is 11:00 am
Restaurants & Buffets
Even though they do not offer buffet services, guests can enjoy their two onsite restaurants. The Grille is the perfect spot for a casual dining option with delicious American-style cuisines like steak, burgers, and salads.
At Olé Olé you can enjoy classic Mexican dishes like tacos, burritos and enchiladas along with tequila flights or choose a bottle from the wide selection of specialty cocktails.
Whichever restaurant you choose to visit at this casino, you're sure to have an amazing dining experience.
Pools
This casino is a great place to visit if you're looking for fun and relaxation in the same getaway. Their pools are top-notch with an outdoor swimming pool designed with lots of beautiful features like elegant tiling and stunning landscaping.
This is a perfect escape from the hustle and bustle of everyday life – lying on a sun chair or jumping into the cool, refreshing water. You can soak up some sunshine while lounging around or take fragrant walks through their surrounding gardens.
Gold Dust West Casino Carson City, NV FAQ
Does Gold Dust West Casino Have A Sportsbook?
If you're looking to make your next getaway to this casino all the more exciting, be sure to check out the William Hill Sports Book located on-site.
This dynamic sportsbook will allow guests to not only watch their favorite sporting events and place bets but also enjoy heaters for individual seating and betting terminals with updated lines and odds.
In addition, there are plenty of TVs showing several different sports events throughout the space – so no matter what game you're interested in following – you won't miss a beat.
Is Poker Available At Gold Dust West Casino Carson City?
Yes, this casino offers a variety of poker games and tournaments. They also offer special promotions throughout the year that can help you stay up to date on all the latest poker news and events.
What Are The Age Requirements For Gambling At Gold Dust West?
To be allowed to gamble at this casino, guests must be 21 years of age or older. All guests are asked to show valid identification upon entering the casino. Guests under the age of 18 are prohibited from gambling.
Does Gold Dust West Casino Carson City Have An Online Casino?
No, this casino does not have an online casino. However, they do offer a rewards program for their guests that will allow them to earn points and redeem them for various rewards like discounts on meals and more.
Is There An Gold Dust West Casino App?
No, they do not currently have an app. However, they do offer a rewards program for their guests that will allow them to earn points and redeem them for various rewards like discounts on meals and more.
What Is The Dress Code At Gold Dust West?
The dress code is casual. Guests should refrain from wearing any clothing items that are considered inappropriate or offensive, such as t-shirts with profane, obscene, or suggestive words and images.
Is There An Airport Shuttle Available From Gold Dust West Casino?
Unfortunately, this casino does not offer an airport shuttle service. Guests will need to arrange for their own transportation to and from the airport.
Guests can also check with local cab and ride-share companies to arrange for transportation. Additionally, there are several public transportation options available in the area.
What Is The Smoking Policy At Gold Dust West?
This casino is a smoke-free facility. There are designated smoking areas outside the premises where guests may smoke. All guests and staff are required to follow the rules when it comes to smoking at this casino.
What Is The Pet Policy At Gold Dust West Casino Carson City?
Unfortunately, pets are not allowed on the premises of this casino. Service animals that provide necessary assistance to persons with disabilities are allowed and must be properly identified.
The casino asks that all guests respect the rules and regulations regarding pets so that everyone can have a safe and enjoyable time at this casino.
Is Wifi Available At Gold Dust West Casino?
Yes, this casino offers free Wi-Fi throughout the premises. Guests can connect to the casino's secure network in order to access and use the internet while they are onsite. Guests can reach out to the casino's staff for further information and help with connecting to the network.
What Is The Cancellation Policy For Gold Dust West?
Their cancellation policy is straightforward: provided your booking is cancelled at least 24 hours before check-in time, you won't be charged for your room. Cancellation within this timeframe, however, will result in a fee equivalent to one night's room and tax being charged to the guest.
Conclusion
Gold Dust West Casino Carson City offers a variety of games and tournaments for poker fans, rewards programs for loyal guests, and plenty of amenities like free Wi-Fi.
So if you're looking for an exciting place to have some fun and potentially win big, this casino is the perfect spot. Be sure to review the age requirements, dress code, smoking policy, pet policy, and cancellation policies to ensure you have an enjoyable time at the casino.
Remember all these details, grab your lucky hat and head out to this casino for an unforgettable time.