Gold Dust West Casino Reno
Address: 444 Vine St, Reno, NV 89503
Phone Number: +1 775-323-2211
Website: www.gdwcasino.com/reno/
Hours: Gold Dust West Casino Reno is open 24 hours a day, 7 days a week.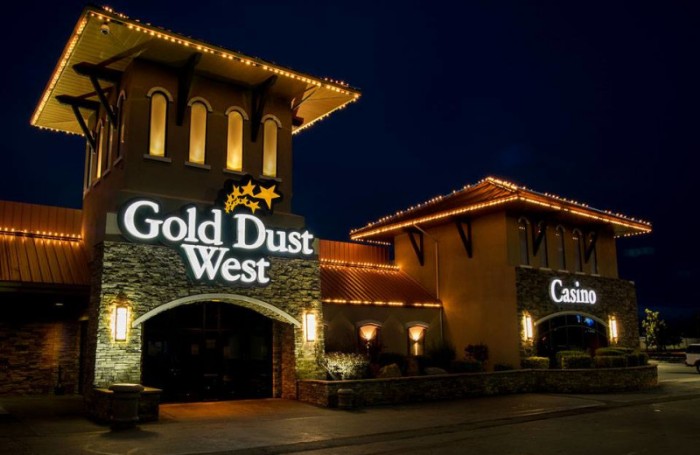 Gold Dust West Casino was established in 1977, making it one of Reno's oldest casinos. It has been a major part of the city's entertainment district for over 40 years, and regularly offers great promotions and exciting gaming activities.
The property is currently owned and operated by Jacobs Entertainment, which has made significant updates to the gaming floor, dining areas, and bar. It is also conveniently located on Vine Street near downtown Reno, just off Interstate 80.
The casino features a variety of gaming options, featuring over 450 slots, table games, bingo and a full-service sports book. The property also has two restaurants that serve delicious meals that would tantalize any appetite.
Whether you're looking for a great place to eat, watch the game or just have some fun, this casino is sure to please.
On average, ratings of this casino range between 3 – 4 stars out of 5 on various review sites. One guest claimed, "This casino has a great atmosphere, good food and friendly staff. The slots are always up-to-date with the newest games. I would definitely recommend this casino!"
(Related reading: Nevada casinos)
Gaming
This casino features over 450 slot machines, bingo and a full-service sports book. Guests can also join their player's club to receive promotions, and discounts and earn points.
Table Games
If you're looking for table games such as blackjack, poker or roulette, this casino is not the place to be. Unfortunately, they only offer slots and bingo but it's a great place to have fun.
You'll find the latest games with exciting features and progressive jackpots so you still get an unforgettable casino experience. Don't forget about their wide selection of delicious drinks and tasty snacks.
Slots
If you are visiting this casino, you will find a diverse selection of slots to choose from.
Popular slot machine favorites include titles such as Cats, 5 Dragons, Aladdin and the Magic Quest, Quick Hit Red Free Games Fever and Double Dragon Frenzy. There's something for everyone with options ranging from 1-cent games to $1 offerings.
Video poker players will also be spoiled for choice, while fans of keno can try their luck too. If it's even more excitement you are after, then check out the fantastic video reels or classic slot reels available.
The payback percentage of slot machines at this casino is not publicly available, but according to the Nevada Gaming Commission, the minimum payback percentage for slot machines in the area should be 75%.
That means that a minimum of 75% of all money bet on slot machines must be paid back to players over time. However, this casino likely has higher-paying slots due to its selection of more current games.
Hotel/Resort
Conveniently located in the heart of Reno, this casino is the perfect spot for a weekend getaway. While it does not have an onsite hotel, there are a variety of hotels nearby that guests have the opportunity to check out during their stay.
From the Desert Rose Inn Reno to the Courtyard Inn and the Motel 6 Reno West, guests can find the perfect accommodations to complete any casino experience.
For those looking for a larger venue filled with amenities and games, they should consider the Sands Regency Casino Hotel located conveniently nearby.
Restaurants & Buffets
If you're looking for a casual dining experience that really stands out, consider the two restaurants at this casino.
The Grille offers up delicious American cuisine with breakfast served all day. Enjoy specialty pancakes, sandwiches, and burgers with choices for vegetarians as well.
For a different flavor, check out Tacos Tijuana. Enjoy homemade Mexican specialties like tacos al pastor or carne asada burritos – all made fresh every day. And be sure to top off your meal with one of their house-style margaritas that come in either classic lime or mango flavored.
However, the casino does not currently offer a buffet, but these restaurants are sure to satisfy anyone's appetite.
Pools
If you're looking to take a dip during your stay at this casino, you'll be disappointed – this hotel does not offer pools. Instead, it's full of all sorts of other exciting amenities and attractions that patrons can take advantage of.
Whether it's slots, bingo or sports betting that you're after, this casino has it all. And with its convenient location in the heart of Reno, it's easy to take advantage of nearby hotel accommodations and restaurants should guests want a more extensive casino experience.
Gold Dust West Casino Reno, NV FAQ
Does Gold Dust West Casino Have A Sportsbook?
For sports betting aficionados who are visiting Reno and looking for a great place to make their wagers, this casino's William Hill Sports Book is the perfect destination. Offering the latest odds from all popular sporting events worldwide, this venue has something for everyone.
With plenty of TVs broadcasting the games and an entire wall dedicated to providing up-to-the-minute race & sports results, it's easy for guests to stay informed as they make their picks.
The friendly staff is always on hand to provide assistance and support new bettors in making smart decisions.
Is Poker Available At Gold Dust West?
Yes, poker is available at this casino, but in the form of video poker. The casino has a variety of different machines to accommodate every player. Moreover, their staff are knowledgeable and always ready to help out any players that need clarification on how to play the games
What Are The Age Requirements For Gambling At Gold Dust West Casino?
Gambling is only allowed for those 21 years or older. A valid ID that shows the player is at least 21 years old must be presented before play can begin. Furthermore, minors are not allowed to remain on the casino floor even if they are accompanied by an adult.
Does Gold Dust West Have An Online Casino?
No, this casino does not currently offer an online version. However, they do have a variety of slots, and other gambling activities available in the physical casino for patrons to enjoy.
Additionally, many of these games are updated regularly to add more variety and keep the casino experience fresh and exciting.
Is There An Gold Dust West App?
No, there is no app associated with this casino. However, they do have an interactive website that allows users to view any upcoming events, promotions, and more.
The website also contains a section dedicated solely to the William Hill Sports Book so guests can check out all the latest odds without having to leave the comfort of their homes.
What Is The Dress Code At Gold Dust West Casino?
This casino has a casual dress code. Patrons are expected to dress appropriately and refrain from wearing any sort of offensive clothing that may be deemed inappropriate by the casino staff.
Additionally, guests are asked to remove hats and sunglasses while inside the casino floor so as not to obscure their identities when gambling.
Is There An Airport Shuttle Available From Gold Dust West Casino Reno?
Unfortunately, the casino does not provide any sort of shuttle service to and from the airport. However, there are plenty of taxi services available that can take guests directly to their destinations.
Additionally, the casino is only a short drive away from the Reno-Tahoe International Airport, making it an easily accessible destination for travellers.
What Is The Smoking Policy At Gold Dust West?
The casino does not allow smoking inside the premises, including in the gaming areas. Patrons are asked to step outside for a smoke break or use one of the designated smoking areas located on the casino floor.
What Is The Pet Policy At Gold Dust West Casino?
This casino does not allow pets on its premises. Patrons are asked to leave any pets at home or in the care of a designated pet sitter while visiting the casino.
If you need to bring a service animal, you must present documentation from a medical professional to validate the animal's presence. The casino staff will then review the paperwork before granting access.
Is Wifi Available At Gold Dust West Reno?
Yes, free wifi is available for all guests at this casino. Patrons can easily connect to a secure network and take advantage of fast connection speeds when browsing online or streaming content.
For further assistance, the casino has a friendly customer service staff that is always willing to provide any assistance or guidance needed.
What Is The Cancellation Policy For Gold Dust West?
As there is no advance reservation required for most of the activities and games at this casino, no cancellation policy is in place. Patrons are welcome to leave whenever they wish without any penalty or fee.
Conclusion
Gambling at Gold Dust West Casino Reno is a great way to have fun and try your luck.
The casino has strict requirements for gambling, an interactive website with all the latest info, a casual dress code, and free wifi available throughout the premises. Furthermore, they do not allow smoking inside or any pets on the casino floor.
For those looking to visit the Reno-Tahoe area, this casino is a great place to check out. Just remember all the rules and regulations before playing any games or participating in any of the activities.