Gold Ranch Casino Dayton
Address: 755 Old US Hwy 50, Dayton, NV 89403
Phone Number: +1 775-246-9696
Website: www.goldranchdayton.com
Hours: Gold Ranch Casino Dayton is open 24 hours a day, 7 days a week.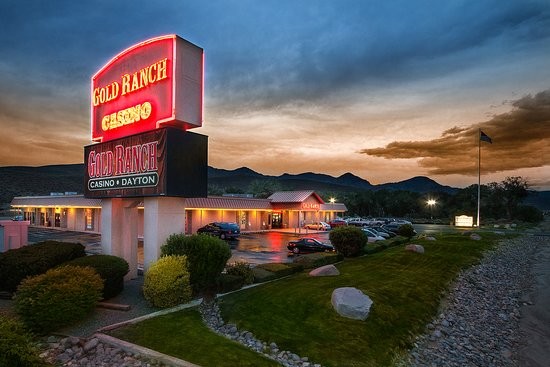 Gold Ranch Casino Dayton is a long-standing part of the Nevada gambling landscape. It first opened its doors in 2013 and has been offering a wide selection of gaming options ever since.
It is currently owned and operated by Truckee Gaming, a company that specializes in operating casinos and gaming facilities in Nevada. The casino has grown over the years and now offers a full range of slots and other amenities to guests.
The casino is located on Old US Hwy 50 near the city of Dayton. It offers several slots, video poker, and keno. There's also a full-service restaurant on site that serves breakfast, lunch, and dinner.
This casino is a great place for visitors and locals alike to enjoy some gaming. With its extensive selection of games and amenities, it's sure to provide an enjoyable experience for all who come through the doors.
They have a 4.5 out of 5-star rating from guests on Google Reviews. Guests have said, "The staff was friendly and helpful. The food was good, the drinks were cold, and the gaming machines were loose."
Another review says, "Great place to go for a night out with friends. The staff is friendly and helpful, the atmosphere is always lively, and there's plenty of games for everyone."
(Related reading: Nevada casinos)
Gaming
This casino offers a variety of slot machines, video poker, and keno. They also have several progressive jackpots to offer winners who hit the right combinations.
Table Games
This casino is a great place to have some fun and try your luck. Unfortunately, there are no table games available; however, the casino is delighted to offer an expansive selection of slot machines.
With dozens of poker-themed and Vegas-style machines to choose from, you're sure to find something that appeals to you. Whether you prefer classic three-reel slots or elaborate five-reel video slots with countless bonus features, they have it all.
Slots
This casino is well known for its impressive selection of slot machines.
Whether you're looking for classics like Colossal Wizards, Li'l Red, Forbidden Dragons and Queen of the Wild II or something more modern like Lazer Lock Ice Sapphire, you'll find all your favorite slot machine games at this casino.
If you're feeling a bit adventurous, why not try Spartacus Gladiator of Rome? With huge payouts and exhilarating gameplay, it's no wonder why this is one of their most popular slot games.
They currently do not publish their slot machine payback percentage. However, since they are a gambling establishment in the state of Nevada, their payouts should be at least 75%.
Hotel/Resort
For those looking to visit this casino, there is no onsite hotel. However, guests don't have to look far for accommodations as there are several nearby hotels that can provide a comfortable stay.
These include the Gold Dust West Carson City, Silverland Inn & Suites, The Federal Hotel, Ascend Hotel Collection and Virginia City Inn. All of these are within a 30-minute driving distance from the casino and offer showers and WiFi among other amenities.
For those looking for a quick spin at the slots or table gaming in this region of Nevada, this casino surely offers an exciting and memorable experience with plenty of nearby guesthouse options.
Restaurants & Buffets
This casino offers two unique dining experiences the cozy Como Café and the exciting Como Bar.
The Como Café serves up a menu of delicious full-flavored dishes like beef tenderloin, pan-seared trout, crab cakes, and fresh salads to create satisfying meals for all appetite sizes.
Meanwhile, the Como Bar provides a lively atmosphere full of tasty treats, drinks, and conversation. But best of all is their commitment to quality–they don't have a buffet because they want each person to be able to enjoy freshly cooked meals just as they are served at home.
If you're looking for some delicious eats and an inviting setting at this casino, head on over to either the Como Café or the Como Bar—you won't be disappointed!
Pools
This casino might be known for its slot machines and table games, but unfortunately, it does not offer any pool facilities. If you're looking for a fun place to cool off in Dayton, why not try a nearby lake or river?
There are plenty of opportunities in the surrounding area to swim, float and soak up the sun. Whether you take a day trip or want to stay several days nearby, Nevada has plenty of scenic lakeside getaways and water parks that provide endless amounts of fun in the sun.
Gold Ranch Casino Dayton, NV Pools FAQ
Does Gold Ranch Casino Have A Sportsbook?
If you are looking for a sportsbook in Dayton, this is the place to go. They have partnered up with the renowned William Hill Sportsbook to provide you unbeatable access to some of the best sports betting and wagering options available.
With hundreds of exciting sporting events from around the world and competitive odds that guarantee value for your money, this partnership between the casino and the sportsbook is sure to cater to any sports fan's needs.
Is Poker Available At Gold Ranch Casino Dayton?
If you're looking for poker at this casino, unfortunately, you won't find a traditional poker room or poker tables. However, they do offer video poker games throughout the casino.
This provides an interesting way to enjoy the game of poker and all its different variations without actually having to be seated at a physical table. Video poker is fun and easy to play and can give players some added excitement due to its fast-paced nature.
For those who love the game of poker, but don't want the intensity of live tables, playing video poker at this casino is definitely worth checking out.
What Are The Age Requirements For Gambling At Gold Ranch?
The legal gambling age in this casino is 21. As such, anyone under this age cannot enter the casino floor or participate in any of the gaming activities available at the casino.
Moreover, it is important to note that guests must provide a valid ID upon entry as proof of age. This helps ensure that all patrons are of the legal age to gamble and properly informs them of their rights as casino patrons.
Does Gold Ranch Casino Dayton Have An Online Casino?
No, the casino has not yet launched an online casino. For now, the only way to enjoy all of the different gaming opportunities that this casino has is to visit them in person.
However, they have been expanding their services and offerings over the years and launching an online casino could very well be part of their future plans.
Is There An Gold Ranch Casino App?
No, this casino does not currently have an app. However, the website is optimized for mobile devices and can be accessed from any smartphone or tablet.
The website provides users with full access to all the information they need regarding gaming activities, special offers, events, and more. This makes it easy to stay up to date with what's going on at the casino, no matter where you are.
What Is The Dress Code At Gold Ranch?
The dress code for this casino is casual. While there isn't a strict dress code, it's important to be respectful of the other guests and staff members when visiting.
T-shirts, shorts, jeans and comfortable footwear are all appropriate attire when visiting the casino floor. However, avoid wearing any clothing that might be seen as offensive or insulting.
Is There An Airport Shuttle Available From Gold Ranch Casino Dayton?
Unfortunately, there is no shuttle service available from the airport to this casino. However, you can arrange for a taxi or rideshare service to get you to the casino and back.
Additionally, you can also rent a car from the airport and drive to the casino yourself. The drive will take approximately 10 minutes depending on traffic.
What Is The Smoking Policy At Gold Ranch?
The smoking policy at this casino is that it is a smoke-free establishment. This means that no smoking of any kind is allowed on the casino floor or in any public area of the casino. However, there are designated outdoor smoking areas if you need to light up while visiting the casino.
What Is The Pet Policy At Gold Ranch Casino Dayton?
Unfortunately, pets are not allowed at this casino. This is to ensure the safety and comfort of all casino guests and staff members.
However, service animals are always welcome at the casino as long as they remain on a leash or harness throughout their visit. As such, those who require assistance from a service animal should contact the casino ahead of time to make the necessary arrangements.
Is Wifi Available At Gold Ranch Casino?
Yes, wifi is available at the casino and is free for all guests. There are multiple access points throughout the casino floor so you can easily stay connected while playing your favorite video slots.
What Is The Cancellation Policy For Gold Ranch?
As there is no hotel attached to this casino, there is no cancellation policy for reservations. However, it is important to note that any event or package reservations should be cancelled in advance if you find yourself unable to attend.
You can try calling the casino directly to arrange any cancellations, as well as further information on their policies and procedures.
Conclusion
Gold Ranch Casino Dayton is a great destination for those looking to try their luck at a variety of casino games. With its wide selection of video slots and special events, there's always something new and exciting happening.
The casino also offers free wifi access, as well as designated smoking areas for those who wish to smoke while on the casino floor. Finally, there is no strict dress code, so guests can feel comfortable while they play and enjoy themselves.
Overall, this casino offers a great gaming experience for all kinds of players. Whether you're looking to win big or just have some fun with friends, this is the perfect place to go.