Gold Ranch Casino, Verdi
Address: 320 Gold Ranch Rd, Verdi, NV 89439
Phone number: +1 775-345-8880
Website: https://www.goldranchrvcasino.com/
Hours: The casino is open 6 am-7:30 pm Monday to Thursday and 6 am-8 pm Friday and Saturday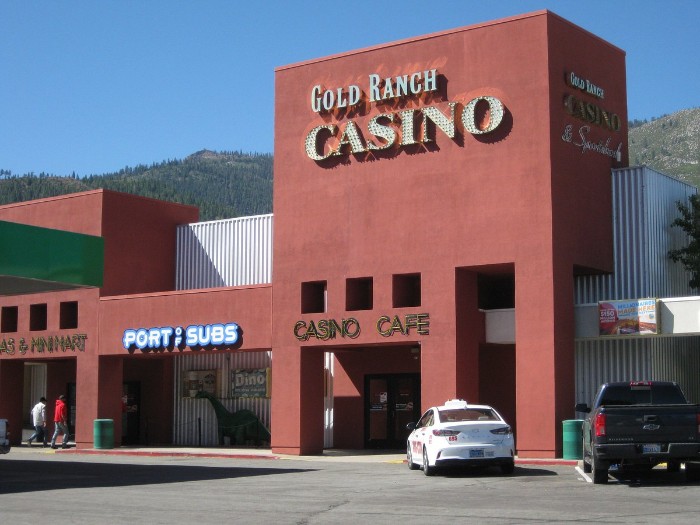 Gold Ranch Casino has been providing high-quality entertainment for over 40 years. Located in the small but vibrant town of Verdi, Nevada, the casino has been a favorite among locals and tourists alike since it opened its doors in the 1970s.
The casino offers a wide selection of gaming options, including 250 slots, video poker, and specialty games. There is also a sportsbook that features live simulcast betting on horse racing and greyhound racing from around the world, as well as other classic sports.
In addition to its casino gaming offerings, Gold Ranch Casino has a variety of other amenities designed to make your visit enjoyable. There are several places to grab a bite to eat and drink, as well as an outdoor pool, hot tub, and fitness center.
The casino also has a gift shop, live music performances on the weekends and special events throughout the year. The RV park is incredibly spacious, with 105 fully paved sites and a 24-hour convenience store. It is pet-friendly, with full hookups and access to free wireless internet.
Whether you're looking for slot machines or sports betting action, Gold Ranch Casino has something for everyone. With its friendly staff, great amenities, and exciting gaming options, Gold Ranch Casino is sure to provide its guests with a unique experience they won't soon forget.
Gold Ranch Casino, Verdi, has been highly rated by its guests over the years and currently has 4.2/5 stars on Google Reviews. The casino offers a safe and secure environment for gamers of all ages and experiences to enjoy, and it is well-known for its friendly staff and great amenities.
(Related reading: Nevada casinos)
Gaming
This casino offers a wide selection of slots for guests to enjoy in addition to an excellent sportsbook and exciting promotions that you'll want to get your hands on.
Table Games
There are no table games at this casino. However, there are plenty of slots and opportunities to bet on your favorite sports team.
Slots
At this casino, you can find a variety of slot machines to choose from. With over 250 machines, video poker, and incredible promotions, this is the kind of casino floor that will get the adrenaline pumping as you race to hit the jackpot.
Popular titles include:
Buffalo Stampede
Double Diamond
Wheel of Fortune
Cleopatra
Coyote Moon
Quick Hits
While this casino claims to have the loosest slots in Nevada, they have not made their payback percentage available to the public. Nevada law states the minimum payback percentage for casinos is 75%, but you will normally find that they are 90% or higher.
Hotel/Resort
The casino does not offer a hotel or resort but has an RV park with plenty of amenities for guests. There are 105 paved sites with full hookups, as well as access to free wireless internet and a 24-hour convenience store.
Additionally, the RV park has a pool and hot tub for those looking to relax after a long day of gaming. The RV area is pet-friendly and there are plenty of pet-friendly trails in the surrounding area for you and your pup to explore.
No matter what you're looking for, this casino has it all. Whether you're in the mood for a night of gaming or simply want to relax after a long day, this is the perfect spot for your next trip.
Some of the amenities you can expect to find at the casino and RV park include:
Plenty of parking (including wide spaces)
Pet-friendly
Full hookups
Restaurants and cafes
Clubhouse with fireplace
Heated pool
Jacuzzi
Live entertainment
24-hour convenience store
Gift shop
Promotions
The cost to stay at Gold Ranch Casino varies depending on the type of accommodation you are looking for. The RV park prices start from $45 per night and do not include tax or other fees. The casino also offers discounted rates when guests book two nights or more.
Check-in time at Gold Ranch is 2:00 pm
Check-out time at Gold Ranch is 12:00 pm
Restaurants & Buffets
The casino offers plenty of dining options for everyone. For budget-friendly fare, Sierra Cafe and Jack-in-the-Box provide quick meals at great prices.
If you're looking for a more elevated experience, Port of Subs offers delicious, made-to-order sandwiches as well as salads and sides.
For coffee lovers, the Gold Ranch Coffee Bar serves up locally roasted blends along with other warm refreshments. No matter what type of food you're craving, the restaurants at this casino have you covered.
Pools
Its pool and Jacuzzi area is one of its biggest attractions and an amenity sure to please every guest. The heated pool provides swimmers with a comfortable escape, while the Jacuzzi offers a relaxing experience at all times of the year.
It's the ideal place to recharge after playing some games or simply indulging in some much-needed rest and relaxation.
Gold Ranch Casino, Verdi, NV FAQ
Does Gold Ranch Casino Have A Sportsbook?
This casino is an exciting gambling destination for many. It has become even better with the addition of a sportsbook. Guests can now place wagers on all the major sports events they love watching and following.
The sportsbook offers lively energy and plenty of opportunities to win some serious cash. Gold Ranch Casino also facilitates live betting, allowing visitors to experience the thrill of changing their bets while the game is still in play.
This makes it a great spot for seasoned bettors and those who want to make money while having fun.
Is Poker Available At Gold Ranch Casino, Verdi?
Unfortunately, the casino does not have poker available for its patrons. However, if you're looking for a fantastic gaming experience in the area, the casino offers hundreds of slot machines, and video poker is available.
What Are The Age Requirements For Gambling At Gold Ranch Casino?
At this casino, the legal age for gambling is 21 years of age. Anyone under this age is not allowed to participate in any form of gambling.
To enter the casino and participate in any gambling activity, guests must be 21 years old or older. Furthermore, valid government identification will be required at entry to ensure compliance with the established regulation.
Does Gold Ranch Have An Online Casino?
The casino does not currently have an online casino. Although the casino offers a wide variety of traditional table games and slot machines, there are no digital options available at this time.
However, they offer many great promotions and bonus offers that customers can take advantage of when visiting the physical location.
If you are looking for an exciting and convenient way to enjoy your favorite casino games from home, there are several highly-rated online casinos available with many excellent features and bonuses.
Is There a Gold Ranch Casino App?
If you're looking for a casino app, you won't find one. If you want to explore all the rewards the casino offers, your best option is to visit their website.
The browser-based version of the casino is available on desktop and mobile devices, so no matter where you are or what device you have, it's easy to access everything that Gold Ranch Casino has for its players.
Plus, with a wide range of games and promotions, there's something for everyone at Gold Ranch Casino, and it's sure to keep you entertained.
What Is The Dress Code At Gold Ranch Casino, Verdi?
The dress code at the casino is casual. You can feel free to wear comfortable clothing, such as shorts and t-shirts when visiting the casino.
However, it's important to note that no swimwear or revealing clothing is allowed in the establishment. All guests must adhere to the dress code to ensure a safe and enjoyable experience for everyone.
Is There An Airport Shuttle Available From Gold Ranch Casino, Verdi?
No, the casino does not offer an airport shuttle service. However, Gold Ranch Casino is just a short drive away from both Reno-Tahoe International Airport and Sacramento International Airport.
What Is The Smoking Policy At Gold Ranch Casino?
The casino is a non-smoking establishment. Guests are not allowed to smoke anywhere on the premises, and there are no designated smoking areas.
If you need to step outside for a cigarette break, you can do so, but please be aware that smoking is prohibited within 300 feet of the entrance door.
What Is The Pet Policy At Gold Ranch Casino, Verdi?
Unfortunately, pets are not allowed inside the casino. This is to ensure the safety of all guests and staff members.
If you have a service animal, they will be permitted inside with prior approval from management. Please contact the casino directly if you need assistance in this area. The RV park is pet friendly, so you can still bring your furry companions along for the fun.
Is Wifi Available At Gold Ranch Casino?
Yes, guests can access the casino's complimentary wifi network. All you need to do is log in with your email address and a valid password, and you'll be connected in no time.
The wifi connection is fast enough to surf the web, watch videos online, or play your favorite casino games on mobile devices.
What Is The Cancellation Policy For Gold Ranch RV Resort?
Cancellations at the casino must be made at least 48 hours before your scheduled arrival date to avoid being charged for a night.
If you need to cancel a reservation, be sure to get in touch with customer service as soon as possible. Guests who do not cancel their reservation in time may be charged for the full amount of their stay.
Conclusion
Gold Ranch Casino, Verdi, is an excellent destination for casino gaming, dining, and entertainment. With a wide selection of games, promotions, and bonus offers, there's something for everyone at this Nevada hotspot.
Plus, the convenient location near Reno-Tahoe International Airport makes it easy to get to the resort.
Whether you're looking for a night of fun, or want to enjoy the great outdoors, Gold Ranch Casino, Verdi has it all. Just remember to adhere to the dress code and smoking policy, and you'll have an amazing time.