Golden Gate Casino Las Vegas
Address: 1 E Fremont St, Las Vegas, NV 89101
Phone Number: +1 702-385-1906
Website: www.goldengatecasino.com
Hours: Golden Gate Casino is open 24 hours a day, 7 days a week.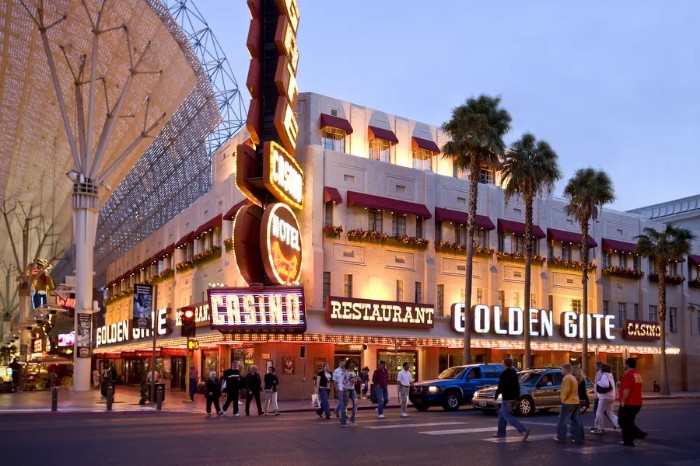 The Golden Gate Casino is the oldest casino in Las Vegas and has a long history that dates back to 1906. Originally called the Hotel Nevada, the establishment was built by John F. Miller and the casino was added in 1907 it quickly became popular with local gamblers and visitors alike.
Later, in 1955, after several changes in ownership, the hotel was renamed The Golden Gate and opened with a new gaming section. This marked the beginning of what is now known as the iconic casino.
Currently, it is owned by Derek and Greg Stevens from Desert Rock Enterprises. The casino has been a staple in Las Vegas and has been featured in several movies, TV shows and commercials. It remains a popular destination for visitors to experience the best gambling that Vegas has.
Their 12,000 square feet of casino space gives players the chance to play a variety of gaming tables, slot machines and video poker. They also offer live entertainment including shows, music and comedy acts.
The hotel itself offers over 100 rooms and suites equipped with modern amenities and comforts for guests' convenience. It also offers multiple dining options, a spa and gym, a pool, and other amenities.
The casino is the perfect place to stay for anyone who wants to experience the best of Las Vegas. Whether you're an experienced gambler or just looking for some fun and entertainment, the casino is sure to have something that appeals to everyone.
On average, it has a rating of 4 out of 5 stars on various online review sites such as TripAdvisor and Yelp. Most of the reviewers say, "The Golden Gate Casino has all the amenities you need, from gaming tables and slots to entertainment shows and food options."
Another reviewer said, "I had a great time at Golden Gate Casino. The rooms were comfortable and the staff was friendly and helpful. I'll definitely be back!"
(Related reading: Nevada casinos)
Gaming
This casino features a variety of gaming tables, slots and video poker. Visitors can also find a fully-stocked sports book for those who want to bet on their favorite teams or events.
Table Games
If you're looking for an exciting night of table games, then look no further than this place. This bustling casino has it all – from classics like craps and blackjack to the more exciting 3-card poker or Let It Ride.
On top of their broad selection, players can bet with 10X odds on dice and a blackjack payout at 3 to 2. What really puts this casino on the map though is its record-breaking roulette tables – this is home to a lucky player who made the biggest roulette bet in Las Vegas history.
The minimums at this casino can vary depending on the time of day and the type of game you're playing. Generally speaking, visitors can start playing most games for as little as $5.
Slots
At this casino, visitors can find a variety of slot machines to choose from. Some of the most popular games include:
Buffalo
Buffalo Stampede
Buffalo-Cash Express Gold Class
Rome And Egypt
Thundering Buffalo
The Hangover
The Simpsons
The current slot machine payback percentage at this casino is based on the state of Nevada's minimum payback percentage requirement, which is currently set at 75%. This means that players can expect to win back an average of 75% of their total slot machine bets.
Hotel/Resort
Their hotel offers visitors over 100 rooms and suites equipped with modern amenities and comforts for guests' convenience. The hotel is known for being the oldest hotel in Las Vegas, and it has been featured in several movies and commercials.
Some of the features included in their rooms are flat-screen TVs, complimentary Wi-Fi, mini-fridges, and comfortable beds. They offer accommodations to suit your needs and preferences. Every guest is sure to find a room that fits their budget and lifestyle.
Their Standard Guest Rooms are designed with comfort in mind- every room offers all the amenities required for a pleasant stay, including luxurious linens and air conditioning.
If you're looking for something more exclusive, try one of their Suites. These beautiful rooms come with added perks, such as an extra bathroom and a large walk-in closet.
For an even more special experience for family or friends, their Penthouses provide sweeping views of the city, complete with fully furnished living space and kitchenette.
Additionally, the casino has a variety of amenities to offer guests. These include:
24/7 concierge
High-speed wifi
Restaurants and bars
Swimming pool
Salon and spa services
Fitness center
Business center
Meeting facilities
The price to stay at this hotel varies based on the type of room and time of year. Room rates start for as low as $24 per night, plus taxes and fees. Higher rates may apply to weekends, holidays, and special events.
Check-in time at Golden Gate is 3:00 pm
Check-out time at Golden Gate is 12:00 pm
Restaurants & Buffets
Even though they currently do not offer buffet dining, they do have several restaurants to choose from. Each of their restaurants offers a wide range of flavors and cuisine for breakfast, lunch and dinner.
Nacho Daddy serves up homemade tortilla chips, chile con queso and fantastic Mexican fare. Pizza Rock offers Neapolitan pizza cooked in wood-fired ovens alongside their pasta, charcuterie platters and specialty cocktails.
Project BBQ provides delicious carvery classics like pulled pork sandwiches, beef brisket tacos, and baby back ribs sourced from local farms and butchers.
Also, head over to Le Thai for succulent marinated meats perfectly complemented by flavorful sauces and sides such as steamed Brussels Sprouts and PB&J fried rice.
Lastly, enjoy the nostalgic atmosphere of 7th & Carson, where comfort foods collide with cutting-edge cuisines like citrusy ancho parmesan wings or Seoul-style bulgogi steak fries.
Pools
This establishment in Las Vegas is a fantastic spot to have some fun and relax. One of the most popular attractions of the establishment is the D Pool.
This pool area offers plenty of lounge chairs, cabanas, and tables to provide hours of entertainment and relaxation. Guests can also enjoy live music during the parties hosted at the pool.
On the other hand, you can also enjoy their other pool, which is a much quieter and more relaxed atmosphere compared to the D Pool. You can take a dip in their hot tub or relax under one of their cabanas.
Whether you're in town for a getaway or want an exciting day at the pool, be sure to check out all that the casino has to offer.
Golden Gate Casino Las Vegas, NV FAQ
Does Golden Gate Casino Las Vegas Have A Sportsbook?
This casino offers sportsbook options for those looking to make some fun active bets. Circa Sportsbook is the go-to spot for the best in-game wagering with continuously updated lines and bet types.
With easy access areas at the casino's floor from reels to seat changes, Circa also offers a mobile app, The Circa Sports App – giving you the power to compare lines, look up upcoming games, or review current betting odds right in your pocket.
Is Poker Available At Golden Gate Casino?
Yes! This casino offers a poker room with tables that can accommodate several players. You'll find a variety of tournaments, and cash games available in the poker room, including Texas Hold'em and more.
There are also plenty of promotions and special events that run throughout the day, making it easy to find a game at any time. The casino also offers complimentary lessons for those who are new to the game or looking to brush up on their skills.
What Are The Age Requirements For Gambling At Golden Gate Casino?
Gambling age requirements vary by state. In Nevada, individuals must be 21 or older to gamble at a casino. Photo identification is required, and all guests must meet the legal age requirement before they enter the casino grounds.
Does Golden Gate Casino Las Vegas Have An Online Casino?
No, the casino does not currently offer an online casino. As Nevada regulations change, there may be opportunities to create online gaming options for patrons in the future.
For now, you will need to visit the physical casino location in order to participate in any of their table games or slot machines.
Is There An Golden Gate App?
Unfortunately, they do not have an app of their own. However, if you're interested in taking your favorite sports bets on the go, Circa Sportsbook has released a mobile app that lets users do just that.
You can deposit and withdraw any amount of cash you like right from your phone or tablet and bet on your teams and sports games with ease.
What Is The Dress Code At Golden Gate Casino Las Vegas?
The dress code at this casino is relatively relaxed. Guests are encouraged to dress comfortably and should avoid anything overly revealing or offensive.
Casual attire such as jeans, t-shirts, and shorts are allowed in the casino, but you may be asked to leave if your clothing is deemed inappropriate.
Is There An Airport Shuttle Available From Golden Gate?
Unfortunately, there is no airport shuttle available from this casino. The closest airport is McCarran International Airport, located about 15 miles away.
If you need to get to or from the airport, your best bet is to take a taxi or use a ride-sharing service such as Uber or Lyft. This will be the most cost-effective and convenient option.
What Is The Smoking Policy At Golden Gate Casino?
The casino has a strict non-smoking policy throughout the facility. This includes all areas of the casino, including its gaming floors, restaurants, and bars.
Smoking is allowed in designated areas outdoors, such as the terrace or one of their cabanas. For those looking to light up, there are several smoking lounges available for you to enjoy your cigar or cigarette in comfort.
What Is The Pet Policy At Golden Gate?
Unfortunately, they do not allow pets on their premises. This includes all areas of the casino, including its gaming floors, restaurants, and bars.
Service animals are allowed in accordance with applicable law. All service animals must remain on a leash or harness at all times and cannot be left unattended.
Is Wifi Available At Golden Gate Casino Las Vegas?
All guests at their hotel are offered complimentary wifi in their rooms, ensuring that you stay connected throughout your entire visit. Not only that, but there is also complimentary wifi in the public spaces of the casino for all visitors.
What Is The Cancellation Policy For Golden Gate?
All cancellations must be made at least 24 hours prior to the scheduled arrival date. If you cancel within 24 hours of your arrival, a one-night room and tax charge will be applied to your credit card.
Conclusion
Golden Gate Casino Las Vegas offers a variety of gaming options and amenities to its guests.
It is important to review their policies regarding age, dress code, smoking, pets, wifi, and cancellations in order to ensure that you have the best possible experience while visiting this casino.
By taking the time to familiarize yourself with these policies beforehand, you can make the most of your visit and enjoy all that this casino has to offer.