Golden Nugget Casino Laughlin
Address: 2300 S Casino Dr, Laughlin, NV 89029
Phone Number: +1 702-298-7111
Website: www.goldennugget.com/laughlin/
Hours: Golden Nugget Casino Laughlin is open 24 hours a day, 7 days a week.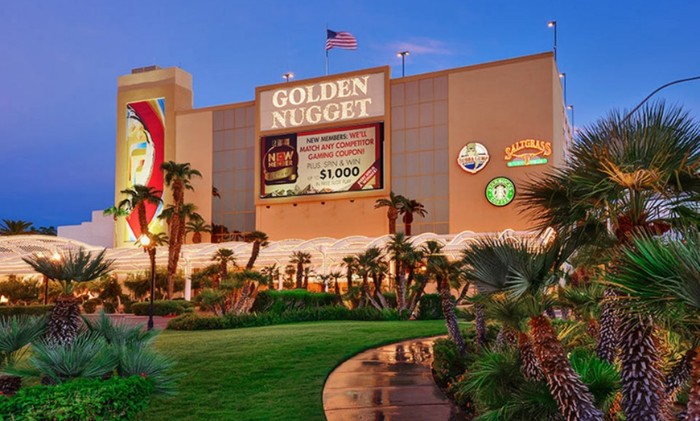 This casino is part of the Golden Nugget family, one of the most recognizable names in gaming and hospitality. The casino was established in 1967 on a scenic bend in the Colorado River, located just outside of Bullhead City, Arizona.
Formerly named the Nevada Club, the casino was founded by Del Webb Corporation and was eventually sold to the property in 1988. After being acquired by the Golden Nugget, the casino's name was officially changed to the Golden Nugget Casino Laughlin.
The casino has grown over the years to feature several slot machines and table games. It also features a full-service bar and restaurant, multiple bars and lounges, a poolside cabana area, as well as entertainment options such as live music performances.
Additionally, they offer luxurious accommodations in their hotel resort, which feature a variety of amenities including high-speed internet access and even an outdoor pool. Guests can also enjoy casino privileges, including a loyalty program and some of the best gaming promotions in town.
Today, this establishment is one of the top casinos in Nevada and provides an unforgettable experience for its guests with exciting gaming action and luxury accommodations. It continues to be a favorite destination for tourists and locals alike.
On average, guests give the casino a rating of 4 out of 5 stars. One guest claimed, "It's always a great time at the Golden Nugget. The staff are friendly and helpful, the games are fun, and their hospitality is top notch."
Another review reads, "This casino is an excellent place to gamble. I've been here a few times and every time I have had a great experience. The staff are friendly and helpful, the games are fun, and they have some of the best promotions in town. Highly recommended."
(Related reading: Nevada casinos)
Gaming
This casino offers a wide selection of gaming options. They feature over 700 slot machines and video poker machines. Additionally, they are home to several table games, such as blackjack, roulette, craps and more.
Table Games
When you visit this casino, you can enjoy some exciting table games. Whether you're a fan of classic card games like Three Card Poker and Blackjack or something more exotic like Fortune Pai Gow and Roulette, there's something for everyone.
No matter your skill level or bankroll size, patrons at this casino are sure to have an enjoyable experience. If you're looking for action-packed excitement that only a casino can provide, look no further than this casino.
The minimum bet for most table games at this casino is $5. However, some tables have higher or lower minimums depending on the game being played. Be sure to ask a floor supervisor if you are unsure about the minimum bet for a particular game.
Slots
If you're looking for a great gaming experience, this casino is a great place to go.
The casino offers a wide selection of amazing slot machines and video poker games, including reel slots, video slots, progressive slots, and several popular titles like Gold Bonanza and Beverly Hillbillies Millionaire Mile.
No matter what type of gaming experience you're looking for, there's sure to be something that suits your needs at this casino.
With all these great choices available and different levels of betting limits, there's no doubt that everyone will have an enjoyable time playing slots at this casino.
This casino offers a minimum slot machine payback of 75%. This is in accordance with the Nevada Gaming Commission regulations. The actual payback percentage of any given machine may be higher or lower than the minimum, depending on the game and/or location in which it is placed.
Hotel/Resort
This casino offers more than just great gaming options. Their hotel and resort feature luxurious guest rooms, an outdoor pool, multiple on-site restaurants and more for anyone looking to stay the night.
Their rooms are all equipped with modern amenities and décor, as well as high-speed Wi-Fi. Guests can also enjoy 24-hour room service and access to their casino's pool area, cabanas, and nearby attractions.
Guests can choose from three different types of rooms: the Terrace Rooms, the Courtyard Rooms and the Riverview Rooms. Relax and enjoy your stay in the luxurious King Room, or if you're looking for something a bit smaller, the cozy Queen Room is perfect for couples traveling together.
On top of that, this casino also offers a wide range of amenities to enhance your experience. Some of the amenities offered include:
24-hour room service
High-speed Wi-Fi
Multiple onsite restaurants and lounges
Casino entertainment and nightlife options
Dry Cleaning Service
Retail shops
Swimming pool
Gift shop
The cost of staying at this hotel depends on the room type and number of nights you choose to stay. Generally, guests can expect to find weekday rates for rooms starting at $59 per night.
Weekend rates are slightly higher, and taxes and fees may apply. There are also special offers and deals available, so make sure to check the website for more information.
Check-in time at Golden Nugget Casino Laughlin is 4:00 pm
Check-out time at Golden Nugget Casino Laughlin is 11:00 am
Restaurants & Buffets
It is unfortunate that the casino does not currently have a buffet, but there is no shortage of delicious dining options. Fancy a steak? Saltgrass Steak House serves up hearty steaks and even heartier sides in a comfortable western-style atmosphere.
Ready for some comfort food that's familiar to your taste buds? At Claim Jumper, you'll find an expansive menu from burgers to Sunday brunch, including vegan and gluten-free options.
If you're in the mood for something unique and flavorful, you have got to try out Bubba Gump Shrimp Co., serving up all kinds of seafood dishes inspired by the classic movie Forrest Gump.
Of course, if all that isn't enough, there's also Bean & Bread, a contemporary bistro stocked with delectable concoctions of hand-crafted sandwiches, delectable salads and tasty treats. Rest assured that you can find what you need at this casino resort.
Pools
This casino hotel offers its guests a great experience with its three pools. For those seeking an exclusive experience, the H20 Pool is perfect.
Enjoy some of the most spectacular views and let their staff pamper you with cabanas available for rent, including lounges, tables and chairs. Relax further with a drink or snack from the H20 bar right beside the pool.
Whether it's for a refreshing swim on a hot day or soaking up some sunshine in the beautiful Laughlin sun, their pool is sure to give guests an unforgettable time.
Golden Nugget Casino Laughlin, NV FAQ
Does Golden Nugget Casino Laughlin Have A Sportsbook?
If you're planning a trip to this casino, you'll be pleased to know that the venue is home to a Race & Sportsbook.
Here, you can enjoy tucking into delicious food as you place your bets on everything from American favorites like the NFL and NBA to mixed martial arts and horse racing.
And, of course, the laid-back atmosphere means that all friends are welcome too so you can get competitive together as you play out a race day or game night.
Is Poker Available At Golden Nugget Casino?
Yes, poker is available to play at this casino. They also offer several daily poker tournaments and cash games that are very popular with players.
You can also find a wide selection of popular video poker machines in the casino as well, so there's plenty to keep you entertained during your visit.
What Are The Age Requirements For Gambling At Golden Nugget?
The minimum age for gambling at this casino is 21. All guests must provide valid identification upon entering the casino and will be required to show it before playing any game.
Does Golden Nugget Casino Laughlin Have An Online Casino?
This casino does not currently have an online casino. However, they have launched a mobile app that allows players to access their sportsbook, promotions and special offers. This app can be downloaded on both Android and iOS devices.
Is There An Golden Nugget Casino App?
Yes, this casino does have a mobile app available for both Android and iOS users. The app allows you to stay connected with the casino's latest promotions and special offers.
Plus, you can access their sportsbook, check in on your favorite games, and even receive notifications about upcoming events.
What Is The Dress Code At Golden Nugget?
The dress code at this casino is neat and casual. Guests are encouraged to dress comfortably and respectfully while in the casino, but there is no formal attire required. Denim jeans, shorts, and other casual clothing options are all accepted.
Is There An Airport Shuttle Available From Golden Nugget Casino Laughlin?
Unfortunately, there is no airport shuttle available from this casino. However, taxis and ride-sharing services are readily available in the area for guests to make use of.
Additionally, visitors can arrange for private transportation (such as limousines) to and from the airport if they wish.
What Is The Smoking Policy At Golden Nugget Casino?
This casino has a no-smoking policy in place. Guests are asked to respect the rule, as smoking is not allowed anywhere in the casino or on the premises. However, there are designated smoking areas on the property for guests to make use of.
What Is The Pet Policy At Golden Nugget?
Their policy is designed to ensure a safe and enjoyable experience for both four-legged guests and their owners.
Up to two small to medium-sized dogs can enjoy their stay in a limited number of pet-friendly rooms; each room has superior amenities that make your furry friend feel right at home. Pets must be declared at the time of check-in and signing of the pet agreement.
If you have any additional questions or require more clarification on the policies, we recommend calling the hotel directly for all the details.
Is Wifi Available At Golden Nugget Casino Laughlin?
Whether you are looking to check your emails during a business trip or get caught up on social media during your stay, Wi-Fi is provided throughout the entire hotel so that you can easily keep connected with whatever matters most to you.
For those who may need assistance with setting up and accessing the wifi, friendly customer service representatives at the hotel's front desk are always ready and willing to help.
What Is The Cancellation Policy For Golden Nugget Casino?
The cancellation policy for this casino varies depending on the booking you are making. Generally, cancellations must be made at least 24 hours before your scheduled arrival date in order to avoid any additional fees or charges.
It is important to read and understand the specific terms of your booking prior to confirming it, as there may be added restrictions or stipulations in place.
Conclusion
Golden Nugget Casino Laughlin offers a fabulous gaming experience for its guests. From the stunning views of the Colorado River to the luxurious amenities, this casino is the perfect destination for anyone looking to have an exciting and fun-filled night out.
Guests will need to bring a valid ID upon entering the casino and will be required to show it before being allowed to play any of the games. Additionally, there is a dress code and pet policy in place and an app available for Android and iOS devices.
With all these excellent features, it's easy to see why this casino is one of the best casinos in Nevada.